Tina, here. 
Today is the second day to shop my Halsbrook picks and save 25% off your entire purchase (there is SO much on the website). 
TODAY THROUGH MONDAY OCT. 3 YOU ARE GETTING 25% OFF YOUR ENTIRE PURCHASE AT HALSBROOK!* Shop now before my favorite picks sell out, as they always do. You don't want to miss these gorgeous Fall outfits!
SAVE OVER $1000 on just these 12 items alone with code TINAFALL. Good 9/29/22 - 10/3/22.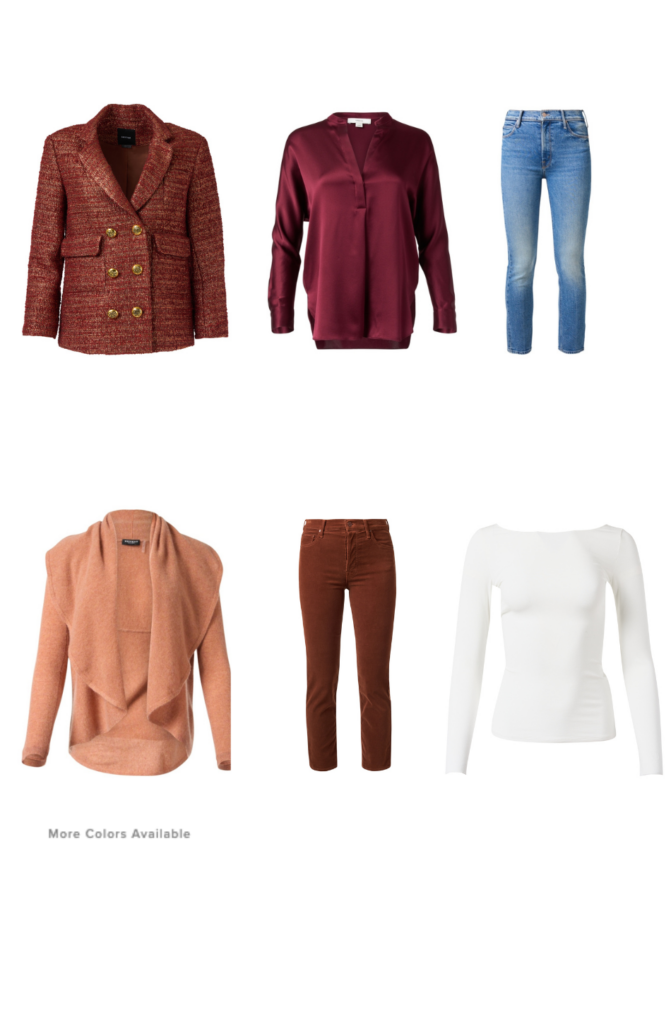 UPPER ROW: LEFT | MIDDLE | RIGHT
LOWER ROW: LEFT | MIDDLE | RIGHT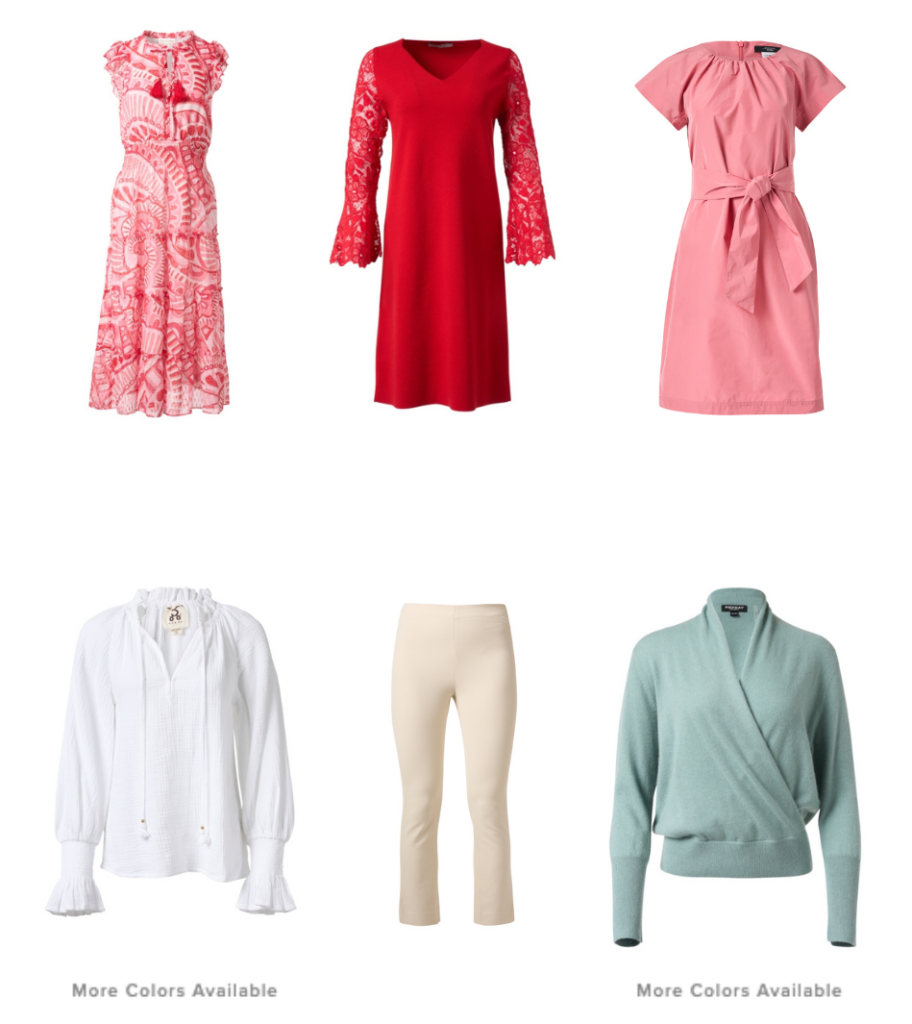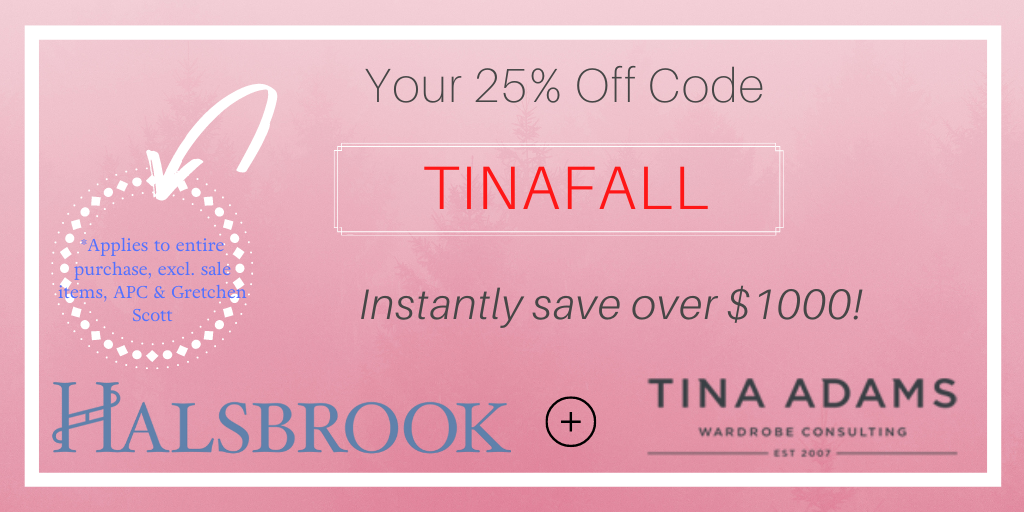 Plug in code TINAFALL at checkout. Valid 9/29/22 through 10/3/22. Sale items, APC & Gretchen Scott excluded.
Insiders have already been shopping so some items may be sold out, but you save 25% off everything! Not just my picks! Shop now because this deal only runs for 5 days! 
Fall, more than any other season, is the very best time to update your timeless classics you'll wear for years to come. Something like a beautiful tweed jacket may cost more than a flimsy summer t-shirt, but you don't replace it every season. When you find a gorgeous blouse in a rich, festive color with a flattering neckline, grab it. Classic styles can be worth the extra investment when they are perfect. It's that whole "cost per wear"thing. And yours is going down with my exclusive 25% off discount!
After discovering Halsbrook several years ago, it's now one of my and my clients' go-to destinations for great quality, classic but modern clothing and the kind of accessories that complete an outfit. Their personal level of customer service, plus free shipping and returns, make it so easy! Don't forget to plug in code TINAFALL for 25% off at checkout. 
12 Favorite Fall Styles From Halsbrook
1. Smythe Copper Tweed Jacket, $895, your price $671.25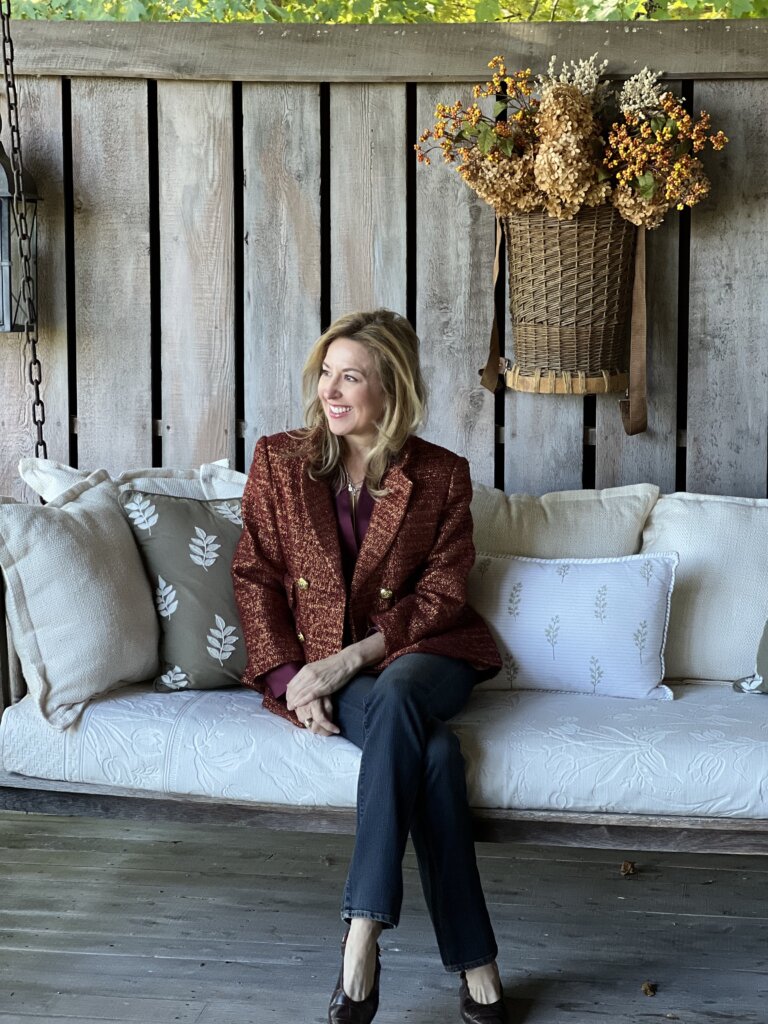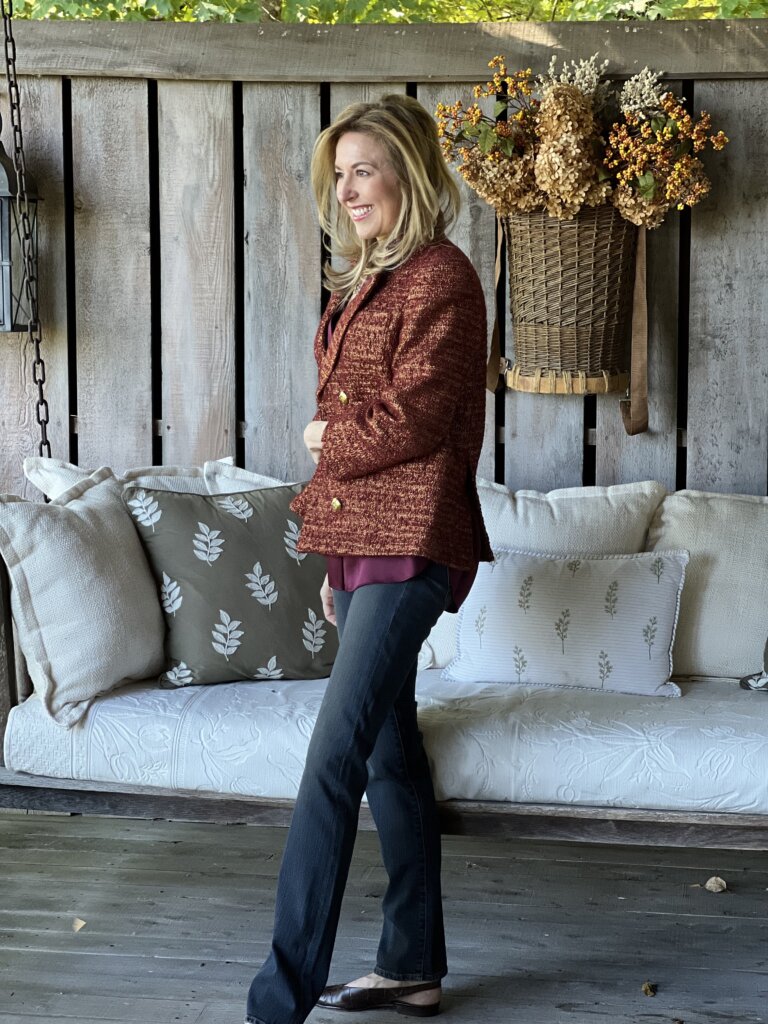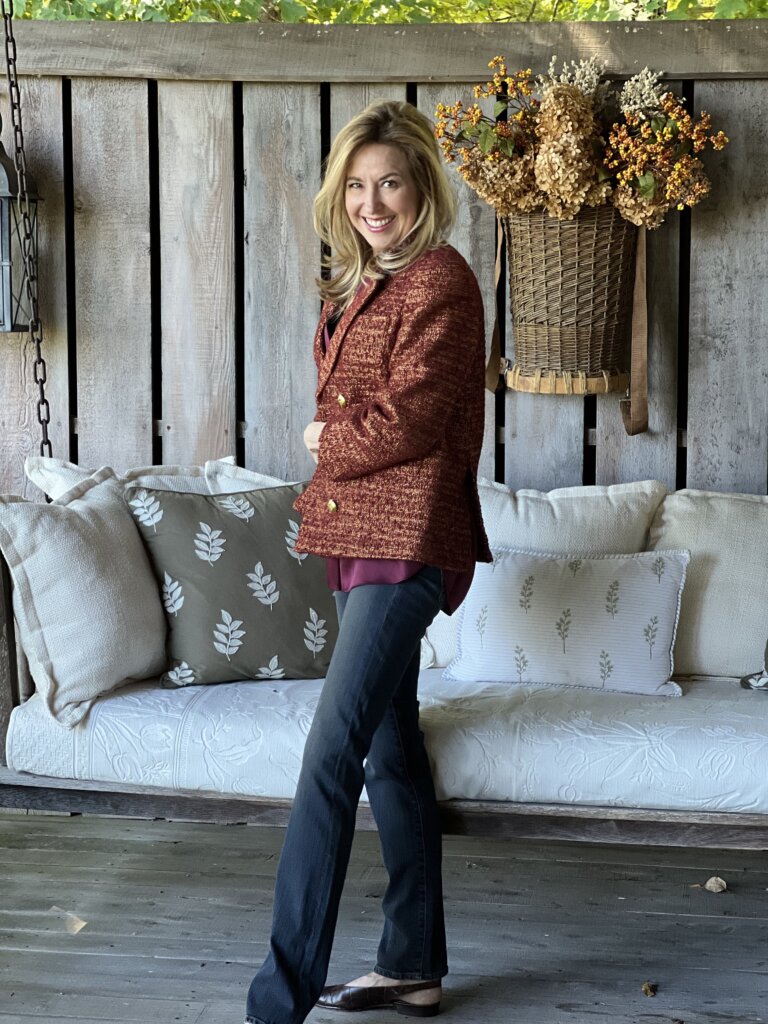 Let me see if I can explain the absolute gorgeousness of this jacket/blazer. First of all, and kind of a new invention, there are NO buttons. The closures are magnetic. So that's good! Secondly, the color  - the copper has a bit more of a burgundy or rose gold tone to it than is coming out in the photos. I wanted you to see that you can wear it over dress pants, or jeans. It feels great on, but note that it runs slightly large. So size down if you can. 
2.  Mother The Tomcat Brown Ankle Corduroy Pant, $218, your price $163.50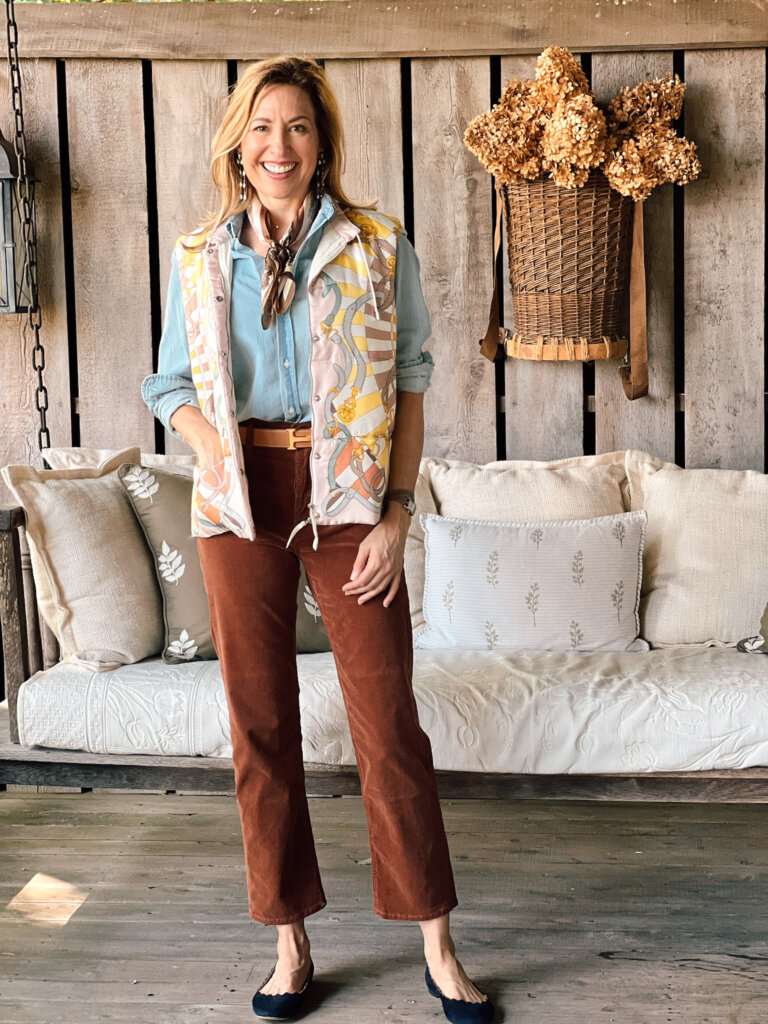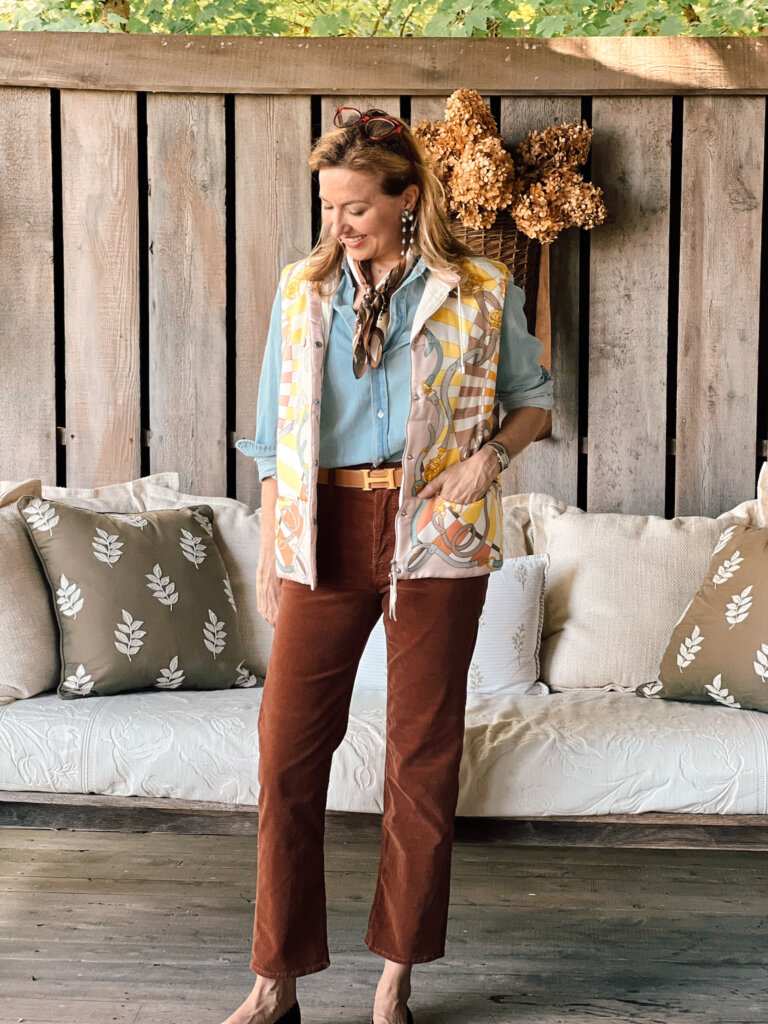 I'm wearing a RANI ARABELLA silk vest, and you can still get this print in a sweater jacket and a beautiful short coat like I included in last Fall's Halsbrook deal. If you've wanted one of these equestrian jackets (BIG trend this Fall), now is your chance with the 25% off!
I also want you to see how you can wear these cords with a blazer (I'm wearing the Veronica Beard Miller Camel Dickey Jacket) and sneakers - kind of yin yang, but a great way to look pulled together without "dressing up". And, you're comfy! If the Veronica Beard is sold out, I also LOOOVE this Tan Corduroy Jacket.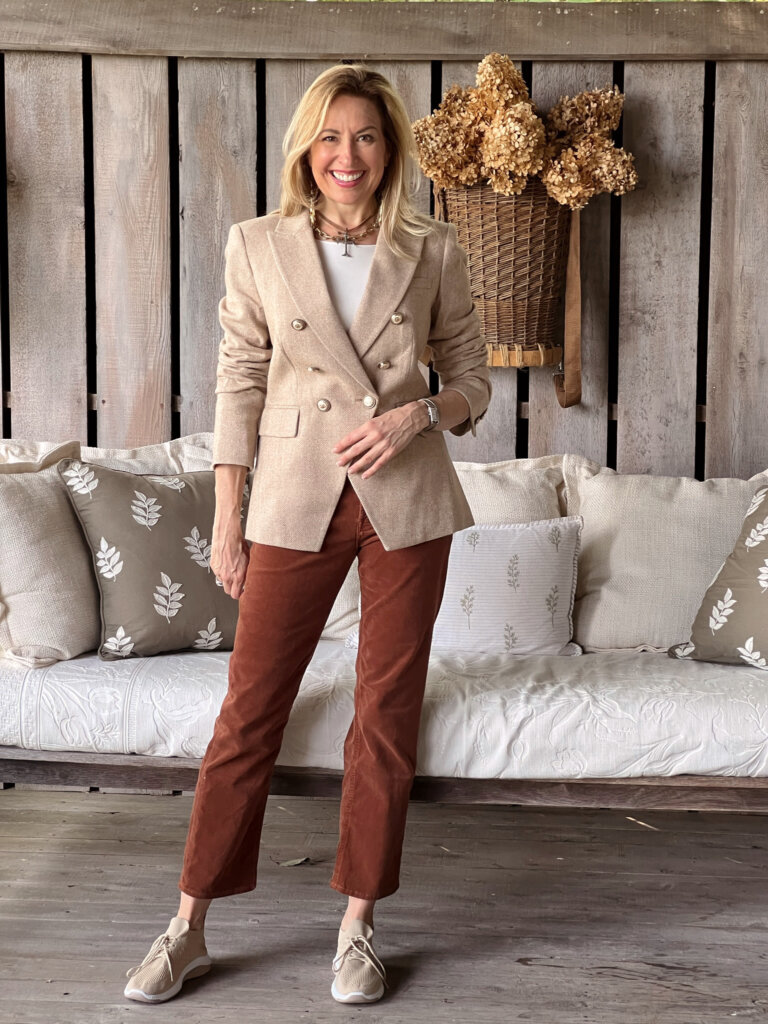 3. Repeat Cashmere Orange Circle Cardigan, $375, your price $281.25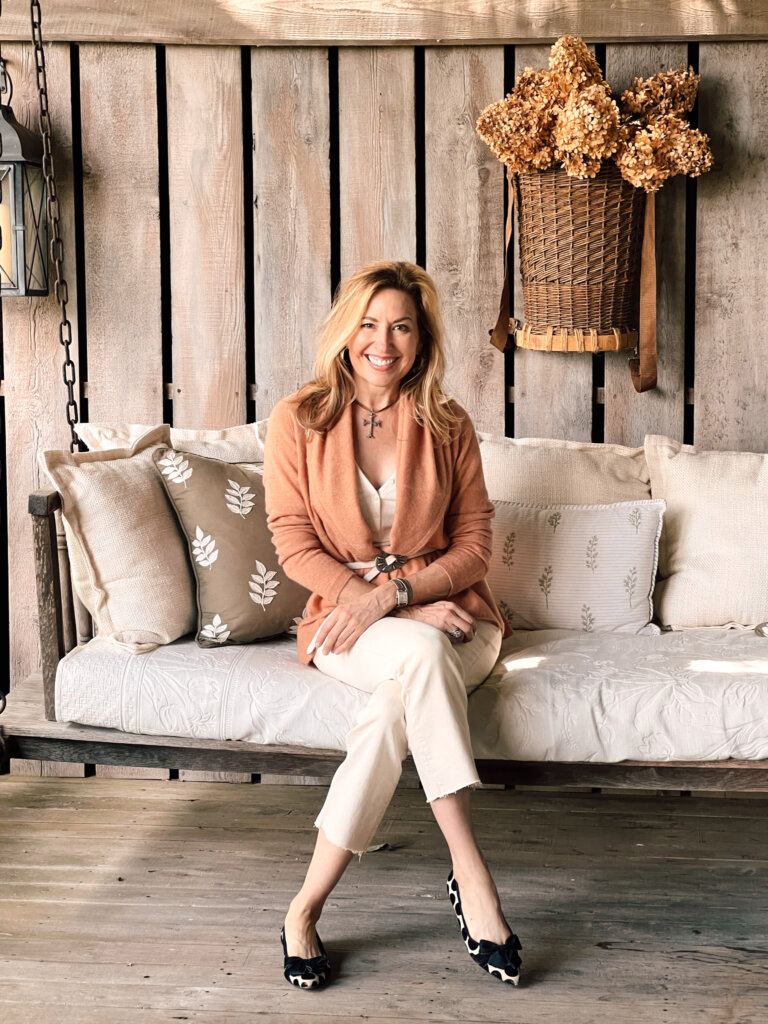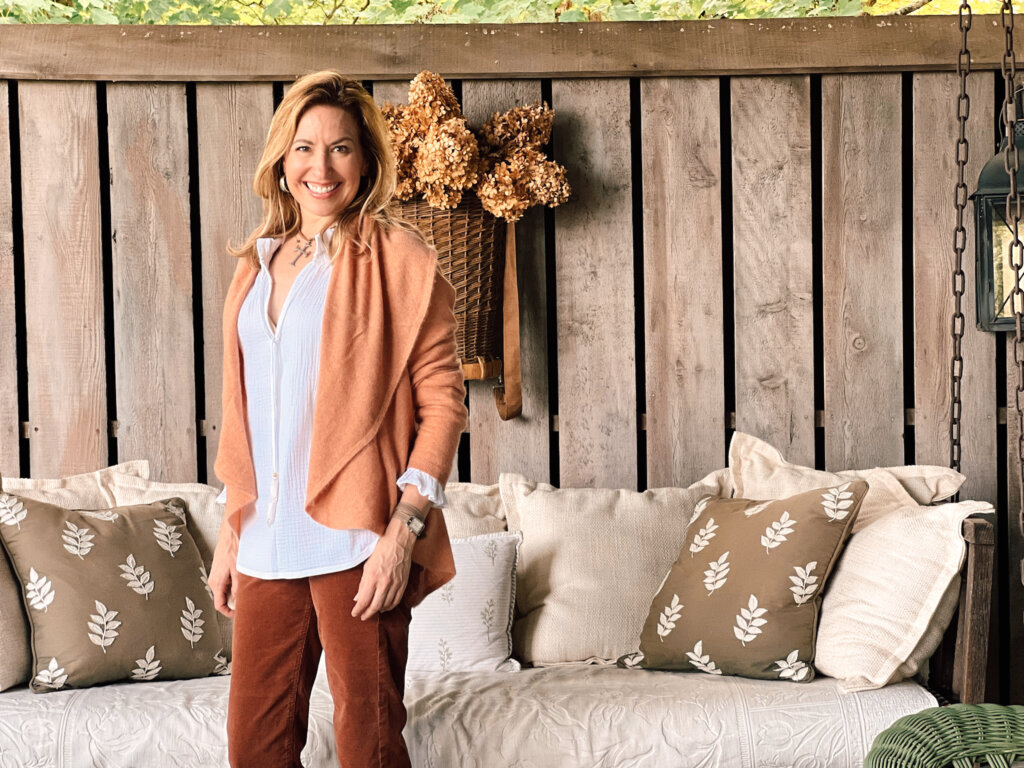 Softest cashmere I may have ever felt. I've had Repeat cashmere before and it wore well. The color on this sweater is sooooo beautiful, more so in person. I think it would work on any skin tone since it's more of a coral-y tone than a weird orange. 
4. Figue Lianna White Cotton Top, $265, your price $198.75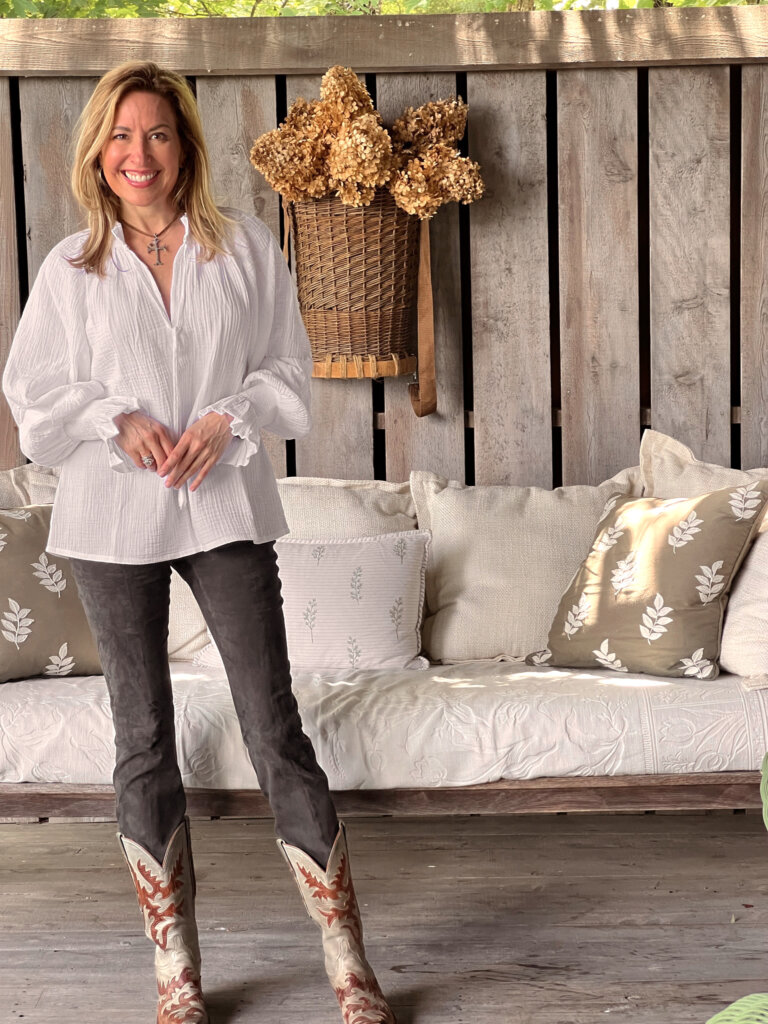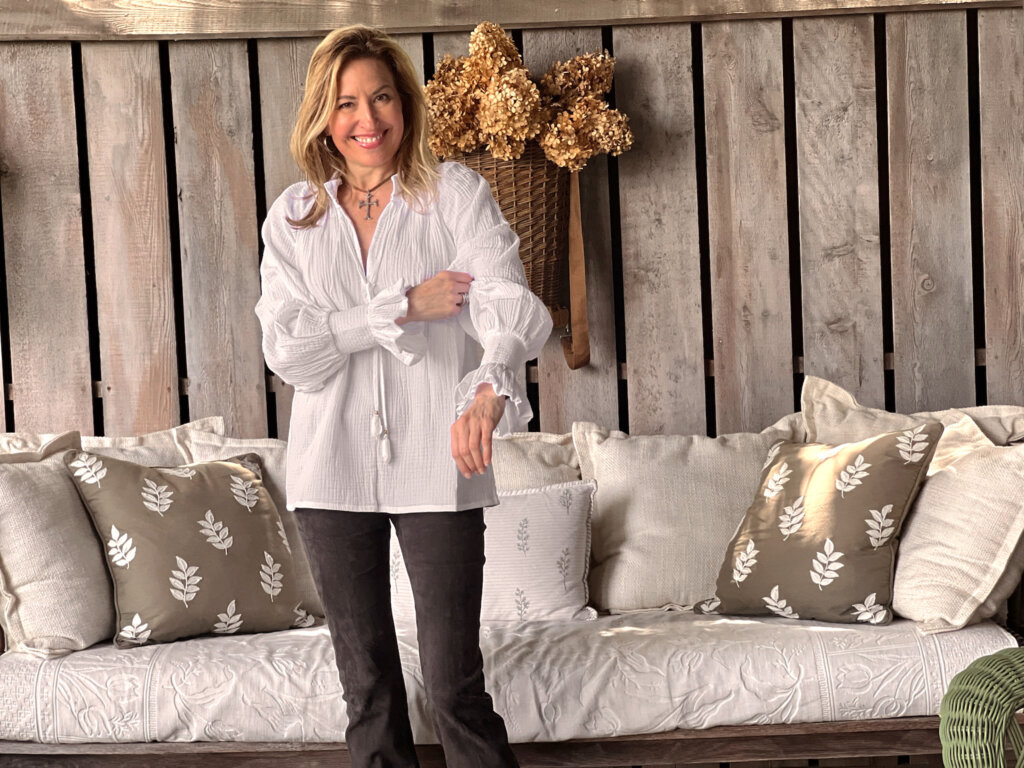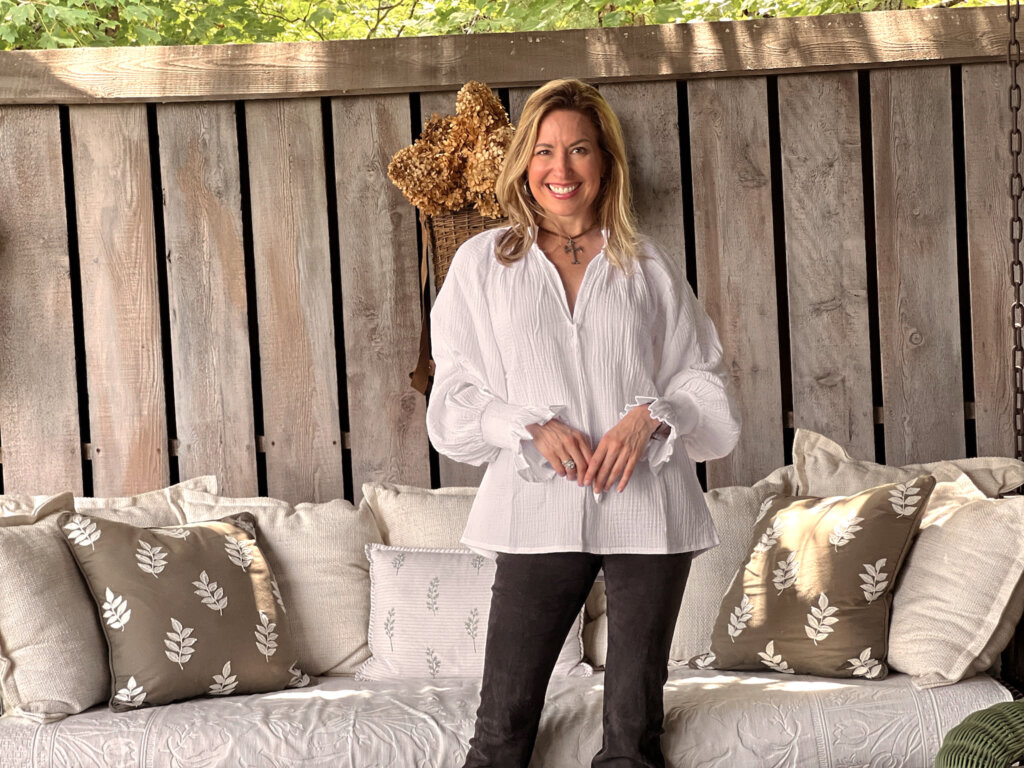 Another white blouse! Absolutely. Each season I recommend getting a pretty white blouse, on sale if you can find it, that makes a different statement than a plain button-down. This is it. The sleeves are full, but NOT puffy because it does not have a puffed shoulder seam, thank the lord. I am so OVER those. I layered this blouse with the cardigan above and it worked well. I'm wearing the top with grey suede pants, similar to these, which with your discount would only be $135!
5. Mother The Dazzler Mid-Rise Ankle Jean, $238, your price $178.50
Shown with 6. Repeat Cashmere Blue Faux Wrap Sweater, $375, your price $281.25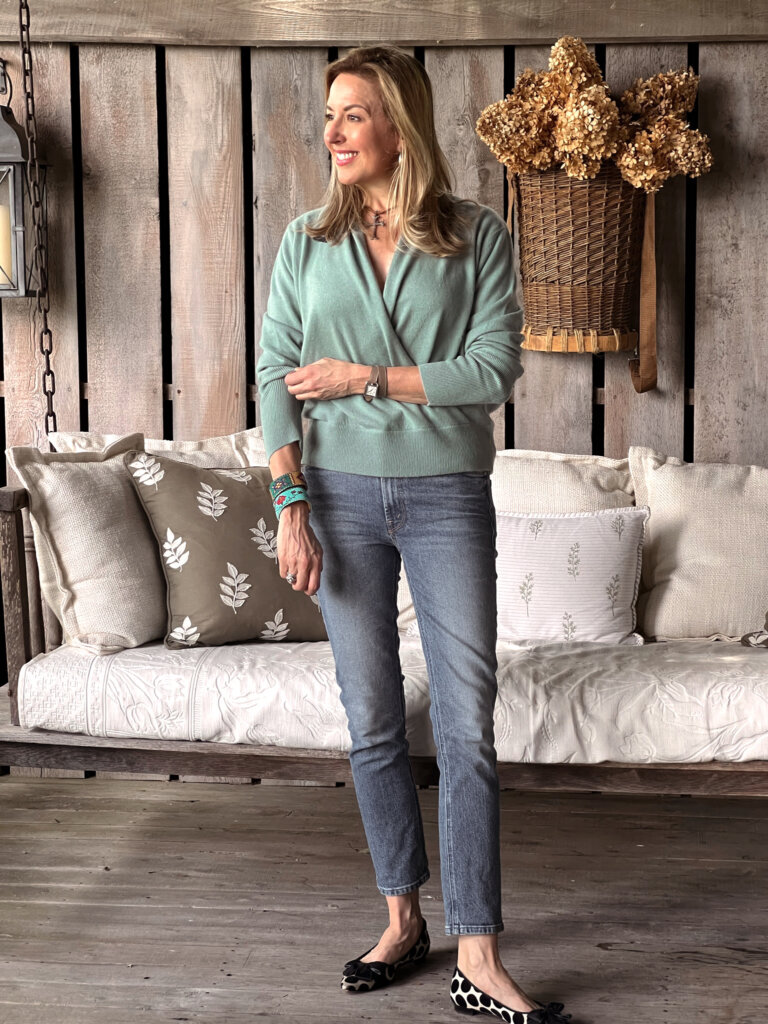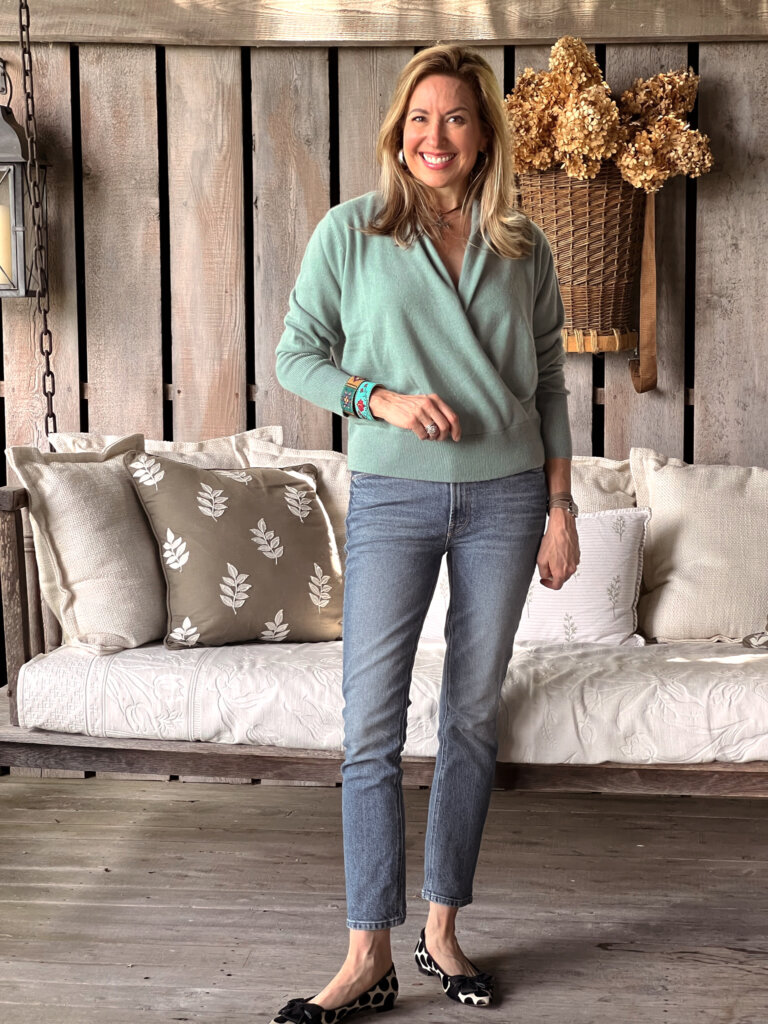 Ok, so let's talk jeans. FINALLY (sorry for all the caps today, but I'm just so excited about the direction fashion is going, I think it merits it
) a mid-rise, slim pair of jeans that does not give you a flat pancake bum or crawl up your calves every time you take a step. Mother jeans are my jeans brand right now because the denim is soft and they get the wash correct, and I am very, very picky about denim rinses as any of my clients will tell you. These are that perfect faded blue without looking old and washed too many times. 
Repeat Cashmere Blue Faux Wrap Sweater, $375, your price $281.25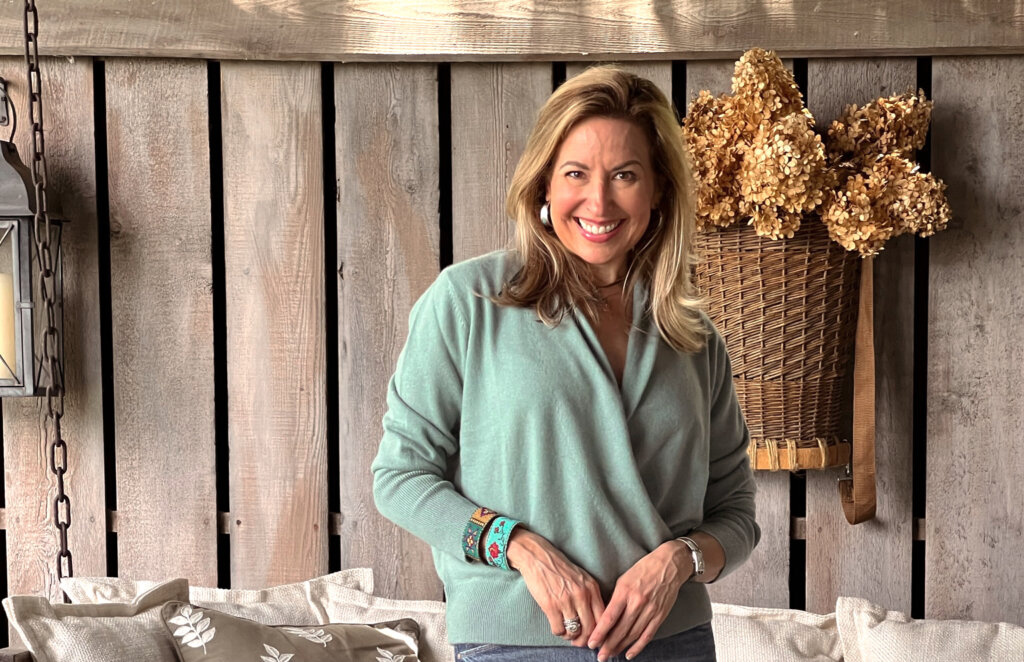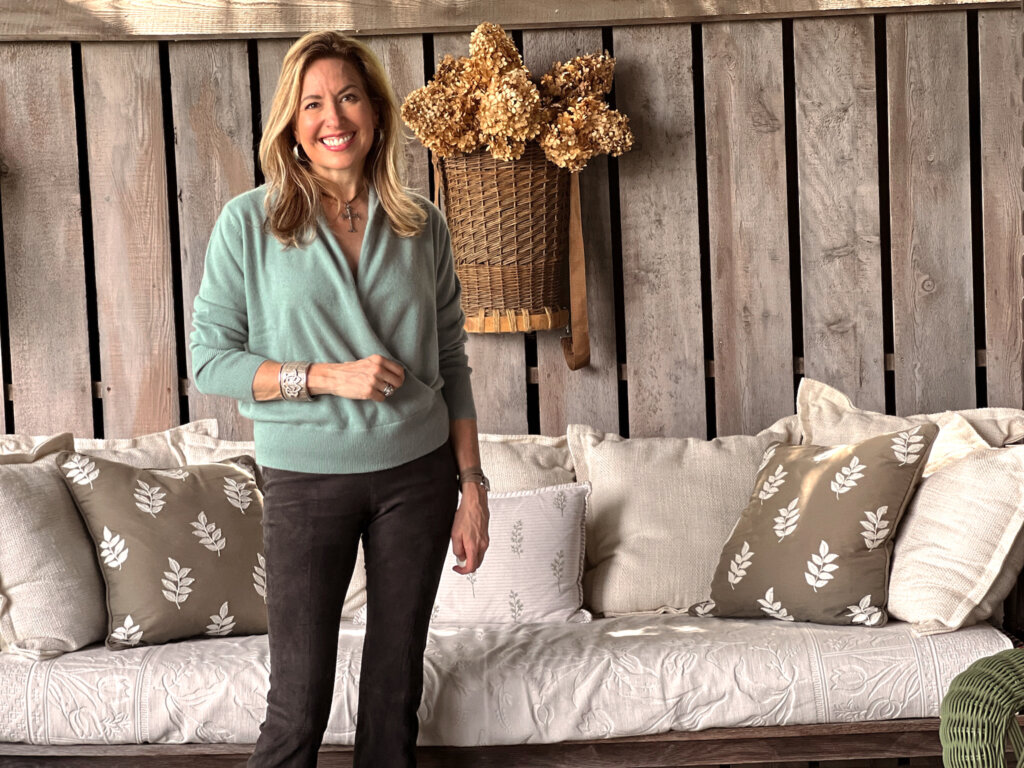 That same glorious Repeat cashmere, soft and warm. And I have to say, Repeat has nailed the colors this Fall, so that's why I picked 2 cashmere sweaters from them. This blue is softer than robin's egg, kind of a calm, clear 30-A ocean but not as "loud," more faded, if that makes sense. Just trust me. It's gorgeous, and again, will work on any skin tone. AND it's a faux wrap, simply the best invention for tops ever. You will want to wear a little cami under it, and then you won't worry about if it's too low or not. 
7.Majestic Filatures Ivory Boatneck Top, $150, your price $112.50
Shown with 8. Vince Ivory Crop Flare Stretch Pant, $295, your price $221.25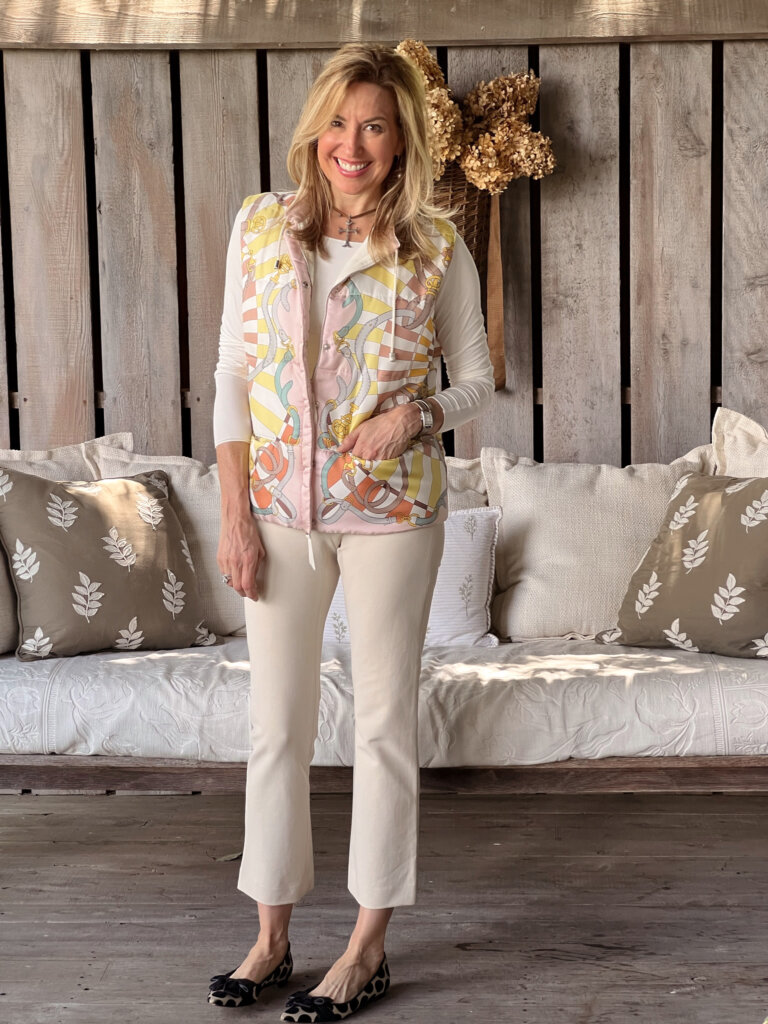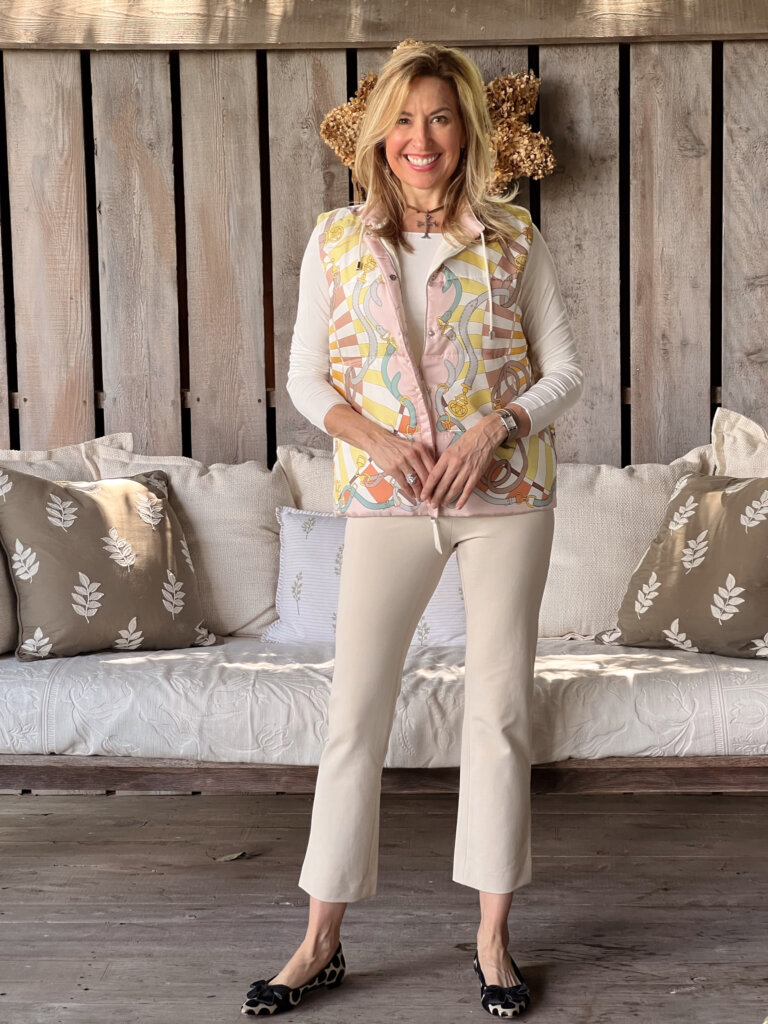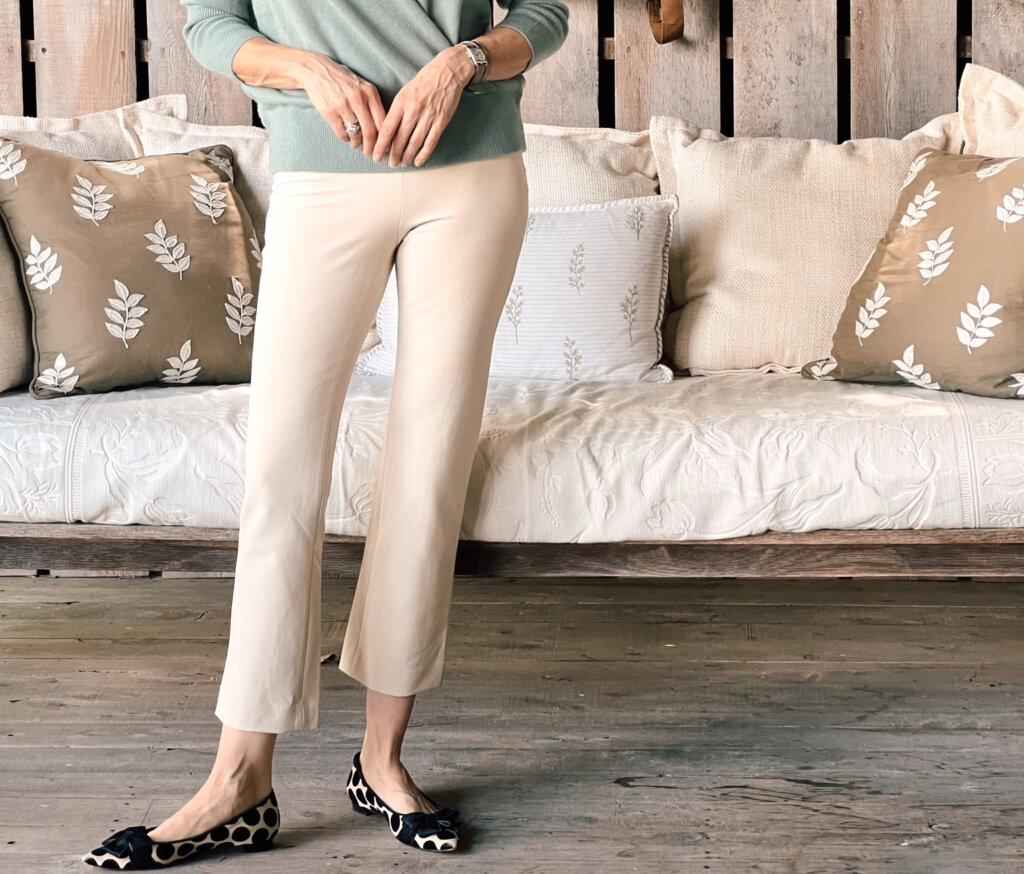 Here is the "nice" white long sleeve t-shirt you need this Fall and Winter. It has a flattering boatneck, and is of man-made material, which means it will wash well and last. This is what Majestic does, good t-shirts. For real. It's worth it.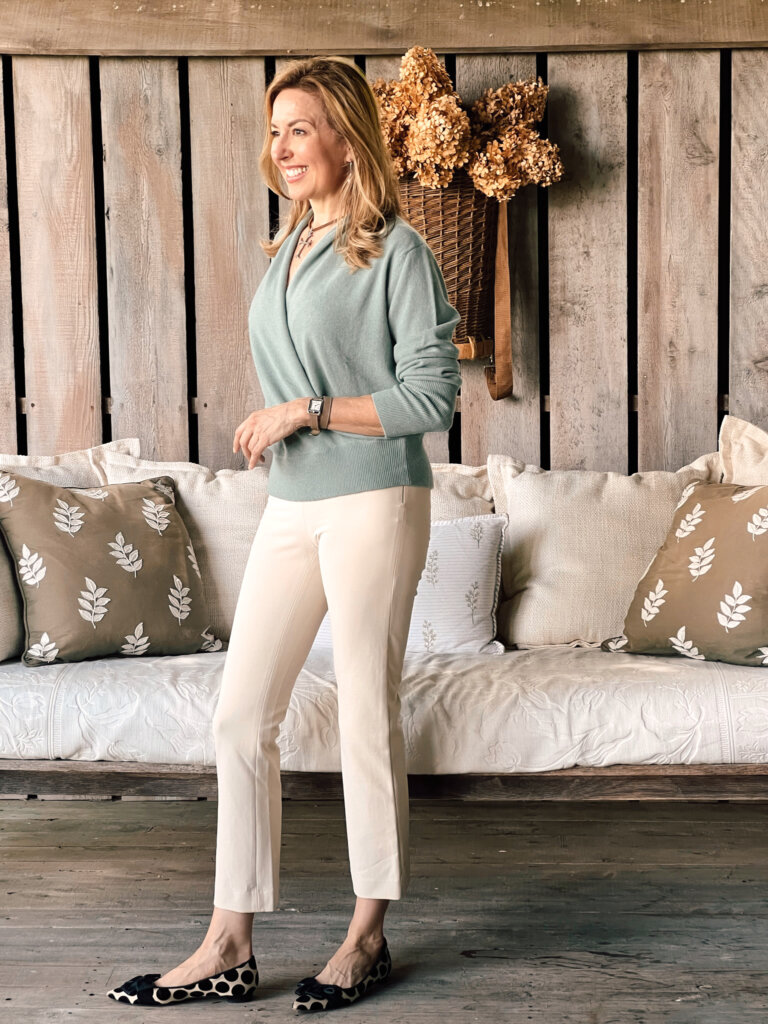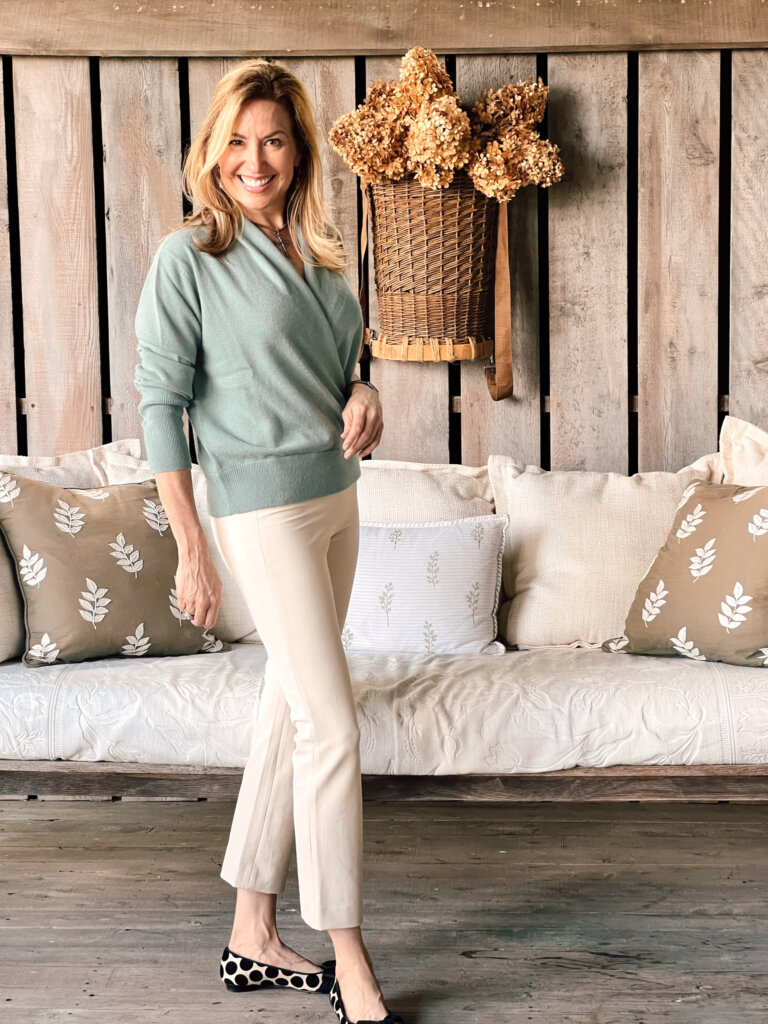 And how about the Holy Grail (again, thank you Halsbrook!) for another great pair of pants. I'm going to get very personal with you because I did this on purpose as a test - I wanted to see if you had to wear a "barely there" thong to prevent VPL (visible panty lines), and the answer, as you can see, is No. No, you do not. Capiche? So that's a huge plus. 
9. Vince Burgundy Silk Blouse, $325, your price $243.75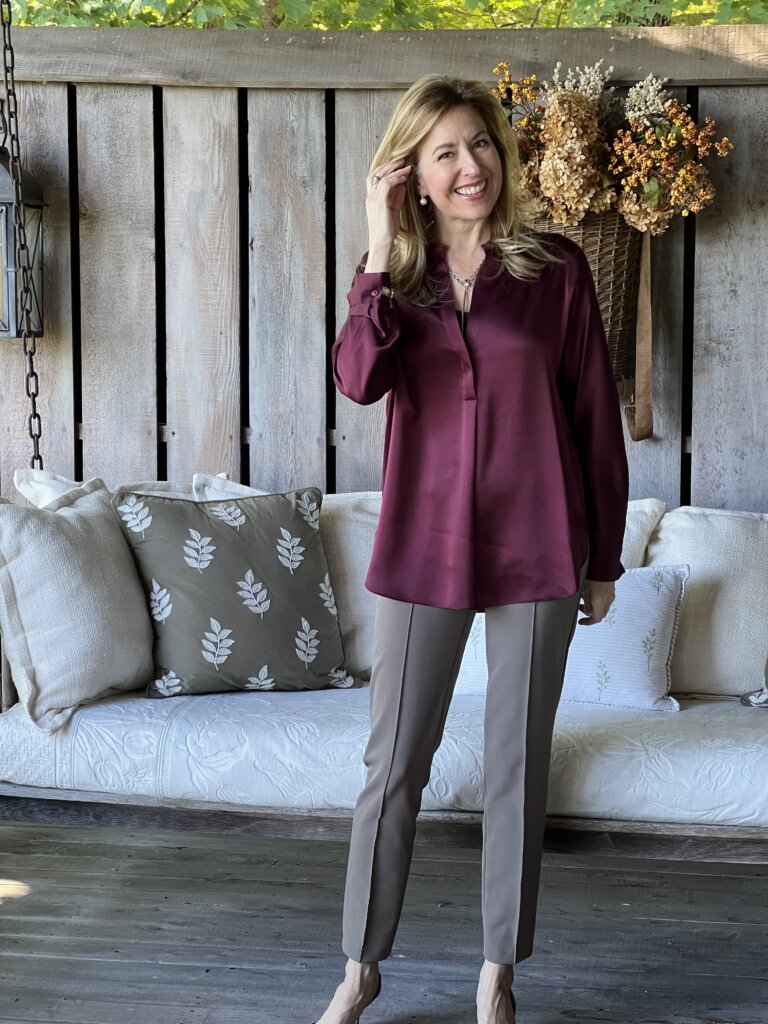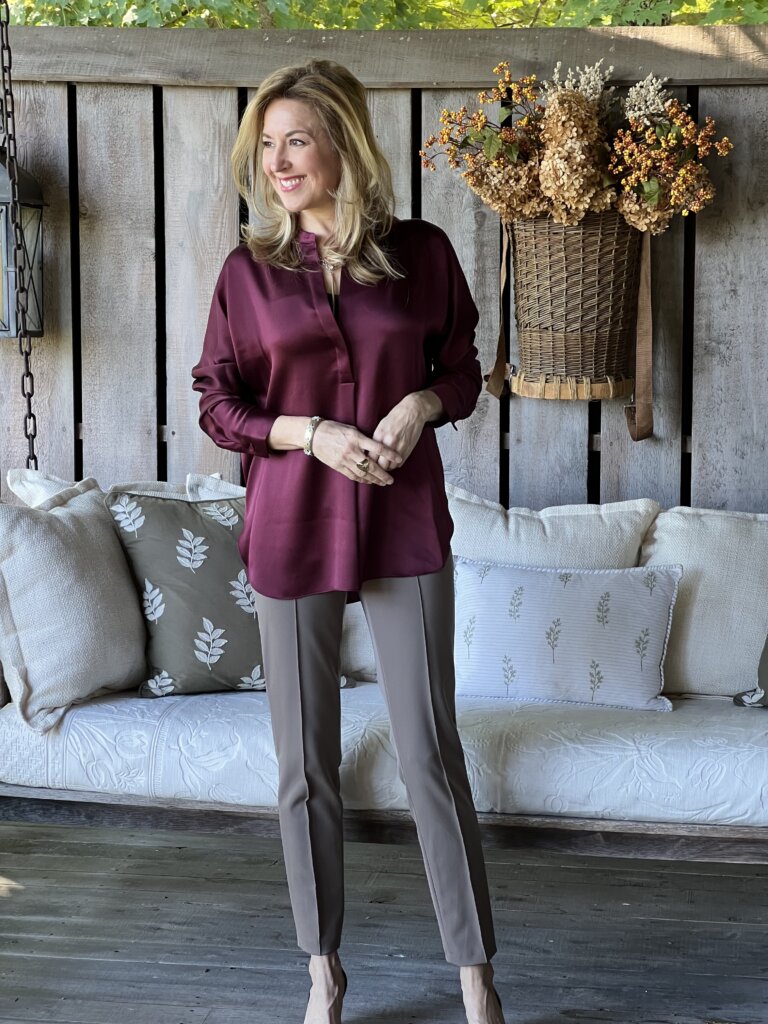 Oh my word this is such a stunning-looking blouse! Vince owns the market on silk blouses - keep in mind they do run large. But my goodness they are always so beautiful. It's the cut, the drape, the color, and the fabrication is so luscious it can stand on its own (it doesn't feel like it needs a jacket, but of course you can wear one with it). I see it during the holidays with these dress pants, velvet pants, with jeans, or even ivory cords. It would make a great Thanksgiving dinner outfit (even with jeans for that high-low look). One more thing - it arrived wrinkle-free! Save the packaging for when you want to travel with it.
10. D.Exterior Red Stretch Wool Lace Dress, $695, your price $521.25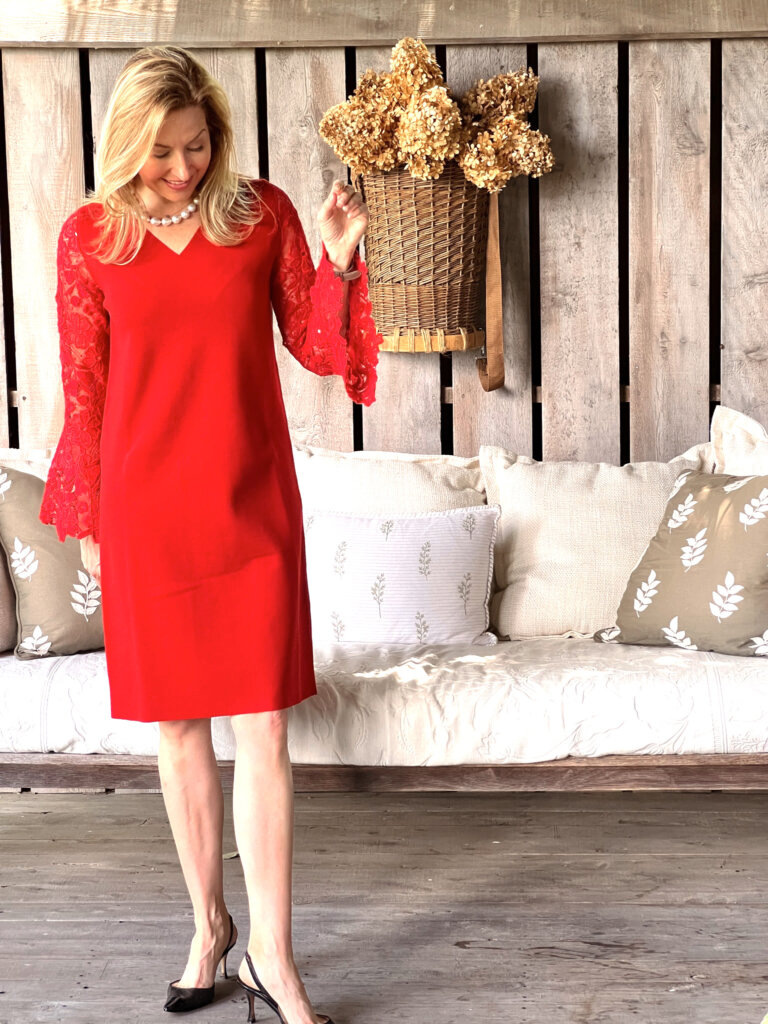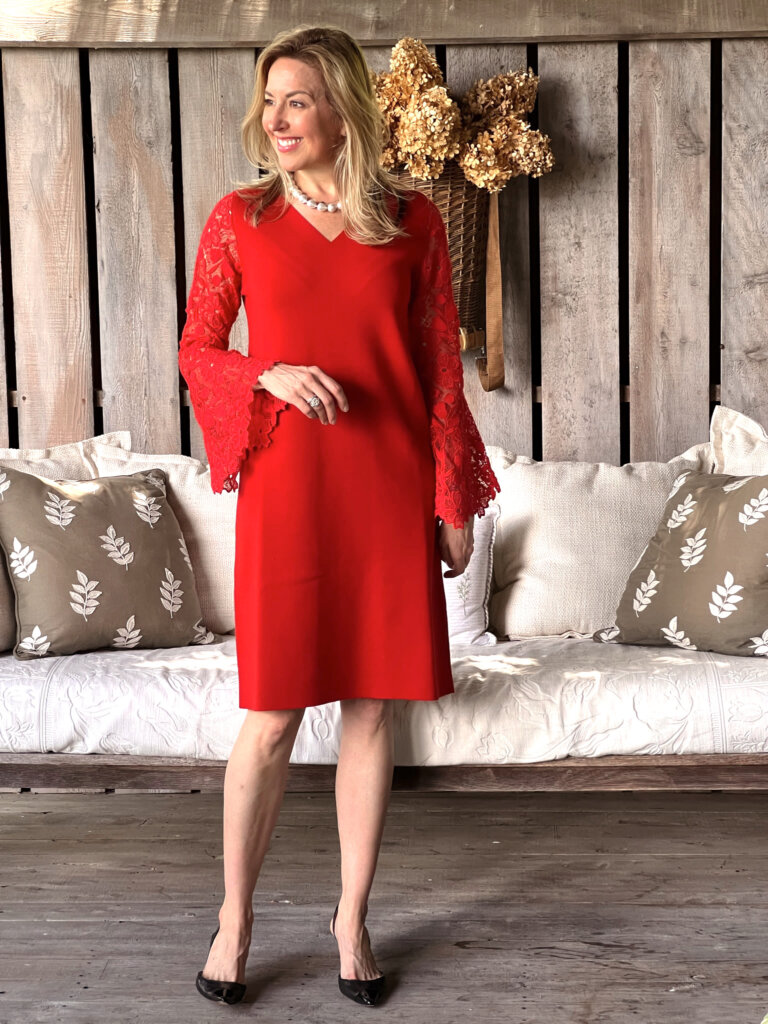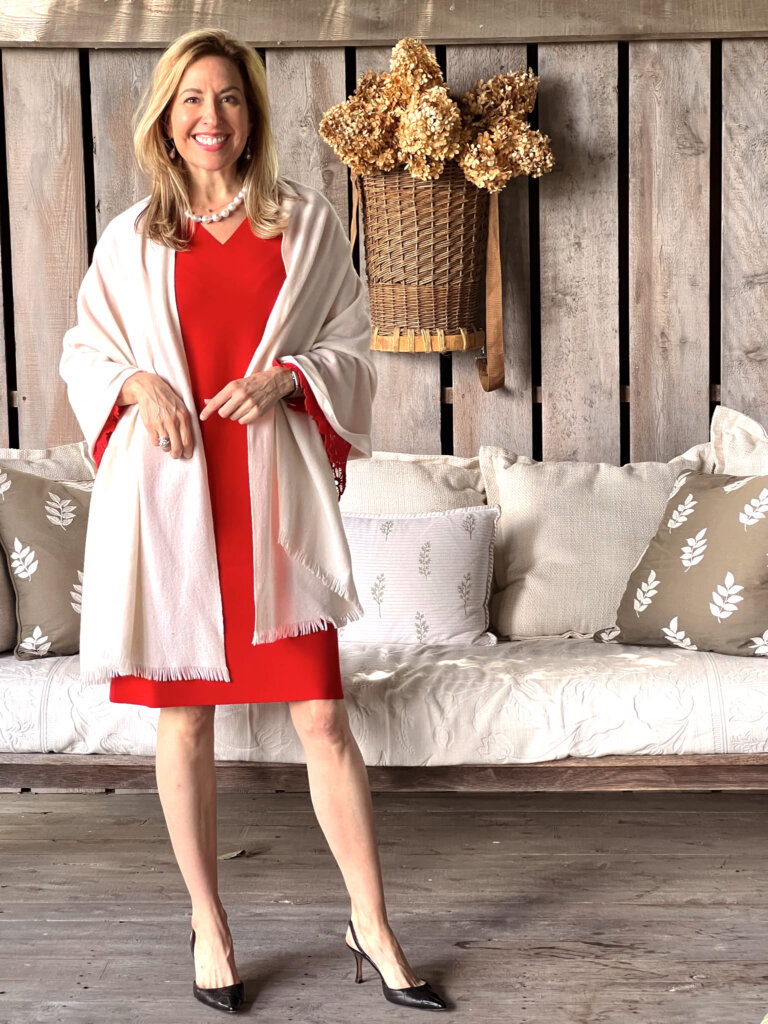 A good $500 dress is hard to find. Especially one that will work on pretty much any figure, as this one should since it's a shift, without a waistline. I am not wearing any underpinnings and you can't see any lines because the fabric is substantial, and does not hug anything. It drapes over your bends and curves. How pretty would this be during the holidays!
11. Weekend Max Mara Vaimy Pink Dress, $475, your price $356.25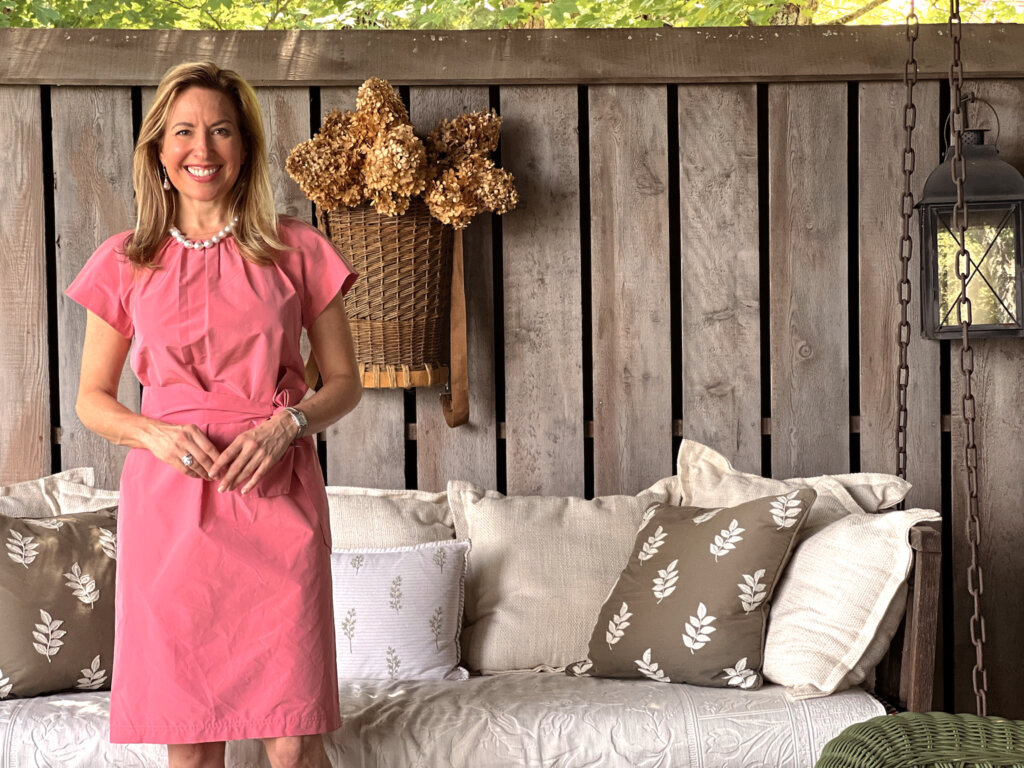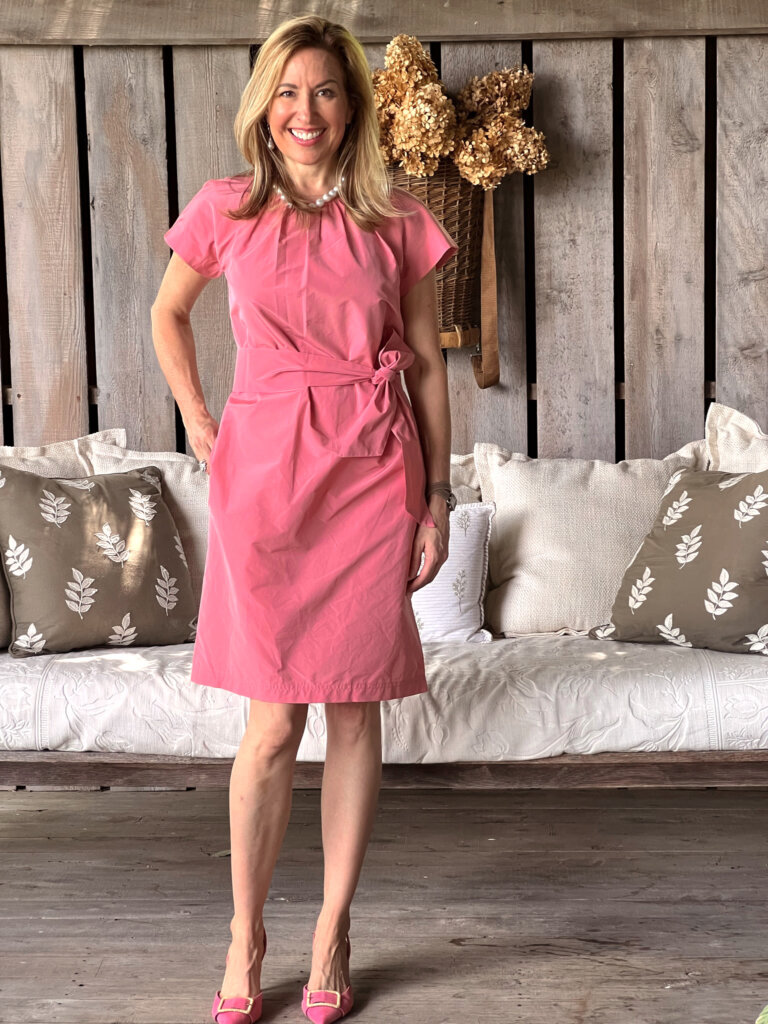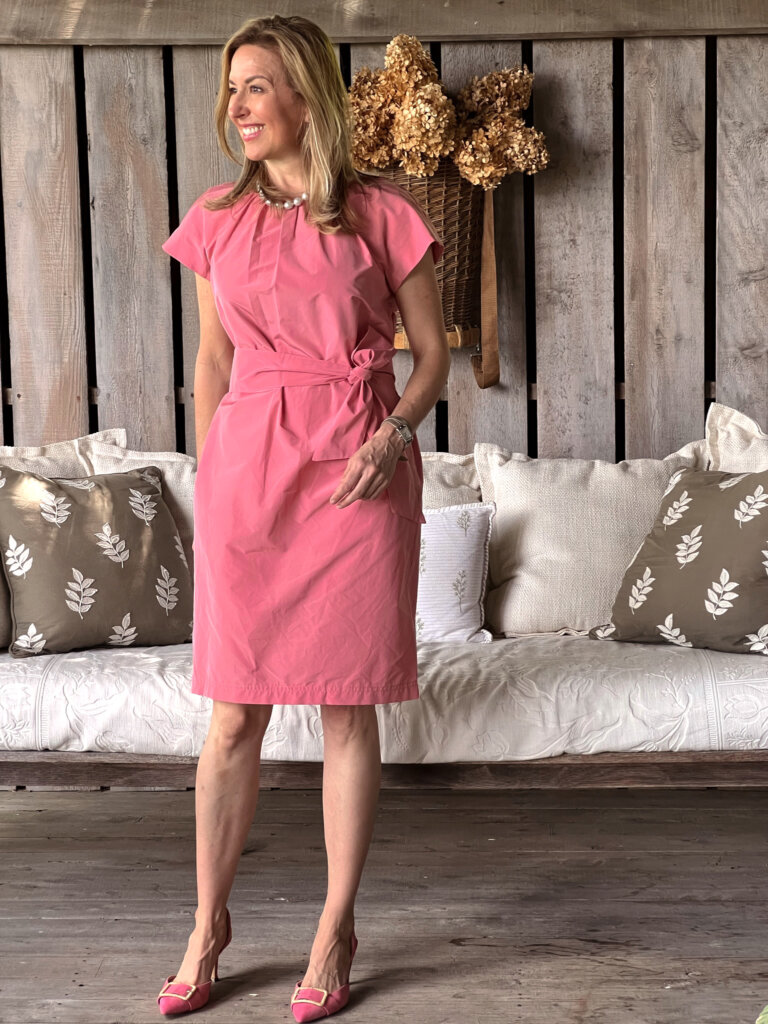 A pink dress for Fall. And the answer may seem counter-intuitive, but yes. This is a fancy-feeling dress that wears easily. I wanted to show you that you can wear it year-round. You can wear nude (or matching pink) pumps in the Spring, or black patent in the Fall and Winter. I switched out the belt to give it another look. You can also wear it without the belt. It is not meant to stay completely wrinkle-free. So if you can't wear linen or silk because the wrinkles annoy you, stick with the red dress above, or the pink dress below.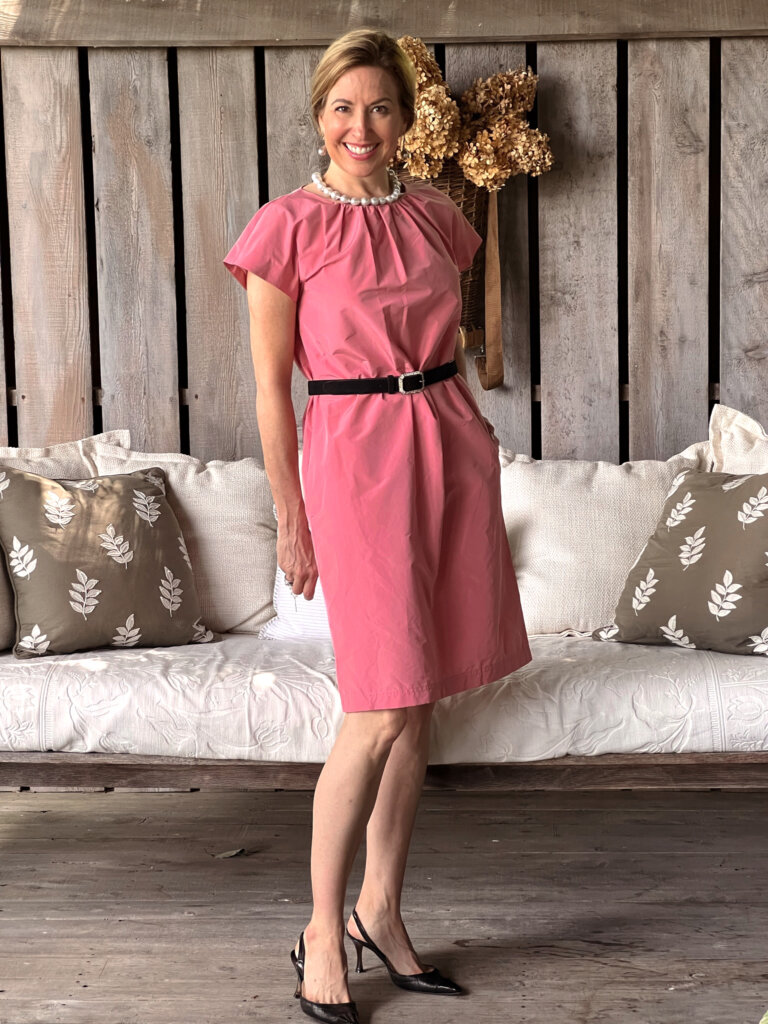 12. Sail to Sable Red and White Print Dress, $288, your price $216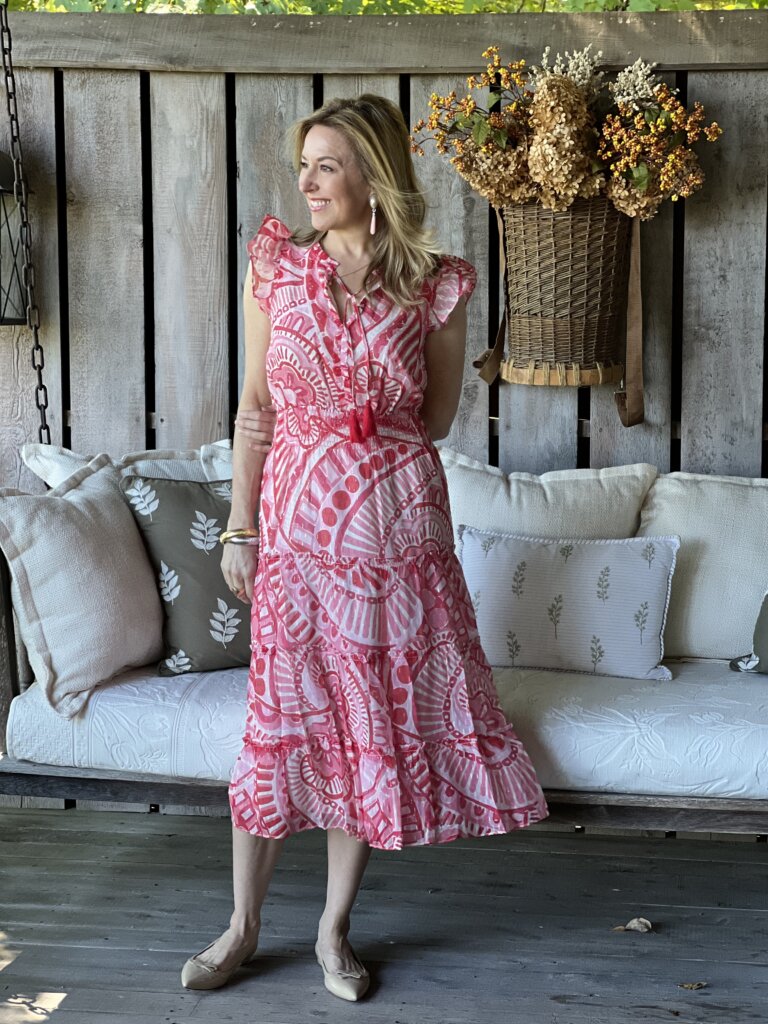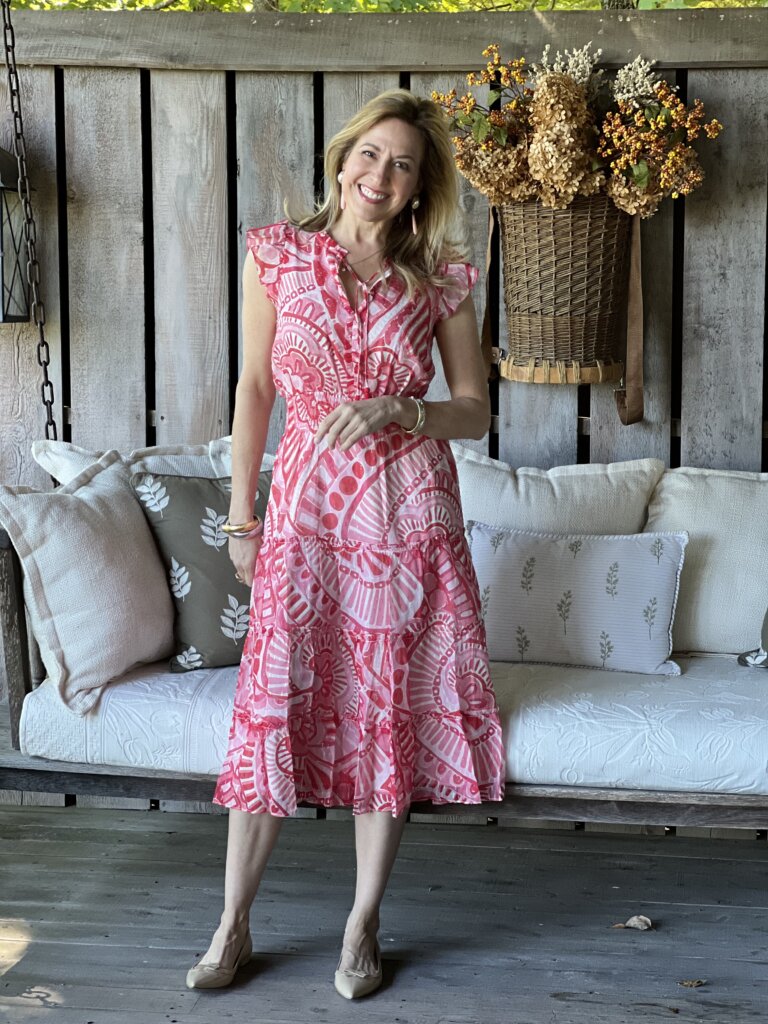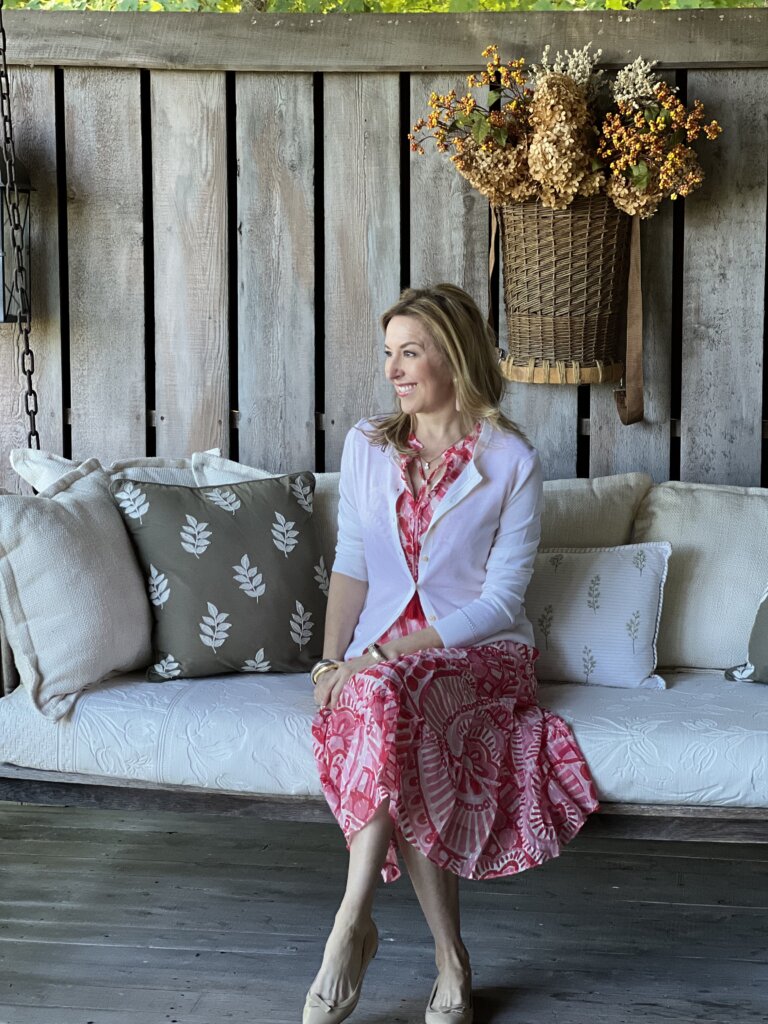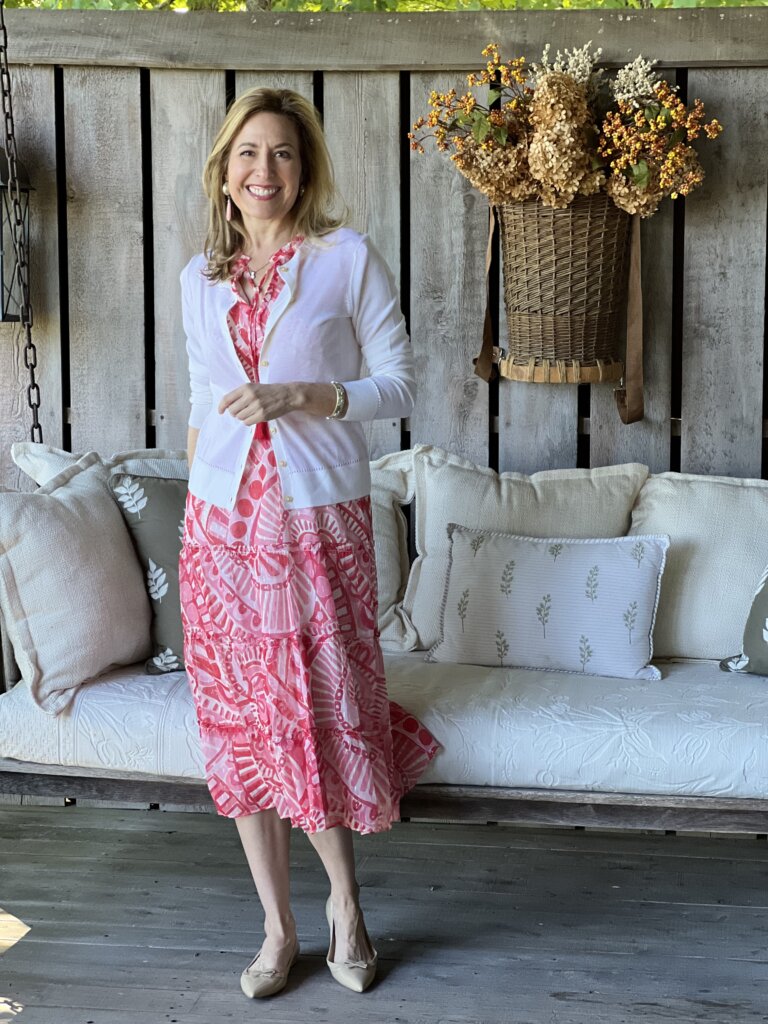 They call it red. I'd call it more of a dark pink with light pink and white. And why, you may ask, would I include what looks to be a summery dress in this Fall post? Because I know a lot of you. You travel to warm destinations during the Winter. And lots of you live in warmer climates year-round. Aaaaaand...it's rare to find a feminine dress these days that hasn't OD'd on ruffles and poofs. So grab it while you can. 
Save hundreds and hundreds of dollars (seriously, at least $1000 on my picks) with your Insider code TINAFALL to shop these 12 wonderful wardrobe classics from Halsbrook, plus save 25% off the entire website (excluding sale, APC and Gretchen Scott)! I'd recommend getting in there now before items sell out. Sale ends 10/3/22! Thank you Halsbrook! 
Thank you for stopping by, lovely readers!
Tina
This post may contain affiliate links, and if you click a link or purchase something I have recommended, I may receive a thank you commission from the website. Clicking these links won't cost you any extra money, but does help me keep my site ad-free.