Tina, here.
Fall days are here again and this makes me sooooooo happy! And let me tell you how particularly happy I am about this Fall's exclusive 20% OFF deal with Halsbrook (code STYLE20). They are one of THE ONLY retailers out there right now that you can depend on for consistent inspiration and versatile, chic outfits. You've probably noticed, too - it's a desert out there in retail land! Ugly trends and gauche styles. It's like the rona ruined most designers' sense of style! Bleh. This is why Halsbrook is like a stream in the desert for people like us, women with QGT (quiet good taste). I've picked 11 GORGEOUS FALL STYLES for my capsule wardrobe. Total savings on my picks alone, with our discount, is over $800!

Insiders, who get premium content and early releases, have already been shopping this deal with the discount code and snapping up my picks. If you'd like early access to special deals and exclusive style guides and videos, become an Insider! 
I budget every Fall for this deal and always look for a cozy sweater (isn't this caramel wrap so feminine!), a special blouse (a sumptuous, rich jewel-tone) and a pretty dress (great price-point, good now and during the holidays!). I also always get a pair of jeans (new favorite pair!!!). And usually a really special piece, like the quilted jacket in this round-up (ok, so it's a splurge, but this is one of those extremely rare, hard-to-find, "inheritable" pieces your offspring will fight over - I will stand behind this statement, my nieces need to start lining up. Availability is very scarce, so put in your order now if you want it.). So, take a look, make your picks and buy now, don't wait - I promise you, my picks always sell out quickly! Halsbrook is a faithful friend that you and I can always rely on to provide us with the classic, chic looks we love, plus impeccable customer service. See all my picks here, how to wear them below, and be sure to shop the entire site because you get 20% off EVERYTHING THRU 10/3/21 (excluding sale items)! Code STYLE20.

Left - Right:
CAMEL CASHMERE POINTELLE SWEATER | ANIMAL PRINT COTTON SHIRT DRESS | AG STRETCH CORDUROY SLIM JEAN | BURNT ORANGE FLORAL BLOUSE | AG JEANS MARI BLUE STRETCH DENIM JEAN
plus NEST BLONDE HORN DIAMOND STUD EARRINGS

Left - Right:
FINLEY CROSBY WHITE SILKY POPLIN TOP | CARAMEL WOOL CASHMERE WRAP CARDIGAN | GRETCHEN SCOTT STRIPED COTTON TOP | RANI ARABELLA FIRENZE MELON PRINTED SILK QUILTED JACKET | BROCHU WALKER NOHR BEIGE MELANGE KNIT TOP
AG CORDUROY SLIM JEAN $180, Your Price $150.40
THE PERFECT COGNAC COLOR!! It's hard to find the right cognac, and ladies, here it is. Snap these up because this color doesn't come around but every few seasons. And it's seemed difficult the last few seasons to find a decent pair of cords after September with the right leg shape, right amount of stretch and a good price point, as in they sell out, so, not to be annoying, but get these.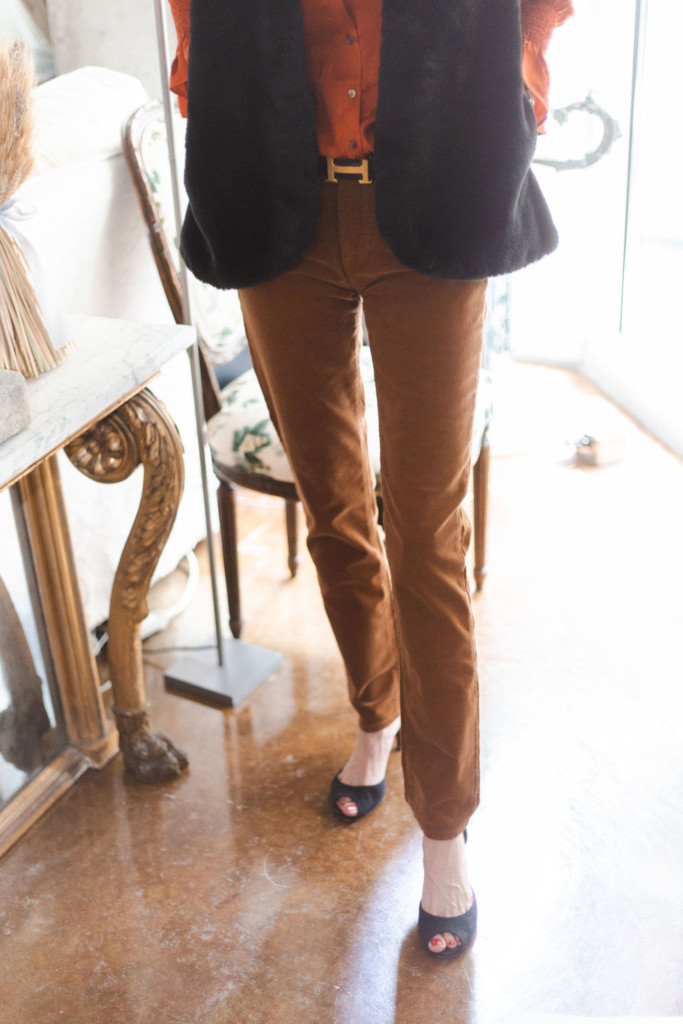 I'm wearing the cords with the beautiful silk blouse, to show you how to dress up a seemingly casual pair of pants. And I love the color combination of the cognac with the rich pumpkin of the silk blouse, that has a subtle damask. So, so rich. I've also added my Halsbrook faux fur vest (look at this one!!) from a few deals back - see! Reinvent your classics each season with a couple new pieces!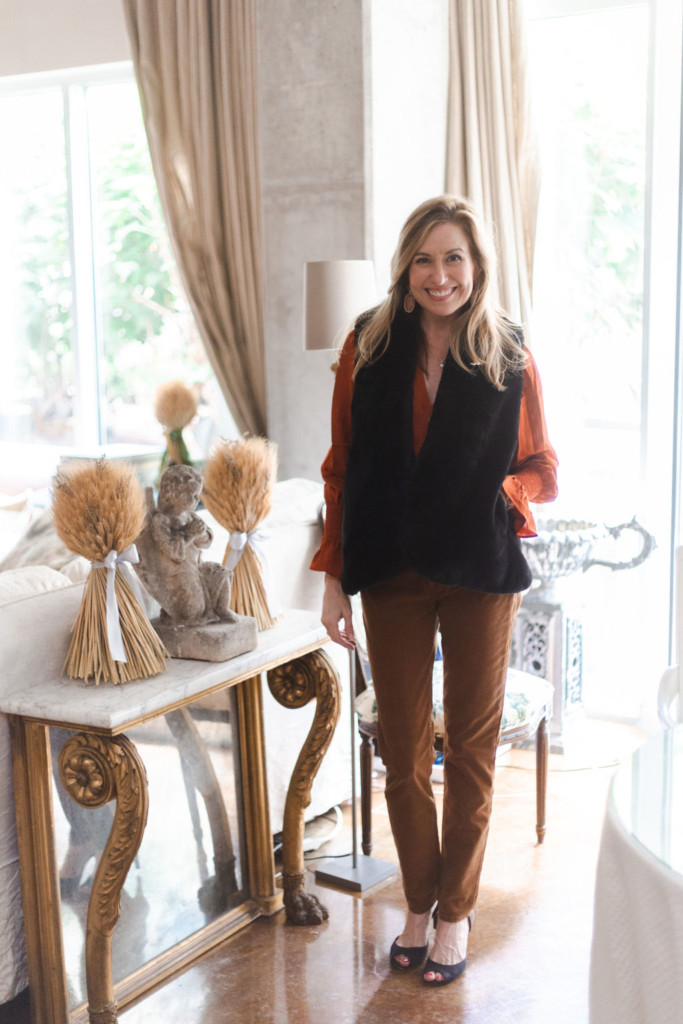 ANIMAL PRINT COTTON SHIRT DRESS,  $175, Your Price $140
What a great price point. And, this dress is cotton! Huge score. It means no dry cleaning, and it means year-round (I'll show you how to wear it this Spring with different shoes and jewelry to make it fresh for a new season). I see this during the holidays when you don't want to be another red and green ornament waltzing around a party. It's also a great option for your Thanksgiving dinner outfit. The ruffle along the hem is well-placed. It's not infantile, and it's subtle. A pretty detail.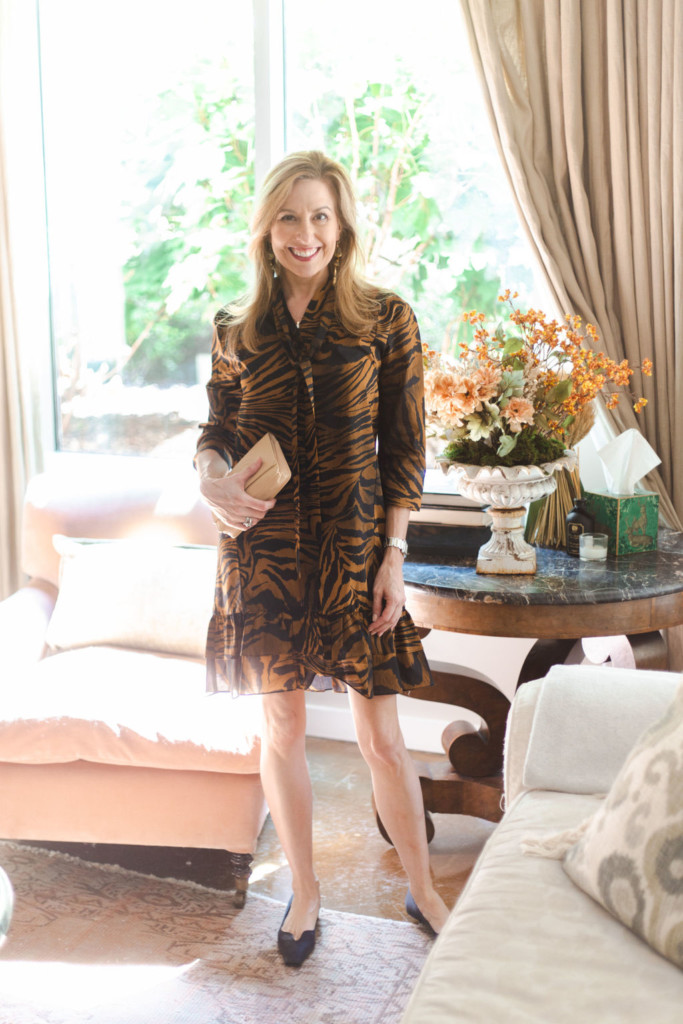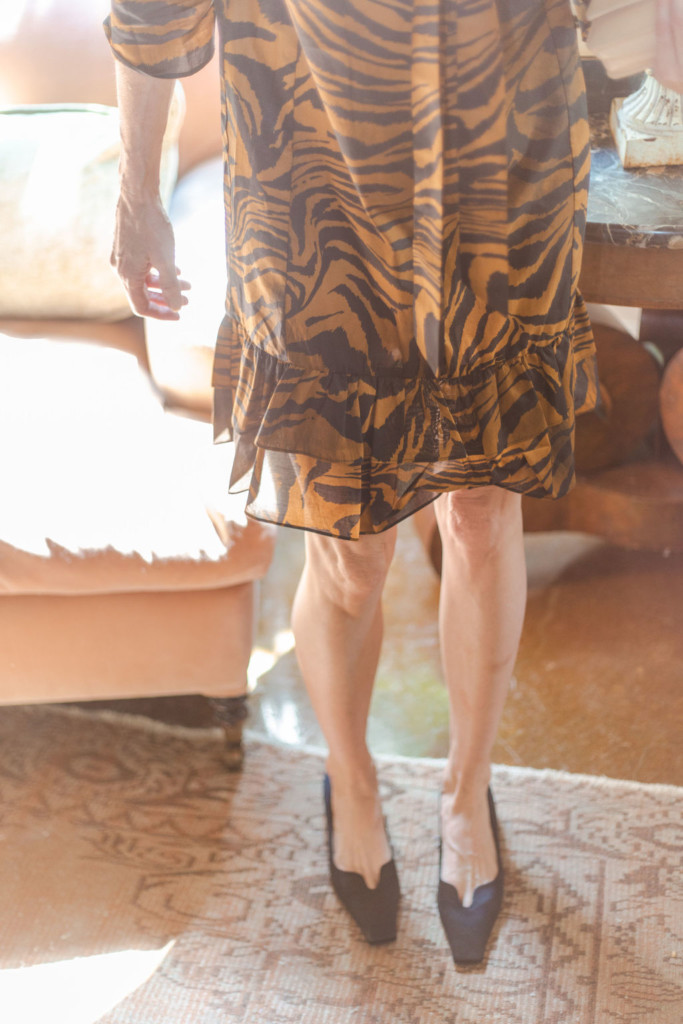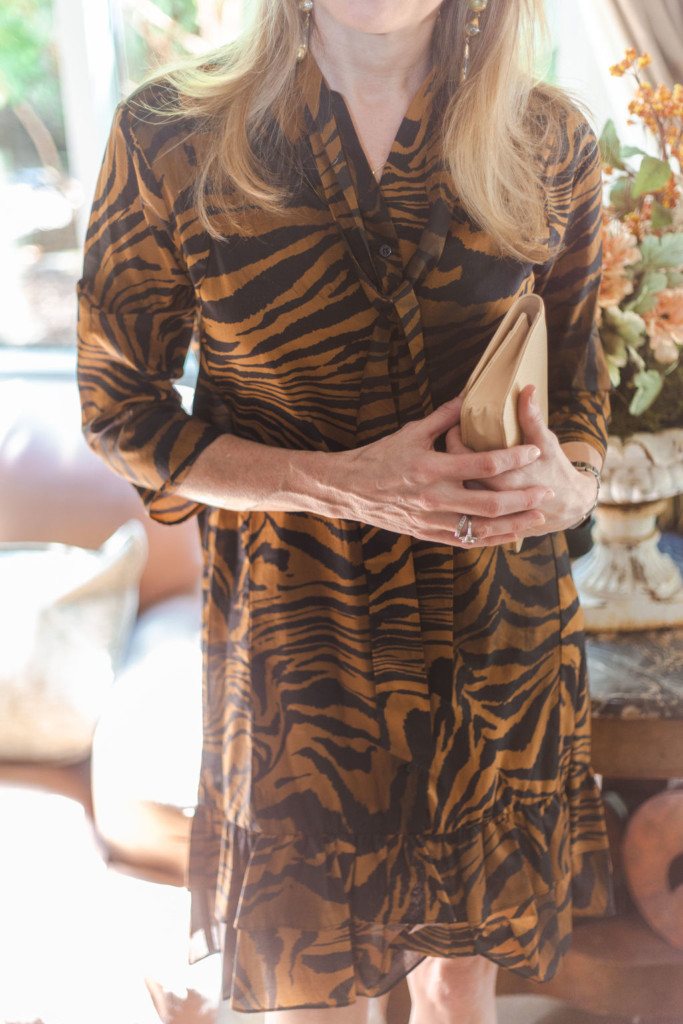 Note how I tied the neck tie - low, loose, and one knot. NO BOWS. Mkay cupcakes?
RANI ARABELLA FIRENZE MELON PRINTED SILK QUILTED JACKET, $1695, Your Price $1356
Here is the jewel in the crown of my picks for you this Fall. I have always, always loved a quilted jacket. I've said this before, it goes back to my Aunt Coco who wore a quilted jacket made from an actual old quilt. Now the cool kids have discovered them. But this is a sophisticated and utterly pretty piece of art, made in Italy. It is silk. It has the most luscious sorbet colors with bright (but not brassy) gold buttons, and glory of glories, it has pockets. And a slight hourglass shape, which gives you, the wearer, an hourglass! I adore the saddle print. This is an inheritable piece. Scarce quantities.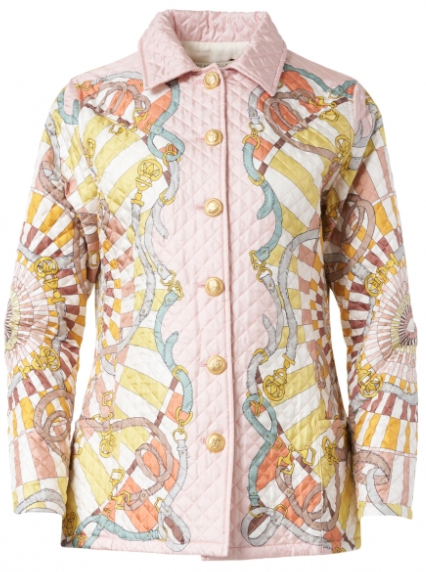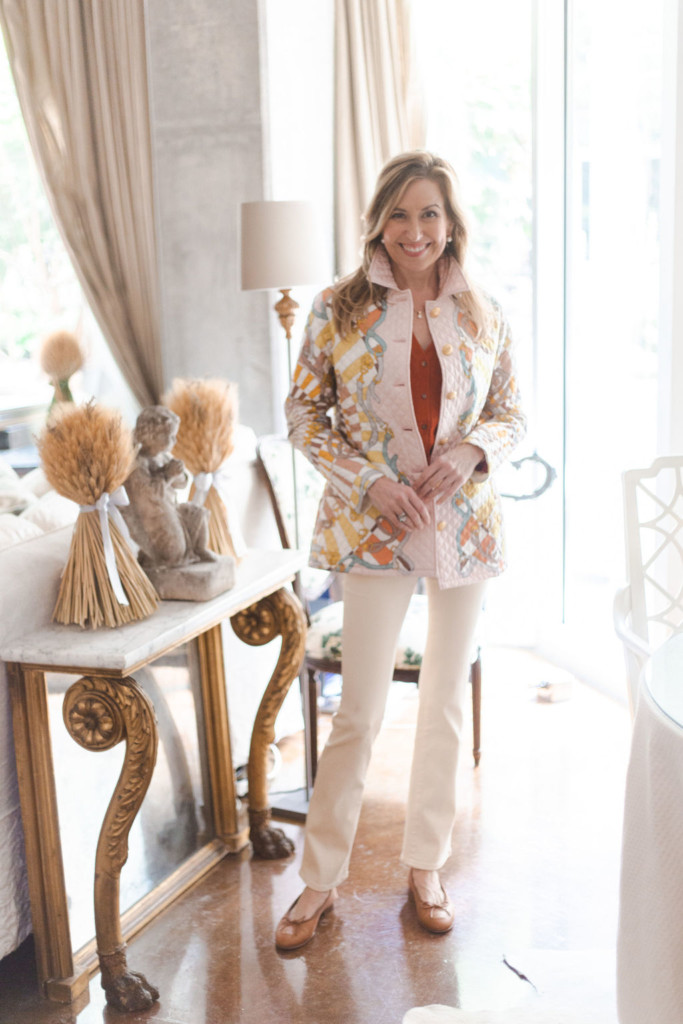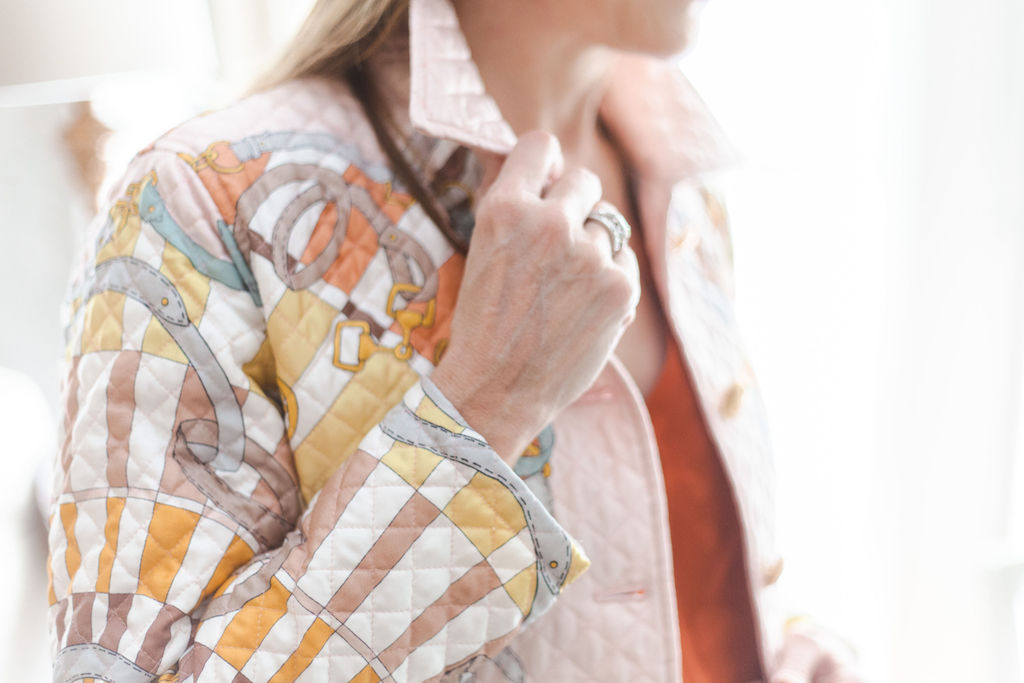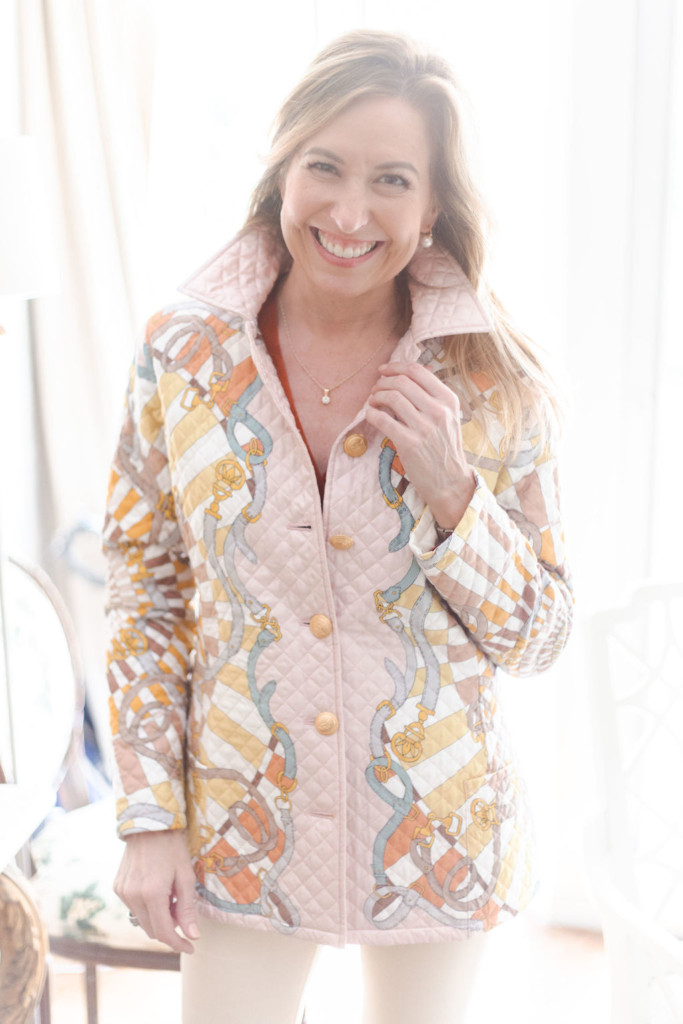 ---
Book your fall wardrobe session now, no matter where you live! My virtual wardrobe package is for you! Check out our Girls Shopping Trip, too!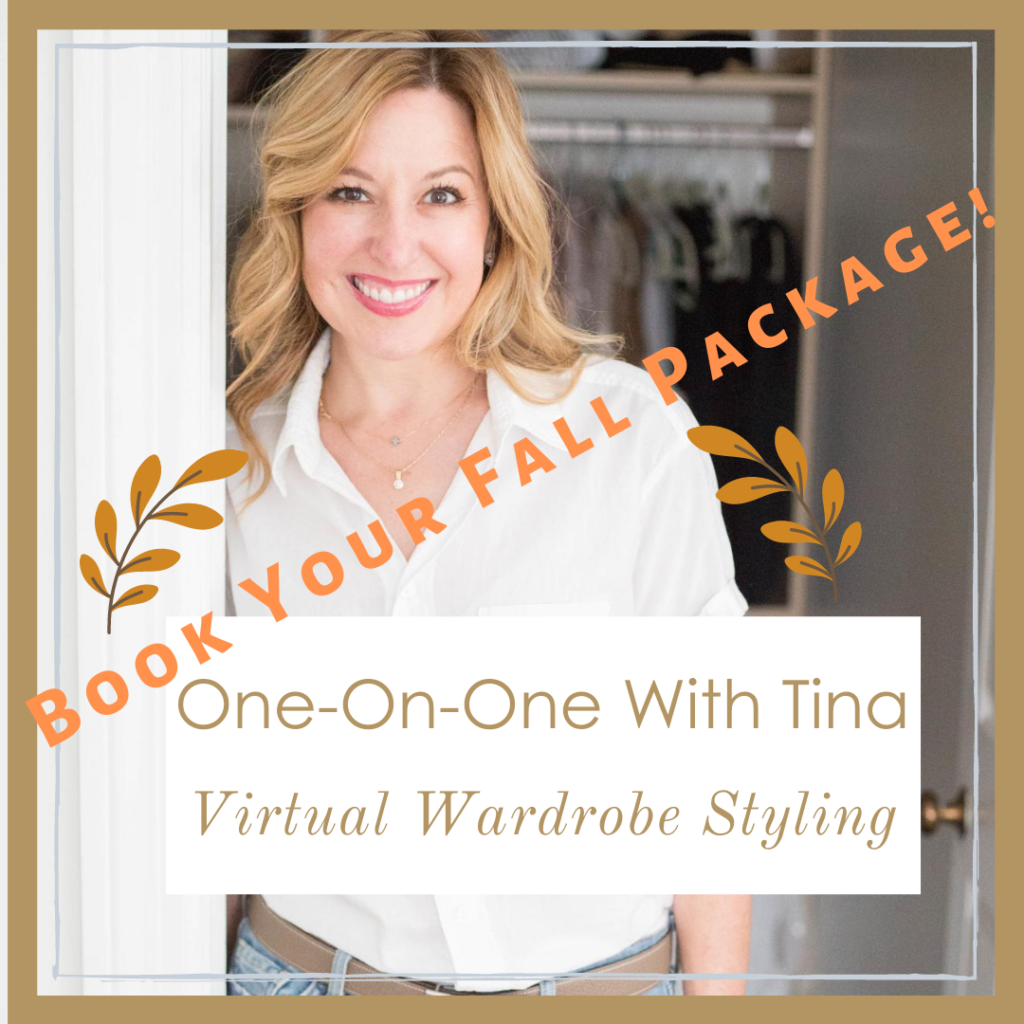 NEST BLONDE HORN DIAMOND STUD EARRINGS, $250, Your Price $200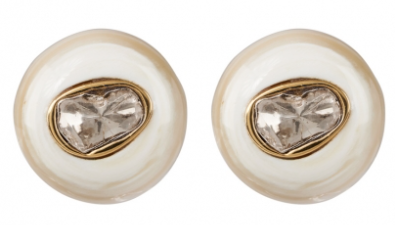 The best pair of "diamond" studs you can wear everyday. The ultimate QGT in earrings. And they feel so good on, weird to say, but sometimes studs are kind of awkward, but not these. I've always loved jewelry by NEST, the quality and their take on the classics.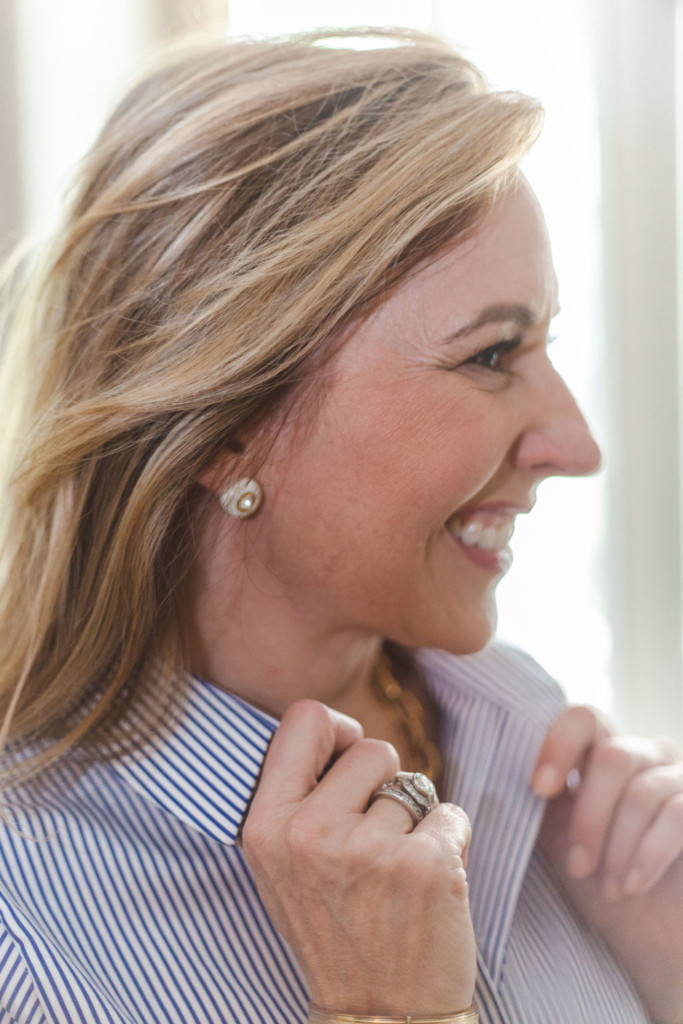 SANTORELLI BURNT ORANGE FLORAL BLOUSE, $345, Your Price $276
Notice the pintucking. And enough said. Well, I can go on, if you want me to! But the pintucks are what make this blouse sing, along with the rich color and the damask print. If you are afraid you can't wear this pumpkin spice color, you'd be surprised. It works on brunettes, blondes and even redheads. If you are silver or gray, you can wear it, too - just add lipstick.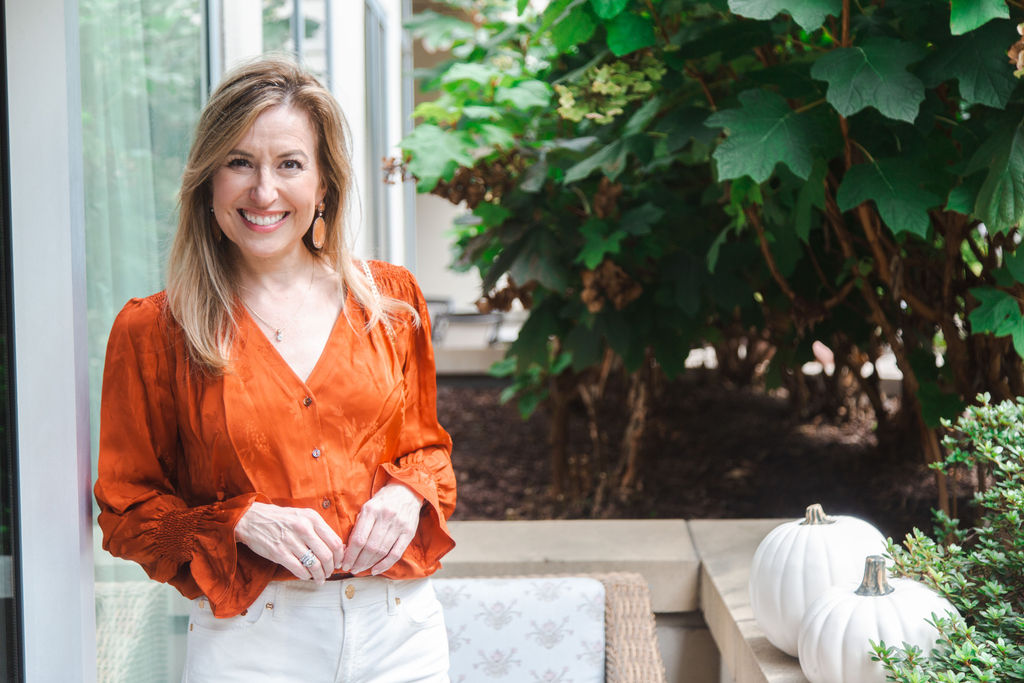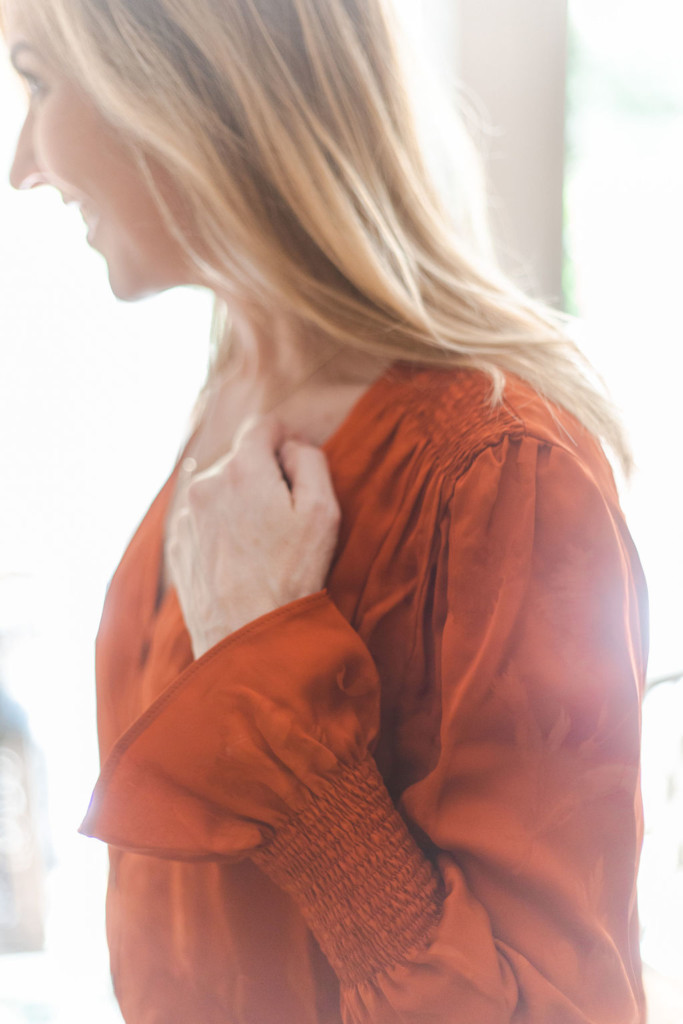 ALLUDE SALTED CARAMEL WOOL CASHMERE WRAP CARDIGAN, $235, Your Price $188
Oooooh this pretty, pretty wrap sweater makes me want to glide across a room as though I'm setting up a pirouette. You can wear it alone, or over a little shell, but please do not layer it over a collared blouse. Also, per instructions above, no bows on your stomach or hips. Tie it in a double knot.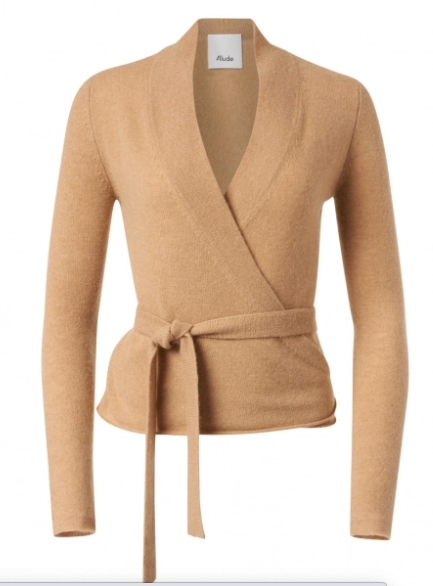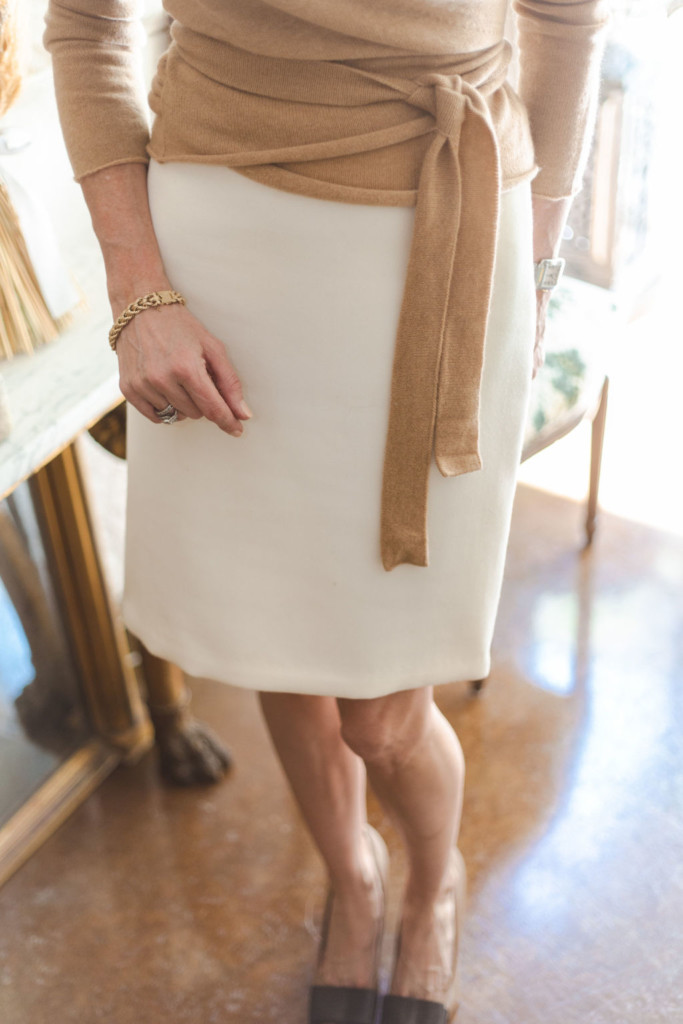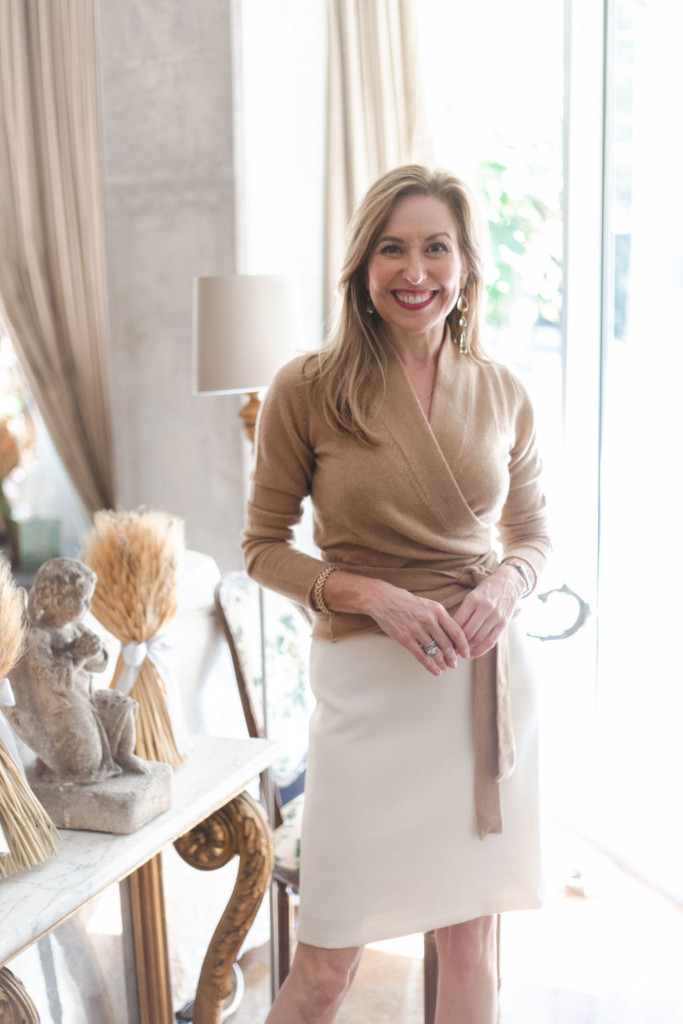 GRETCHEN SCOTT STRIPED COTTON TOP, $109, Your Price $87.20
Such style. Great price point. I can see this now with jeans, tucked in or left out (see how I'm wearing it with the jeans below), and later during the holidays with a crisp pair of neutral-toned pants or skirt, and in the Spring with white jeans.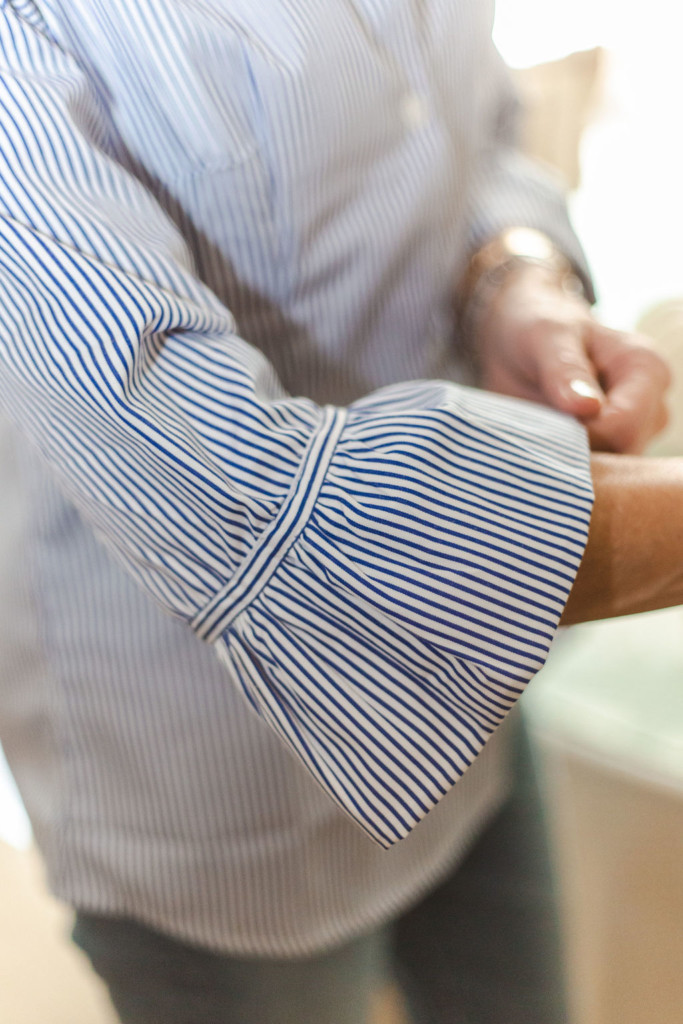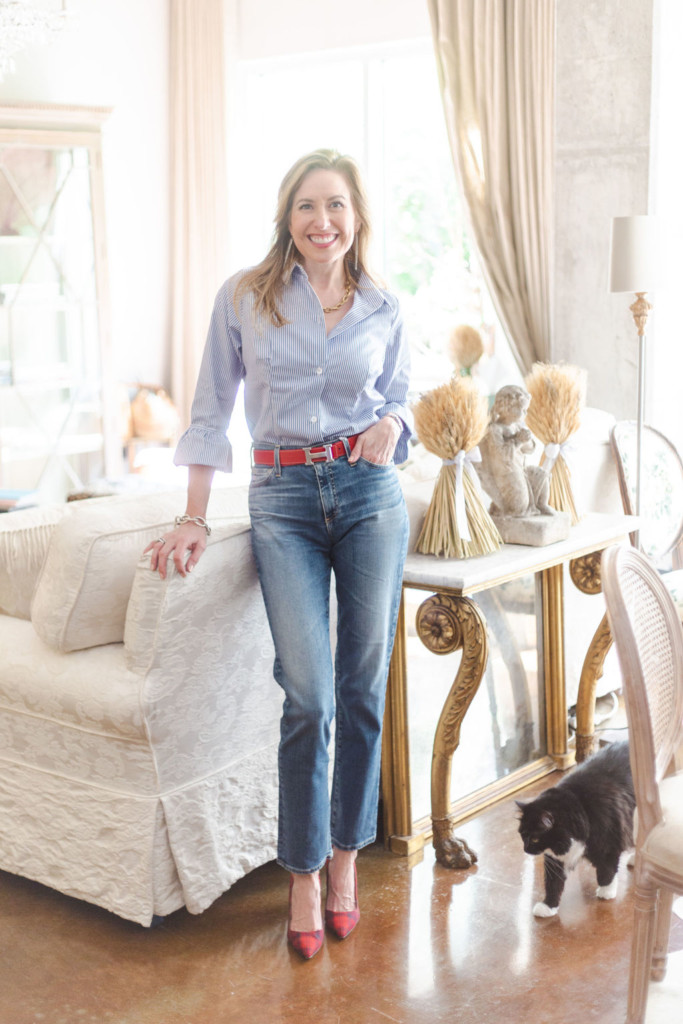 AG JEANS MARI BLUE STRETCH DENIM JEAN, $225, Your Price $180
I lOOOOOOVE these jeans. The rinse is that perfect faded denim without all those pesky (and fake-looking) creases and whiskering. They are soft. And they are slim. Not skinny, not straight. They are slightly cropped, but if, on you, they are grazing the tops of your feet, either hem them to where they hit on me, or cuff them with a teeny little cuff. I find these to run true to size.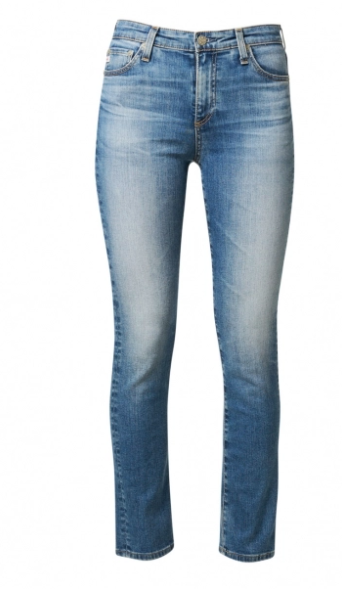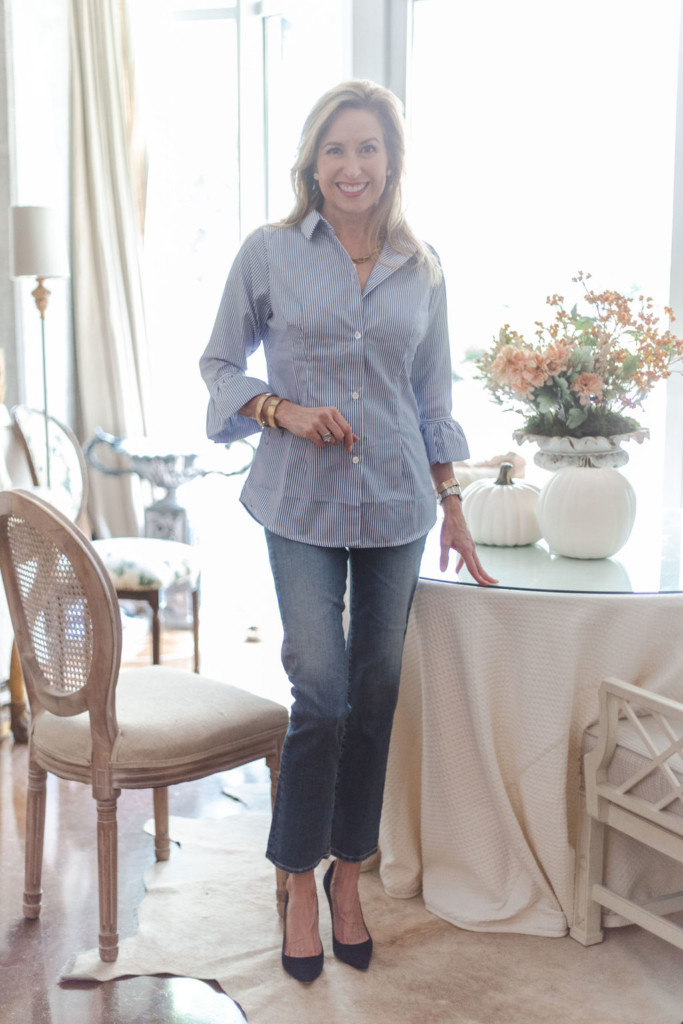 Sorry I didn't steam the blouse before the shoot...my laundress had the day off 😉
BROCHU WALKER NOHR BEIGE MELANGE KNIT TOP, $348, Your Price $278.40
How hard is it to find a stylish long-sleeve knit top for Fall that is neither a t-shirt, button-down, or silky, fussy blouse? Pretty near impossible. So snatch this one up now. I know it's a little pricey, but this is a quality piece, a quality brand. The neckline is so pretty. You don't have to mess with it - it stays put. Anything cut on a diagonal is going to flatter you.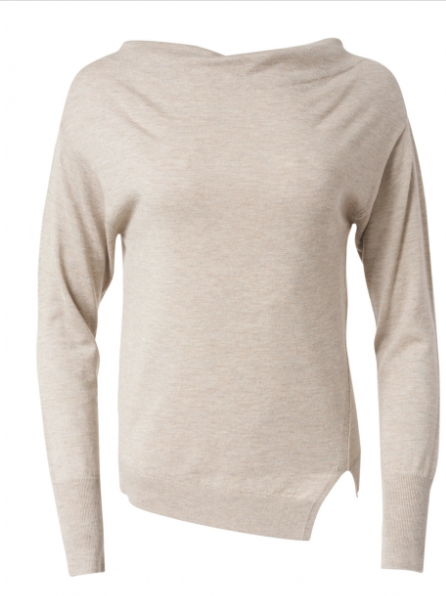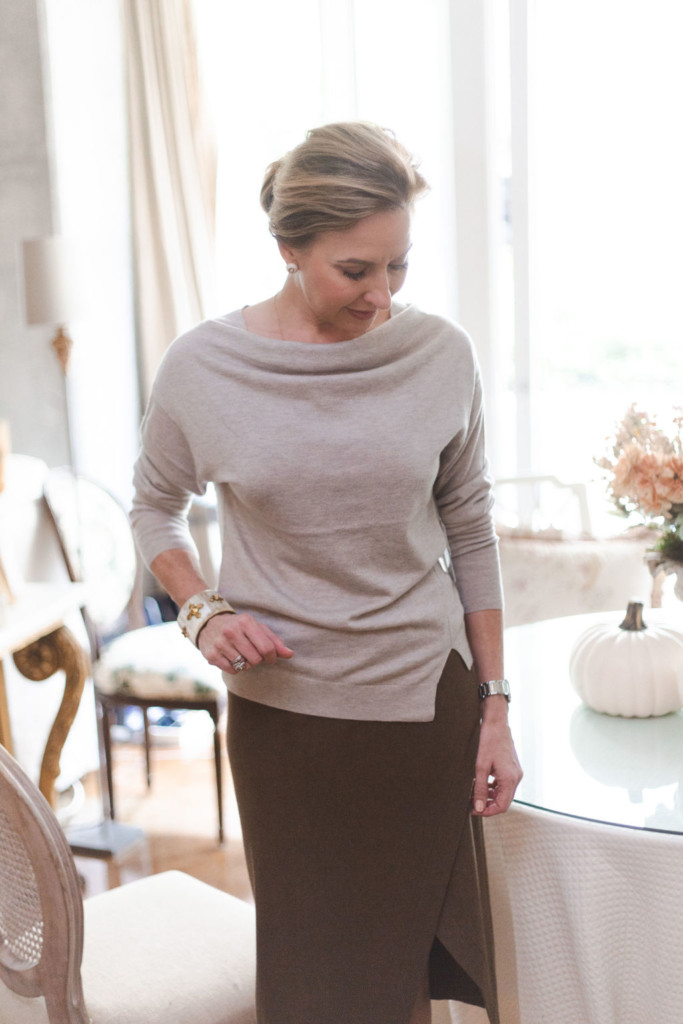 FINLEY CROSBY WHITE SILKY POPLIN TOP, $215, Your Price $172
Remember the black one I featured 2 Springs ago? It was one of the most popular items I've featured from Halsbrook, and every time I wear my black one, I get stopped. So I had to have the white one. You probably do, too. I find it to run a bit roomy.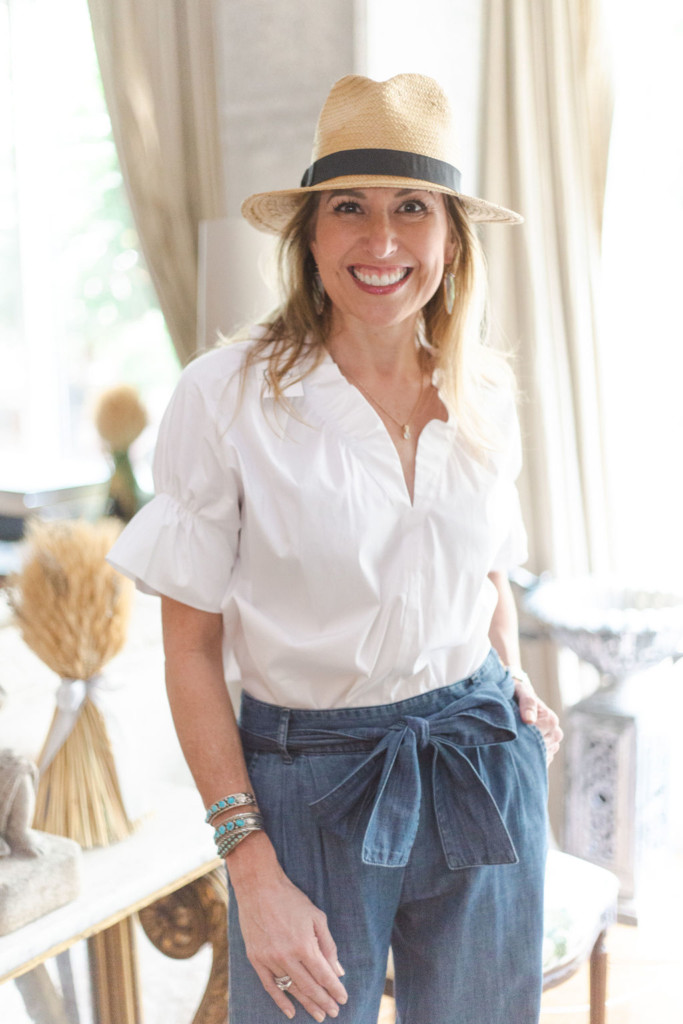 WHITE + WARREN CAMEL CASHMERE POINTELLE SWEATER, $298, Your Price $238.40
A must-have. Perfect v-neck (you can wear it alone, or over a blouse). Perfect caramel color. Soft and cozy. Good shape - designers have finally figured out how to make a sweater that grazes our hips, rather than hugging them or adding voluminous pounds of fabric.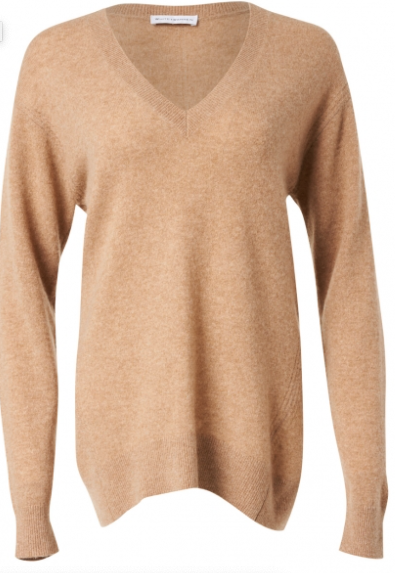 I'm wearing the white Finley blouse under this v-neck, and the subtle ruffle is just the right touch, don't you think?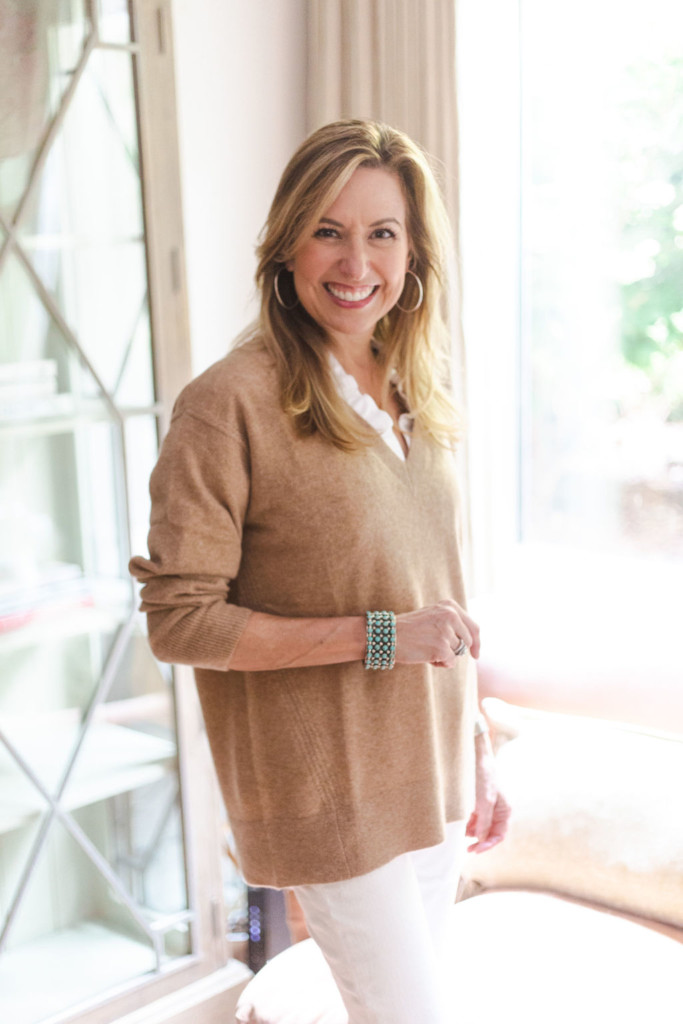 Save over $800 with your code (STYLE20) to shop these 11 wonderful wardrobe classics from Halsbrook!  I'd recommend getting in there now! (Only Insiders get the special discount code early.)
Thank you for stopping by!
Tina
This post may contain affiliate links, and if you click a link or purchase something we have recommended, we may receive a thank you commission from the website. Clicking these links won't cost you any extra money, but does help us keep our site ad-free.