Tina, here.
Do you remember those broomstick skirts from the 90's? Or, let's go back even further...what about those Cullinane skirts from the 80's (and their matching sweaters - oh I WISH I still had mine!!)? That is all I think about when I see these pleated skirts everywhere. The young folk 😛  are so into this granny look and they call it cottagecore. Isn't that hysterical? My nieces would love me so much more if I had saved all my 80s and 90's clothes, especially Laura Ashley since Target seems to be ripping off their ruffle blouses (this is an exact replica and I actually do still have my Laura Ashley one and I would show it to you but it's stored in a box in the garage because all I seem to do is move). And by the way, this is not to be construed as permission to hoard all your Harold's paisley skirts and faux croc flats!
But then I decided, they are kind of pretty, these pleated skirts, in a feminine grown woman way, which is a nice foil to the awful doll clothes being offered to women right now.
Dredging up your thirty year old broomstick skirt is not a good substitute. The modern version of pleated skirts are lighter and shorter. But they still present a problem. That length is SO AWKWARD.
What do you wear with a pleated skirt?
First of all we have to address length. Most pleated skirts are midi length, hitting at that awkward spot, mid-calf, where capris become evil. So why are midi skirts ok but capris are evil? Midi skirts can work if they are slightly shorter than mid-calf. This is how you avoid tree trunk legs, by keeping the hemline above the widest part of your calf.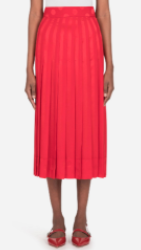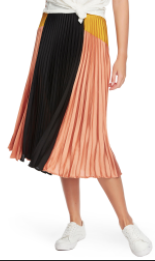 On the left, we have tree trunks because we can't see the shape of the calf. On the right, the hem is just short enough to reveal the shape of the calf, but still long enough to be considered a midi. And you can see it has nothing to do with the actual shape of your legs, but the length of the hem. 
New VIDEO! Speaking of hemlines....where should you hem your skirts and dresses? Does it have to do with your age, the shape of your legs, how tan you are, if you have veins, .....and on and on. It's pretty straightforward. Here is how you know where to hem your skirts and dresses.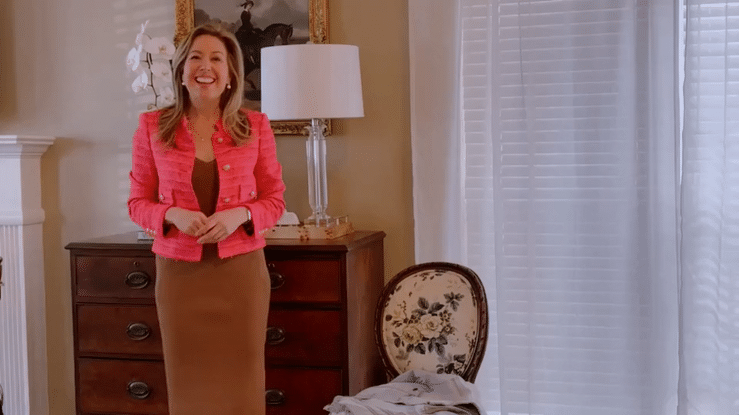 Insiders, click on over to watch the video. If you're not an Insider, you can join the free trial and instantly access all the exclusive content like videos, shopping guides and more! 
Next rule is about proportion: if your skirt or dress is full on the bottom, you need to go slim on top. And vice-versa. So with a full skirt that falls below your knees, you definitely need a trim and slim top (this is mine from Halsbrook) or jacket. You can tuck in a t-shirt or tank, but belting your top is a great way to tame the look of fullness if you don't want to tuck.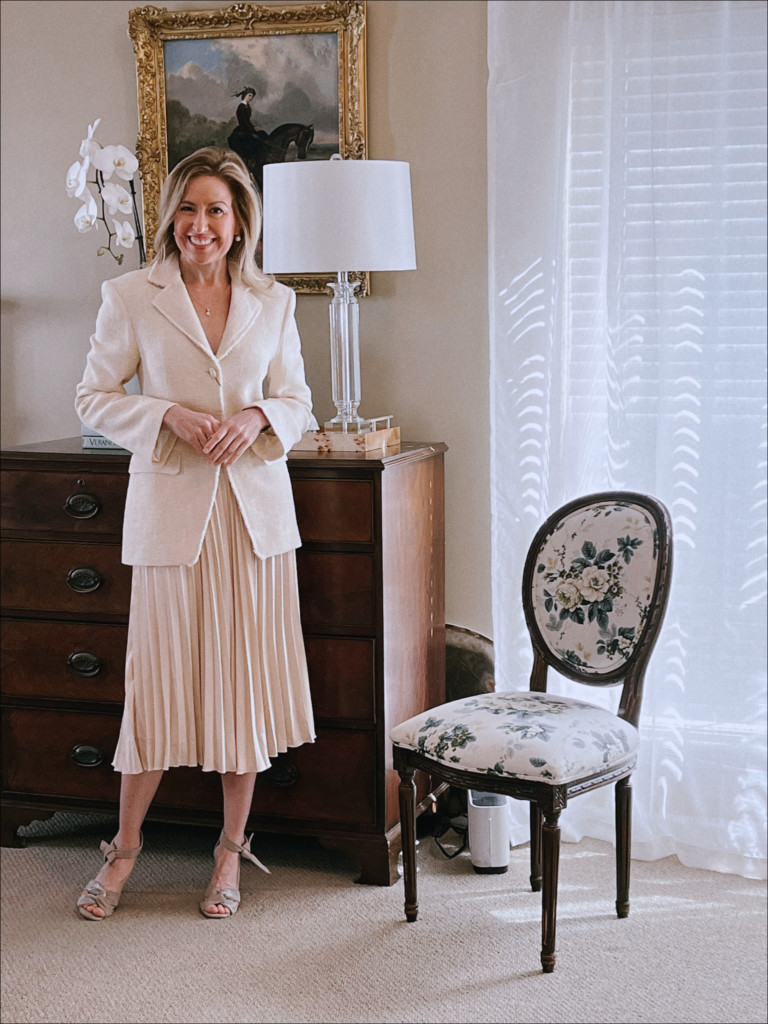 Here are some illustrations comparing unflattering (the first set of skirts) and flattering (the second set): if your skirt has pleats, aka FULLNESS and VOLUME around your hips, guess what? Yes, you have added fullness and volume to your hips.
These are a No.
These are a Yes.
But if your skirt is slimmer through the hips, and then slightly flares, you have a good, flattering shape.
Related: There's A New Color In Town This Spring (+ Insiders Video On Wearing Color)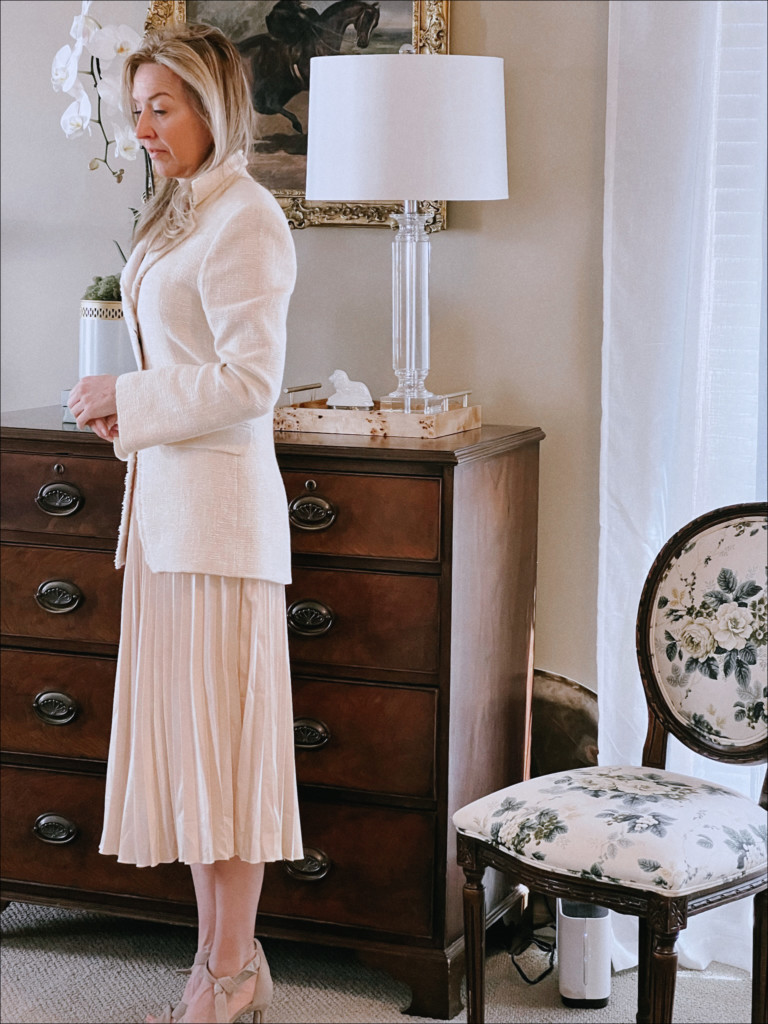 A fitted jacket can create that trimmer silhouette if your skirt is too full around the hips.
Pretty Pleated Midi Skirts
---
I'm booking Spring Wardrobe Appointments! No matter where you live, I can transform your wardrobe and help you achieve the holy grail of dressing, dressing with effortless style. Book your Virtual or In-Person (Nashville, Chattanooga & Atlanta areas) package now!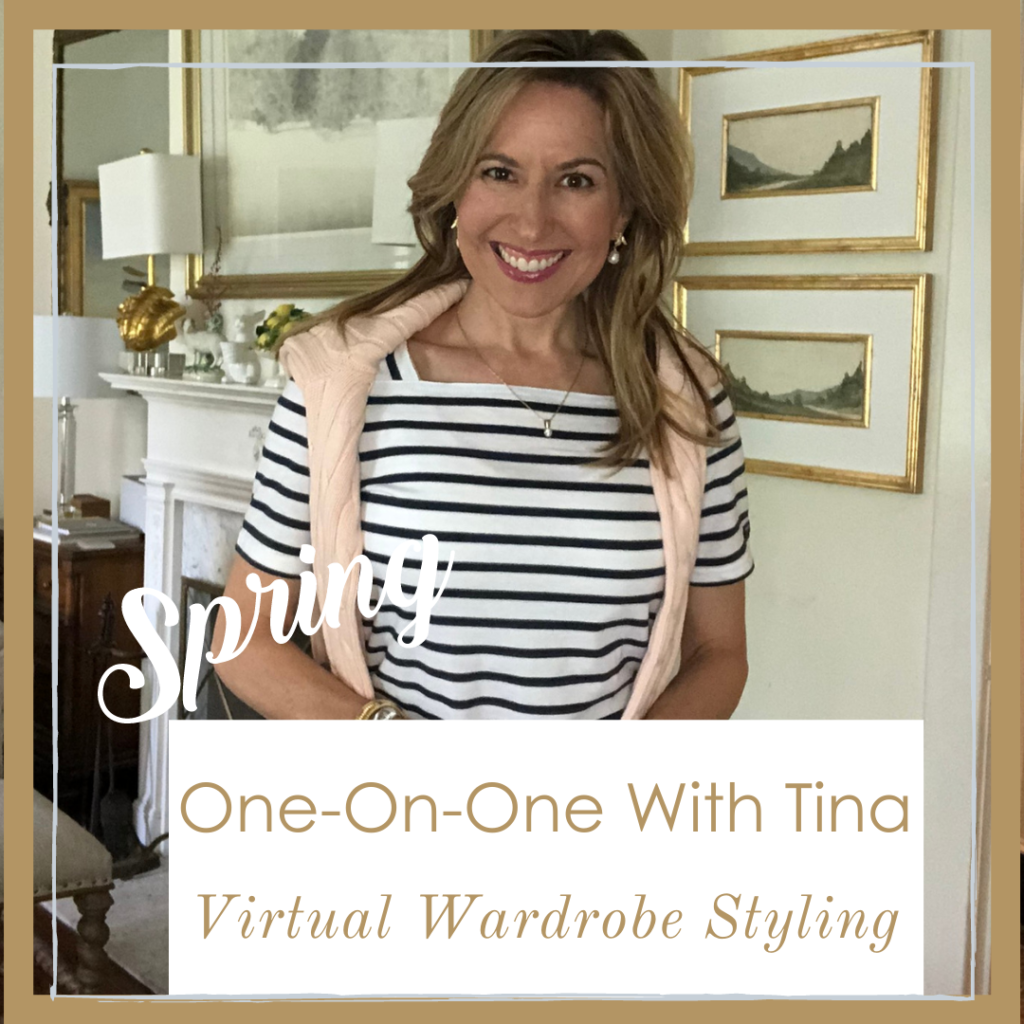 ---
How To Wear Pleated and Midi Skirts
Thanks for reading! Don't forget to check out the new video on where to hem your dresses and skirts!
All my best,
Tina
This post may contain affiliate links, and if you click a link or purchase something I have recommended, I may receive a thank you commission from the website. Clicking these links won't cost you any extra money, but does help me keep the site ad-free. All the clothes I wear are mine.