Tina, here.
I'm just living for those cooler mornings and cooler evenings. And leaves rustling in the trees. And the first SEC football game this Saturday (and hockey season)! Basically, I feel like I come alive again every Fall. But it's still Summer in most of the country, so let's tease out some transition outfits to tide us over til we can actually start wearing boots and sweaters.
The Key To A Fall Transition Wardrobe Is Changing Your Color Palette
Start moving away from your cool pinks and blues and add in some warm neutrals like caramel and taupe. Your basic wardrobe building block can still be white jeans, thank goodness. Right? Because we know I love white jeans well into cold weather, or year-round. (These off-white jeans are expensive but fabulous, not to mention hard to find). But warm earth tones look more appropriate now than hot pink or bright blue.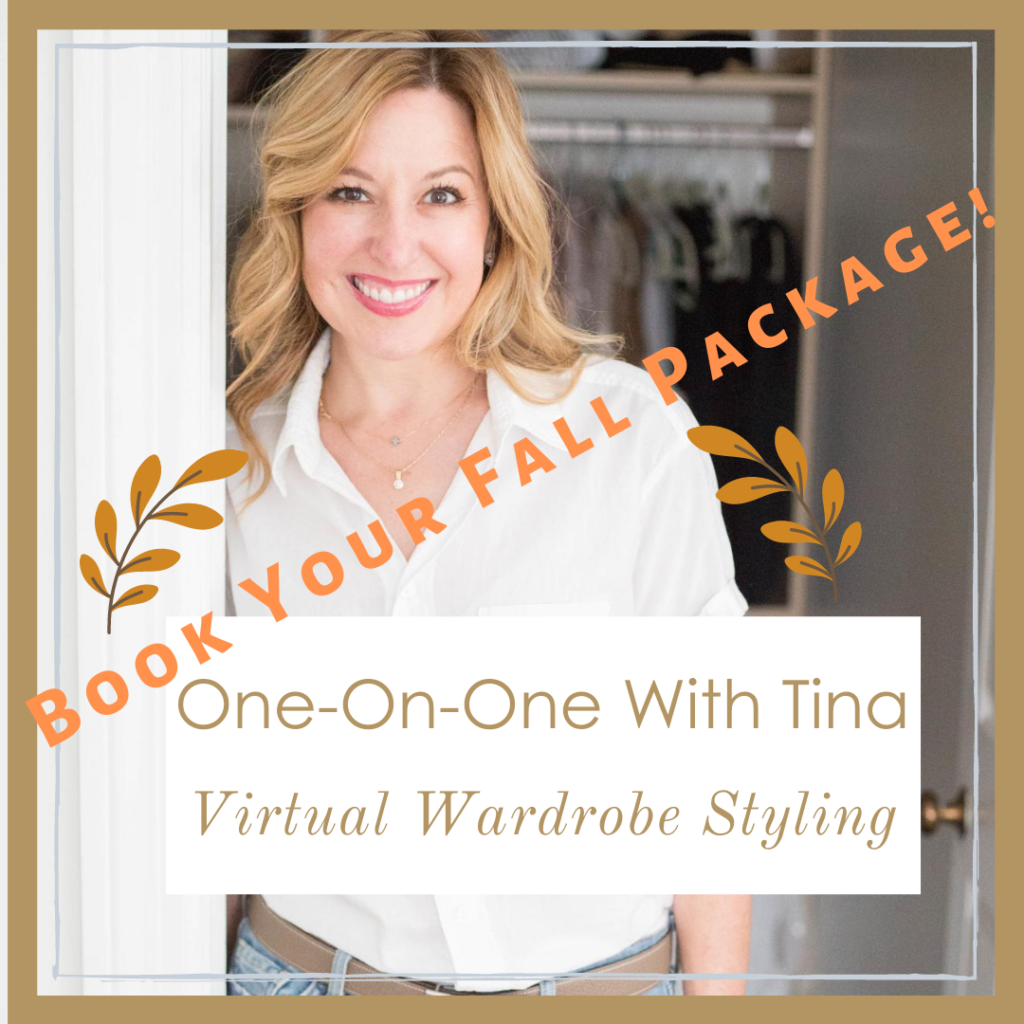 This little trick of just changing up your color palette will extend the life of your wardrobe so you don't have to go out and buy all new pieces every time the seasons change. It's the Cost Per Wear test I apply to every piece I buy and every piece I recommend to you.
Related: [VIDEO] 3 Tips for Maximizing Your Wardrobe
So, you can extend your white jeans and white skirts into Fall by wearing Fall colors with them. It's the same principle with a LBD, or Little Black Dress. In the Summer months, sparkly strappy sandals and a straw clutch look great at a cocktail party; in Fall, brown suede boots and a denim jacket take the same LBD to a football tailgate party.

My personal favorite pairing with white during these last days of Summer is caramel, like my caramel sleeveless sweater.
Shop The Look
I get asked all the time, when can you start wearing boots? (If you need some this Fall, go ahead and get these in the brown croc while they're available!) I say whenever you want to, but I generally pull mine out about mid-September. I'll do a post for you on Fall boots. I'm seeing some good ones already!
Thank you for visiting. And since it's a new season, look for our all-new, members-only Shopping Guides and downloads.  Stay tuned!
Best,
Tina
This post may contain affiliate links, including Amazon Services, LLC Associates Program, an affiliate advertising program, and if you click a link or purchase something we have recommended, we may receive a thank you commission from the website. Clicking these links won't cost you any extra money, but does help us keep our site ad free. All the clothes I wear are mine, and are not given to me for any promotional purpose. I buy what I love and wear what I love!