Tina, here.
Only two more days to shop with my exclusive 25% off discount code, CHEER25, at Halsbrook! And I've curated the perfect Christmas wardrobe for you! Check it off your list, and breathe a sigh of relief, and... 
TODAY and TOMORROW, DECEMBER 5 & 6, RECEIVE 25% OFF YOUR ENTIRE PURCHASE AT HALSBROOK!
SAVE OVER $900 on my favorite picks with code CHEER25.*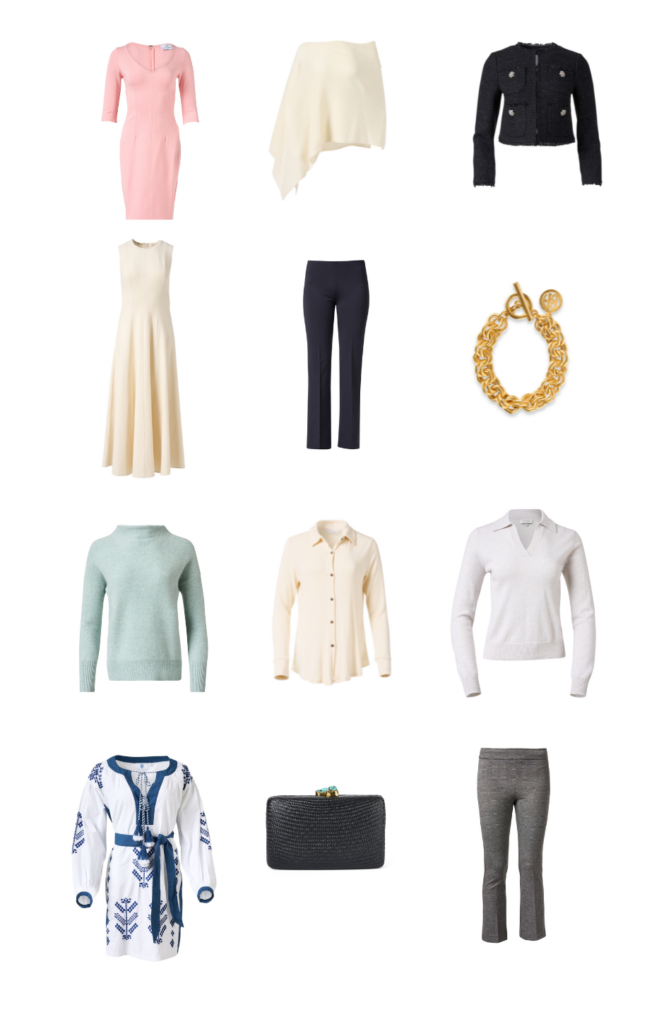 Rows From TOP to BOTTOM
Insiders have already been shopping so some items may be sold out but there are plenty of  gorgeous holiday outfits! If you'd like early access to posts like this and my Holiday Gift Guide, plus exclusive videos, become an Insider today and never miss out!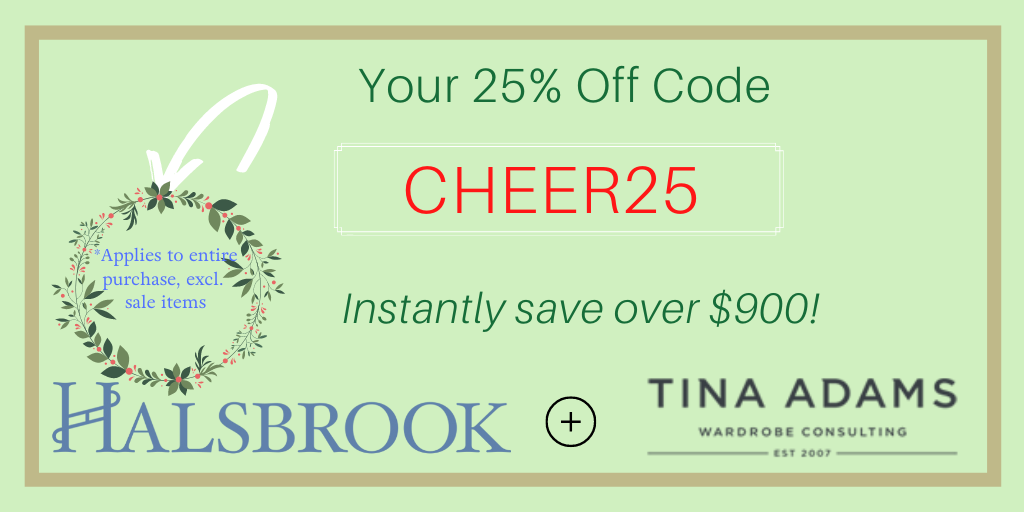 *Plug in code CHEER25 at checkout. Valid 12/2/22 through 12/6/22. Sale items, Gretchen Scott, APC and Mother excluded.
During the holidays, I want you to be, really be, with family and friends, fully present, making memories, free of worry and stress...and what so many women worry about is, what am I going to wear to all these events and parties? And then you may buy a bunch of stuff that is either too pricey, too young or too old for you, or that you don't even like. If I can take care of your holiday wardrobe, you can forget about yourself, enter into the spirit of the season and love the people who cross your path. It's so easy for me to curate a selection from Halsbrook, which has been offering beautiful, easy, classic clothing since 2012. Founded by a young Harvard grad who understood stylish women acquire beautiful clothes that aren't flashy and trendy, but modern and wearable. Shopping on Halsbrook's website is an elegant experience, even more so with my 25% exclusive discount for Tina Adams Consulting readers and clients. Thank you Halsbrook!
---
Great Gift Idea! Give a Tina Adams Consulting Wardrobe Package Gift Certificate!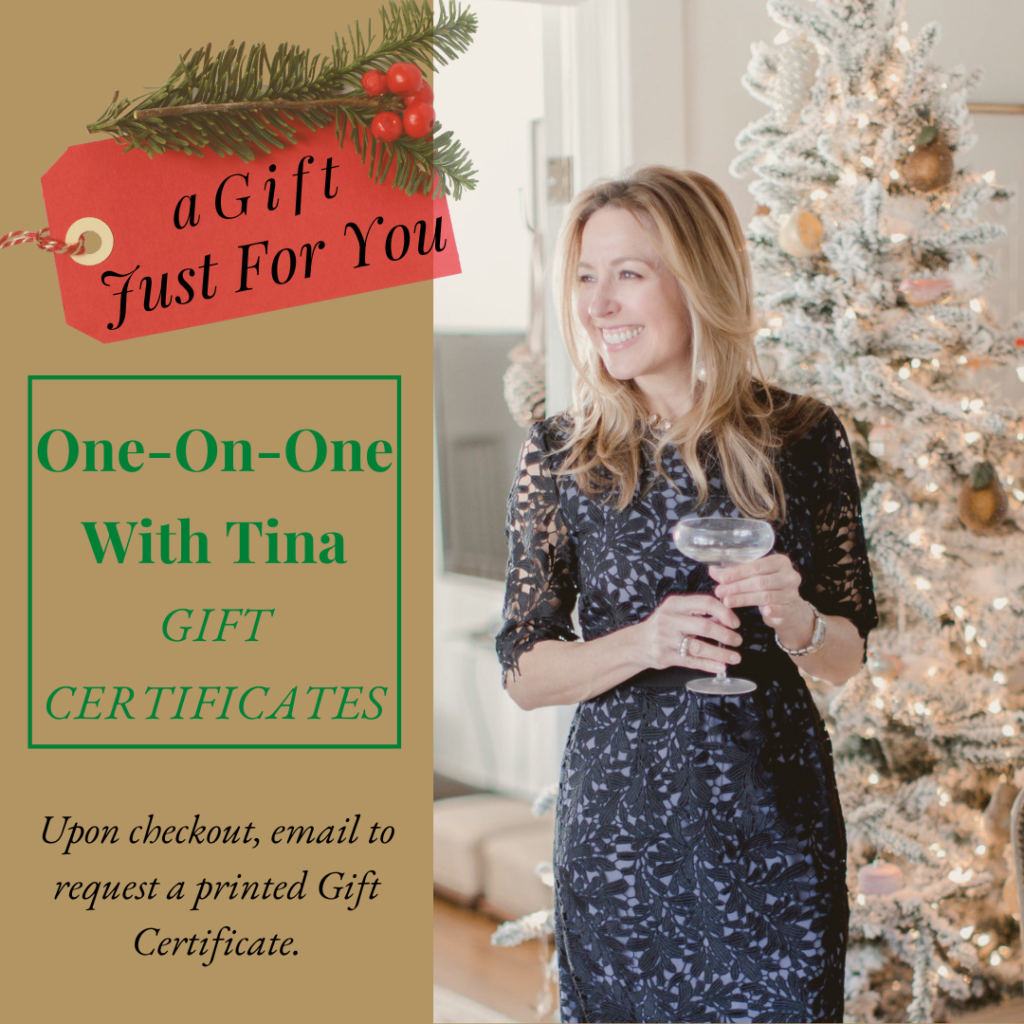 ---
1. CHLOE KRISTYN Maggie Ponte Dress, $318, your price $238.50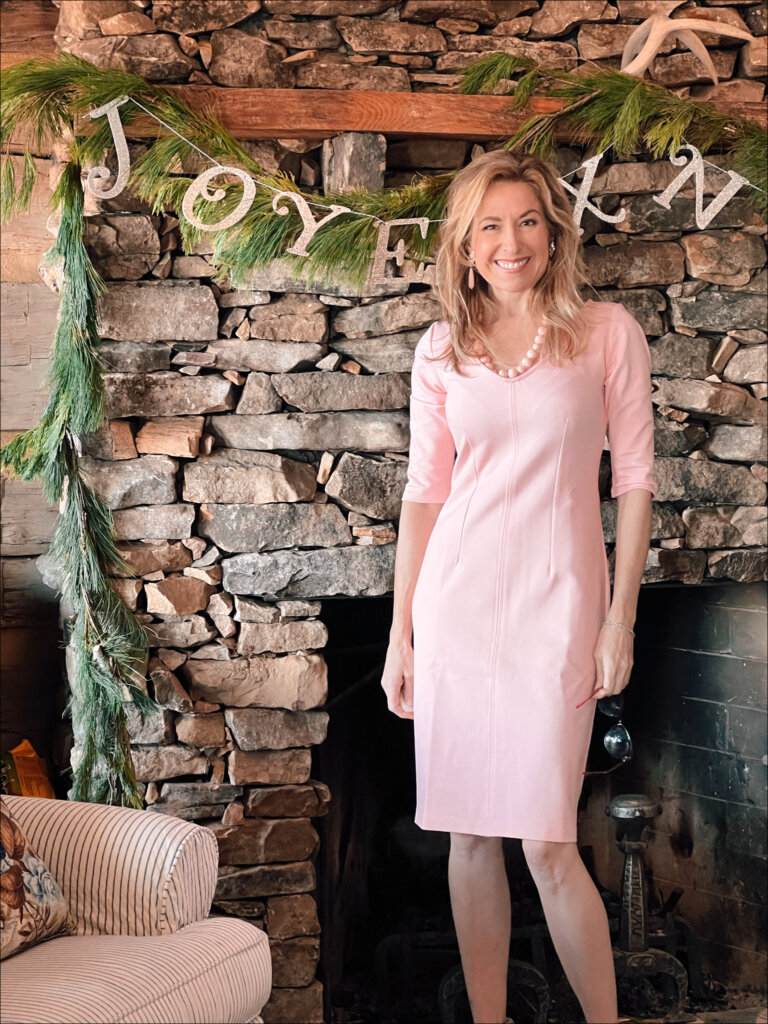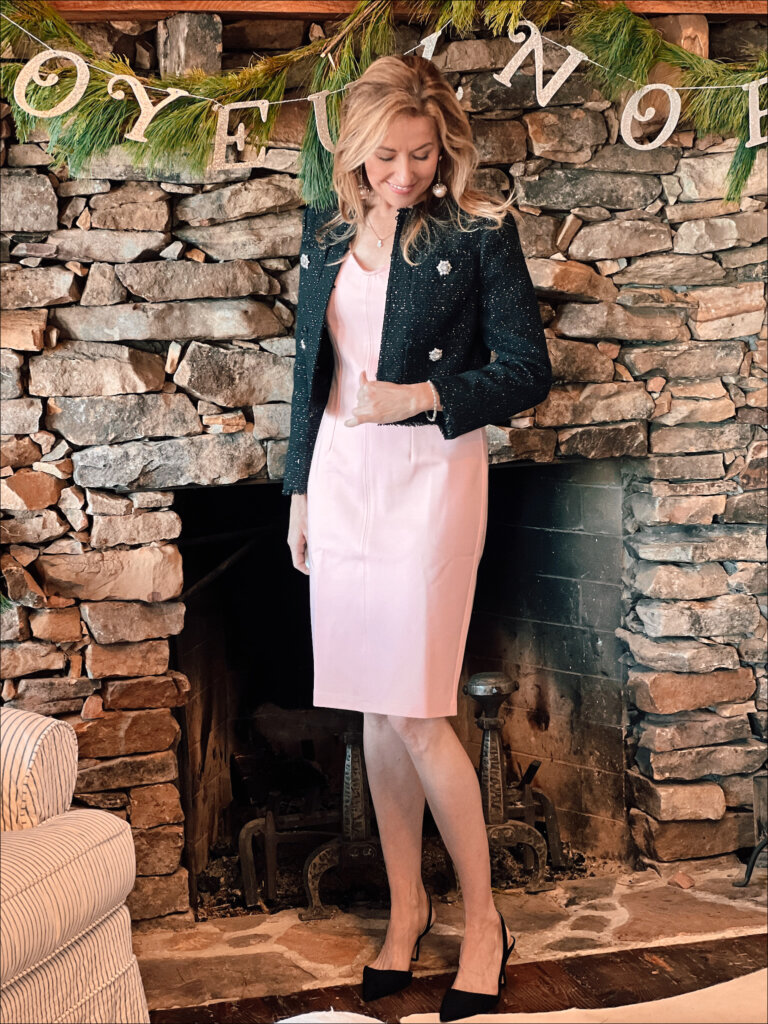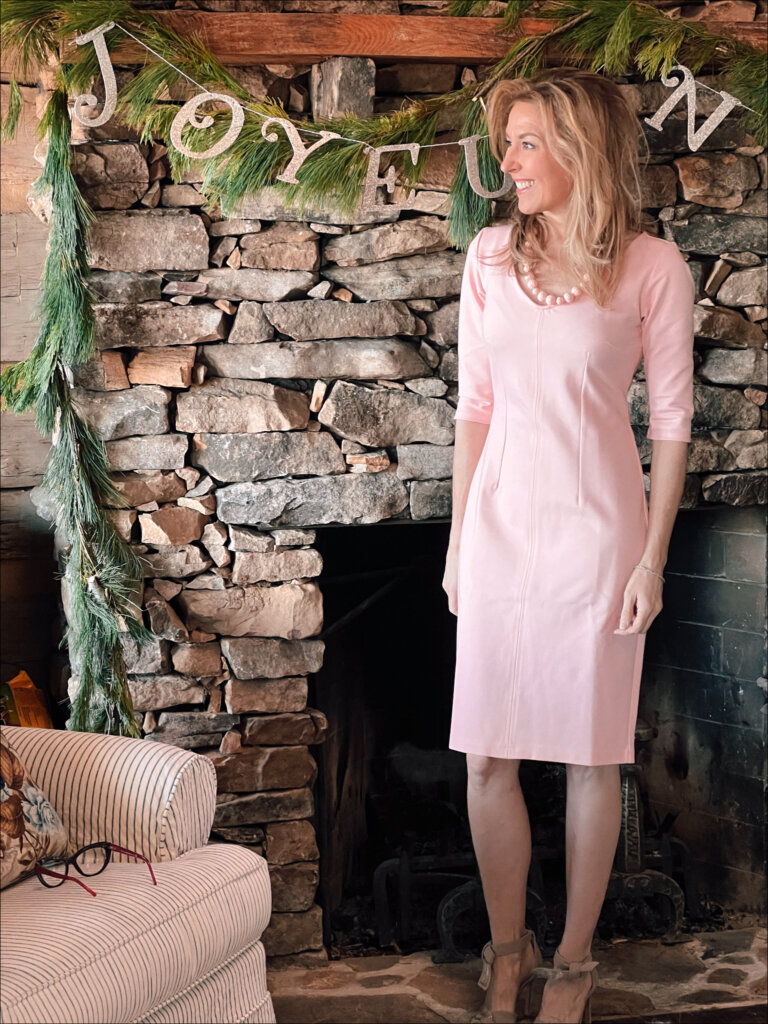 (apologies for the wrinkles - I had a last-minute steamer mishap 
 )What a pretty color for this Winter! This pale pink is so soft, but won't wash out your complexion. It will feel fresh in Spring, too. A good v-neck dress, that's not too low cut, is a rare find. Also, the long sleeves make it even rarer. It's a ponte knit so it will give and move without over-stretching. 
2. MINNIE ROSE, Vanilla Cashmere Ruana, $150, your price $112.50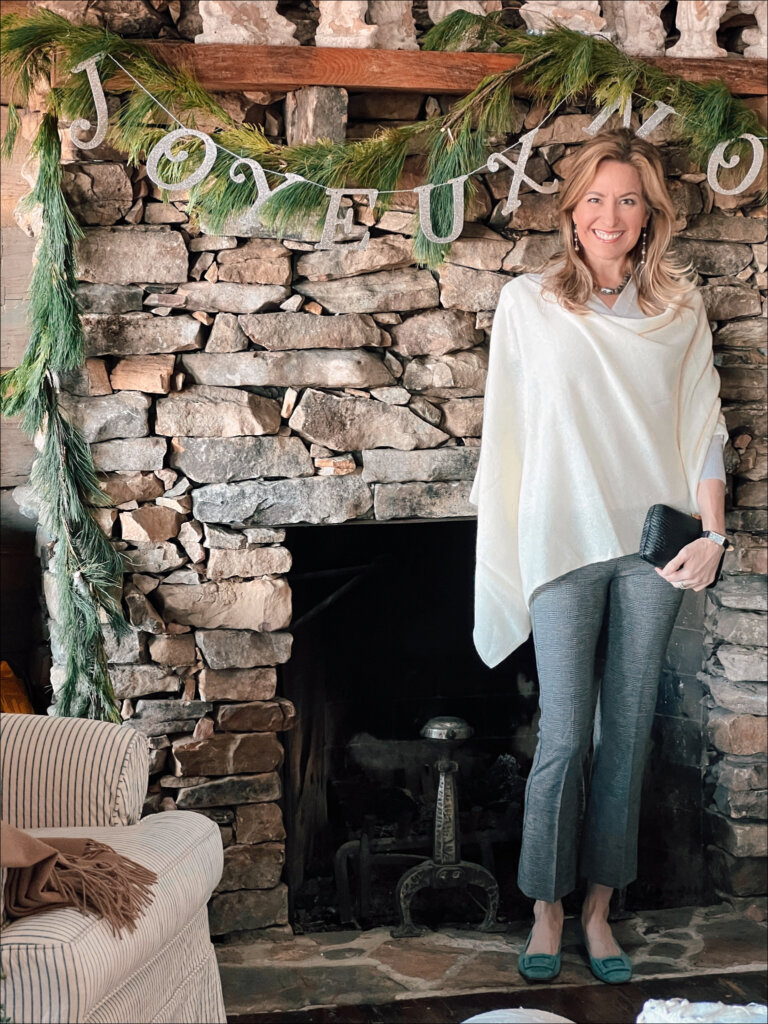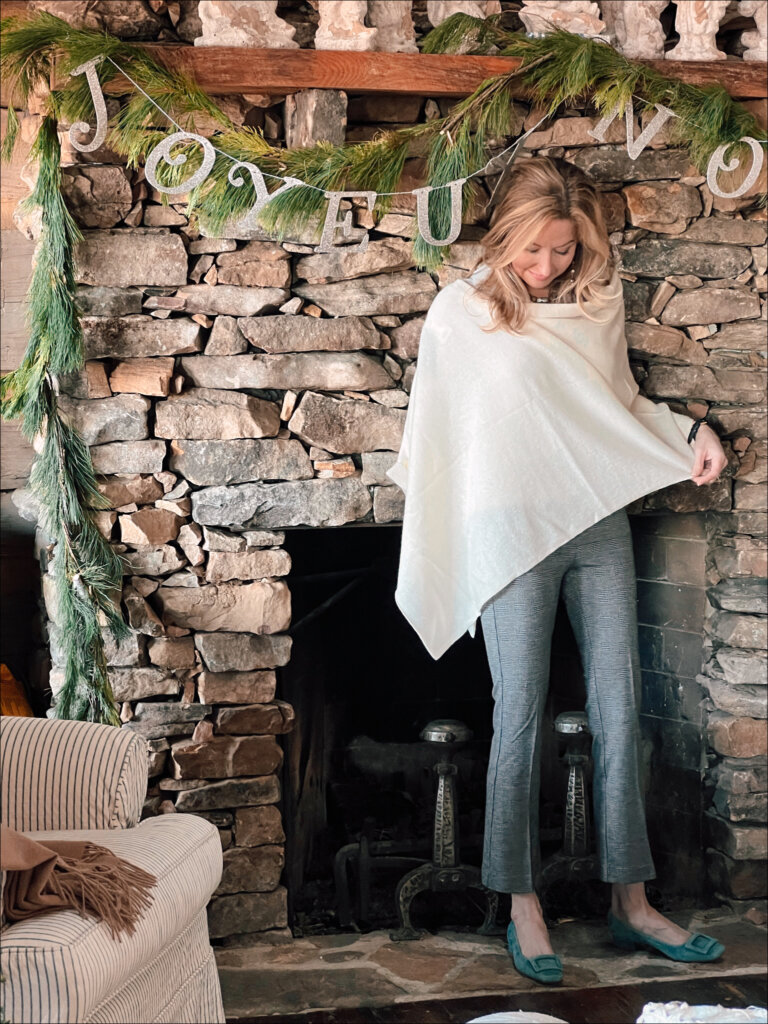 If I could design a cashmere wrap, this would be it. It's actually a poncho, so you put it on and forget about it - no fixing and rearranging. It stays put. There'a a secret to wearing it the right way though. Make sure you wear it with the triangle to your side, not down your center over your tummy. It's the diagonal line that makes it so flattering. There are 13 colors! I also have the mint green one.
3. L.K. BENNETT, Chelsea Black Metallic Tweed Jacket, $645, your price $483.75
4. EILEEN FISHER, Beige Silk Charmeuse Top, $198, your price $148.50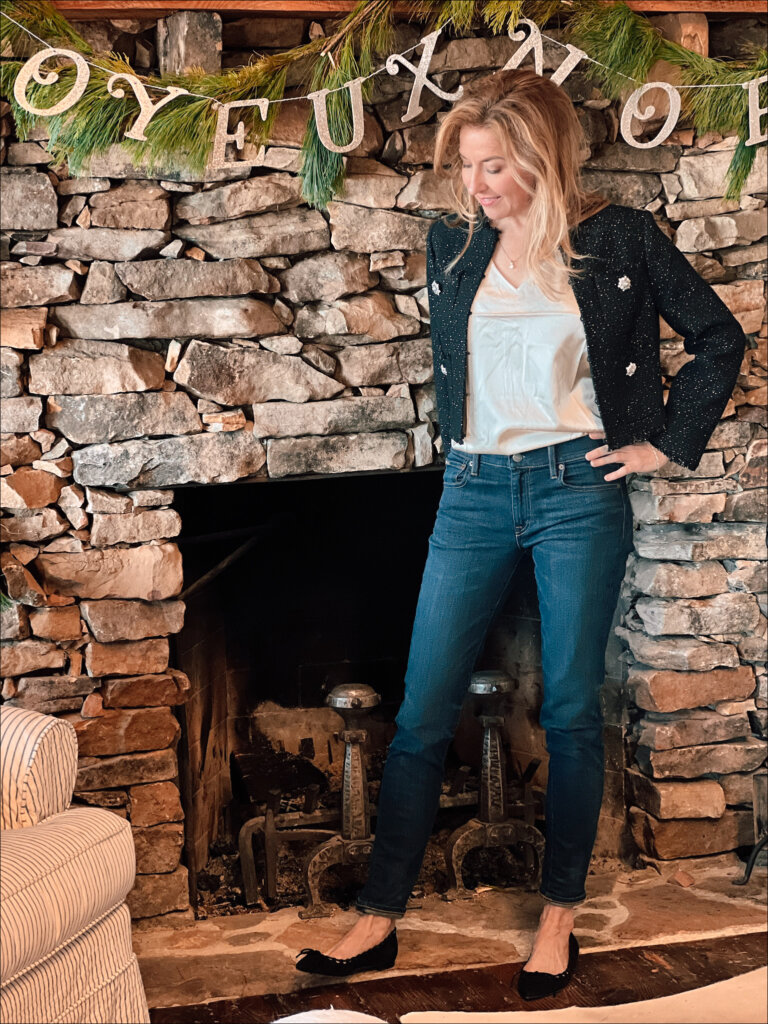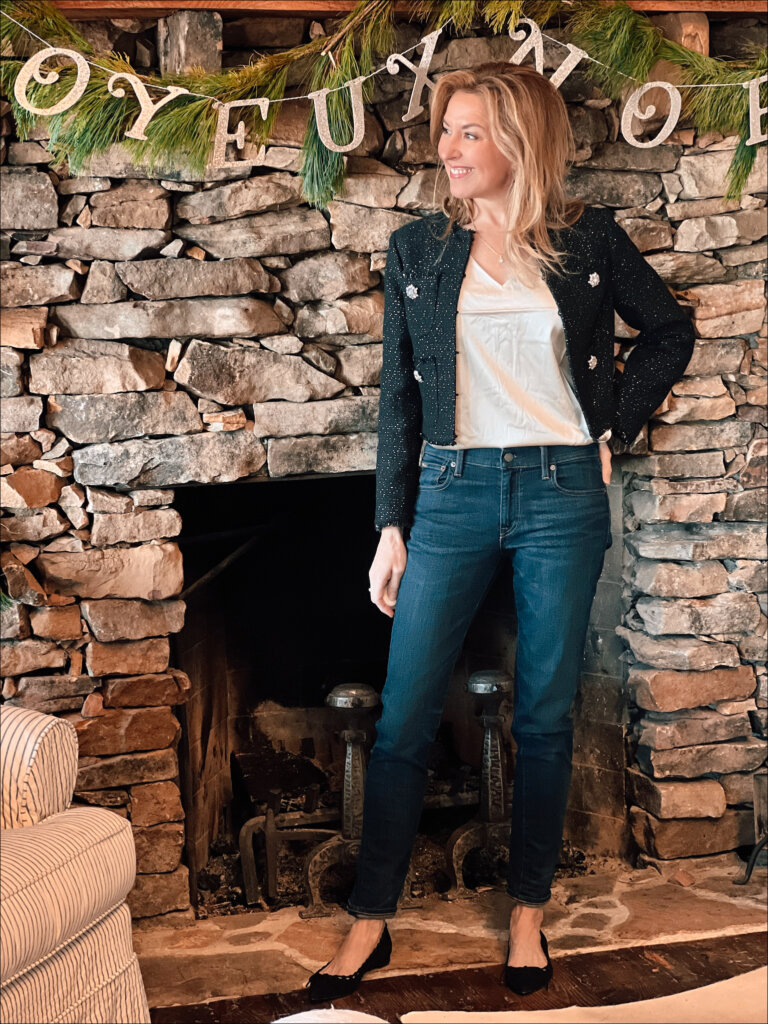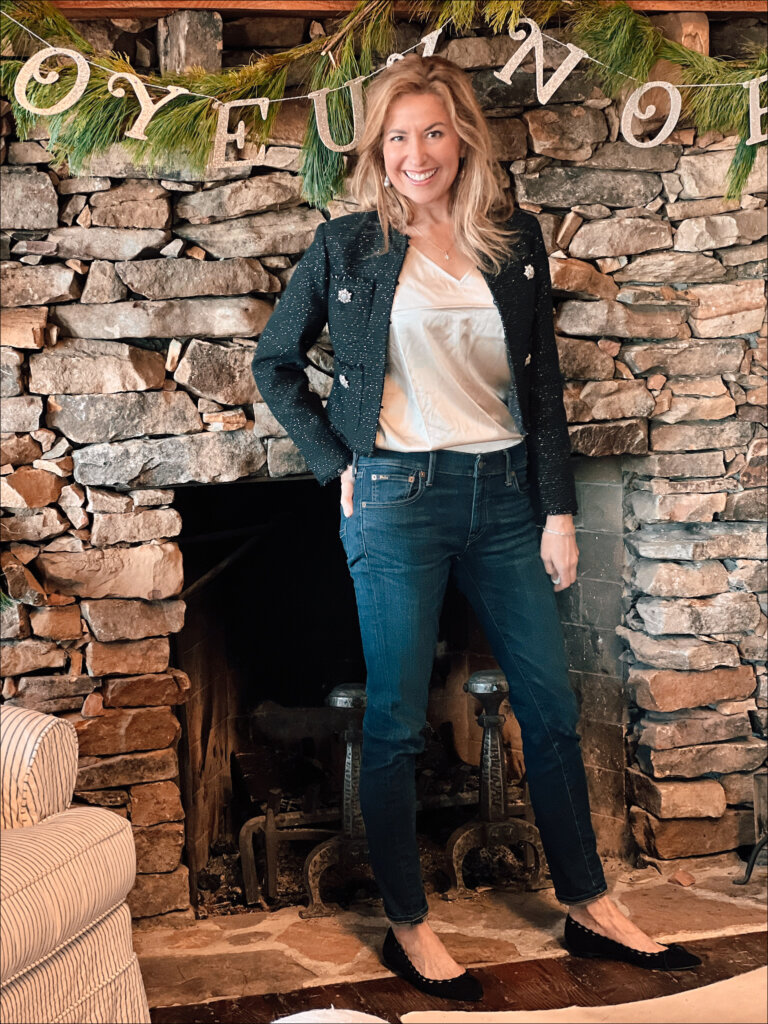 My silk layering shell is also wrinkled due to the steamer malfunction, but I'd like to point out its winning qualities: it's a v-neck (!), the underarm holes are not down to your mid-section (no peeking permitted), and the price is VERY good. Have you seen what some of these silk shells are going for lately? Absurd. But not this one. It's going fast.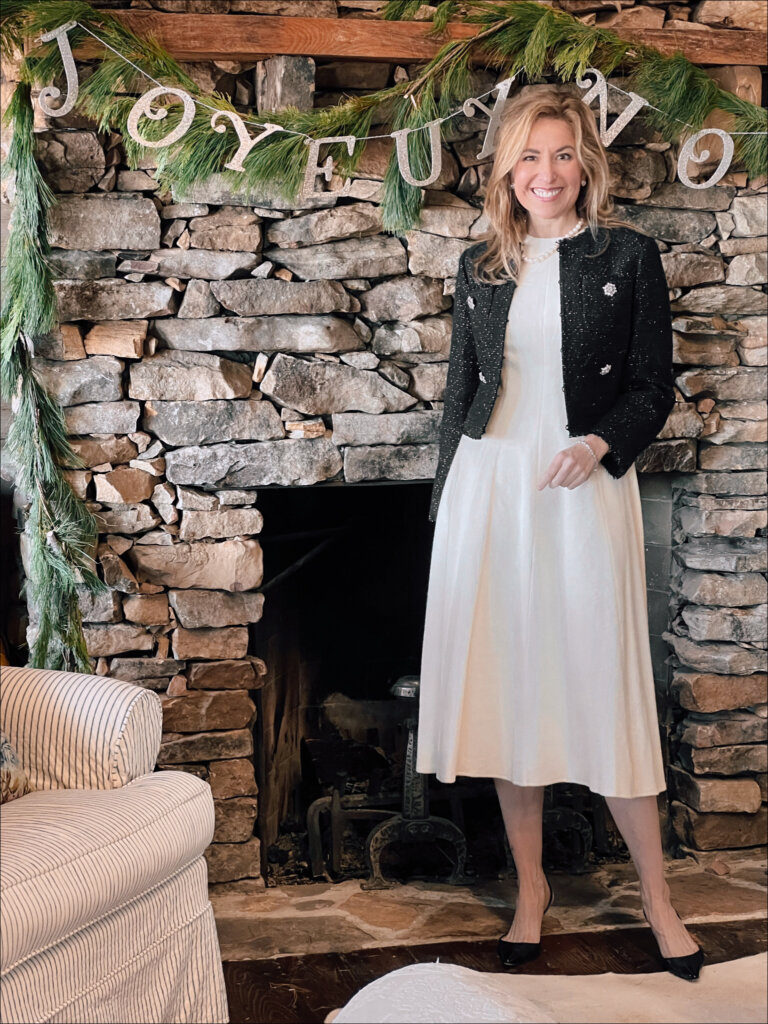 The Brits do tweed right. This tweed jacket makes for a fabulous 3rd piece, that layering piece that completes an outfit. Add it to jeans  and a sweater for the holiday party that told you to wear something festive chic. Add it to a cocktail dress as an evening topper instead of your car coat or puffy jacket (as if!). 
5. VINCE, Ivory Stretch Cotton Dress, $525, your price $393.75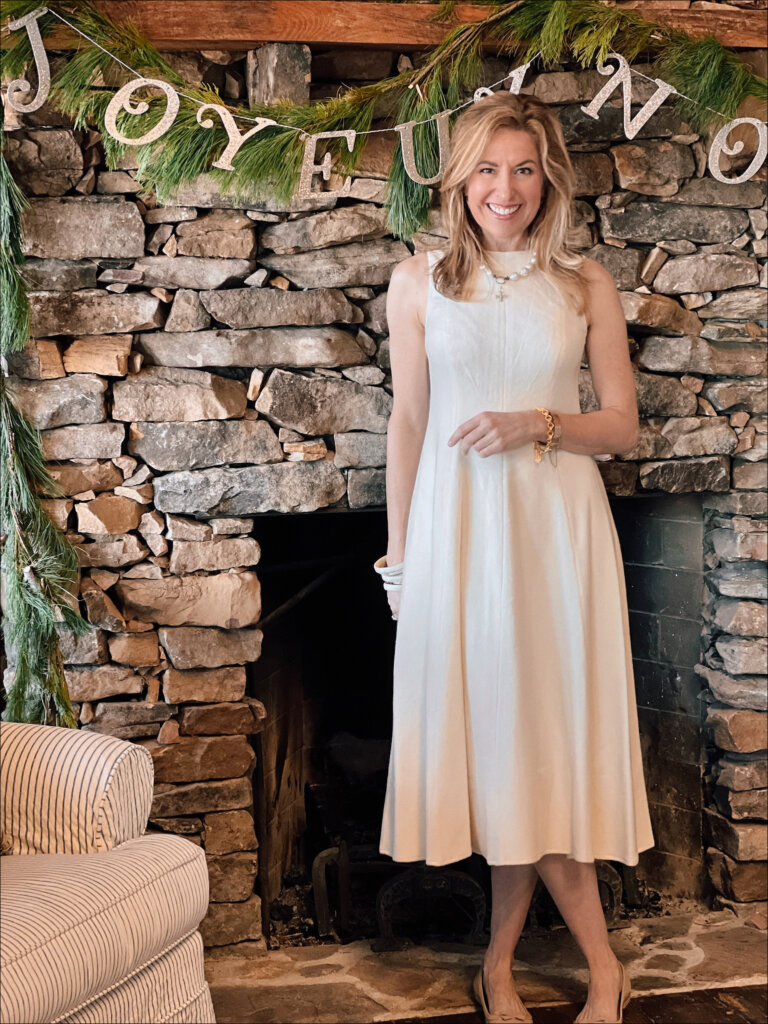 I was getting a western vibe from this dress that I think could be really great for Spring. So I added a belt and boots, and turquoise jewelry. It's basically a blank slate - add any accessory!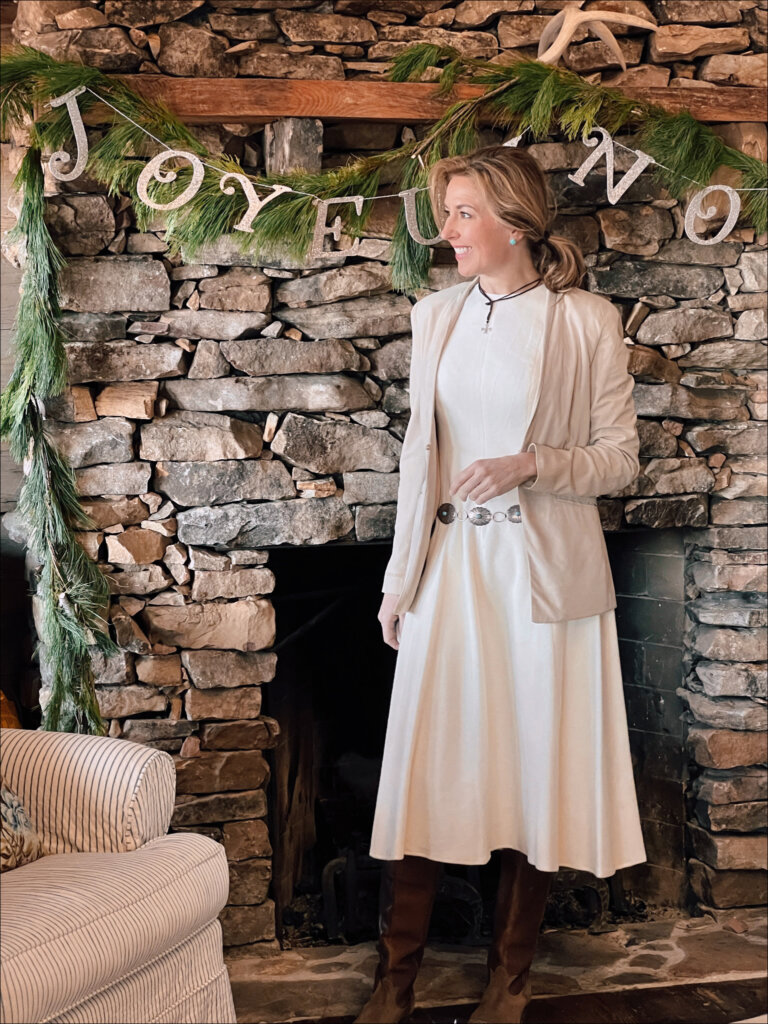 But ahh the glory of a winter white dress! And this one will take you into Spring, too! It's so feminine, and constructed of good substantial and SOFT cotton that feels like a blanket (but you won't get hot), and there's no showing through. For now, wear it with a the Cashmere Ruana in any color, a cardigan or a cropped blazer. No need for hose unless you're cold! (I'm wearing a blazer similar to this one on sale.) 
---
Holiday Gift Guide is here! Click below to open!
---
6. PEACE OF CLOTH, Navy Knit Pull On Pant, $190, your price, $142.50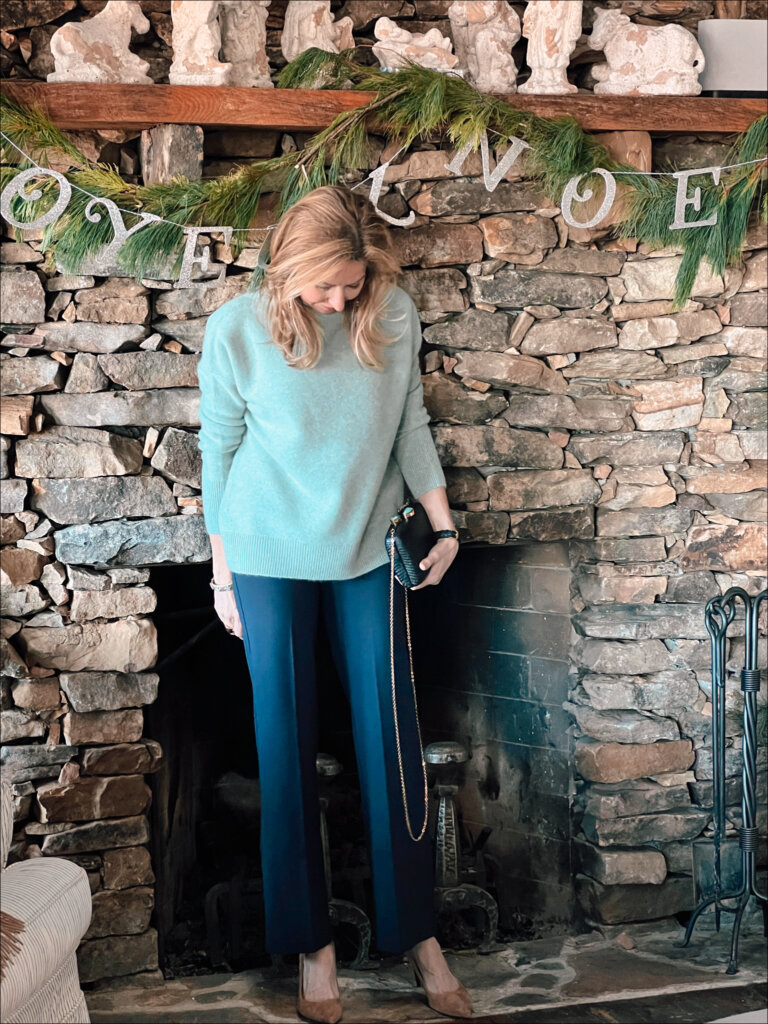 Wrinkle-resistant! Travel ready! But these are soooo comfortable they will feel like you're wearing athleisure but you'll look smart and put-together. The elastic waist is not too tight or too wide of a band, and I love the little cropped length with the slightest, slightest flare. (I'm wearing them with this sweater and this clutch.) This is how you wear straight pants. DO pair navy with other blues for a tone-on-tone look. DO NOT wear navy shoes, mkay cupcakes? Camel or black or brown or grey shoes...just not navy shoes. 
7. BEN-AMUN, Textured Gold Link Bracelet, $120, your price $90 (great gift!)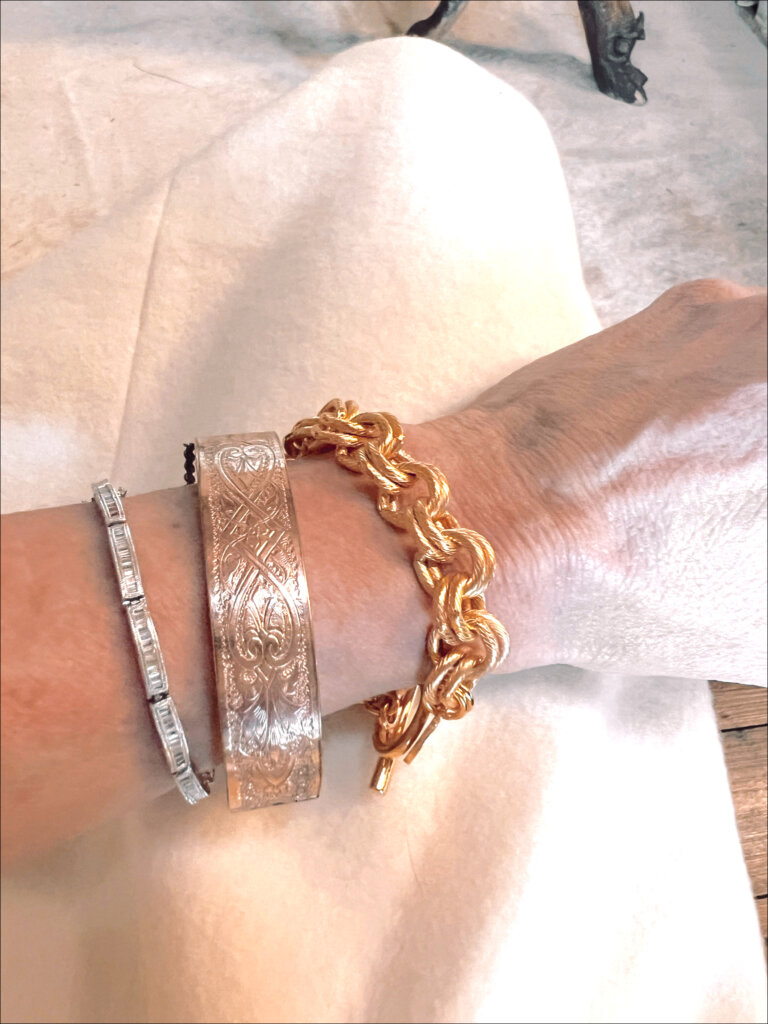 Two things make this the perfect bracelet: (one) the toggle fastener (you can do it by yourself) and (two) the textured gold. It's bright but not chintzy, so doesn't look cheap. If you have a tiny charm enhancer, you can add it to the links. 
8. FABRIZIO GIANNI, Silver Stretch Cotton Jean, $185, your price $138.75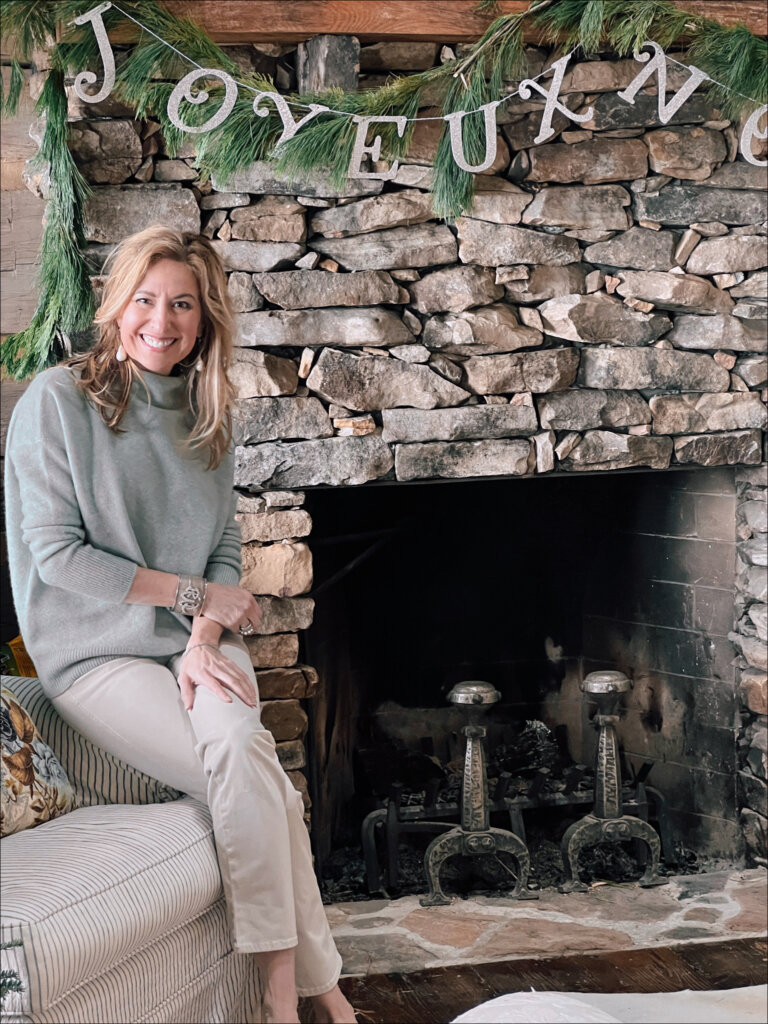 How about something other than blue or white jeans? How about silver? These aren't actually what I'd call silver, I'd call them pale oyster-y light grey jeans. If you read the description it will say , quite confusingly, it has a "tapered straight leg." Oxymoron? Yes. I'd call it a straight-up straight leg. SO, and this is important, it needs to hit at your ankle bone. If it is any higher they will look like high waters. Any lower and you lose all shape to your legs, turning them into tree trunks. A hem is an easy, inexpensive alteration if you need it. 
9. VINCE, Mint Boiled Cashmere Sweater, $425, your price $318.75
I cannot get enough of this color. This soft, minty pale celadon is flattering to both warm and cool skin tones. And if you have blue or green eyes, BUY IT NOW. I have brown eyes but I still think it does something good for me. It comes in 5 colors, and they're all good. Ok, let's talk mock turtlenecks. They are not good because they make your neck look short and your chin look saggy. This is a funnel neck, which is flattering because it has the same lines as a boatneck, but a bit higher so you don't freeze. Don't wear a turtleneck underneath it, kk thx. (I'm wearing this with these pants, tone-on-tone with shades of blue).
10. SOUTHCOTT, Ivory Cotton Modal Top, $145, your price $108.75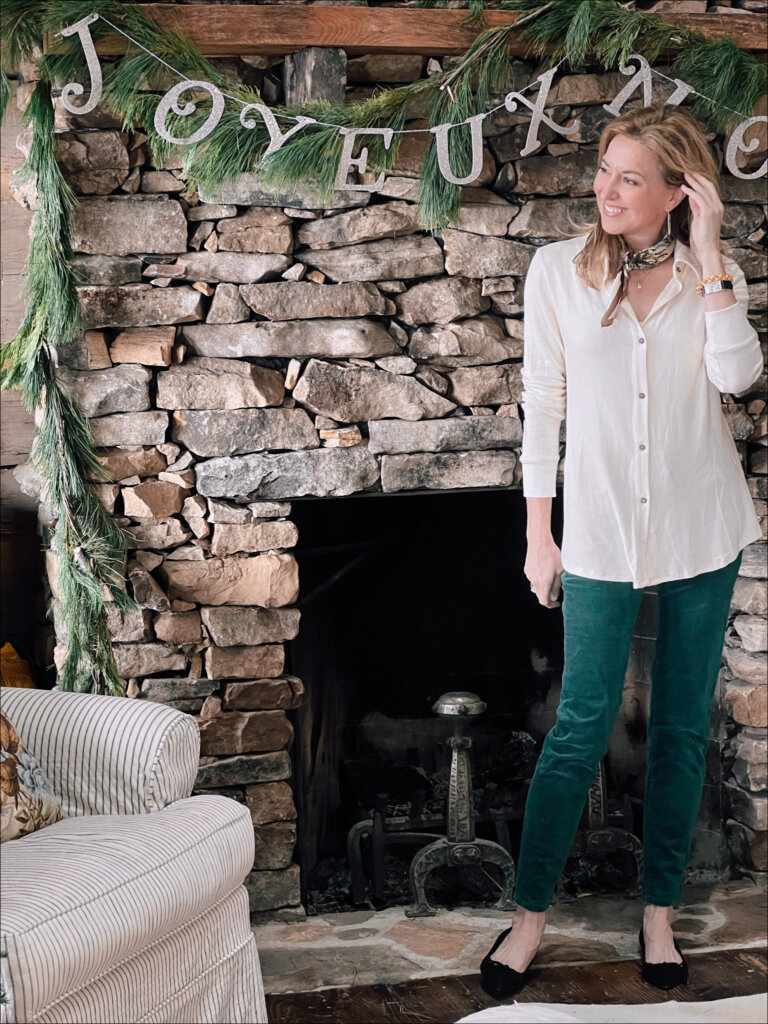 Don't you just love Southcott? I discovered them through Halsbrook, and they always feel so soft. So this is a like a comfy t-shirt blouse with a face-framing collar. The best of both! You can wear it tucked in or untucked because it has a shaped hemline. 
11. KINROSS, Light Grey Cashmere Polo Sweater, $325, your price $243.75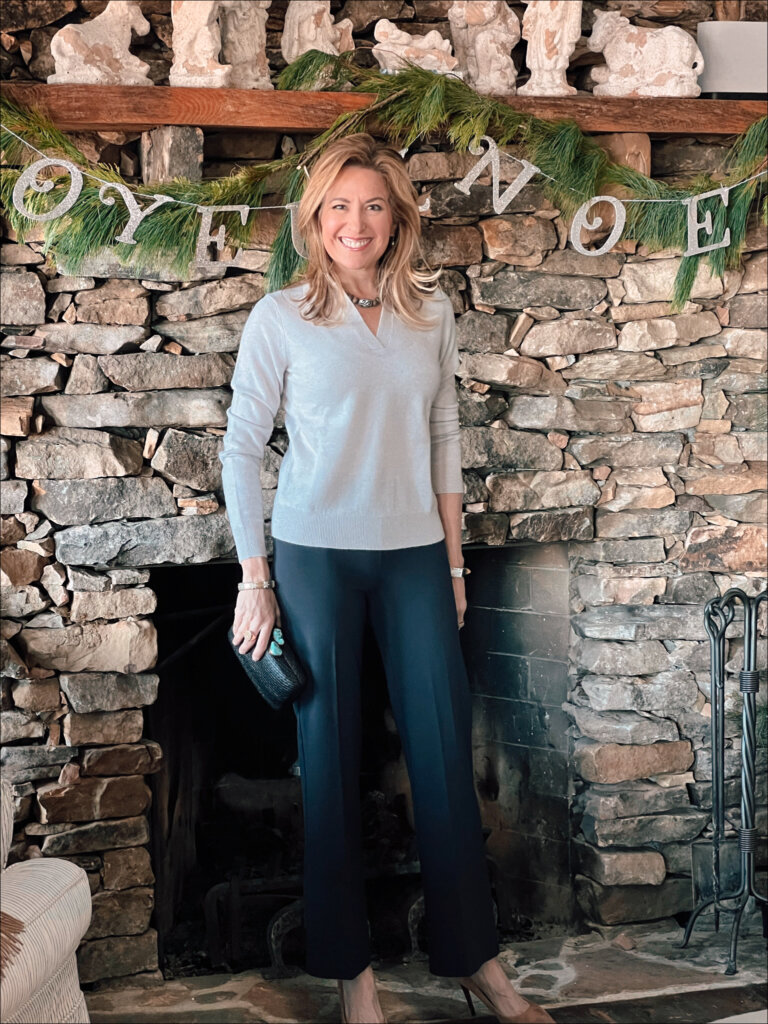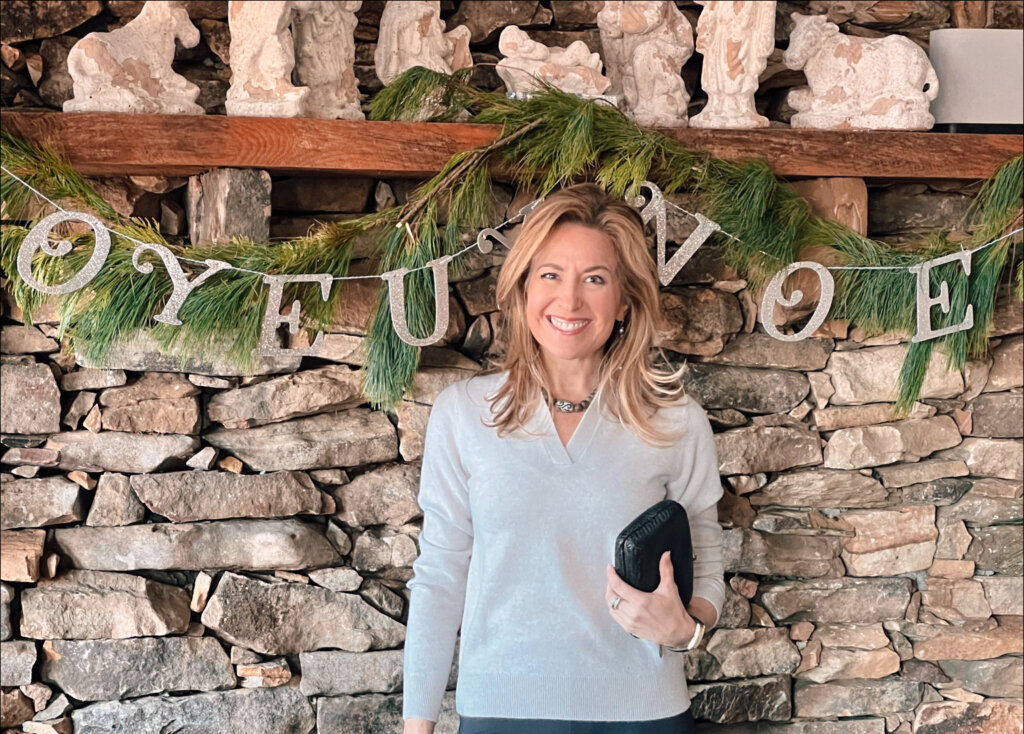 Oooooh this pale, silvery, dove grey is the grey sweater I've been looking for for years. For real. There's something about the color that makes it feel a bit more elegant than charcoal (which I adore) or metal grey. Just wear some lipstick if you think you need a bit of contrast. But it will seriously go with everything - EVERYthing in your closet, no matter what color it is. Promise. 
12. POMEGRANATE, Navy Embroidered Dress, $250, your price $187.50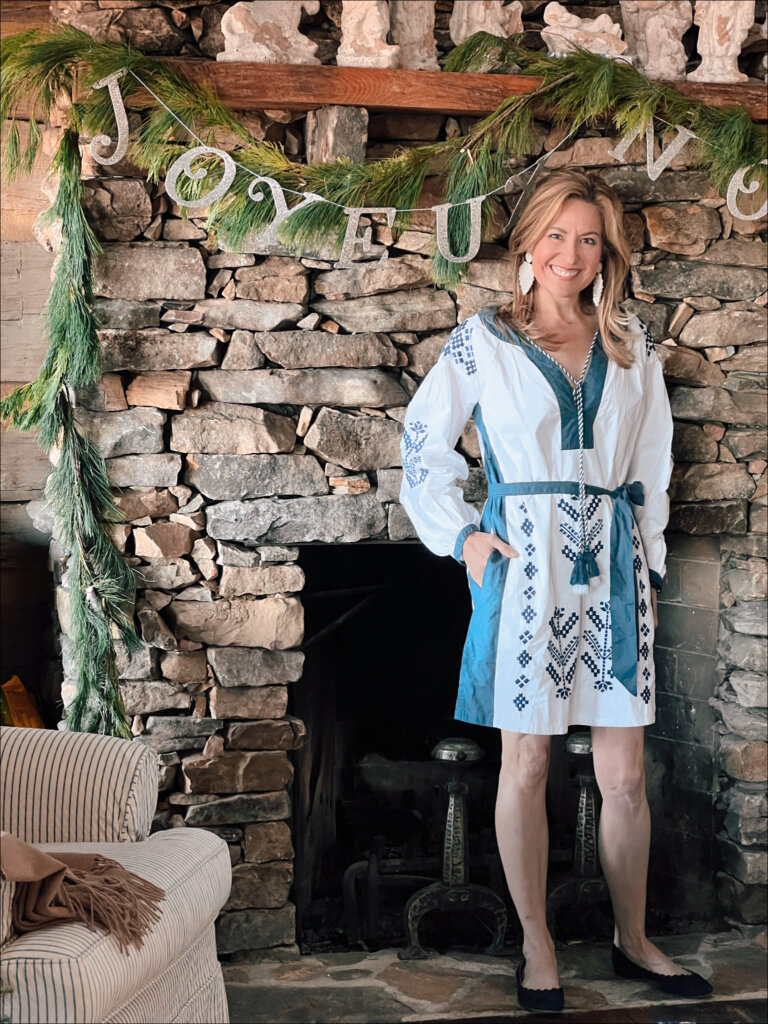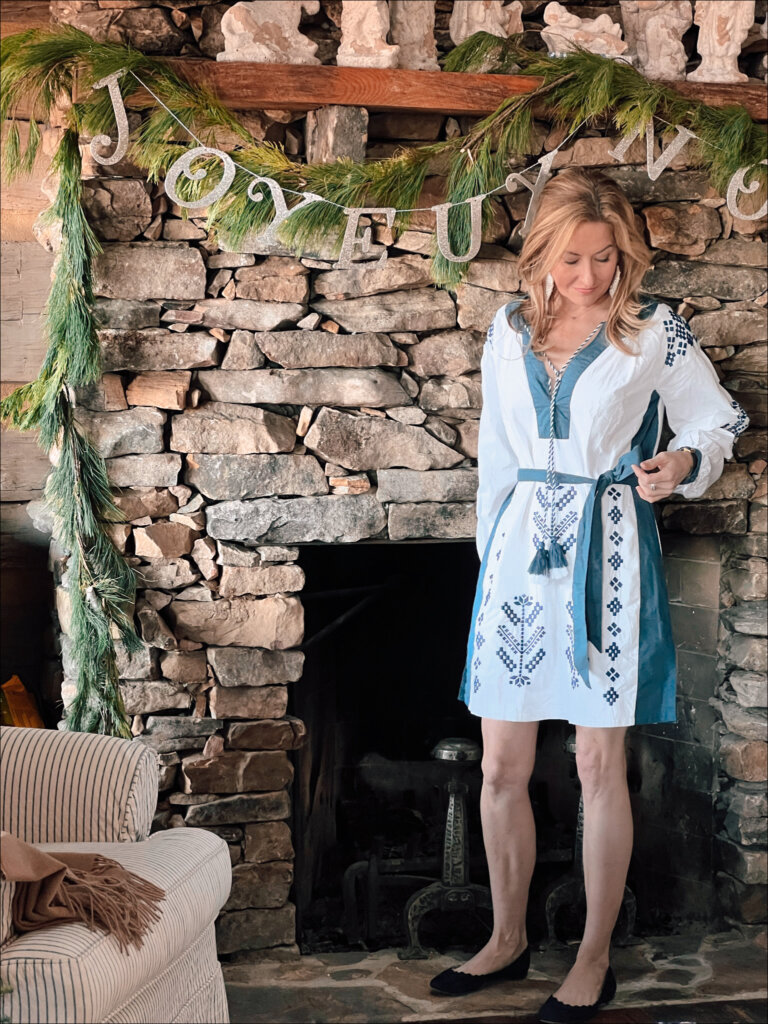 Now, not everyone gets to play in the snow on Christmas, so here's a festive dress to don now, and later. Pack it up for a Winter vacation, and pull it out again next Summer. The tie belt keeps it from looking like a sack if you want to give it some definition. If you like a straight sheath, you'll love it without the tie. You can also change it up with one of your own belts! Make sure you tie the sash in a half-bow to one side. 
13. KAYU, Black Straw Clutch with Turquoise Closure, $280, your price, $210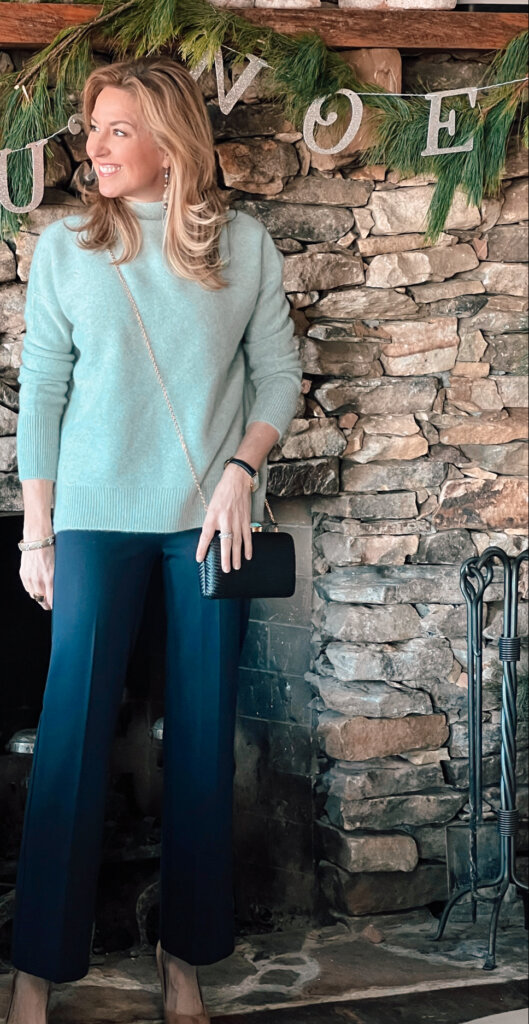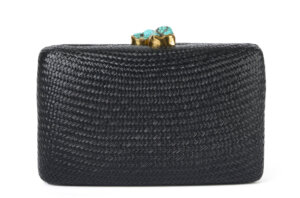 I'm building a little collection of these straw clutches with the stone closures. I just love them so much. They feel good in the hand, they'll tuck under your arm, there's a shoulder chain, and this one in black I would use 12 months out of the year. I think turquoise with red or with green is such a striking color combo. And in Summer, wear it with white for a pop. 
14. AVENUE MONTAIGNE, Grey Print Stretch Pull On Pant, $350, your price $262.50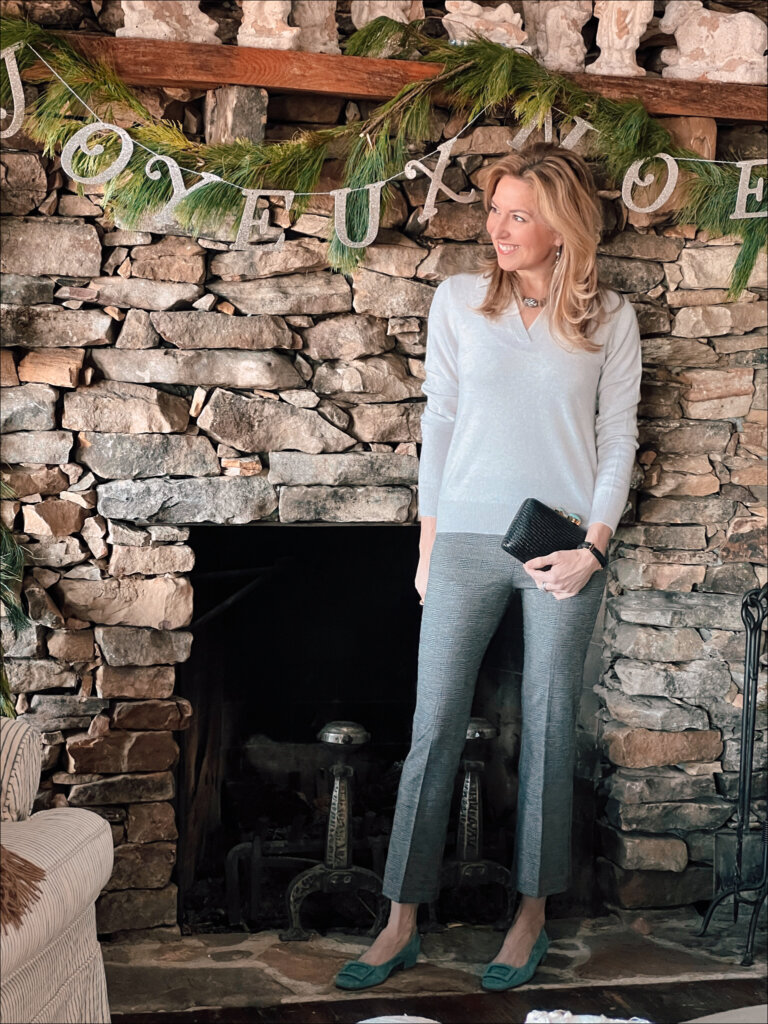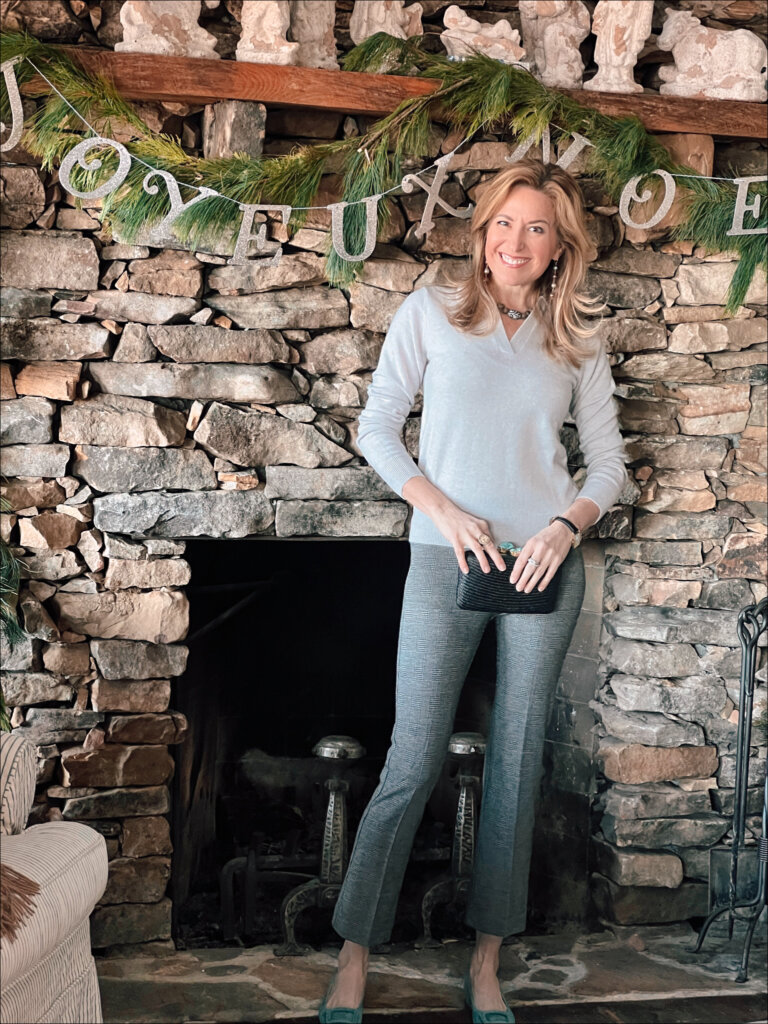 I wear a lot of cords and jeans in the Winter and find myself wanting something else, but I want it to be soft and warm. And here it is. This pull-on pant is a subtle black and white houndstooth, and now is the time for buying houndstooth because it's a classic that happens to be "on trend" at the moment. It's a straight pant that needs to hit at your ankle bone or juuuuust above (these are too short on this tall model in my opinion), but never below your ankle bone (see above).  You can wear flats, sneakers, ankle boots or heels with these, so that's a versatile pant. 
Whew! What a great holiday wardrobe! How about a one-on-one wardrobe package with me to put it all together, use what you have, and clean out what needs to go? I would love to help you, in person or virtually! 
Great Gift Idea! Give a Tina Adams Consulting Wardrobe PackageGift Certificate!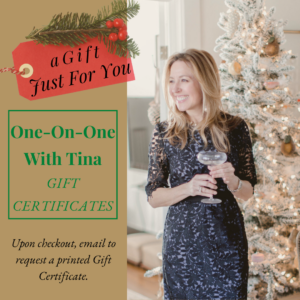 Thank you for stopping by, lovely readers! Don't forget to plug on the code CHEER25 to save hundreds and hundreds of dollars (seriously, at least $900 on my picks), plus save 25% off the rest of your purchase.* I'd recommend getting in there now before items sell out. Sale ends 12/6/22! Thank you again, Halsbrook!
Merry, merry!
Tina
*Valid 12/2/22 through 12/6/22. Sale items, Gretchen Scott, APC and Mother excluded. This post may contain affiliate links, and if you click a link or purchase something I have recommended, I may receive a thank you commission from the website. Clicking these links won't cost you any extra money, but does help me keep my site ad-free.