Tina, here. This is huge.
Step behind the velvet ropes with me as your guide, and you'll see how I've saved my clients a combined average of $25,000 every year since I started shopping the Nordstrom Anniversary Sale with them. I'm giving this VIP access to 20 people to shop the Sale with me, with the purchase of a Fall package.* 

Why use Tina Adams Wardrobe Consulting? Or why not just shop the sale yourself?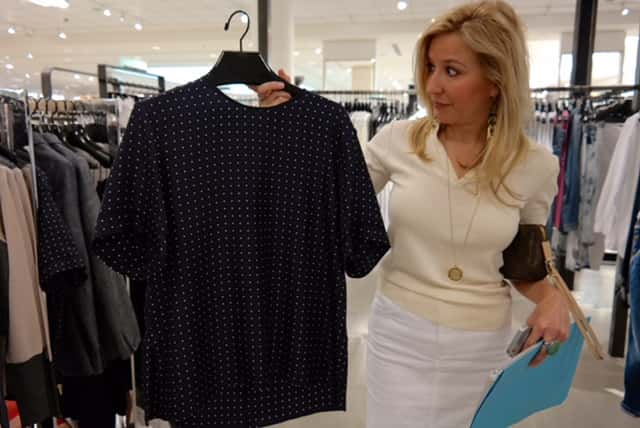 Here's why: Do you want to sift through all 6,281 products in the Nordstrom Anniversary Sale (that's the actual number from the website), and the 8,374,478,568,594,023 products out there in the retail world online (that's a conservative guesstimate)? Do you buy things and never wear them, especially sale items because they are "such a good deal"? Or when you do wear something, are you wondering if it looks ridiculous? You need someone you trust to tell you when NOT to buy something because it's wrong for you. And you need someone to show you what works, and why. It's the and why that I love so much -helping you understand how to choose the right styles and how to wear them over and over again. For over a decade, this is what has kept me passionate about helping my clients. It's probably why so many have become dear friends.
   "Tina's connections to great retail savings combined with her positive outlook are why over 800 women are already taking advantage of her savvy services." ~ Stacie Standifer, Publisher/Editor/Founder Nashville Lifestyles
How To Reserve:  Simply purchase a Fall Package now, and I'll shop the Anniversary Sale for you AT NO COST for this extra session with me. I'm offering fewer spots this year so I can devote enough time to each client developing your wish list, which we'll sort out together based on your Fall wardrobe needs. I am offering this deal with the One-On-One Virtual Wardrobe Styling and The Original Shop & Style Package.
Once You Book Your Package: We'll assess your Fall wardrobe needs, determining which purchases are the best to make now, where you will save the most. I'll create your shopping guide so all you have to do is click and purchase, and everything will be shipped directly to you. I'll help you secure those hard-to-find and sold out items. We'll finish the rest of your fall package in August or September, when you can access even more of my in-store discounts, up to 20% off at participating retailers. You can email me at [email protected] for more info.
Space is limited to 20.
Reserve your spot now with a Wardrobe Package.
---
Some of my favorites from the 2021 Nordstrom Anniversary Sale:
Keep in mind I have looked through the entire inventory and selected the best of the best in my view. In many cases, something may look great and seem like such a great price, but it's "factory quality" and made for the sale, so not really worth it. I'm pretty sure this is what Stuart Weitzman, Hugo Boss and others have been doing the last several years. There are plenty more great buys in the Anniversary Sale that you may want or need - these are just some of the best. 
What are the Nordstrom Anniversary Sale Early Access tiers?
Early Access is a special perk reserved for Nordstrom cardmembers. Your Nordy Club level is based on yearly spend amounts, though all cardmembers automatically start at Influencer status. You can only shop Anniversary Sale Early Access as a cardmember.
July 12: Early Access for cardmembers with Icon status.
July 14: Early Access for cardmembers with Ambassador status.
July 16: Early Access for cardmembers with Influencer status.

July 28: Anniversary Sale opens to the general public.
The Big-Ticket Items
I always recommend getting your big-ticket items during Anniversary because you get the most bang for your buck. This includes coats, boots, handbags. These categories sell out first, so it doesn't hurt to go ahead and purchase now, you can always return later. I didn't see any handbags I thought were worth it this year. 
Keep the link to this post handy so you can come back to it and click on the items you want, starting July 12 for top-tier cardholders.
COATS

Boots
Blazers
Sweaters
Jeans
Tops
Dresses
Beauty
And this deserves special mention - you need 100% SILK for these pillowcases to be effective, and most of the ones out there are poly. This is a GREAT price for a pair. They make GREAT Christmas and birthday gifts. I always include them in my Christmas Gift post, so now's a good time to stock up while they're on sale.
Thank you so much for stopping by and taking the time to review this guide - please feel free to email me if you have any questions about the Fall Package deal! [email protected]
Best,
Tina
*VIP access to the sale comes with the purchase of a Virtual or Shop & Style Package, cannot be combined with other offers or GC's. Must be a Nordstrom cardholder to participate in the Pre-Sale. Cards may be opened day of the sale. You do not have to be physically present to shop the sale with me.
This post may contain affiliate links, and if you click a link or purchase something I have recommended, I may receive a thank you commission from the website. Clicking these links won't cost you any extra money, but does help me keep my site ad-free.