Tina, here.
You know how I love Fall, and Fall fashion is my FAVORITE. And you know ever since I discovered Halsbrook, I can't get enough of their beautiful classics and fun modern styles! Now you can get 20% off your entire purchase through September 1, 2020 with our exclusive discount code! Sale items excluded.
SAVE OVER $500 JUST ON MY PICKS ALONE!
I chose eight of my favorite things from Halsbrook's new Fall arrivals, and I'm showing you how I styled each piece 2 ways, for how we dress today - casual most days, and the occasional dress up day or night. I adore Halsbrook because their aesthetic is the perfect combination of classic and modern. It just feels right. It feels like us, doesn't it? And they are a delight to deal with - it's like buying from a dear friend who takes good care of your every need.
Insiders received early access August 28 to the discount code (below) to shop first, before items sell out, as they are apt to do when I feature them :).  
Discount code released site-wide Saturday August 29 - September 1, 2020.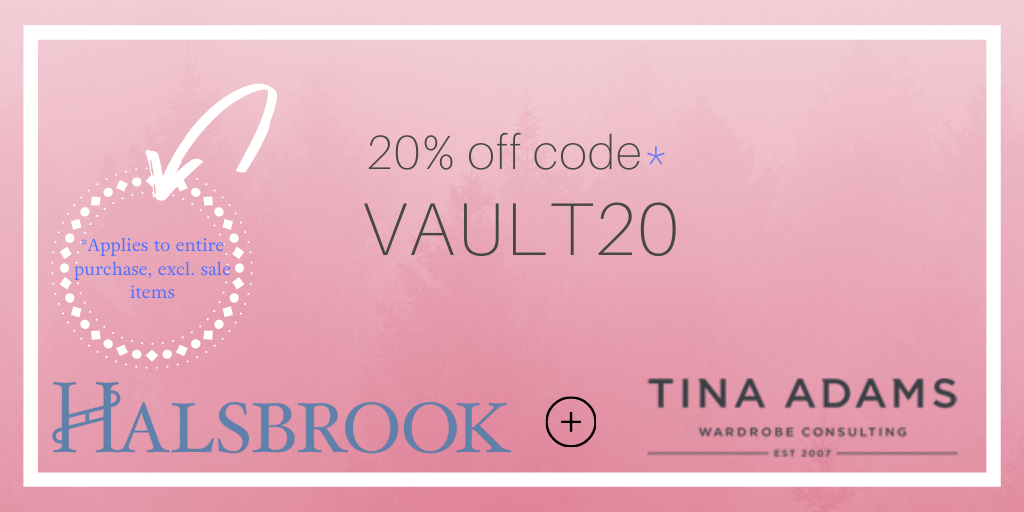 New Fall Colors

Tweed Blazer | Cashmere Polo | Printed Dress | Double Breasted Blazer
New Fall Neutrals

Swing Coat Topper | Navy Pull-On Skirt | Detail Blouse | Travel Wrap
Styling My 8 Halsbrook Fall Favorites
SAVE OVER $500 on these favorites! DISCOUNT Code VAULT20 applies to your entire purchase, excl sale items; 8/29 - 9/1
1. SMYTHE Desert Rust Double Breasted Blazer $595 YOUR PRICE $476
I featured a cognac double breasted blazer on the blog a couple fall seasons ago and it sold out TWICE. People emailed me about it for months and months. So when I saw this Smythe blazer, I knew you had to have it. It is that gorgeous, rich, cognac that is the perfect Fall color because you can pair it with grey, black, navy, ivory, forest green, denim, blush, ...have I missed anything? Think Ali McGraw in Love Story, Carolyne Bessette Kennedy walking in Central Park, your dream life in the countryside. This blazer works everywhere. It's a blazer for all time.  If you've ever tried on a Smythe blazer, you know what I mean when I say they feel like couture. The narrow armholes, the slanted flap pockets, the shaped waist - all work in concert to give you the most flattering silhouette. Your children will want to inherit this blazer.
I'm showing you how to transition this blazer from late summer into Fall by just changing what you wear with it. When you invest in classics, you want them to be this versatile!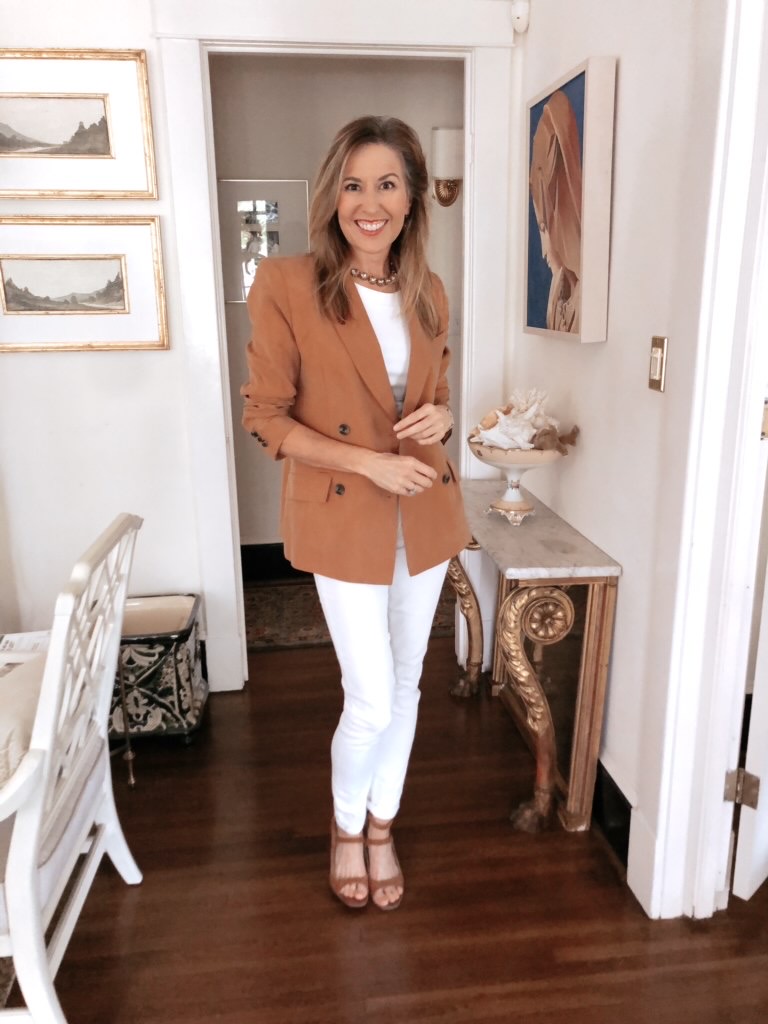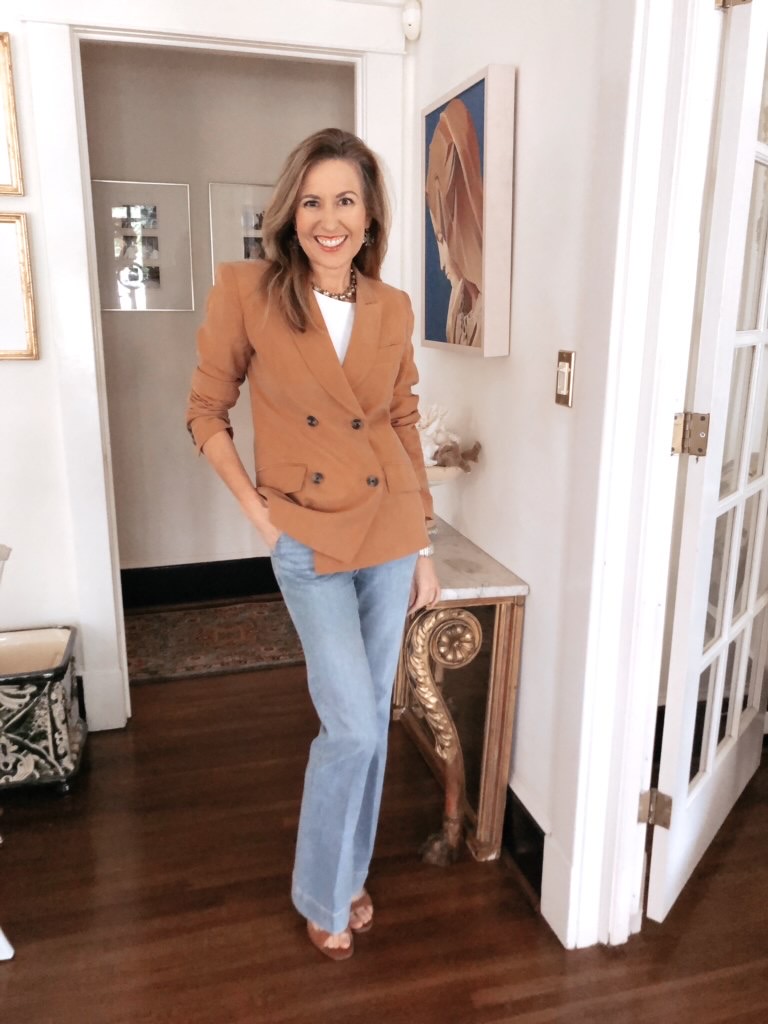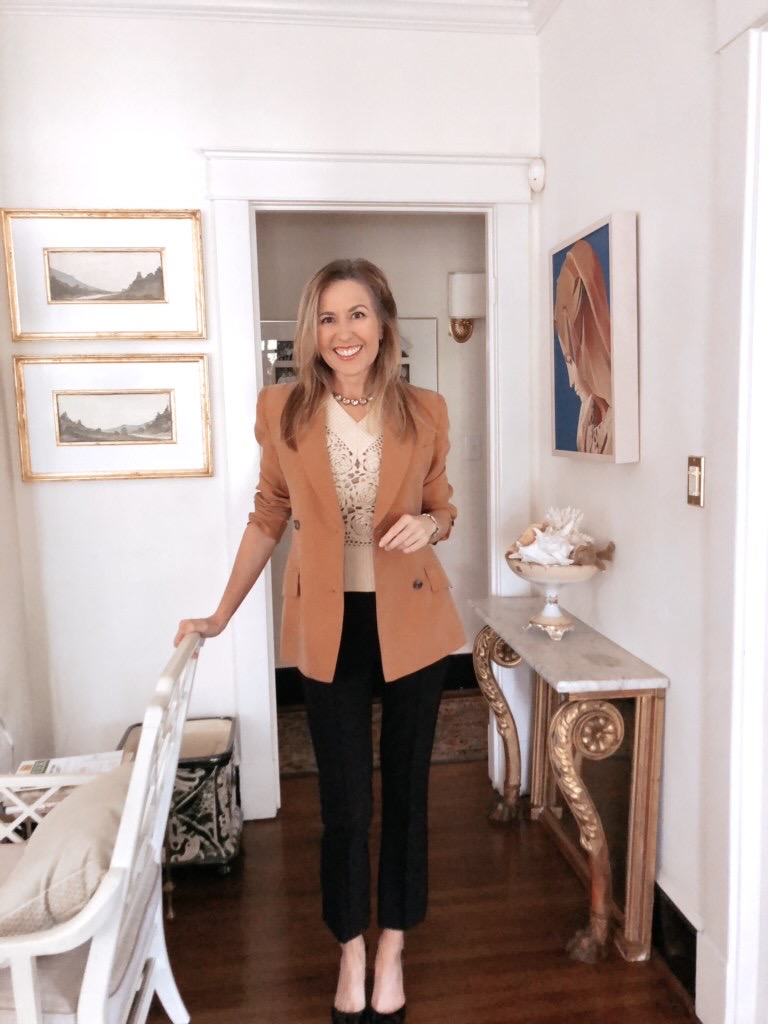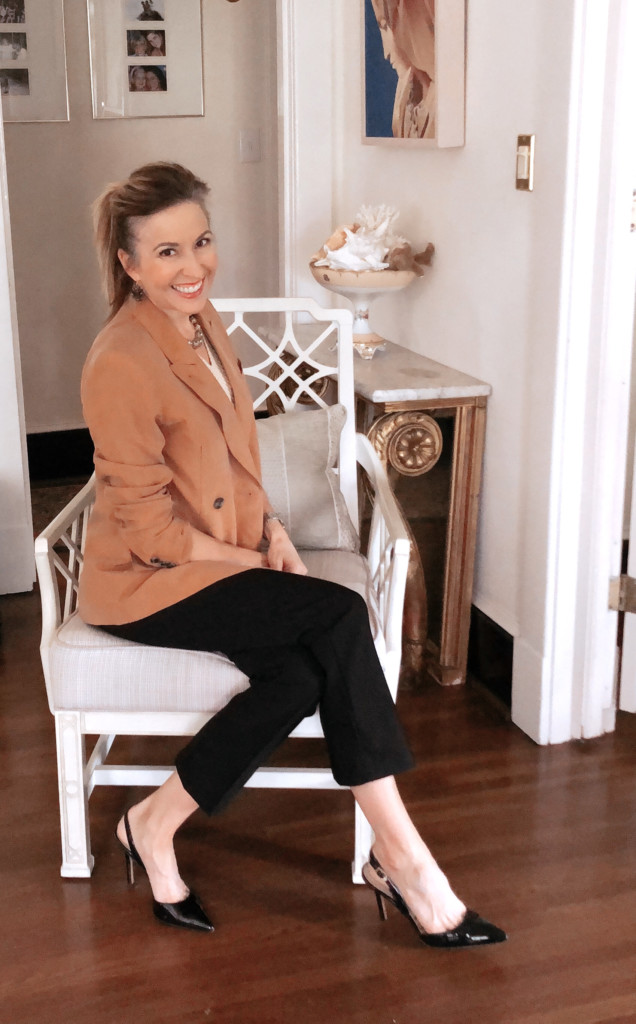 2. ALLUDE Cashmere Ribbed Polo Sweater $395 YOUR PRICE $316
The color of this sweater is luscious. Like a light cornflower blue. And you know what I love about this polo? The collar has the perfect proportions. I find that polos often skimp on the collar, making you look ridiculous. These are not too little, not too large. Wear it with pale silvery grey, charcoal grey, ivory, camel, sand, denim, and let's not forget...white jeans! I'm wearing it with my CAMBIO Techno Stretch Pant in Truffle, some pale grey pants, and I even paired the polo with the navy pull-on skirt. I adore tone-on-tone.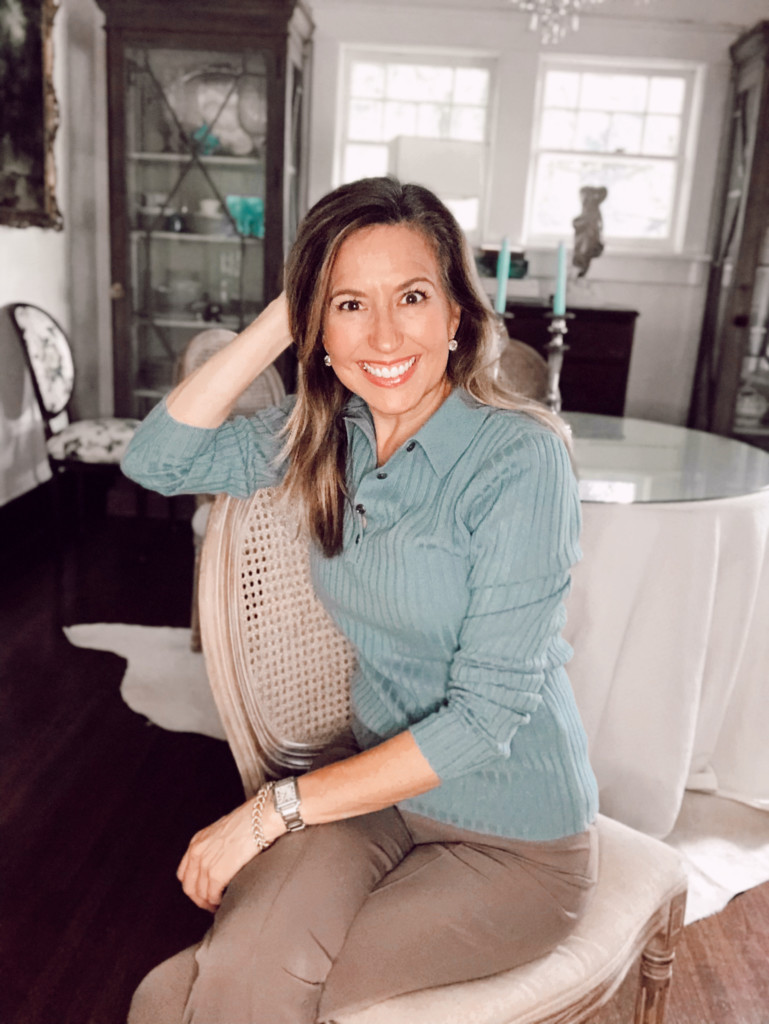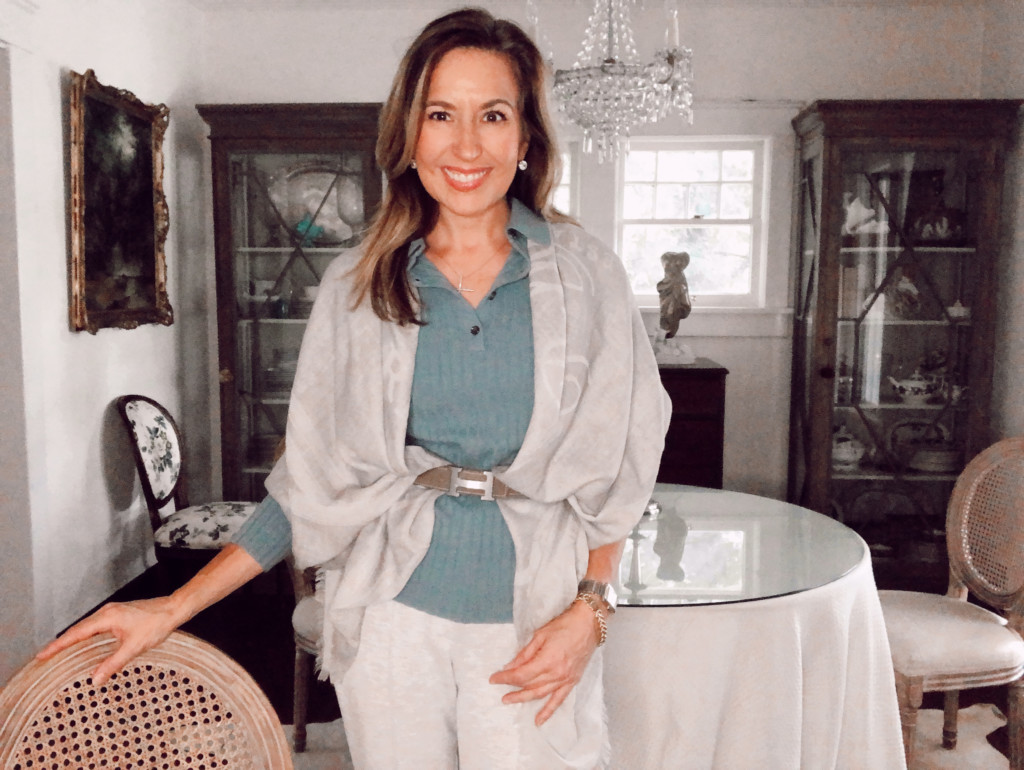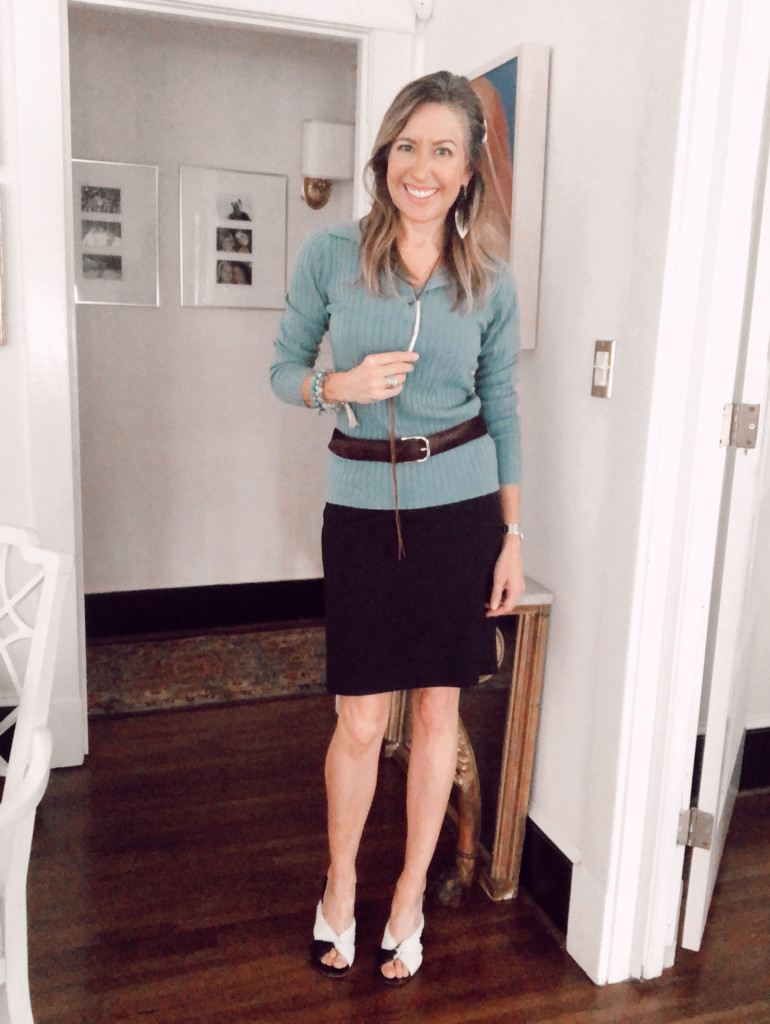 3. MARC CAIN Ponte Pull On Skirt $170 YOUR PRICE $136
Who doesn't love a pull-on anything? And when it's a ponte knit, all the better! This skirt will fit anyone, and look good on everyone. I'm wearing a small, and not even wearing spanx or the "right" undies, my cami is tucked in, and there are NO lines! The elastic waist makes it comfy and will accommodate whatever you tuck or don't tuck. I discovered Marc Cain when I first opened my business years ago, and I thought it was pricey, but after years and years of seeing it wear so well in my clients' closets, I have seen that the cost per wear is worth it. Remember, when you're buying classics, you want to buy quality. Save your cheap purchases for the trends. (It's hard to tell it's navy because, well, it just is, but it's a rich, deep blue navy.)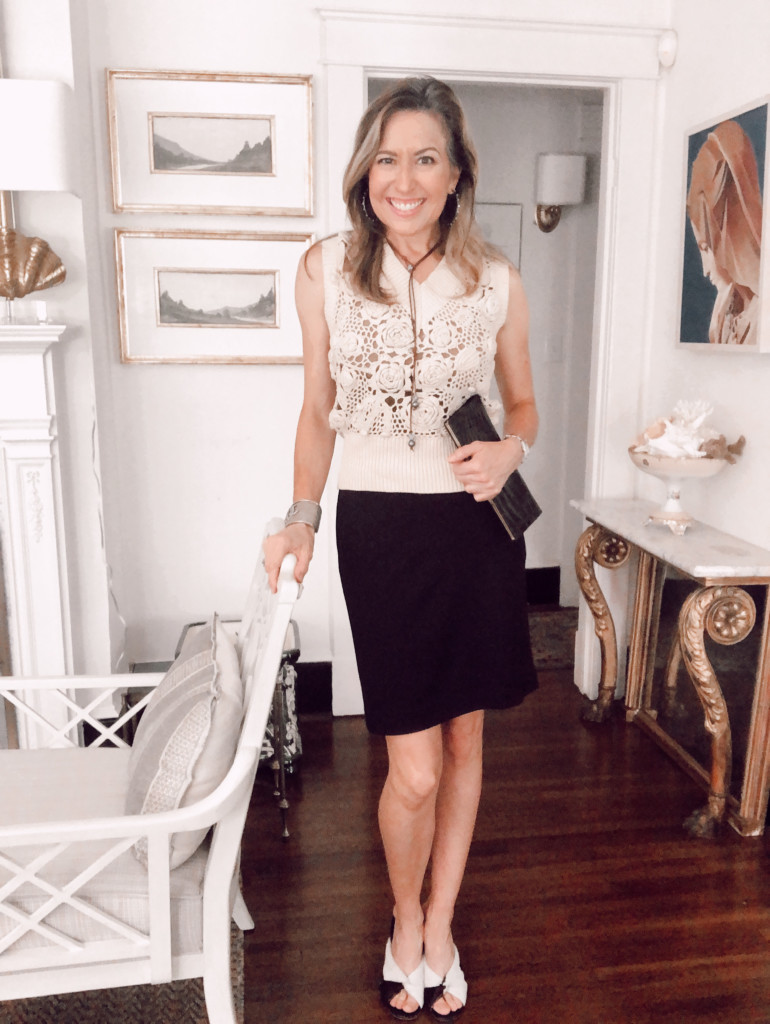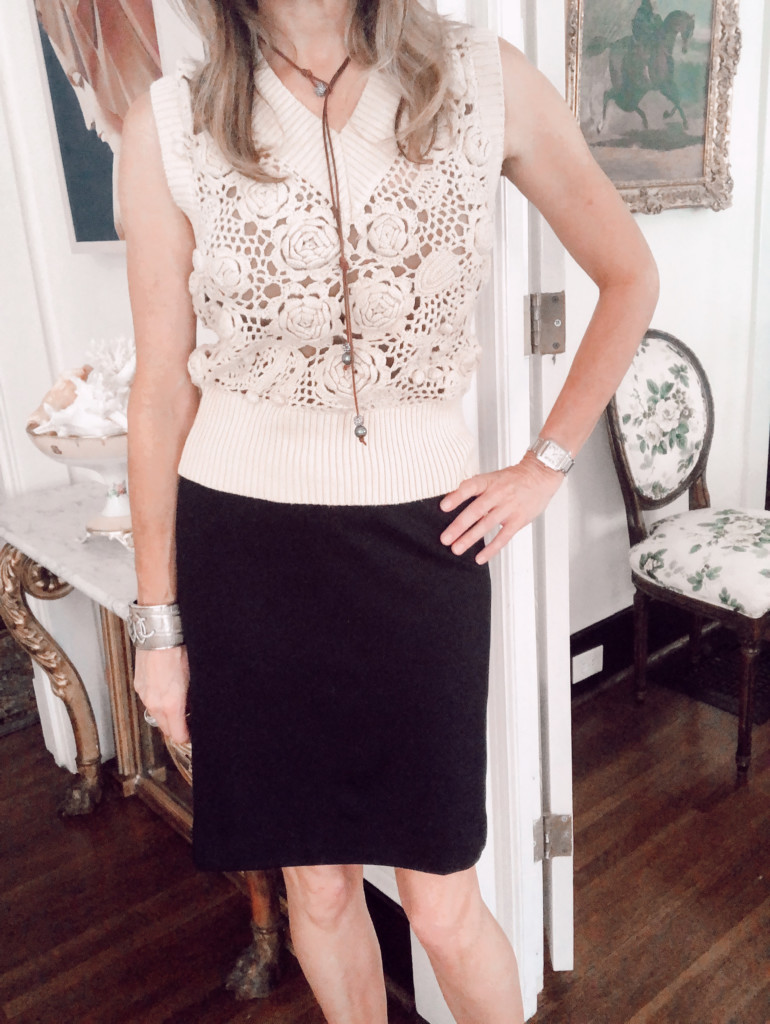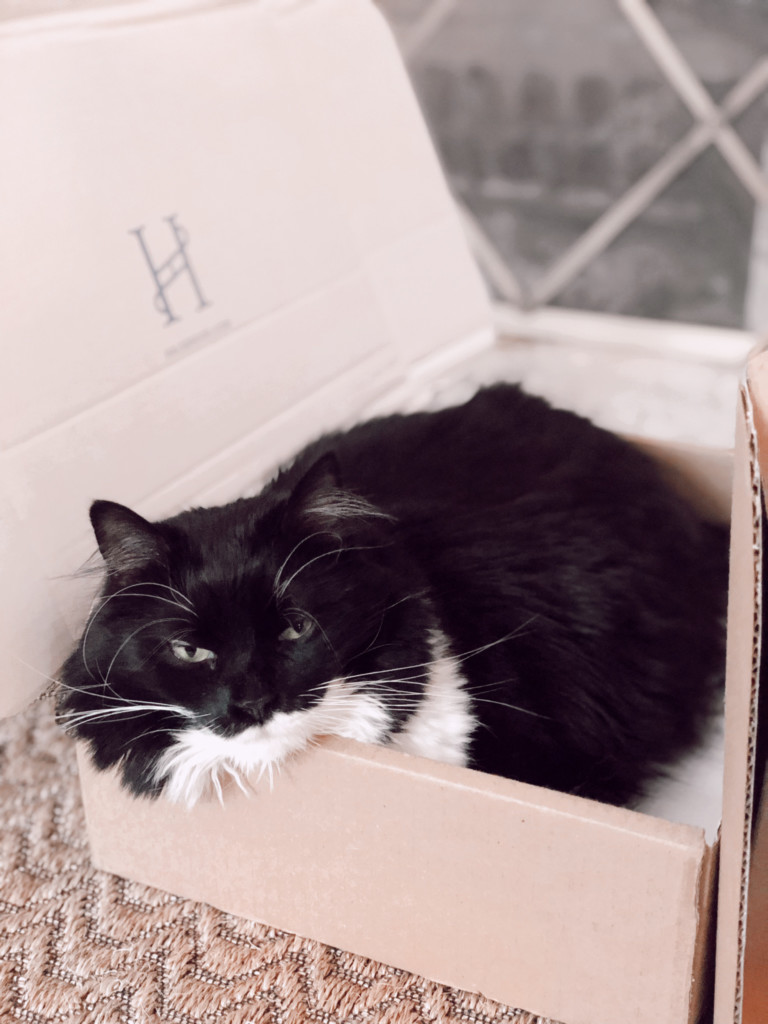 Coco the kitty found a new home with Halsbrook, too. It's love.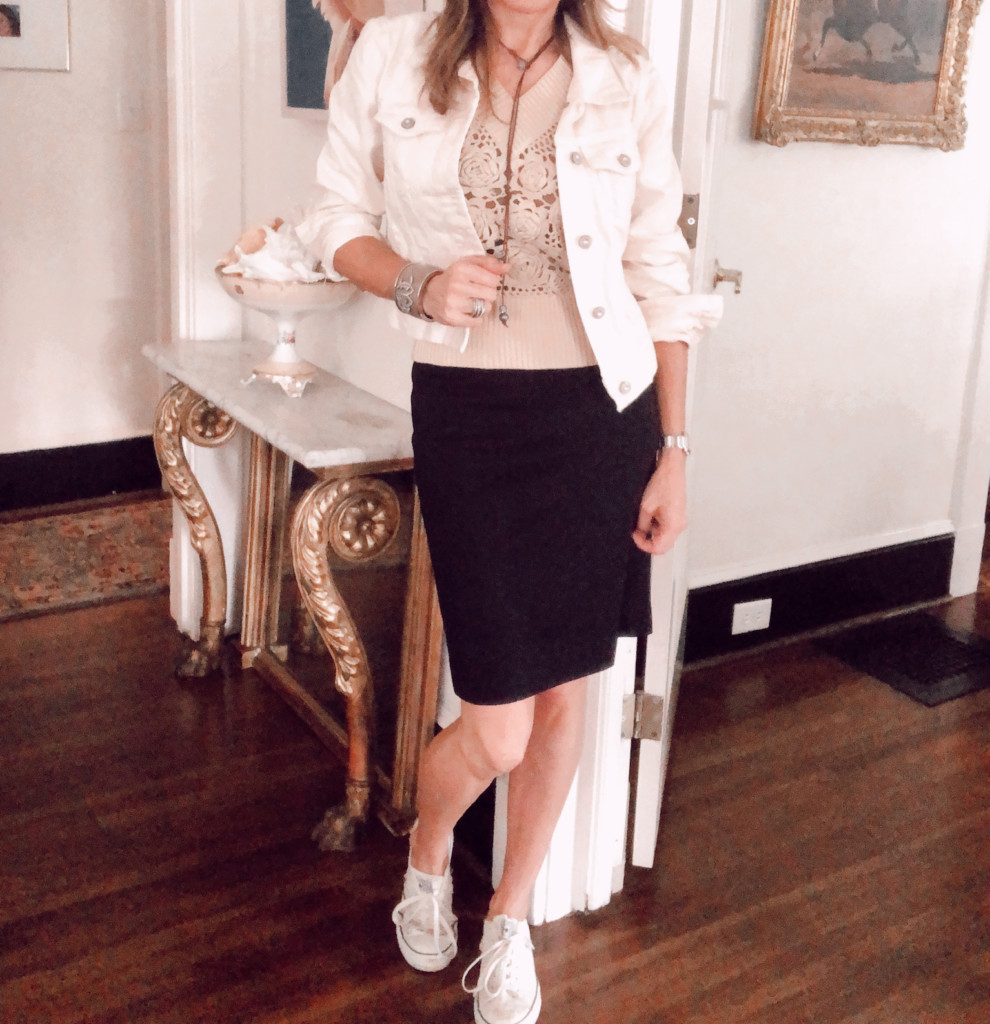 4. J'ENVIE Swing Jacket $375 YOUR PRICE $300
What am I always saying? That you need a good topper. The elusive topper you can wear with jeans, or on top of a cocktail dress or gown. This Is It. And it's a knit! But it's a well-woven, heavy knit that feels sumptuous and looks elegant because of its swing style. It comes in several colors, but I'd start with the black because it will look the dressiest.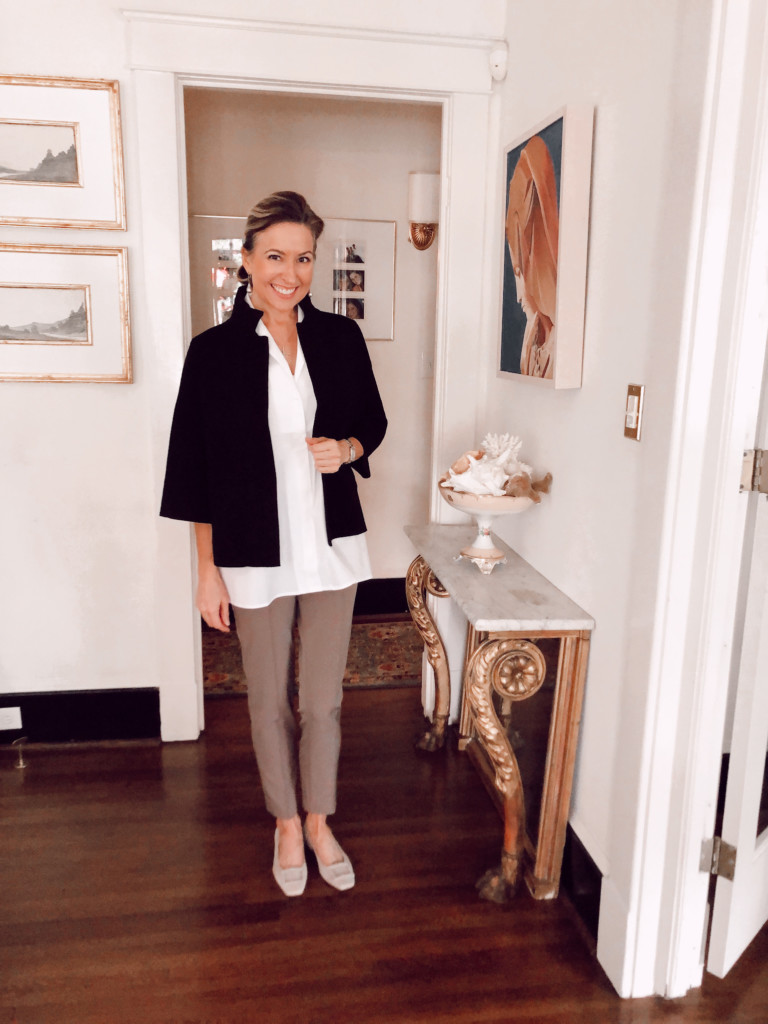 I'm wearing the swing jacket here with my CAMBIO Techno Stretch Pant in Truffle (see? they go with everything) and my favorite white blouse, HINSON WU Betty White Button Down Stretch Cotton Shirt.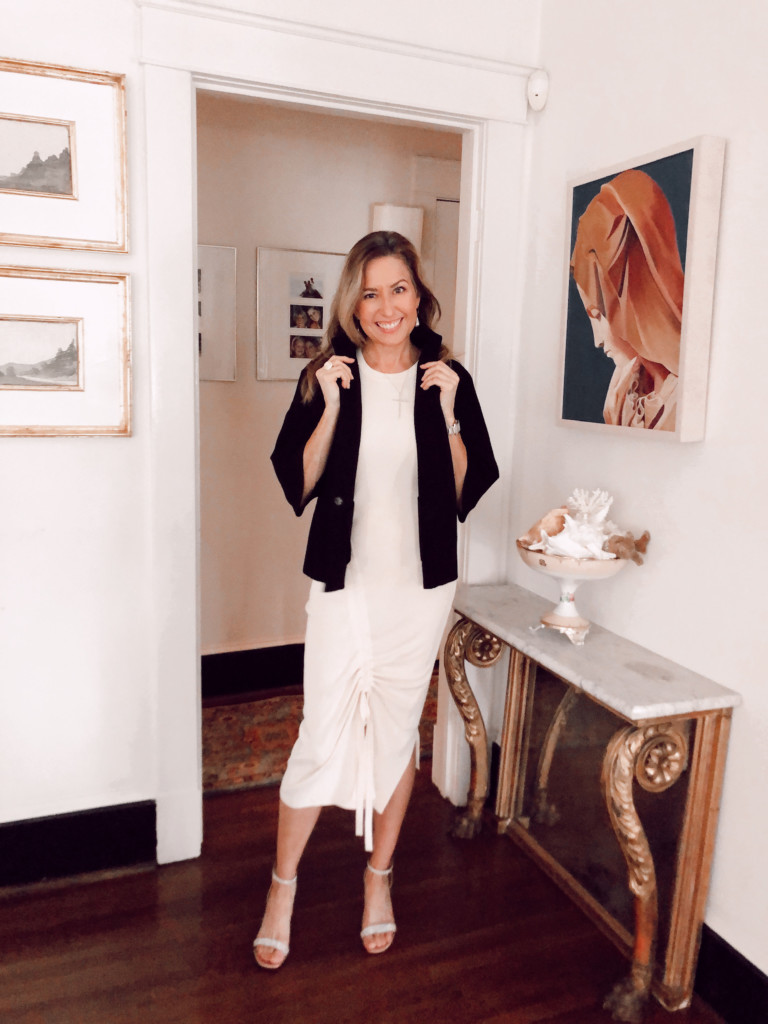 5. GRETCHEN SCOTT Printed Twist Front Dress $169 YOUR PRICE $135.20
Let's hear it for a one-piece wonder! Dresses are SO easy to wear, I find myself wanting to wear them more and more. I have loved Gretchen Scott tops, and when I saw this dress I flipped over the elastic waist disguised by that fabulous twist! I LOVE it! And this price is amazing. It comes in 3 different prints. Get all three. Seriously.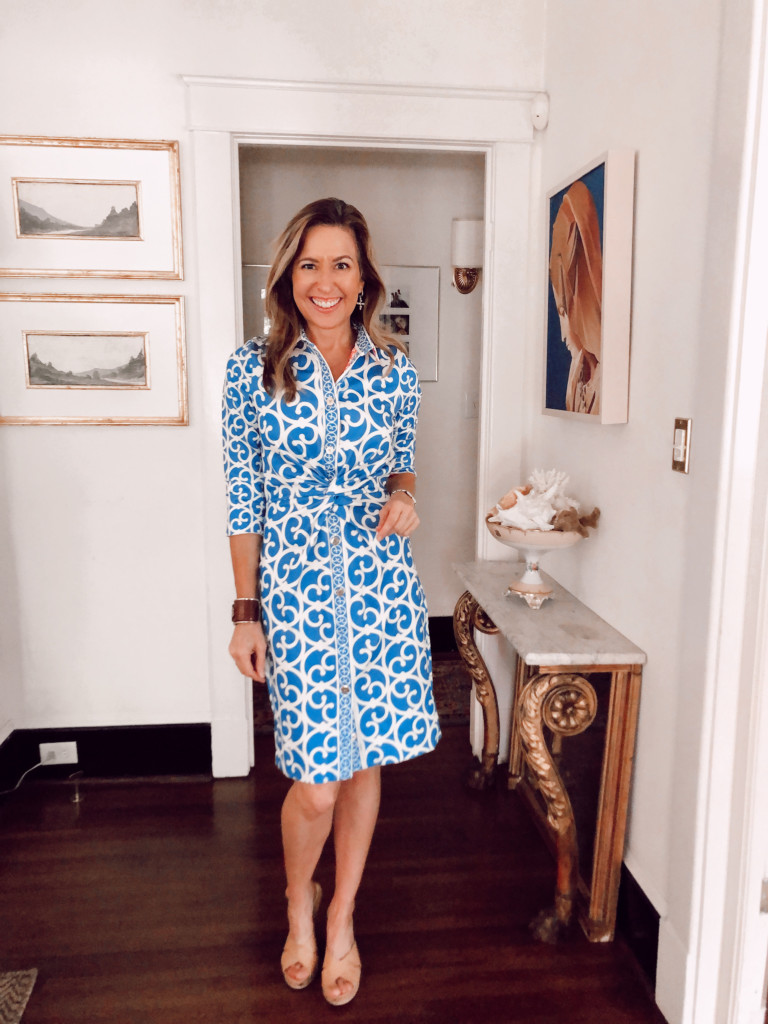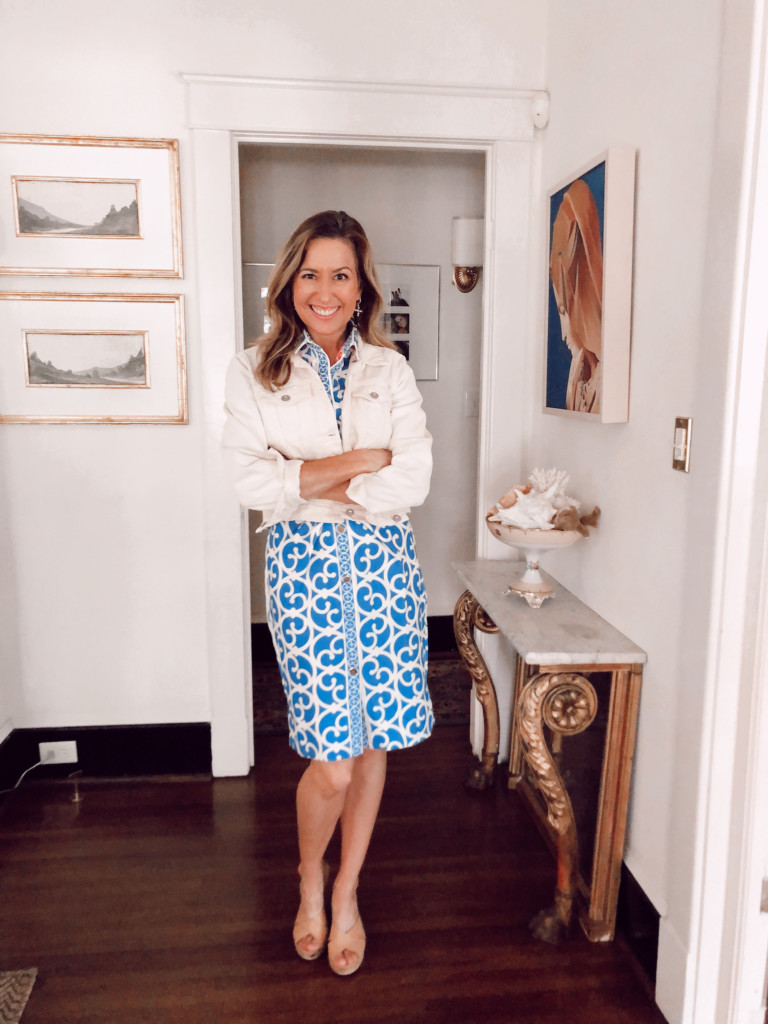 When the weather turns cooler, just add a denim jacket. I'm wearing an off-white, yes, even though the dress has white in it. It's not so matchy-matchy this way.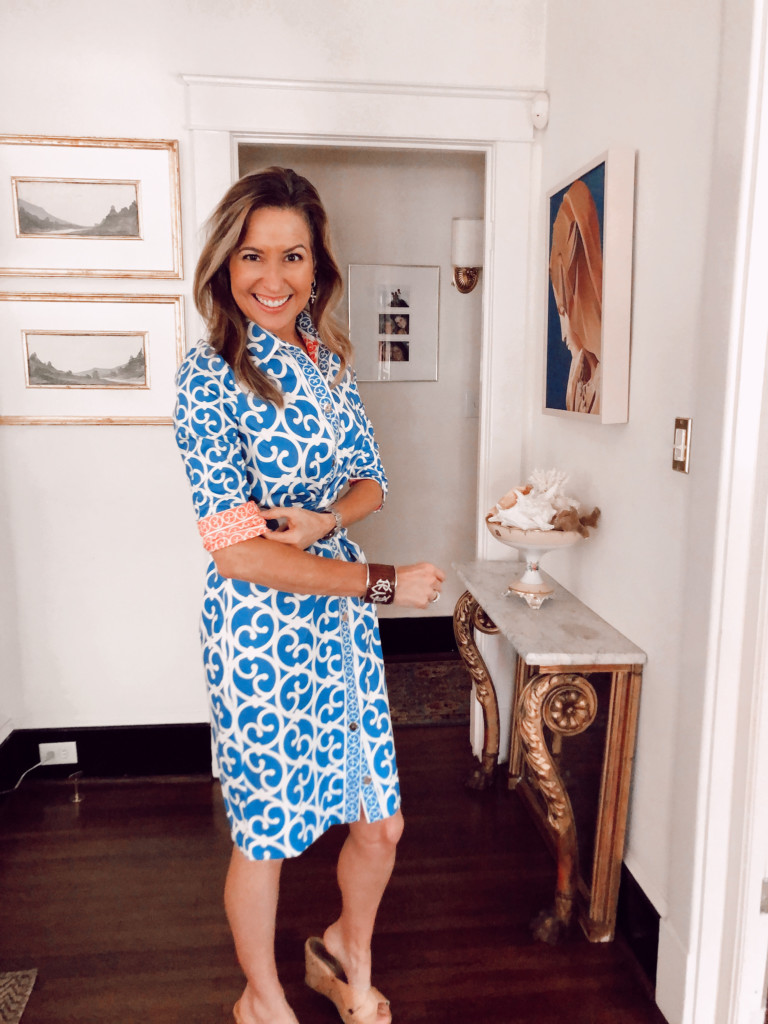 6. HELENE BERMAN Tweed Blazer $275 YOUR PRICE $220
Bringing back pretty clothes is what this beautiful lilac tweed blazer is about. It has a touch of silver thread running through it, so I paired it with jeans (I adore a faded rinse with the lilac) so you can see that you don't have to be "dressed up" to wear it on a regular Tuesday. So what do you wear with lilac in the Fall? Charcoal grey, dove grey, camel, sand, denim.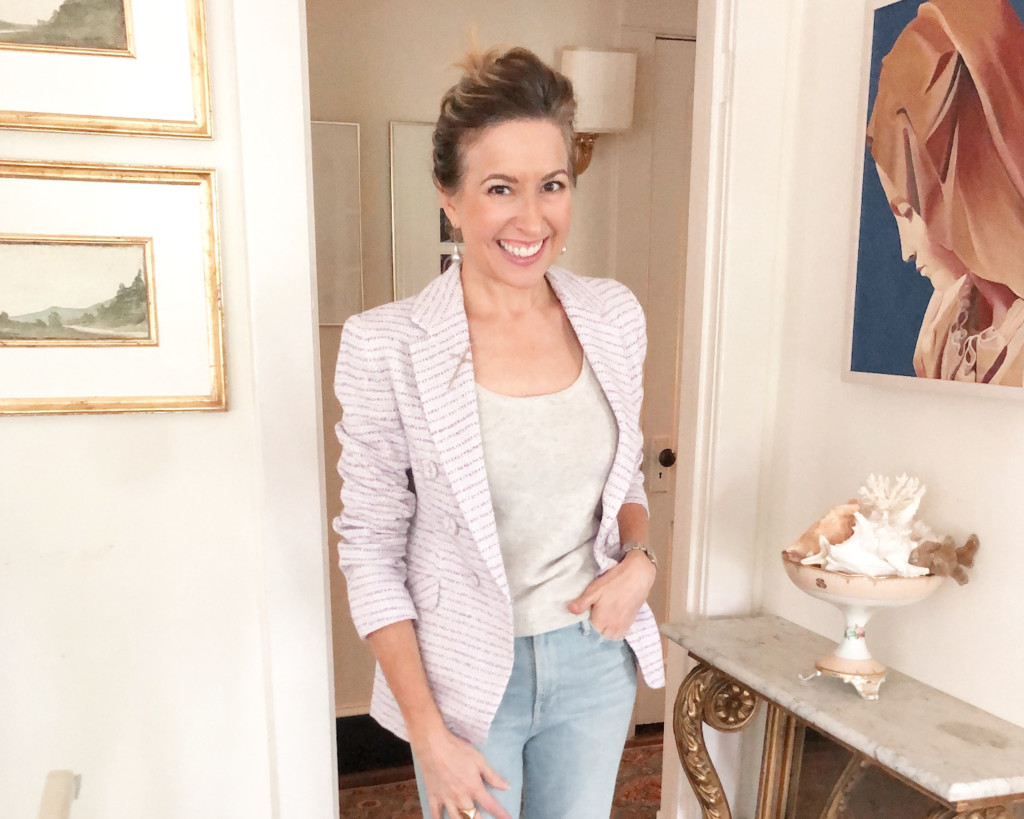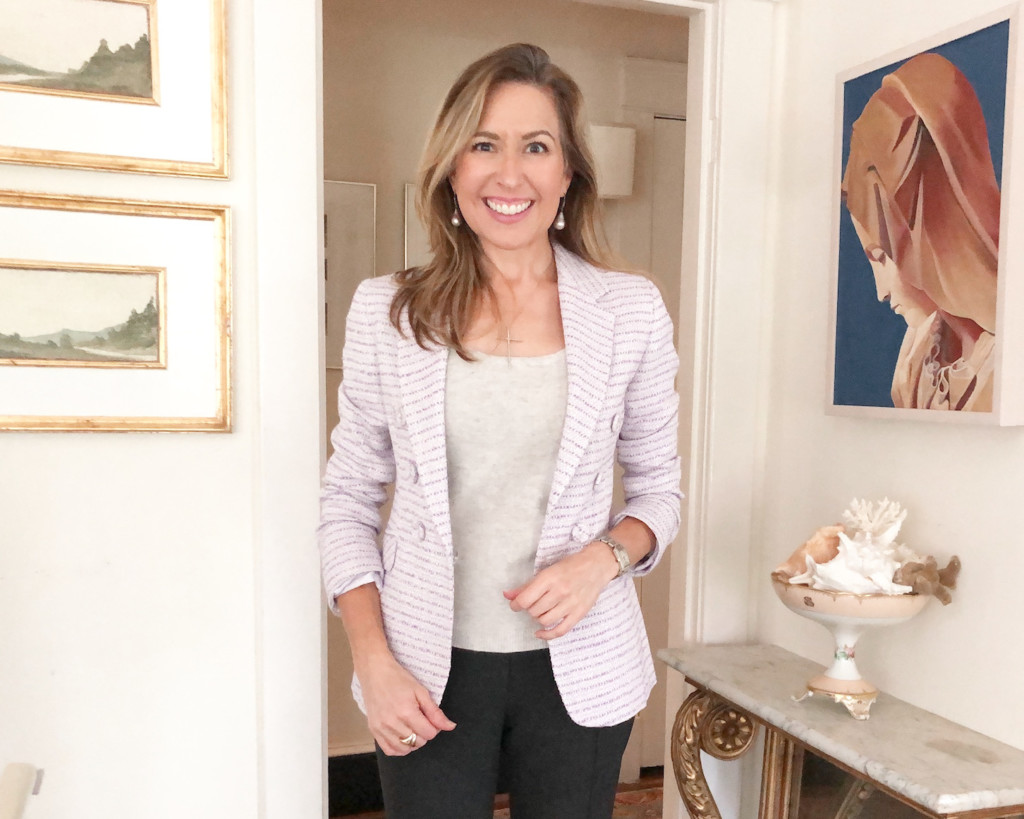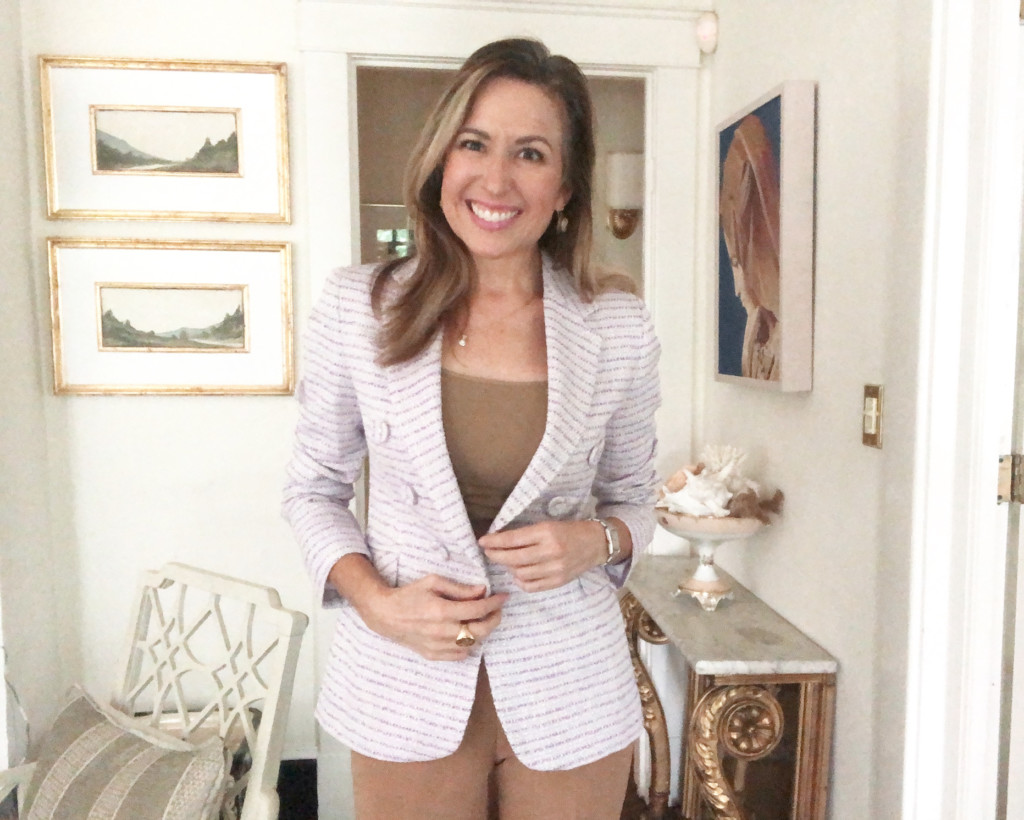 7. FINLEY Crosby Top $215 YOUR PRICE $172
I've said it before, a good blouse is hard to find.  And a good black blouse is even harder to find. I am ALWAYS on the hunt. I've owned Finley tops - the "hand" is amazingly silky, but it feels like cotton, if that makes any sense. This one doesn't read like it has ruffles, per se, but it does have details like the stand up collar and the gorgeous sleeve detail. I wanted you to see it tucked in and out, and how to wear it with jeans, or with dress pants when you need to. You can also wear it with a skirt - tucked in, though. It's thin enough that it won't bunch, but not so thin it's sheer. In other words, it's perfect.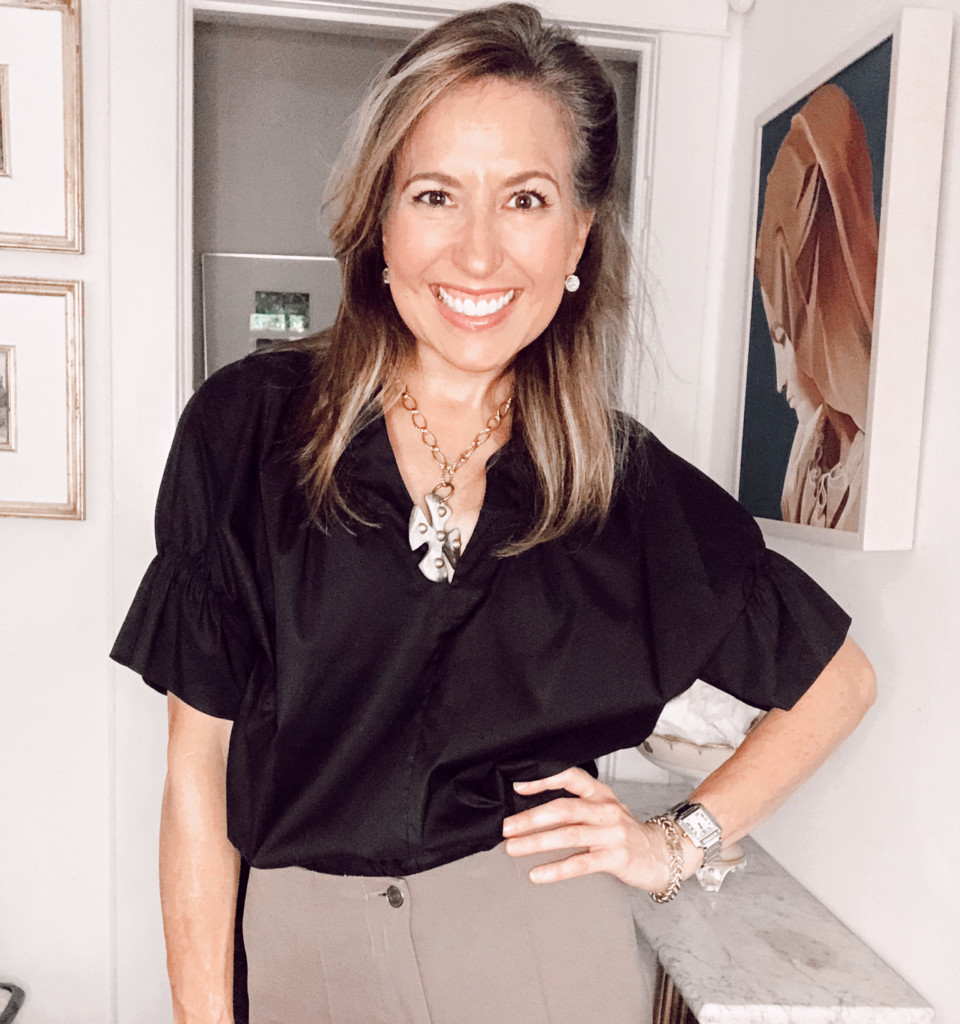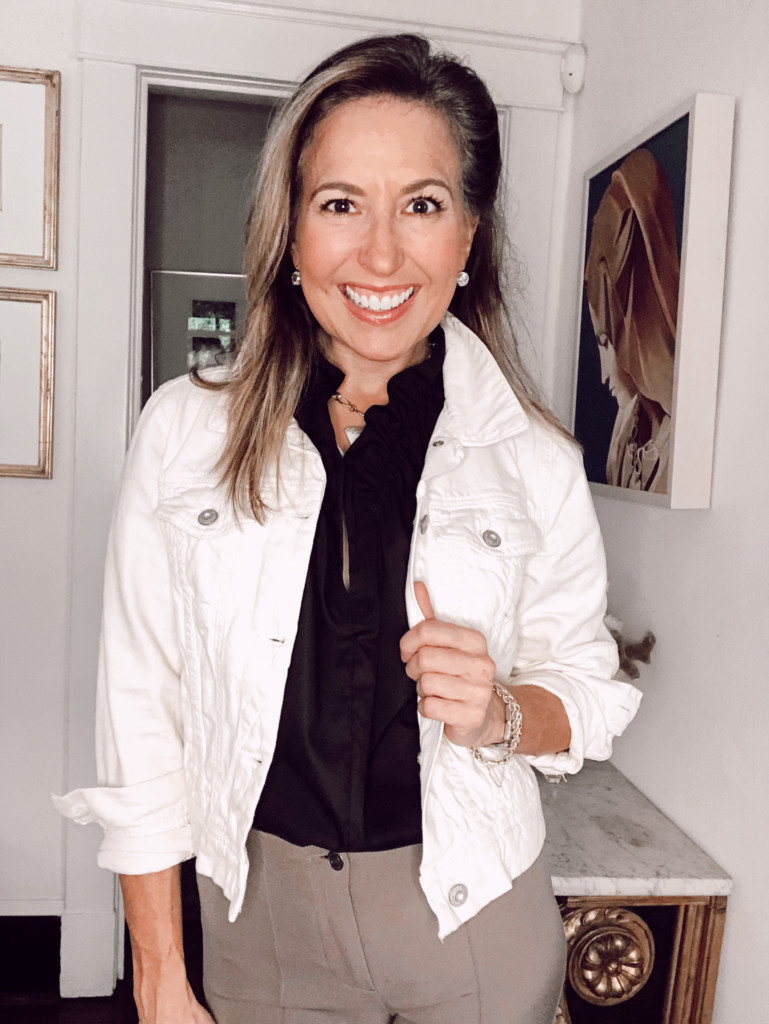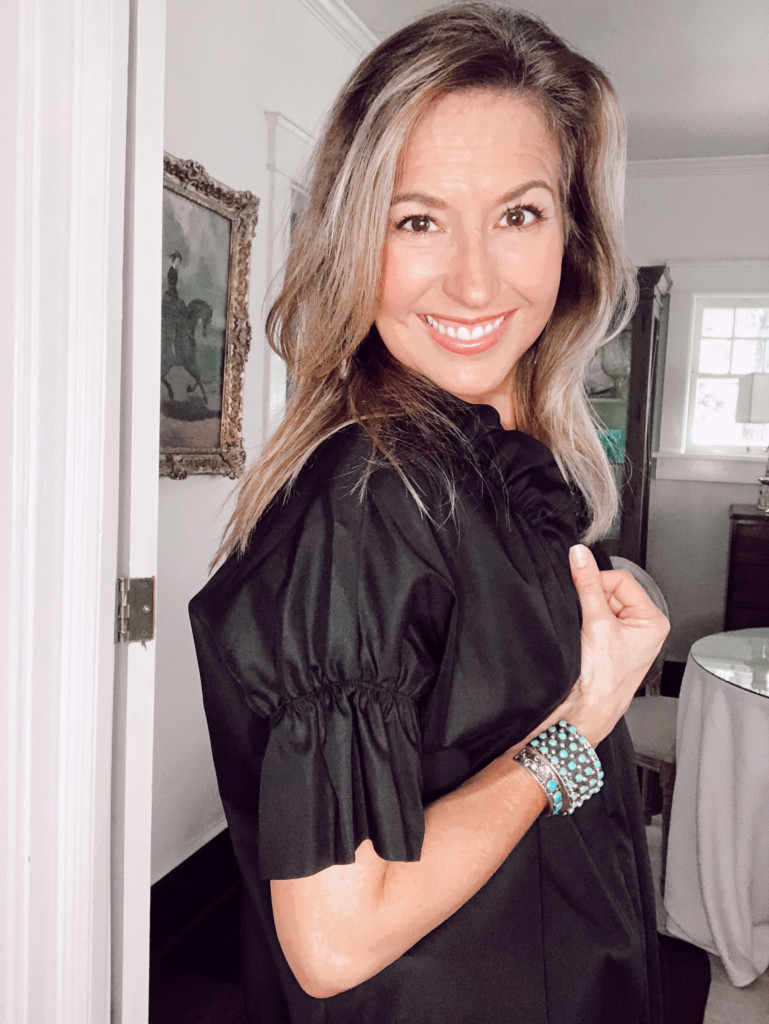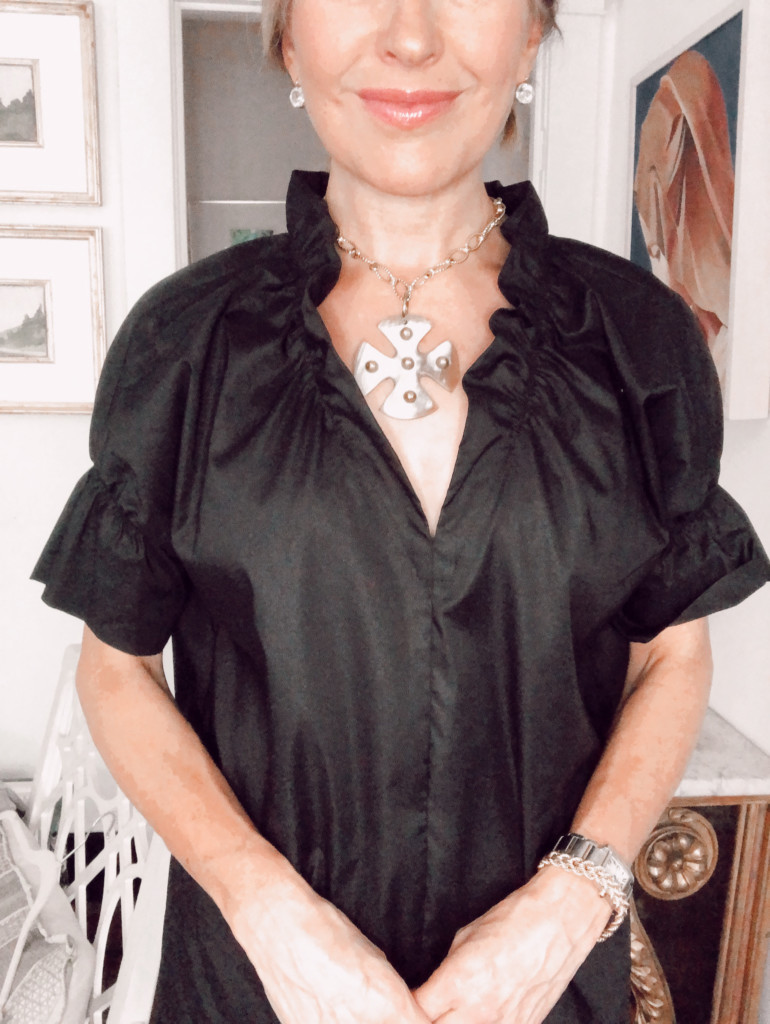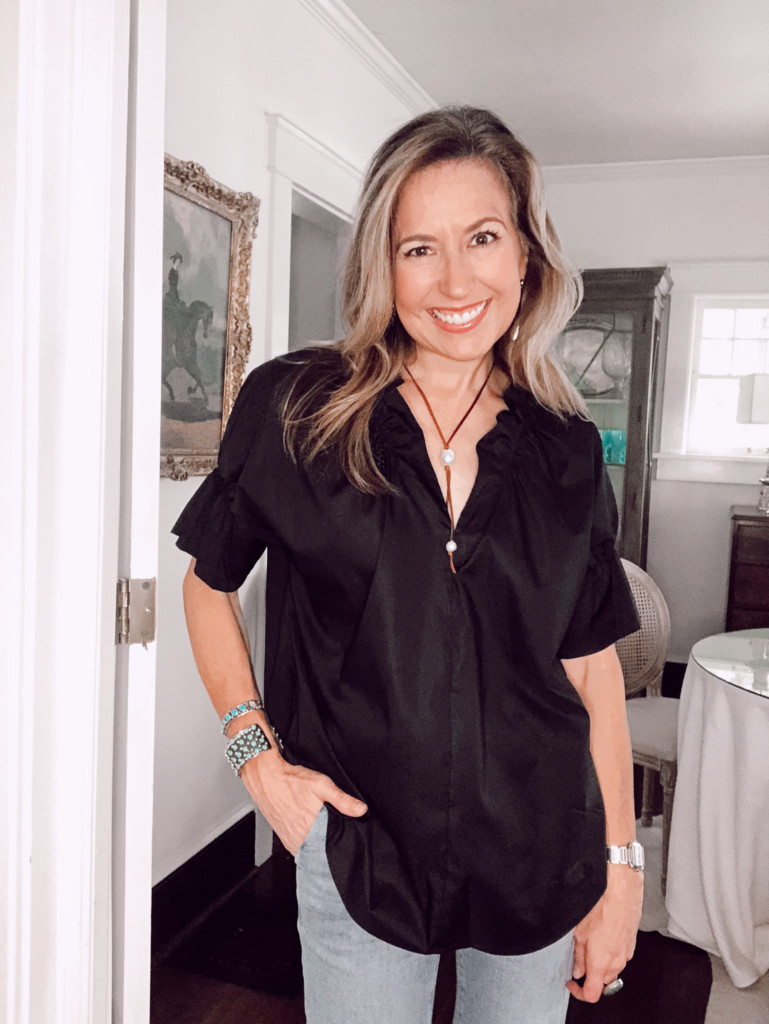 8. REPEAT CASHMERE Cashmere Travel Wrap $398 YOUR PRICE $318.40
Even pre-Covid I never travelled without some kind of wrap I could use as a pillow, blanket or mouth and nose cover. I also use it when I arrive as my outerwear unless I need something heavier. Wraps are indispensable. This one is sooooo soft! And don't you love that crisp white trim? I do - it gives it a bit of chic.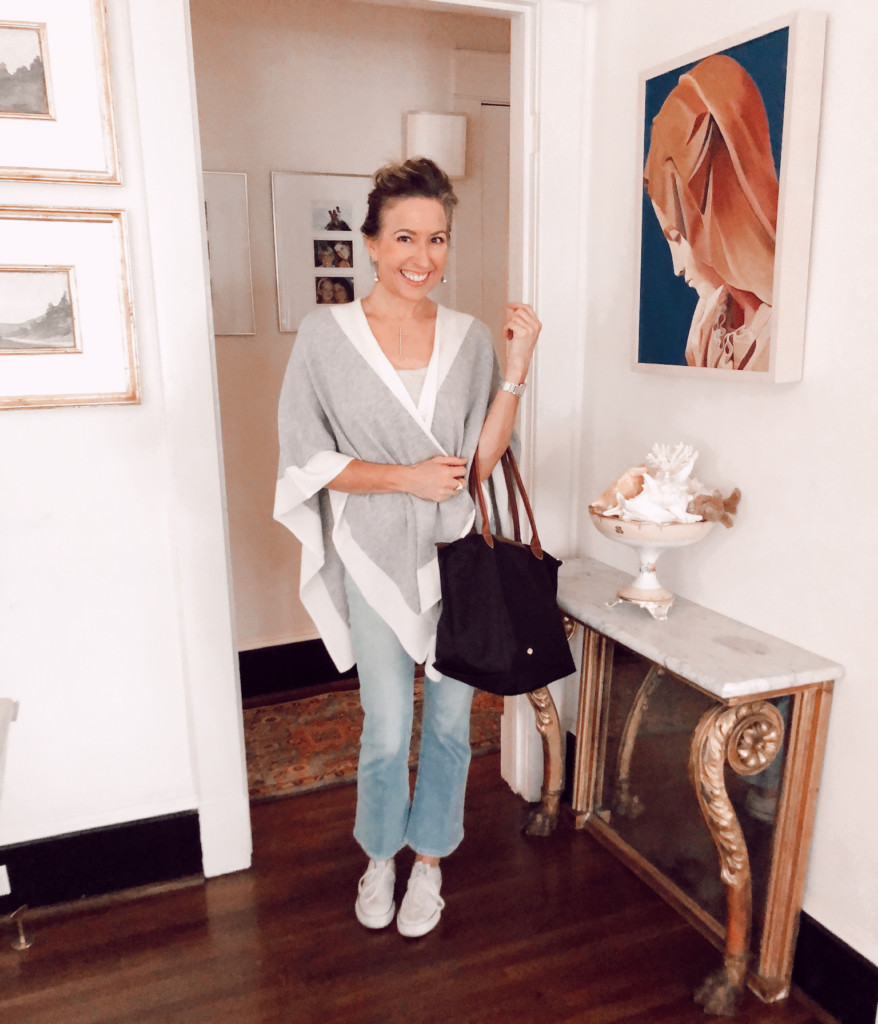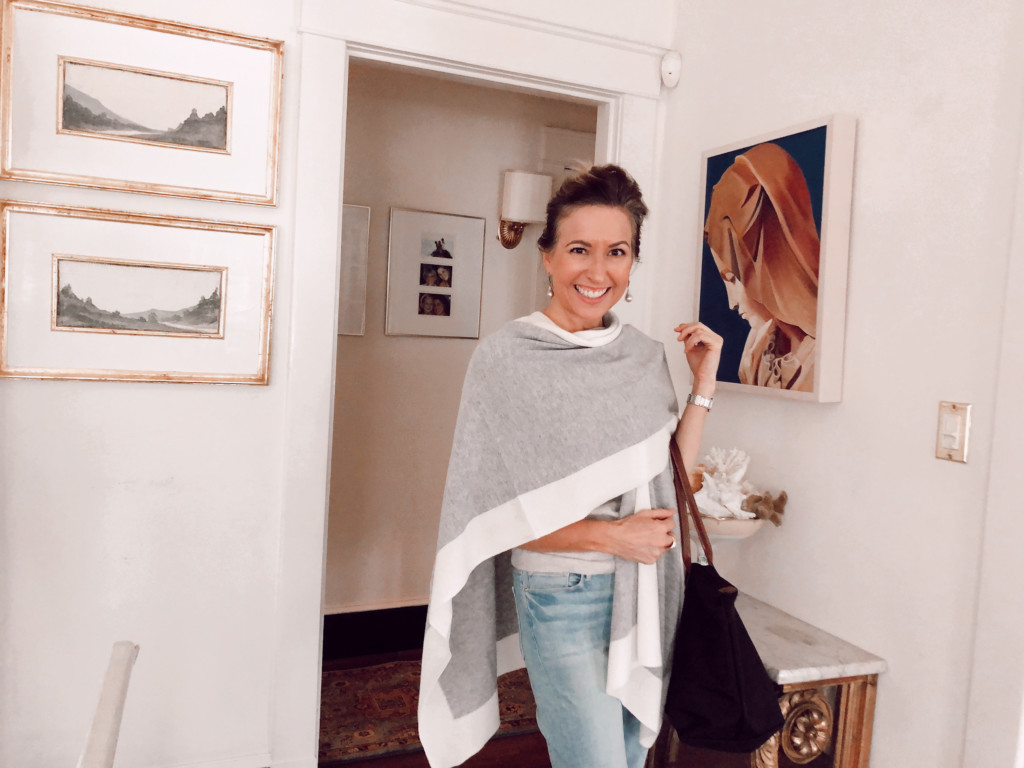 Shop now and save over $500 with your exclusive code VAULT20 on these 8 wonderful wardrobe classics from Halsbrook + any full-price item! This special Fall deal is only through September 1!
Thank you for stopping by!
Tina
This post may contain affiliate links, and if you click a link or purchase something we have recommended, we may receive a thank you commission from the website. Clicking these links won't cost you any extra money, but does help us keep our site ad-free.