Tina, here.
It's here! Nordstrom's famous Anniversary Sale (brand new fall fashion 30% off for a short time) is a month later this year, but I've got your sneak peek today, with my top picks so you can have your order ready when the sale opens, depending on your Nordstrom card level. And, new this year for you, I bring you a Limited Offer: a one-on-one virtual shopping experience with me, complimentary with your Fall Virtual Package. I'll guide you through the best purchases it makes sense for you to make now, where you will save the most, and what sells out first. There is no additional cost for this additional service; we'll finish your fall package in August or September when the rest of the retailers introduce Fall inventory. Space is very limited.
ONLY 12 SPOTS this year. RESERVE NOW.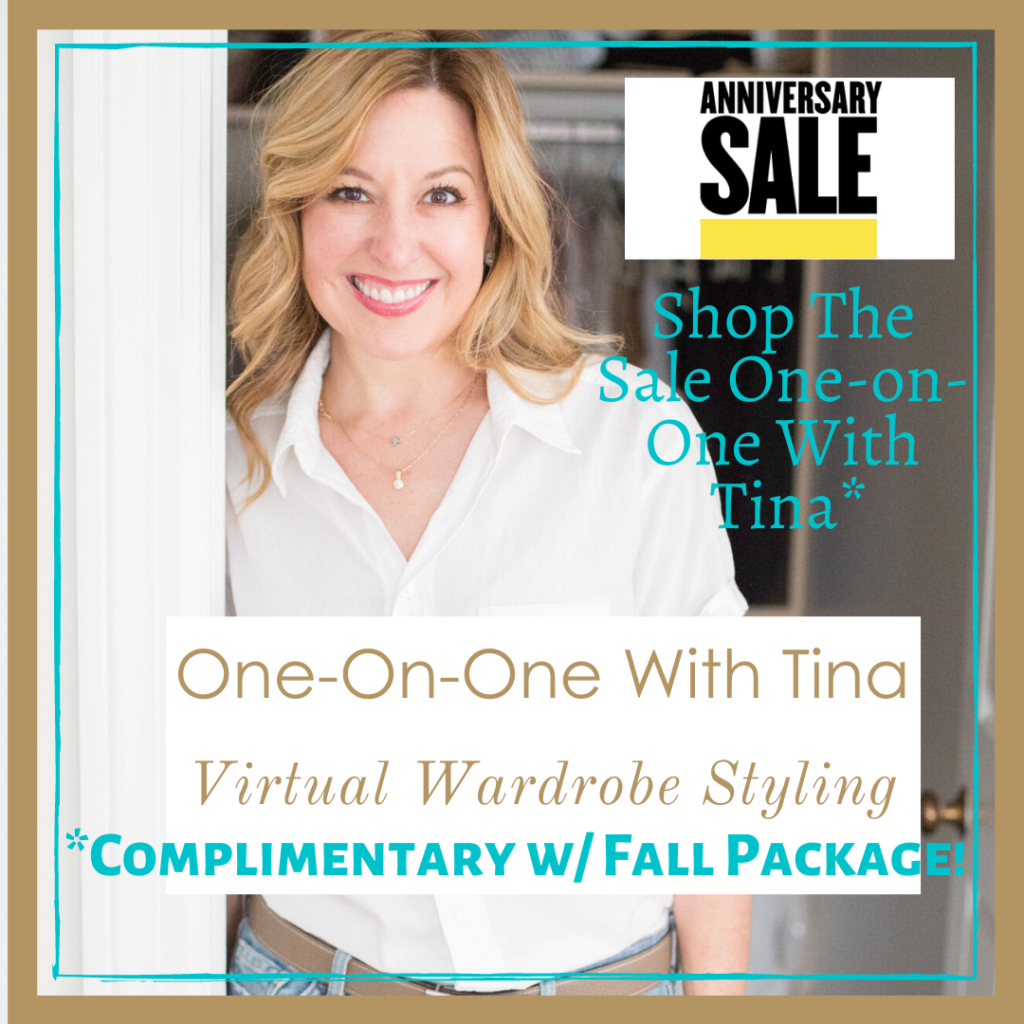 Every year my Anniversary Sale picks sell out before the sale goes public (August 19), and I have no doubt that will happen again this year since inventories seem to be at an all-time low and there's a lot of pent up shopping demand!
INSIDERS received exclusive early access to shop this post! And first priority to sign up for LIMITED SPOTS, shopping the Anniversary Sale one-on-one with me. To peak at all the perks and special guides for Insiders, visit our Insiders Only Page. For all-access, join here for $14.99/month, cancel anytime. 
Details of the Nordstrom Anniversary Sale
Go ahead and check your access level  so you know when you can make your purchases. It will be either August 4, 7 (TODAY), 10 or 13, depending on your cardholder level. (I'm not endorsing you get a Nordstrom card; it's just the way they determine who gets early access, and when, to shop the sale.) Now that your calendar is marked, take a look at my picks below and load up your Wish List so you can quickly check out on your shopping date. And if you want my one-on-one help, a more robust and personal list based on your specific needs, book your Fall package now so we can get started and be ready for your shopping day. The sale goes public to non- Nordstrom cardholders on Wednesday August 19. And it's always disappointing how much has sold out by then.
Tina's Best of the Best Nordstrom Anniversary Sale Shopping List*
*Ignore the prices and any "sold out" messages below. It's wonky because these items aren't available to everyone to purchase yet. Click on the image to see additional colors, what the prices will be, and most importantly, to add to your Wish List so you can purchase on your access date!
*Also, this is just the first release of Anniversary inventory. There will be more in days to come, and I'll update my list!
NEW FAVES ADDED
1. Outerwear
I always recommend you buy big-ticket items at this sale because that's where you'll save the most. And year after year, I find there's a dearth of coats by November when everyone starts actually looking for them. So make your Winter and Fall coat purchases now.
2. Boots: Tall Boots & Ankle Boots
Another big-ticket item worth getting now and putting in the back of your closet for a couple months. For the past two Fall seasons, including last year's Anniversary's sale, I barely saw a boot I liked. My faith has been restored! I haven't seen a tall boot yet that I like, but I imagine there will be more released.
UPDATE: see the tall boot I just added above
3. Handbags
The third category I always suggest purchasing during Anniversary Sale are handbags. Not trendy, but classic - you're looking to make those big purchases, that you'll have for years and years, on sale. This is how you become a savvy shopper!
None yet that I think are worth purchasing. But I'll keep watching. Good lesson here - don't spend money to save money!
UPDATE: Ok I found these and I like them because they are totes, one of the printed ones is smaller than the other one. These make great travel bags!
4. Leather or Suede, Faux or Real Jackets/Skirts/Pants
This is one of my favorite wardrobe staples, and I get so excited every Anniversary Sale to see what's on offer. I will say I've been most pleased with Anniversary Sale leather and suede for myself and clients. The jackets can be worn as toppers to a cocktail party, or with jeans and t-shirt. I also love a good leather jacket over a sundress in early Fall. I recommend getting one "high" option and one "low" option if you have it in your budget. And I always make black leather the last color in your collection to purchase. Cognac, camel and grey are more versatile, even though a black leather jacket is an icon. A pop of color is fun to get when it's on the inexpensive side.
5. Faux Fur and Wraps
I missed out on a faux fur wrap last year that sold out the first day and was never restocked. Don't let this be you!! You've got to watch faux fur, it can be sticky or look like a wet, shaggy dog. I haven't seen these in person or felt them, so the good thing is Nordstrom lets you return anything.
The sweater comes in a zillion colors. I get a couple every year and live in them all Winter.
6. Wool and Cashmere
Cashmere has become so ubiquitous you can buy it where groceries and appliances are sold. It's so cheap, I've decided it's fun to have a few inexpensive sweaters I know I'll only get a couple seasons of wear out of - key word inexpensive. This is the perfect scenario for buying short-lived, fun trends - on sale.
7. Denim
I hate paying a lot for my jeans because I know I can get them somewhere on the planet for less. I buy most of mine at T J Maxx or during this sale. These are quality jeans, not "made for the discount market" like so many jeans you find on outlet store racks. I would not however buy trendy jeans (holes, cropped, studs, etc) unless they come in under $100.
8. Blazers
My favorite layering piece after a leather jacket is a blazer. There is always a fabulous blazer or two I want from Anniversary. I tend to like the classic English-inspired shape (split hem, like the camel one below) and fabrics (menswear plaids and tartans - but haven't seen one yet I like). In milder climates, your blazers can serve as your outerwear deep into the season, so you can justify owning a few, or a ton.
9. Blouses
One of the hardest to find wardrobe heroes are pretty blouses. Basic rule: when you see a good one, get it.
10. Flats
As more and more of the population are wearing flats every day (not just the over-a-certain-age crowd any longer), building a wardrobe of pretty yet comfortable flats can be a time-consuming side job for many. Lucky you have me! I'll keep watching for more options, dressier flats. But these are good ones to have.
Related: [Insiders Only] Shoe Styles To Get A Glam AND Comfy Fit
11. Beauty
I save up to make these beauty purchases every Anniversary Sale. I always buy Chanel (I don't see anything I like yet), Trish and some candles. This is where you can stock up on your holiday gifts, too.
Don't forget - if you'd like me to shop the sale with you one-on-one, book your fall package now to get your complimentary session.