Tina, here.
Can I get a big AMEN it's starting to feel like the world is coming back to life! From what I hear, weddings are back on, trips are being planned and there's plenty of pent up demand for new clothes!! Perfect timing, isn't it? Right when the trees are showing their buds and bulbs are popping out of the dirt, and we can move back to our porches for morning coffee and cocktail hour, and hopefully soon beyond the reaches of even that confinement.
WE NEED NEW CLOTHES. It's time. You need to know what is ok to buy and what is not. Good thing I've been minding what the rules are since I could ride a tricycle. With a pocketbook, fancy clip on earrings and fake nails. It's important to look good to feel good. That seems trite, but science backs me up, and so do all my clients of years and years of doing this. It's time for you to hire me to help you! I want to help you! According to my clients, it's great fun, and super helpful (click the link to see what they have to say).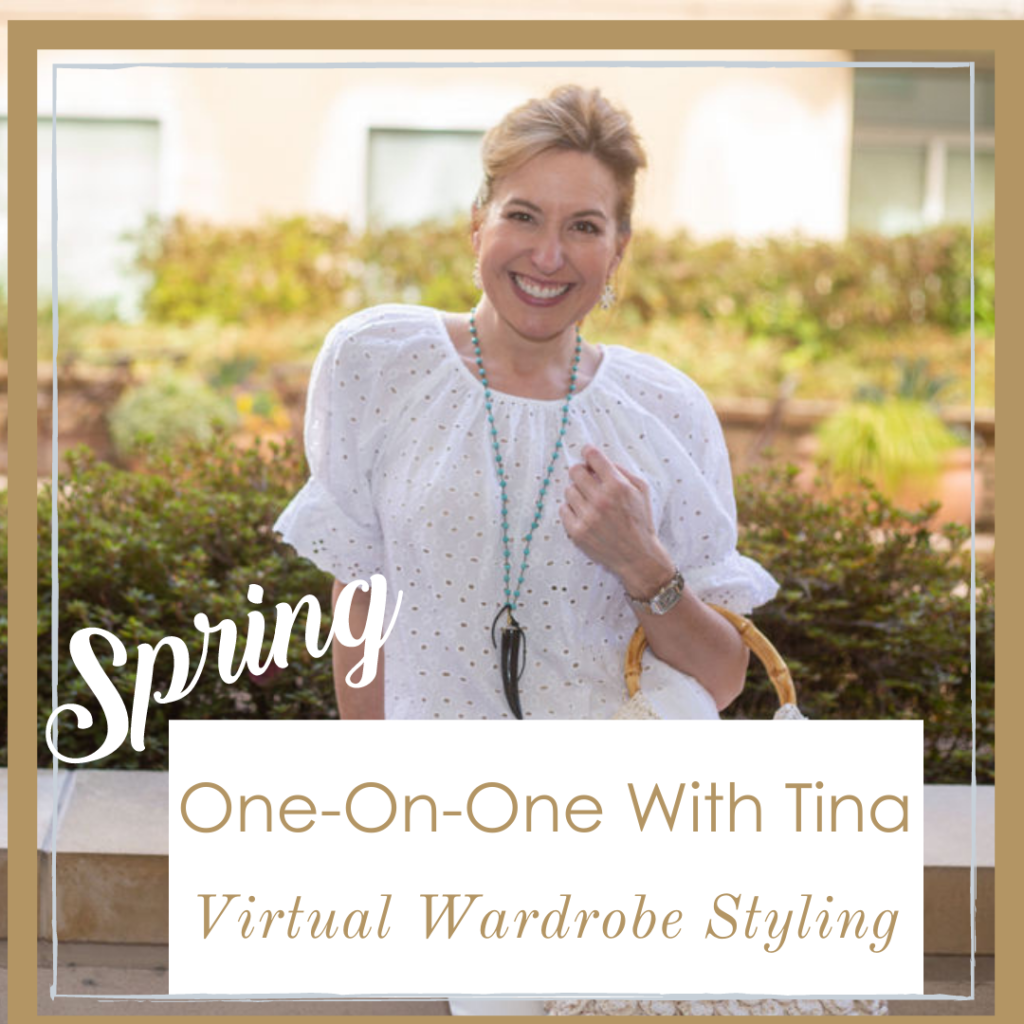 By the way, I want to take another opportunity to THANK YOU for keeping me in business during this shutdown! I cannot ever express my gratitude to all of you who have hired me for a virtual package in the last 12 months. I have been able to continue helping women keep their flair and happiness in at least this small area of life, which does tend to spill over into all other areas of life. Feeling good about yourself makes everything better! I'd LOVE to help you this Spring. Email me ([email protected]) if you want to set up a call to talk about how I can help you.
Insiders received early access to this post and have already been shopping! If you'd like more Insider info and guides, become an Insider today!
And now, Six Spring Must-Haves!
Related: How To Dress Like Your Style Icon

1. Express Draped One Shoulder Tee, $48
Anything cut on the diagonal is a friend of ours. And the ruching! Extra camouflage. This is that perfect dress it up or dress it down pretty top that isn't another t-shirt.

2. Express Double Breasted Peak Lapel Blazer, $148
The double-breasted blazer is still going strong. They can be difficult to pull off if you are mighty buxom, but the glory of this style is that the buttons are the same color, so you don't get the look without the double breasts ha. But this color. It's just delicious.

3. Chiara Boni Off-the-Shoulder One-Piece Swimsuit, $350 (I know, I know, but here's a cheaper version.)
If you're familiar with this line of dresses, you know the fabric is a miracle worker. It's hard to describe, but it's so hefty without being stiff that it doesn't need any lining or support spanx-type layers. It will hold up to multiple washings after being in salt water or chlorine.
4. CUYANA Cotton Twill Pant, $195
These are a cotton twill, with some stretch. They are ivory, not stark white. The fabrication is what sets these apart - they won't be see-through, and it's a sturdy fabric that still has some movement.

5. Anthropologie Starshine Huggie Hoop Earrings, $38
I like how Anthro describes these: With tiny crystal accents glimmering against a matte finish, these organically shaped hoops bring a wink of whimsy to your look.

6. Ilse Jacobsen Tulip Shoes, $50.99
I was so excited to see a sneaker version of the slip-on style we all went crazy over. You'll remember these are machine washable, and sooooooo comfortable. I can't wait to get my sneakers!

Some styles I am NOT into this season are: that whole boho look, high waisted everything, grecian sandals, square sunglasses, I could go on...maybe I'll write a whole blog about it.
Thank you for stopping by and shopping! If you'd like to have me help you get your wardrobe back in shape for Spring and Summer and all the exciting life ahead of us, be sure to check out the Virtual Package and sign up now!
All my best,
Tina
This post contains affiliate links, and if you click a link or purchase something I have recommended, I may receive a thank you commission from the website. Clicking these links won't cost you any extra money, but does help me keep my site ad free. All the clothes I wear are mine, and are not given to me for any promotional purpose. I buy what I love and wear what I love!