Tina, here.
I prefer the term waistcoat when we're talking about a vest that's not outerwear. It's more British, and since we are having a British fashion moment this Fall, let's go with it. By the way, that glen plaid trench coat and dress are back in stock!!! Aaaand, Insiders, you're getting a premium video, Packing For A Fall Weekend Getaway Trip. Click here to reach your exclusive video. (If you're not an Insider yet, you can join the free trial!)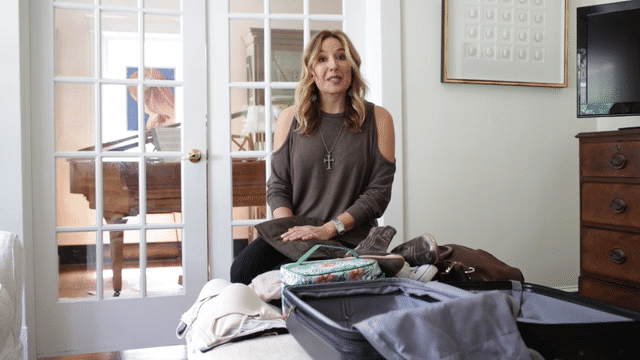 But back to vests, waistcoats, gilets, they are a brilliant Fall wardrobe staple for those in-between days when it's summer in the sun and winter in the shade. I like the regular outerwear puffy and fleece vests, but when you wear a beautifully rendered traditional menswear vest, you can call it a waistcoat and wear it as part of your ensemble, not feeling like you have to take it off inside. But, what do you wear under a waistcoat so it doesn't look silly? Good question. Keep reading. I'm also covering fur vests, quilted vests and other outerwear vests since they are such an important Fall wardrobe staple.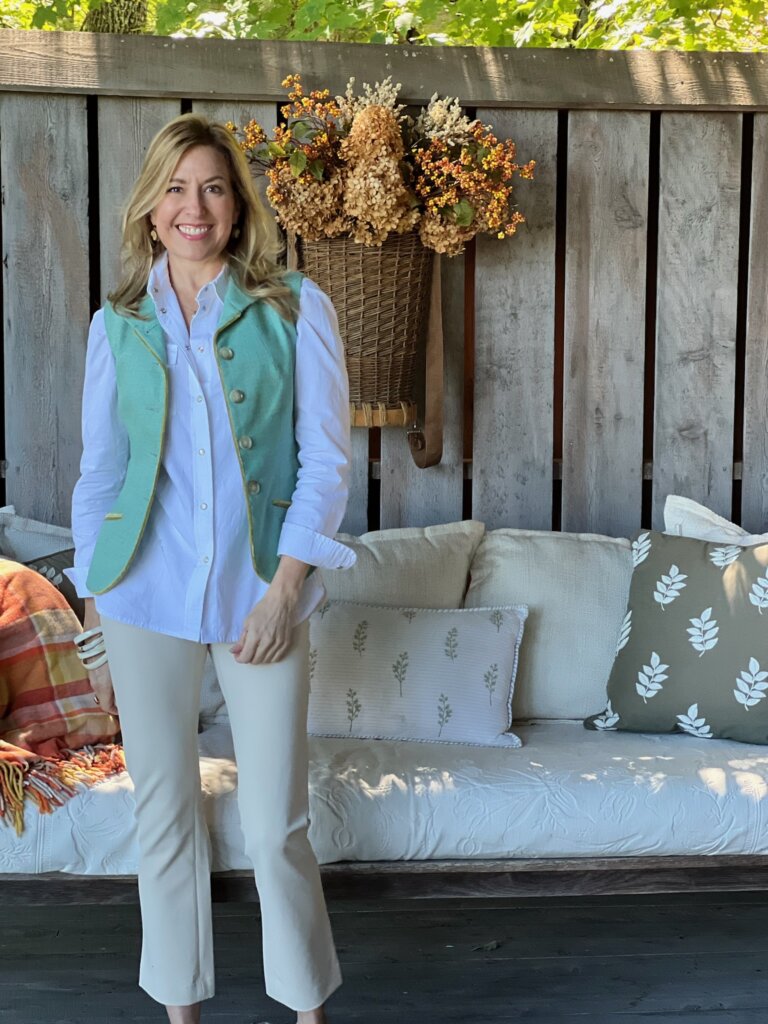 First of all, don't wear waistcoats with skirts or dresses. Ever. Or a turtleneck. Vests, yes. Waistcoats, no (see below). Next pointer, waistcoats look good with long-sleeves or short-sleeves. But I prefer long-sleeves in the Fall. And preferably a collared shirt, but a v-neck t-shirt also works. Now, don't wear the collar of your shirt OVER the collar of your waistcoat. Tuck it under the vest collar. And finally, some waistcoats can be worn alone, as its own top. (Also see below.)
My waistcoat is by Katherine Hooker. I chose the fabric and the trim and lining, and had it custom-made. Very chi-chi I know 🙂 I have been with Katherine in Nashville and Dallas at her home shows, and if anyone is interested, let me know and I'll ask her to make another trip. Many of my clients have been lucky enough to have a coat or waistcoat custom-made by Katherine, too. HRH Princess Kate put her on the map with her Brixton coat.
Related: Autumn Classics: Glen Plaid, Houndstooth and Checks
I'm wearing my waistcoat with this shirt from J. Crew and these pants from Halsbrook, now on sale (more size options below)!
More Vest and Waistcoat Fall Outfits

Happy shopping and thank you for visiting. Insiders, don't forget to check out all your premium guides! 
Best,
Tina
This post may contain affiliate links, and if you click a link or purchase something I have recommended, I may receive a thank you commission from the website. Clicking these links won't cost you any extra money, but does help me keep my site ad-free.