Tina, here.
The Duchess of Cambridge wears them. So does Taylor Swift. Now you can have your very own Katherine Hooker London custom-tailored jacket or coat. My sister and I are hosting Katherine in Nashville, Friday and Saturday February 21 & 22, 10AM - 6PM, both days. (Scroll down for the invitation.) Come to meet Katherine! Come to drool over the fabrics, linings and trims! And, if you are moved, be fitted for a custom coat or jacket of your own. Katherine also makes dresses, skirts, sleepwear and more. But it's her coats that I fell in love with several years ago.
I bought this coat years ago and I still get stopped when I wear it - people want to know where I got it! It's a Katherine Hooker, of course. I also have a waistcoat (don't you love that term!). The beauty is that you customize your look. You select from Katherine's gorgeous fabrics (wools, linens, tweeds, velvets ) plus your lining, buttons, trim. Katherine gives you a custom fit, and you make it yours! I'll be there to help you make your selections. It's great fun!
The Huff Post featured Katherine Hooker in a wonderful article about her work with the Duchess of Cambridge - you can see photographs of the Duchess wearing Katherine Hooker coats and jackets. Here's another great read in the New York Post on Katherine. And what a fascinating life she has led! From her website, Born in Cyprus into an American family and brought up in French-speaking Africa until she was 10 years old, Katherine's earliest memories are full of colour, intrigue and nostalgic abandon...Like Katherine herself, the designs are wholly individual: vintage East Coast America fuses with contemporary England... Each piece is expertly hand cut by experienced tailors, and made in a London workshop. 
And from a few more aficionados of what's worth talking about:
"An authentically Anglo coat in one fitting. "
- Wall Street Journal
"Katherine Hooker Hacking jacket ranked #1 national treasure."
- Vogue
Please visit us in Nashville and meet Katherine. You may just find the perfect coat or jacket, or both!
Insiders, don't forget to take a look at all our newest content for you - have you seen our latest release, [Insiders Only Video Series] Part II My Very Own Closet Cleanout: The Guest Room? It's getting real tough over here in my closets. But making major progress! Great tips on cleaning out your closet, plus watch me struggle to purge my own!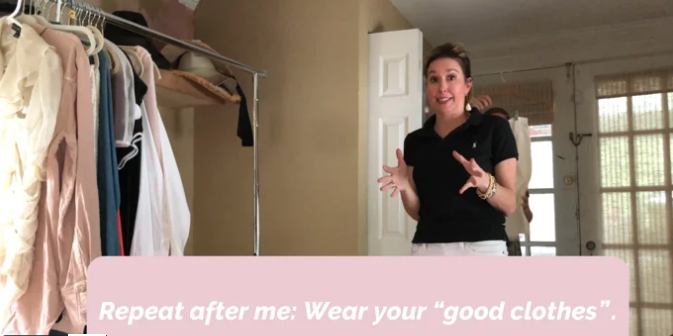 If you're not an Insider, you can join our free trial and have instant access to the video series, plus all our Guides. 
Thank you for stopping by, and I hope to see you in Nashville Feb. 21 and 22!
Best,
Tina