Tina, here.
Are you iced in, just dreaming of warm, sunny days ahead? But year after year, as sure as the sun rises in the east, Spring follows Winter, and white jeans come back in rotation. In fact, I'm wearing mine today, in good faith. Actually, I never retire them from the rotation, but you knew that. Anyway, Spring is coming and it's time to get our wardrobes ready! I've already started doing Spring Closet Cleanouts for clients, both virtually and in Nashville. It makes me so happy to see yummy pastel sweaters, linen blazers, and yes, white jeans, in your closets!
So, what do you need in your closets this Spring? IT'S SO EXCITING! It's so much better than last Spring, thank God and the stars in heaven above.
---
Head on over to the Insiders page to discover all my Guides, including this new one! If you're not an Insider, no biggie. You can join for free here.
---
It was a real struggle last Spring and Summer, to find much worth wearing, which makes my job SO FUN because I love the hunt, especially when it's a challenge. But it's nice when there are oodles and oodles of great choices, too, which supplies a different kind of challenge. This Spring there are plenty of trends I don't favor (neons, cut-outs, bucket hats, ugly sandals).  But lots that we will love wearing! My friends, things are looking up, I am happy to report. So, ...here is your first list of Spring Must-Haves for your closet!
Ten Spring Must-Haves
A Spring Blazer or Jacket
A Beachy Spring Accessory
This is the surefire way to make your drab Winter wardrobe feel like Spring.
A Feminine Blouse
Just keep stocking up on them - we won't have them around forever.
A Trench Coat (of course)
Let your Trench coat do double-duty as a Spring topper over a dress, or even jeans and pretty blouse.

A Pretty Spring Shoe

Trouser Jeans
I've always loved a good pair of trouser jeans. It's kind of a menswear thing, so you can keep it soft-looking with a feminine blouse.

Enamel Jewelry
Next it'll be cloisonne add-a-beads 🙂

Hoop Earrings
Keep it cool - no ginornous hoops necessary.
A Midi Dress

Earthtone Neutrals
Neons are big this Spring, but I still see a lot of soothing, sophisticated neutrals, thank God.
How To Wear Your Spring Must-Haves
Book your virtual closet cleanout and style session with me now before Spring gets here and there's a mad rush!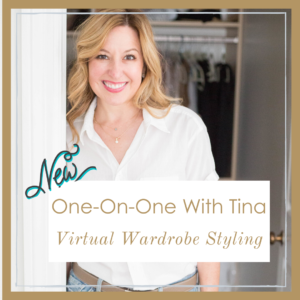 All my best,
Tina
This post may contain affiliate links, and if you click a link or purchase something I have recommended, I may receive a thank you commission from the website. Clicking these links won't cost you any extra money, but does help me keep the site ad-free. All the clothes I wear are mine.