Tina, here.
What are you up to this weekend? I'm headed to the lake for a dear friend's birthday, and just went through the exercise of packing. Which got me thinking...I want to share the outfits! No pics of me in them because I just pulled them together 5 minutes ago, but here's the general idea. Enjoy your weekend, whatever you may be doing, and whatever outfit you find yourself wearing!
The cotton boatneck sweater sweater I'm wearing above is from Halsbrook, featured a couple weeks ago on the blog. I'm packing it for sure! It feels like cashmere, but you won't sweat because it's cotton, and the boatneck is SO flattering (comes in many colors). Perfect springtime long sleeve sweater, which is near impossible to find. Trust me. There are like 3 long sleeve tops in the world I like for cool Spring days or evenings, and this is one of them. You also know I can't pass up a good turquoise-y color necklace. And I've really been into multi-strand necklaces. This one is actually amazonite beads, with lots of facets so they "sparkle" without being sparkly or cheap-looking, if you know what I mean. They are GORGEOUS in person. The color. To die for. Anyway, it's the perfect "3rd piece" you need, especially if you're not wearing a v-neck.
Here are some other outfits!
Lunch At The Marina
New Video Release! Looking for a swimsuit? (Who isn't always on the hunt for the perfect swimsuit?) Since it's about to be pool and beach and lake weather, I decided to take you shopping with me inside a department store for swimsuits, and I'm talking you through all the shapes and styles you want for camouflaging or accentuating your assets!
Afternoon Boat Ride

Cocktails On The Porch
Is your wardrobe ready for all the events, parties and trips you're finally planning? No matter where you live, I can help you! Sign up for an IN PERSON or VIRTUAL package with me now to get your wardrobe ready for Summer!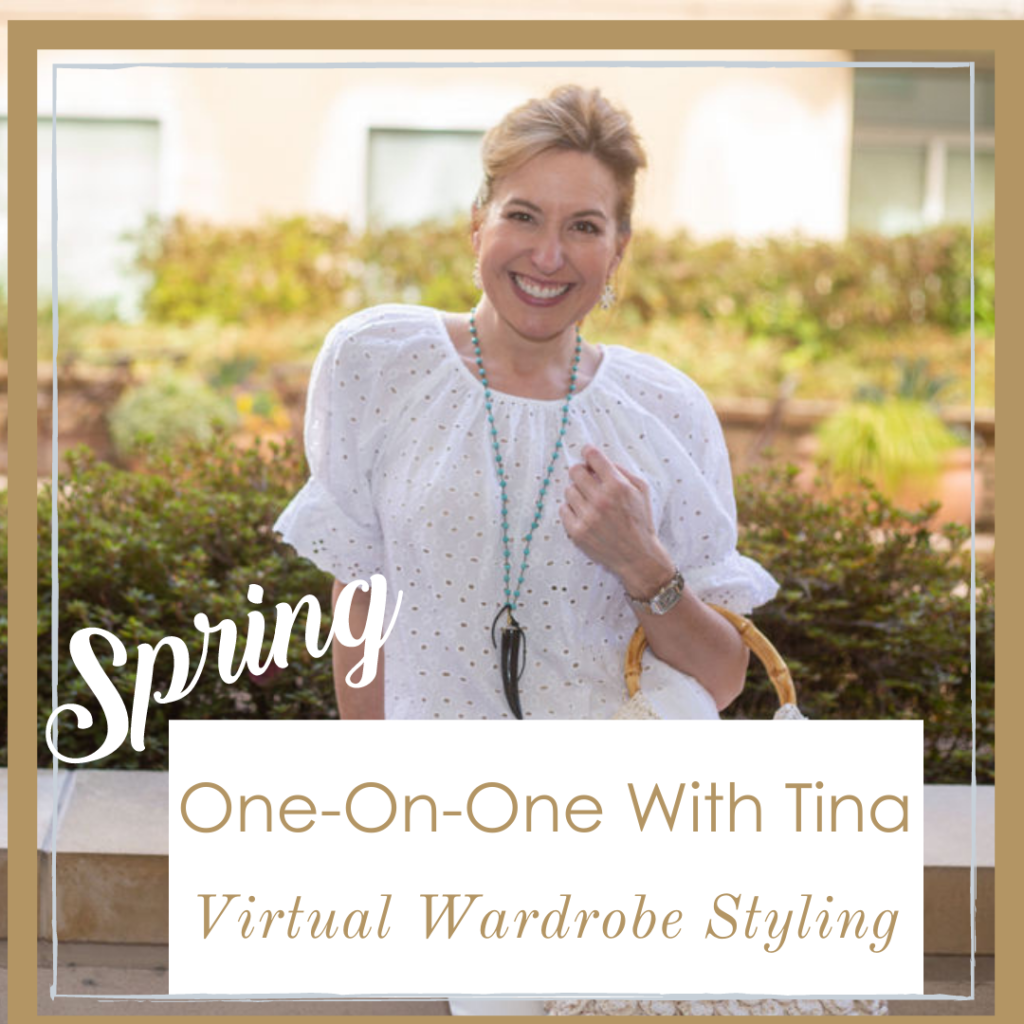 Don't forget the new video, Shopping With Tina For Swimsuits. I'm modeling. HAHA Kidding, I'm not that brave. But I do get into the nitty gritty of all the swimsuit issues we have.
Thank you for stopping by!
Tina
This post may contain affiliate links, and if you click a link or purchase something I have recommended, I may receive a thank you commission from the website. Clicking these links won't cost you any extra money, but does help me keep my site ad-free.