Tina, here.
One of the toughest nights to dress for all year might be New Year's Eve. My Gannie taught me when you don't have something fancy enough or "correct" enough for an event, just pile on a lot of jewelry at once, wear some bright red lipstick and put on your best perfume.  You will exude fanciness.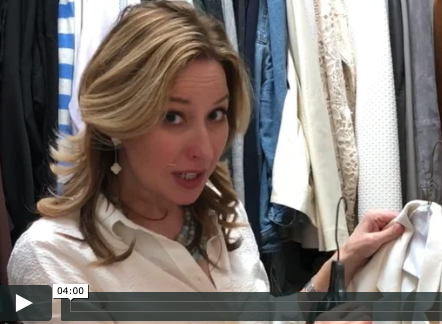 Have you seen our latest video? You must. [Members Only VIDEO] Highlights From 10 Years Of Style Vault Videos. Insiders have had access to this new video since last week. It's one of the perks of being an Insider! If you'd like early access to posts like this one, plus exclusive access to special shopping guides and posts, join our FREE trial! You can cancel anytime. 
If a black tie event happens to me, and it rarely does, I do not go out and buy a long gown, and I don't often recommend this for my clients. We can usually find something in the closet or attic that can be reinvented beautifully. In my case, I'd wear my tuxedo jacket and shiny (mine are satin) black pants. I've also worn a long satin skirt with a cashmere sweater.
I would add lots of jewelry and fancier shoes for a truly black tie event. If your tuxedo blazer is black satin, your black pants don't have to match - just make sure they are made of another fabric so it doesn't look like you tried to match and failed, but rather that you are doing the tone-on-tone thing.
New Year's Eve Outfits When You Have Nothing To Wear
1. Start with a column of black or a column of white.
Tone-on-tone color makes it look like you're wearing an ensemble as opposed to trying to make two disparate pieces you threw together look like they work.
Can somebody please take care of this girl's roots? 🙂

2. Pile on the jewelry.
Or one huge statement piece can make a difference. Costume jewelry is absolutely fine.

3.  Wear a red lip and spritz on some perfume.
Then walk out the door with your head held high and a lovely smile on your face so you can have a good time!

So your formula for what to wear to a holiday party when you have nothing to wear is wear black on black or white on white and add sparkly jewelry, fancy shoes and a red lip.  Done.
Members, don't forget about your exclusive, new edition  [Members Only VIDEO] Highlights From 10 Years Of Style Vault Videos. Not a member? Not to worry - join the 15day FREE trial  for exclusive access to videos like this, plus exclusive Style Guides and posts.
Happy shopping and Happy New Year!
Best,
Tina
This post may contain affiliate links, including Amazon Services, LLC Associates Program, an affiliate advertising program, and if you click a link or purchase something we have recommended, we may receive a thank you commission from the website. Clicking these links won't cost you any extra money, but does help us keep our site ad free. All the clothes I wear are mine, and are not given to me for any promotional purpose. I buy what I love and wear what I love!