Tina, here.
Sweaters are funny little creatures. They can seem so soft and adoring when you fall in love with them and bring them home. Then you pull one out to wear on the first cold day, and you're either sweating or itching something awful within a couple hours. Woolens damp with sweat do not smell good. Neither does the smell of mothballs next to your skin. Eww.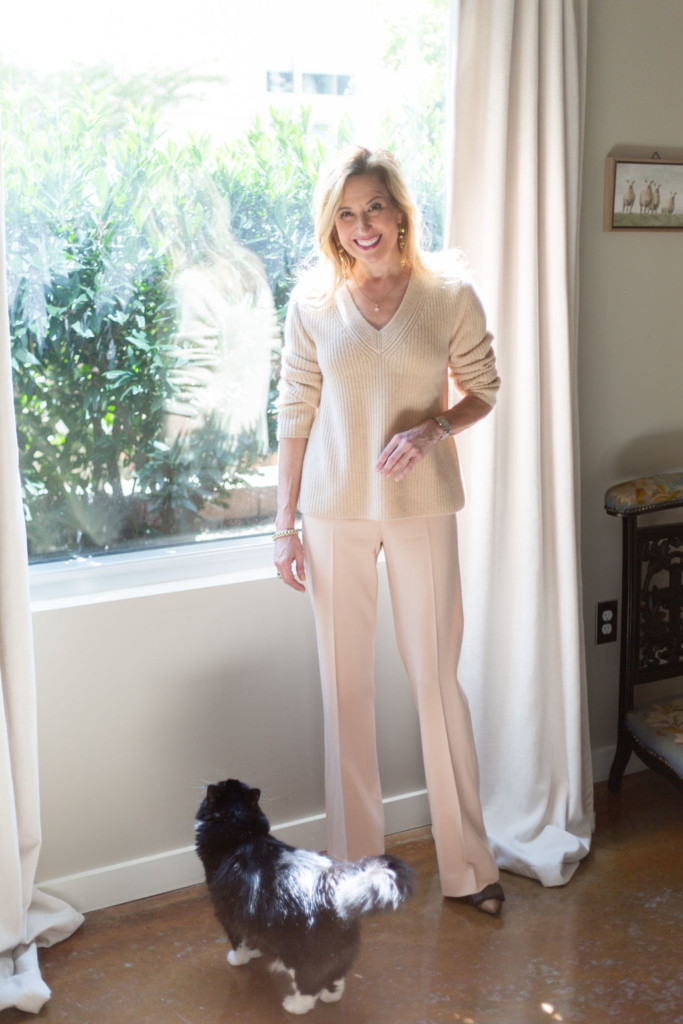 I made a little video on Building A Sweater Wardrobe. To watch, click here.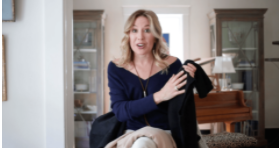 Pssst...Insiders  receive exclusive content like videos, shopping guides, plus early access to certain posts. Become an Insider today with the free trial! 
Sweater Care
To address the moth issue, you need these moth traps stat. One of my high school friends shared this with me, and it is so fun, maybe gross, to watch the traps catch the moths.
To keep your sweaters smelling fresh, order these lavender sachets for your closet and drawers.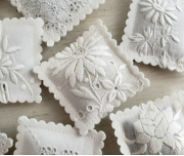 ---

---
When I'm buying sweaters, I'm looking for 2 things: soft and comfy. (That's one.) And the second is fit. I should have mentioned fit first. Because if it doesn't fit well, walk right on by before you even consider if it's comfy. Hear my voice once again, fit is first. V-necks are your friend. Oversized sweaters are not. The more volume you put on your body, the more weight you add. So if you're wearing a ribbed sweater, like I am, make sure it does not overwhelm you at the shoulders, through the arms, and around the waist and hips.

Color factors in as well. What is the equivalent of summer's white v-neck t-shirt in winter? I like blush because it's not black. It's not white (yes, it's still me, Tina, addicted to white clothes). And it's a neutral because you can wear it with black, grey, warm whites, and most primary colors. I've got some other color and shape recs for you below. Also, the longest a sweater really should be is just below your hips. The closer it reaches to your knees, the shorter you look.
Related: 3 Ways To Wear Your White T-Shirt This Fall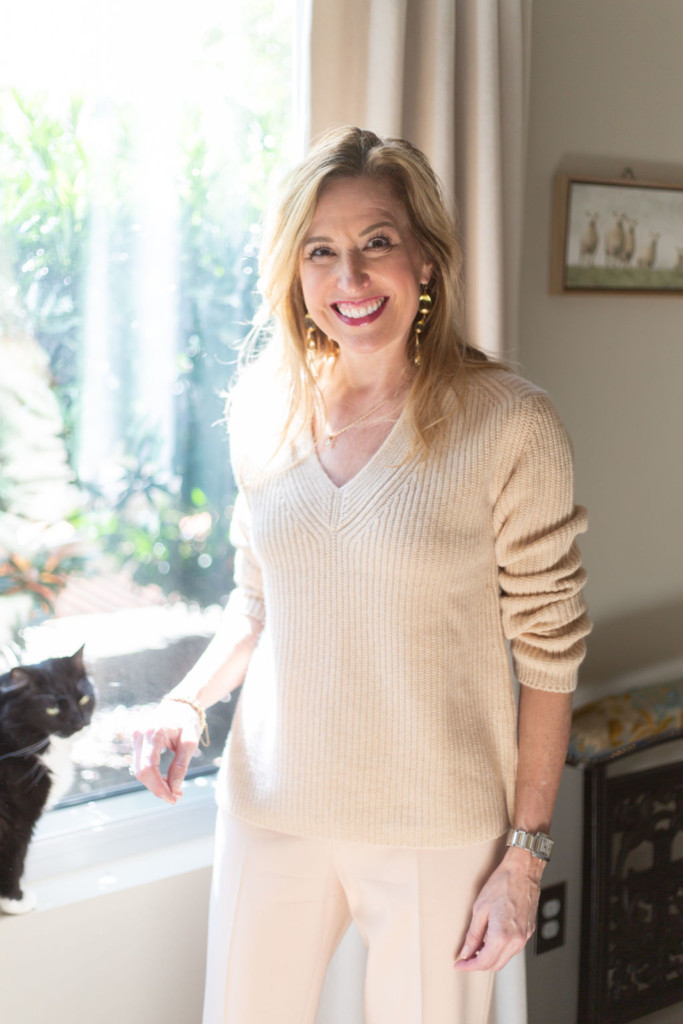 There are a few more varieties of sweaters I keep around, like cardigans and open front sweaters. Turtlenecks are great, too. Watch the sweater video for tips on turtlenecks, and how not to suffocate. Here are some examples of what I have in my closet, and continue to replace every few years.
Fall Sweaters, Dressy or Casual
Sleeveless and short sleeve turtlenecks are so incredibly useful as layering pieces.
So there you have it. My current sweater wardrobe and aspirational purchases! Be sure to check out my recent blogs for more great must-haves. And Insiders, stay tuned for more exclusive Insider membership perks like pre-releases of videos and shopping guides coming your way for the holidays!
Thanks for reading,
Tina
This post may contain affiliate links, and if you click a link or purchase something we have recommended, we may receive a thank you commission from the website. Clicking these links won't cost you any extra money, but does help us keep our site ad free. All the clothes I wear are mine, and are not given to me for any promotional purpose. I buy what I love and wear what I love!