Tina, here.
Happy New Year! FINALLY. I took the holidays off from writing, and it was a much needed break to reflect and plan. I also had my fiftieth birthday, surrounded by my "seven," with a few missing. How am I so fortunate that I have the dearest friends to celebrate with me, and who I fully intend to keep by my side the rest of my life. I am hopeful for the new year...because there is a great chance we have grown and learned from this past year. So, as we turn over a new page, let's refresh ourselves with, what else, but a pretty winter wardrobe and some wonderful January Must-Haves!
Insiders received early access to this post, and have already been shopping. If you find something is out of stock, consider becoming an Insider and you'll get all the extra perks, like new content first , plus exclusive content just for Insiders. 
I don't know how I used to manage creating capsule wardrobes every month, but this month surely calls for one. The theme is happy, new and hopeful! Get what you need, and use the rest for ideas on how to pull from your own closet and style similar outfits. The great thing is, most everything is on sale! Onward and upward, my friends.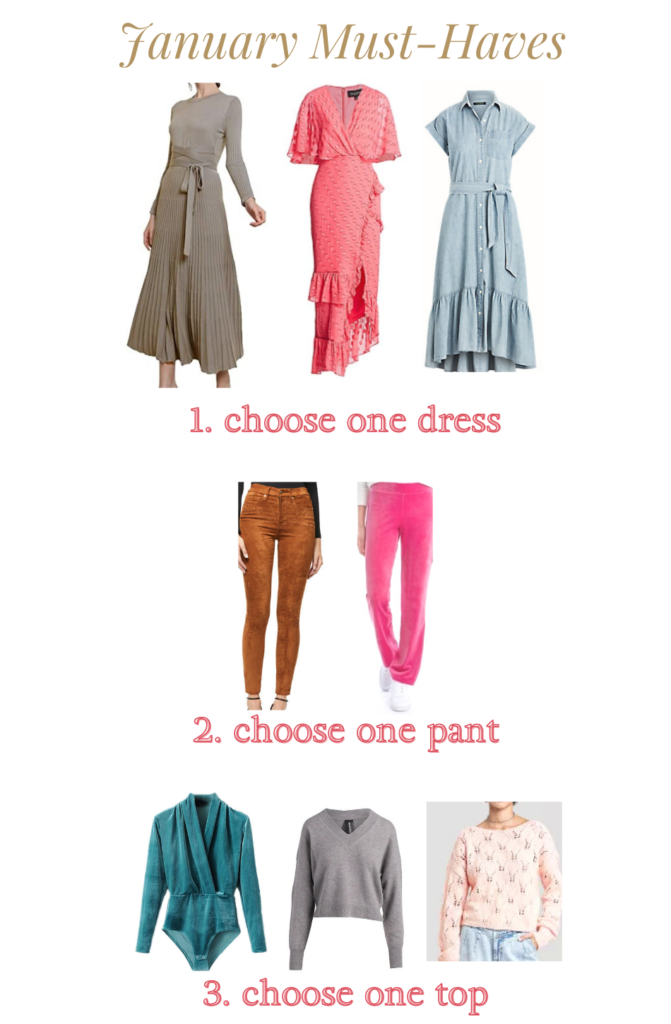 TOP ROW: KNIT DRESS | PINK DRESS | CHAMBRAY DRESS
MIDDLE ROW: FAUX SUEDE JEANS | PINK ATHLEISURE PANTS
BOTTOM ROW: TEAL VELVET TOP | GREY V-NECK SWEATER | PINK POINTELLE SWEATER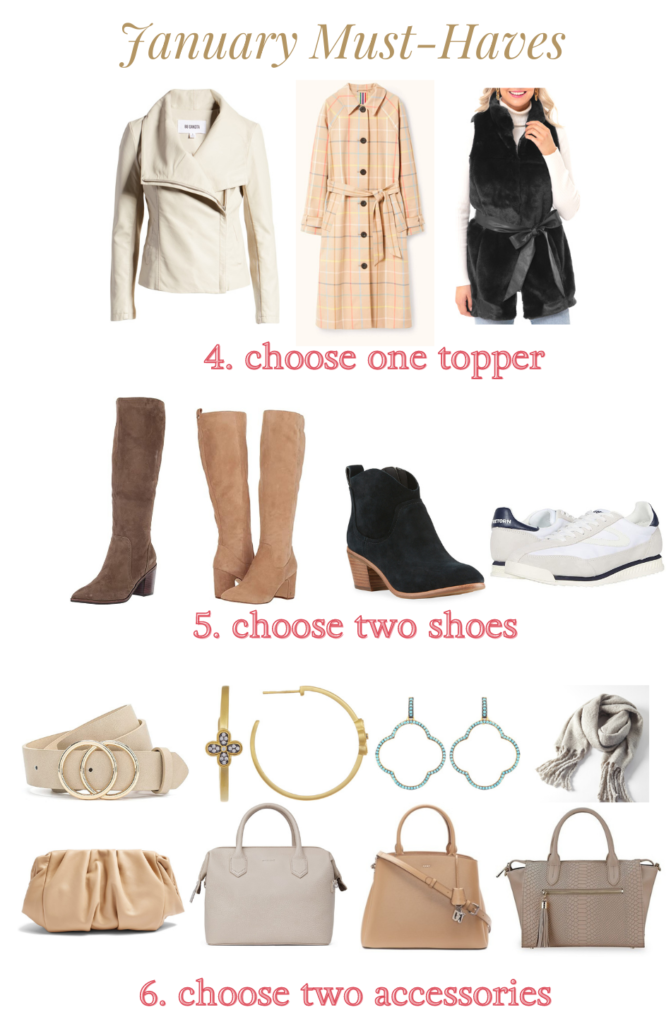 TOP ROW: FAUX LEATHER MOTO | CHECK TRENCH COAT | FAUX FUR VEST
MIDDLE ROW: TALL TAUPE BOOT | TALL CAMEL BOOT (ANOTHER SIMILAR) | BLACK V-ANKLE BOOTIE | SNEAKERS
BOTTOM TWO ROWS: BELT | HOOP EARRINGS | CLOVER EARRINGS | GREY SCARF