Tina, here.
Oh. My. Groceries. Get this. But first - Insiders! You are getting a premium video. Click here.   Now. Somehow I'm in the Top 40 of the 100 Best Style Blogs & Websites! Now, who created this list is a mystery to me. And how they created it, even more so because it's certainly not based on how well I market myself (I don't), number of followers (my friends and family? 
), number of times/ day I post a reel (never). So maybe it's someone who actually reads my blog and slipped it into the finals. Ok so I just read the headliner and it says the list is "curated from thousands of blogs and websites and ranked by traffic, social media followers, domain authority & freshness." I'm dying. That is hilarious! Ok, so I was once told by a business coach I had (I'm sure I was a disappointment) that "Tina Adams Consulting" was searched every 6.8 minutes a day. He got that from google analytics. My mother is no longer living and I have no children, so I guess it's real people and not paid off family members? Thank you to all my readers!! You all have kept me in business, and I'm SO grateful! And by the way, there are a lot of great style blogs out there on that Top 100 List! Another reason I'm not the typical blogger or stylist - I don't read social media. If anyone thinks you could be my social media person, I'm open! 🙂
Aaaaanyway, back to some quick tips you can use over the next few weeks (or actually for all of time). I'll start with my favorite tip. It is as life-changing as getting your brows done, which has been compared to getting a non-surgical facelift. Brows, I do. Anything else I don't. SO if you do your brows and cuff your sleeves, you may never feel the need for a facelift!
Three Quick Style Tips To Transform Your Life (big promise, I know)
1. Cuff Your Sleeves.
Every time. Every long sleeve. If it can't be cuffed, scrunch it. If it can't be cuffed or scrunched, consider shortening it to a 3/4 length sleeve. I explain why in this video.
Insiders, click here to reach your premium video content. Not an Insider? No problem! Join the Free Trial today! Instantly gain access to all premium content like early access shopping, videos, style guides and more!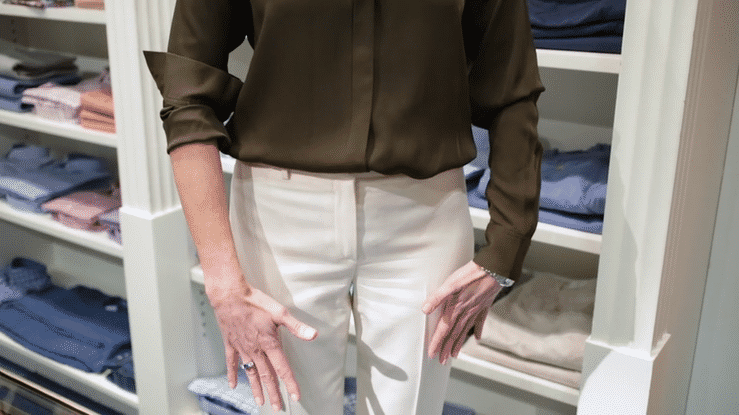 Some Favorite Long-Sleeve Blouses To Cuff Or Scrunch
2. Choose V-Necks
Every time. Every top. (Except for turtlenecks - they're ok, and scoop necks - they're ok but not as great as v-necks, and boat necks - which are flattering on every woman.)
A crew neck (below left) makes us look more busty, and yet more boyish, because it squares us off and creates a wide, horizontal plane across our chest. An open neckline (below right), like a v-neck or scoop neck, draws the eye to the center of the body and creates a long, vertical line, which is both slimming and creates height.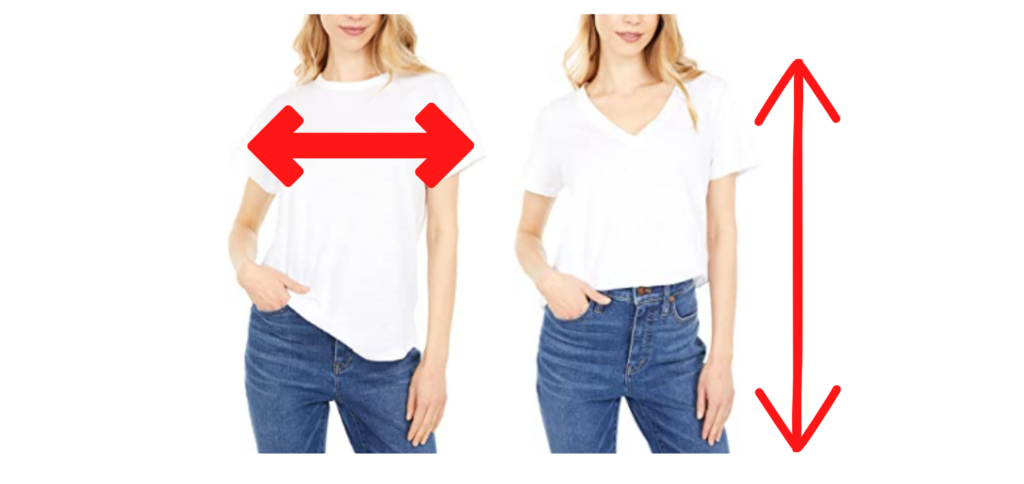 ---
Related: Your Summer To Fall Transition Wardrobe With 4 Easy Pieces
---
Some Favorite V-Neck Tops
3. Follow The Rule Of Proportions
Every time. Every outfit. If you're wearing something blousy on top, go for a more form-fitting silhouette on your bottom half (below right). And vice-versa.
Avoid wearing form-fitting pieces on both your top and bottom, and likewise, avoid wearing oversized or full pieces on both your top and bottom (below left).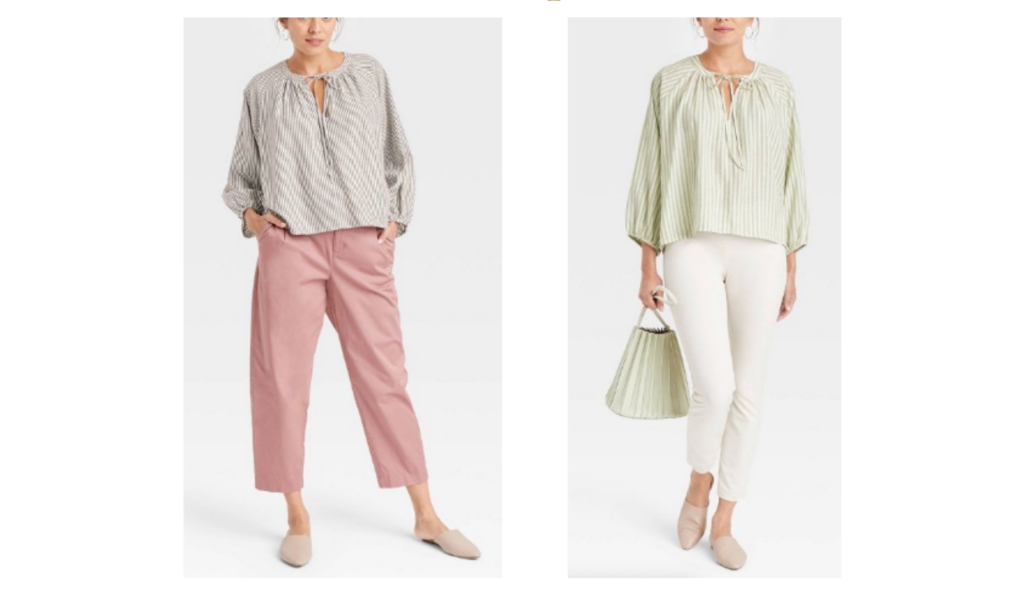 ---

---
Some Favorite "Opposites Attract" Outfits
So much to come in the next several weeks! And yes, I'm already starting to clean out closets for Fall shopping and styling! Book your package with me now, no matter where you live I can help you in person or virtually.
Thanks for stopping by and reading,
Tina
This post may contain affiliate links, and if you click a link or purchase something we have recommended, we may receive a thank you commission from the website. Clicking these links won't cost you any extra money, but does help us keep our site ad free. All the clothes I wear are mine, and are not given to me for any promotional purpose. I buy what I love and wear what I love!