Tina, here.
TODAY YOU ARE GETTING 25% OFF YOUR ENTIRE PURCHASE AT HALSBROOK!! Shop now before my favorite picks sell out, as they are wont to do, and SAVE OVER $900 on just these 12 items alone! Insiders have already been shopping a day early, so you do not want to miss these gorgeous Spring outfits!! 
Plug in code TINA25 at checkout. Valid 3-25-22 through 3-28-22 (Insiders shop a day early). Sale items excluded.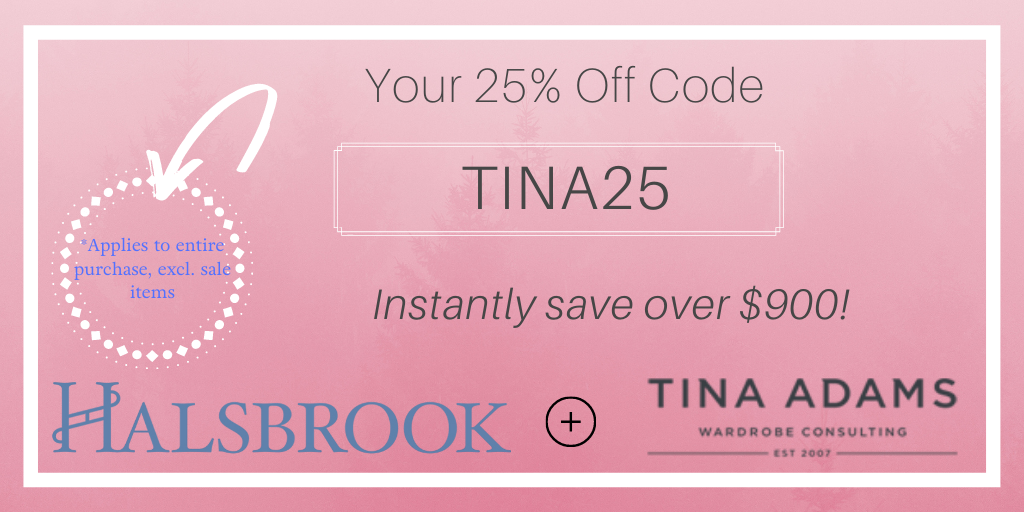 Upper row: LEFT | CENTER | RIGHT
Lower Row: LEFT | CENTER | RIGHT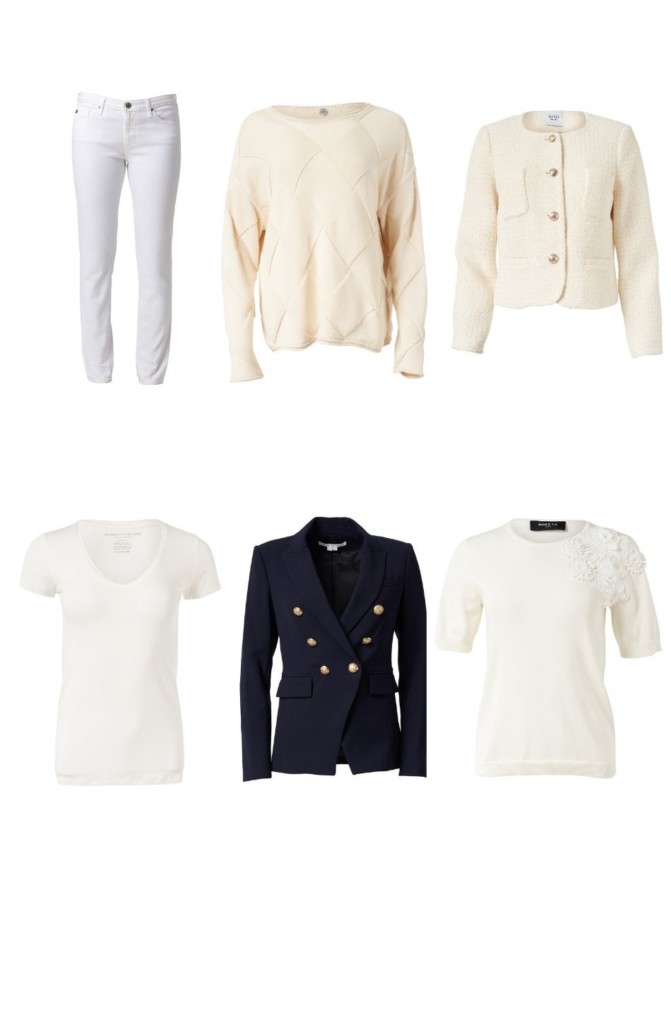 Upper row: LEFT | CENTER | RIGHT
Lower Row: LEFT | CENTER | RIGHT
Halsbrook is one of the last bastions of classic, good taste in a world of fast fashion and cheap thrills. Every piece I've picked for you will have staying power. Even the "fun" pieces - there is still something easy and wearable about them that will give them longer shelf lives than any insta-purchase you find on instagram. If you've ordered from Halsbrook before, you know how lovely the packaging is and how superior their customer service is. And I love it when I see pieces in your closets I've recommended from them! Everyone loves Halsbrook for good reason. So I've chosen twelve of my favorite picks from Halsbrook's Spring edition. Every piece I'm wearing in the photos is one of my 12 featured picks.
1. Cortland Park Palm Beach Blush Pink Puffer Jacket, Regularly $325, Your price $243.75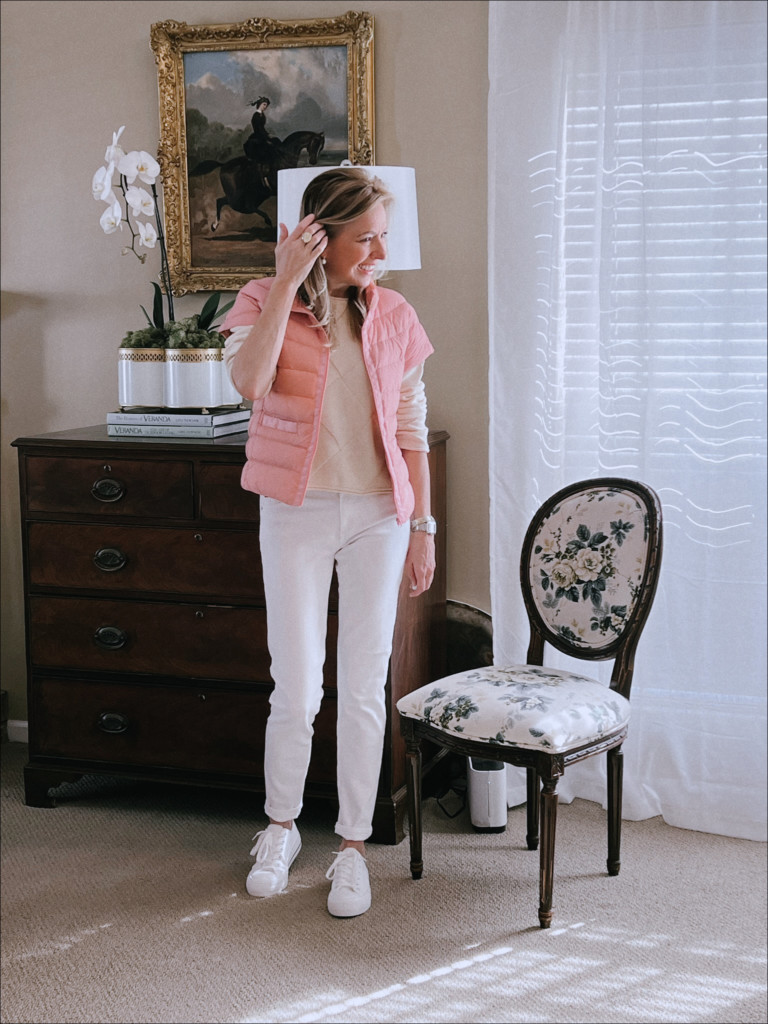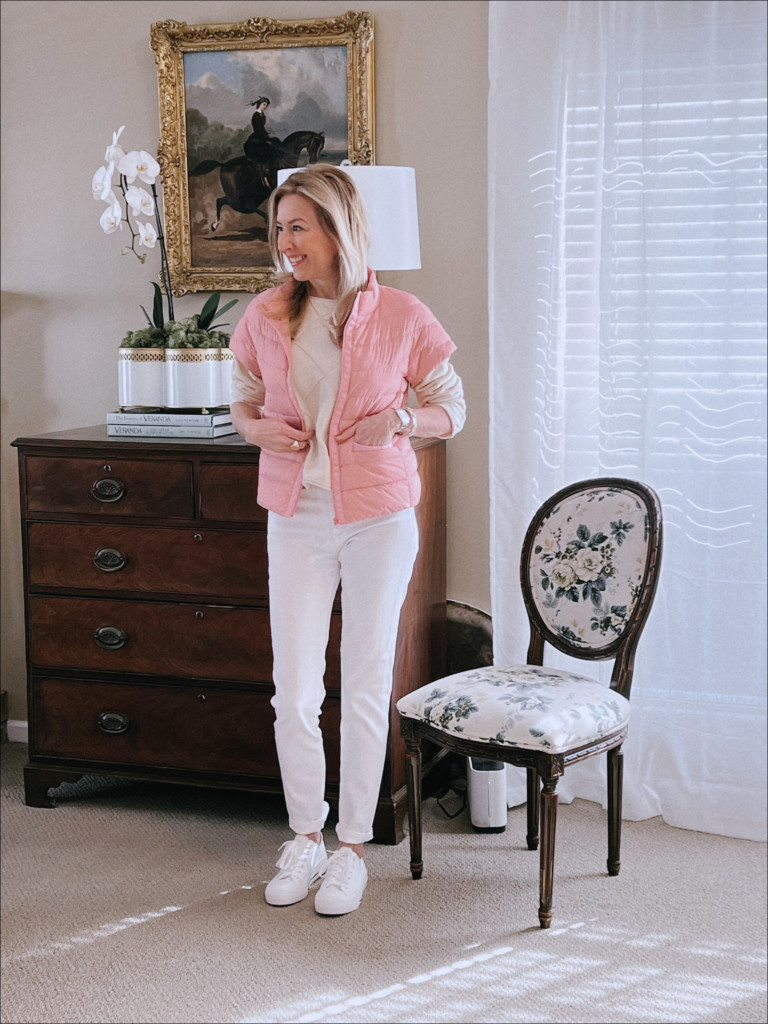 I want everything in my life to be this color. From now on. This pink Palm Beach jacket will keep you cozy when it's too chilly to forgo an extra layer, but not enough to slip on a winter coat. Cut to a cropped fit, it's made from quilted nylon fabric and filled with insulated down. It features a funnel neckline and front zip closure. All the Parisian women wear short-sleeve coats. In case you didn't know.
2. SERPUI Olive Black Buntal Minaudiere With Sand Camelia, Regularly, $299, Your price $224.25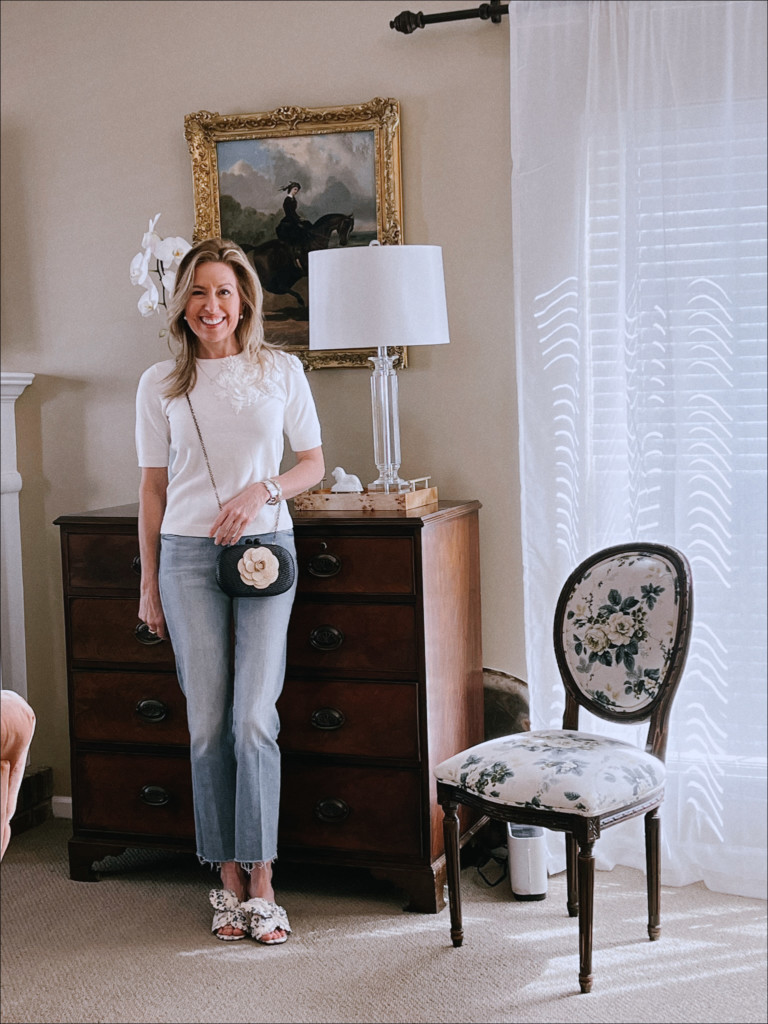 A woven straw minaudiere is a closet must-have. When I saw this camellia clutch I swooned. The story goes that Chanel was presented with a bouquet of camellias by the love her life, Boy Capel, and its beauty has been associated with Chanel ever since. It's an iconic emblem that supersedes Chanel, and you will wear it with everything. (A few seasons back I featured this clutch in a different color combo and it is so, so fabulous, we have to have it in this color combo, too!)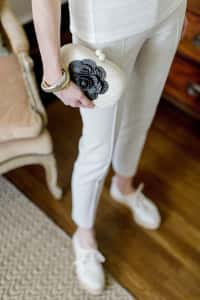 Related: Spring Jackets To Transition Your Wardrobe To Warmer Days
3. Walker & Wade Mia Flamingo Printed Dress, Regularly $258, Your price $193.50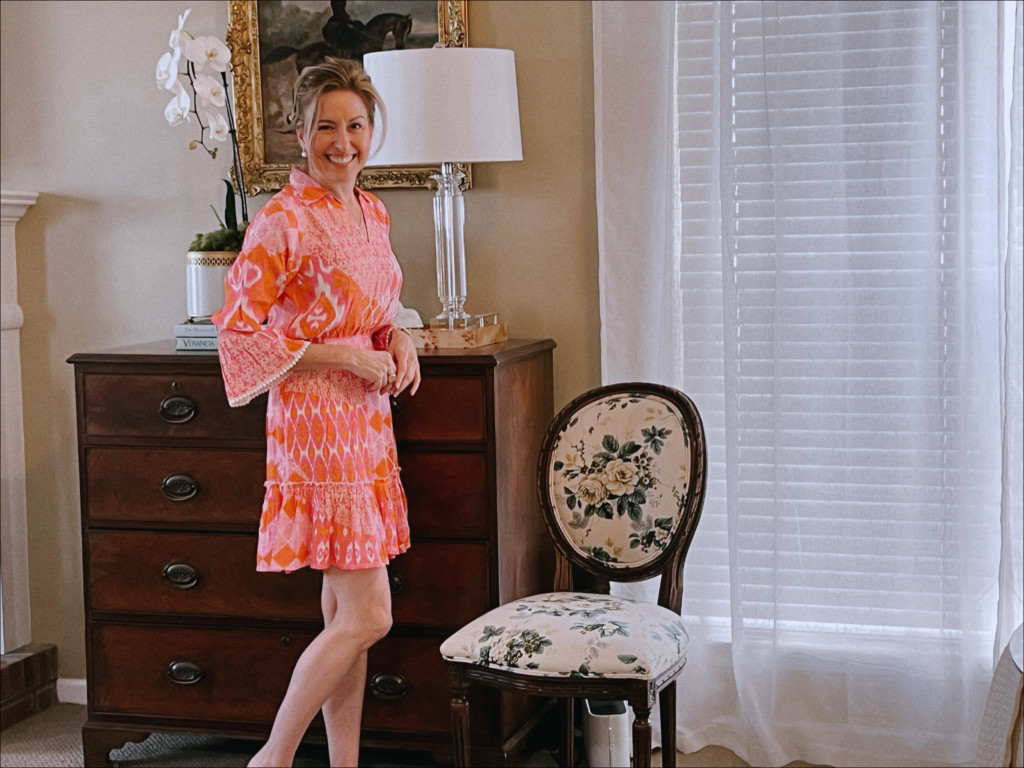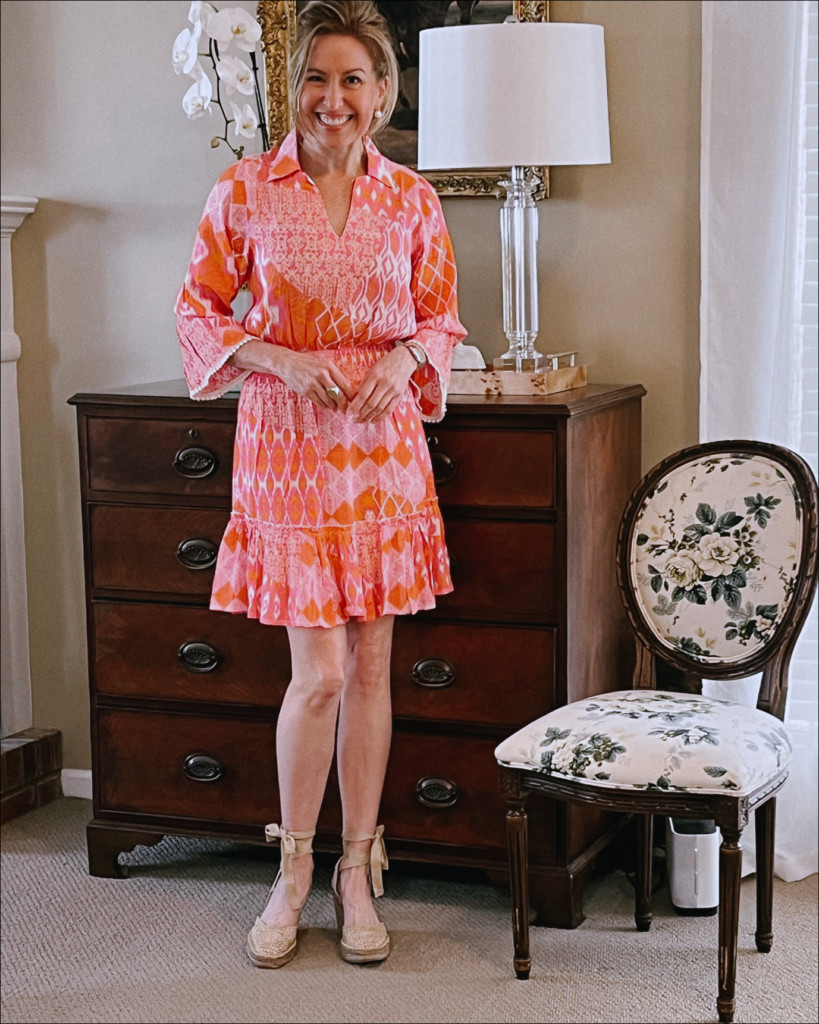 May I present to you, a grown woman's dress, that is casual and fun. Enough with the pinafore, little girl ruffly teeny dresses offered to women the last few seasons. This easy, everyday dress by Walker & Wade will take you from beach-to-table. And it's p'orange! It drapes beautifully for a loose fit, which is a welcome thing on a hot day.
4. Gretchen Scott Blue Stripe Reef Embroidered Cotton Poplin Tunic, Regularly $149, Your price $111.75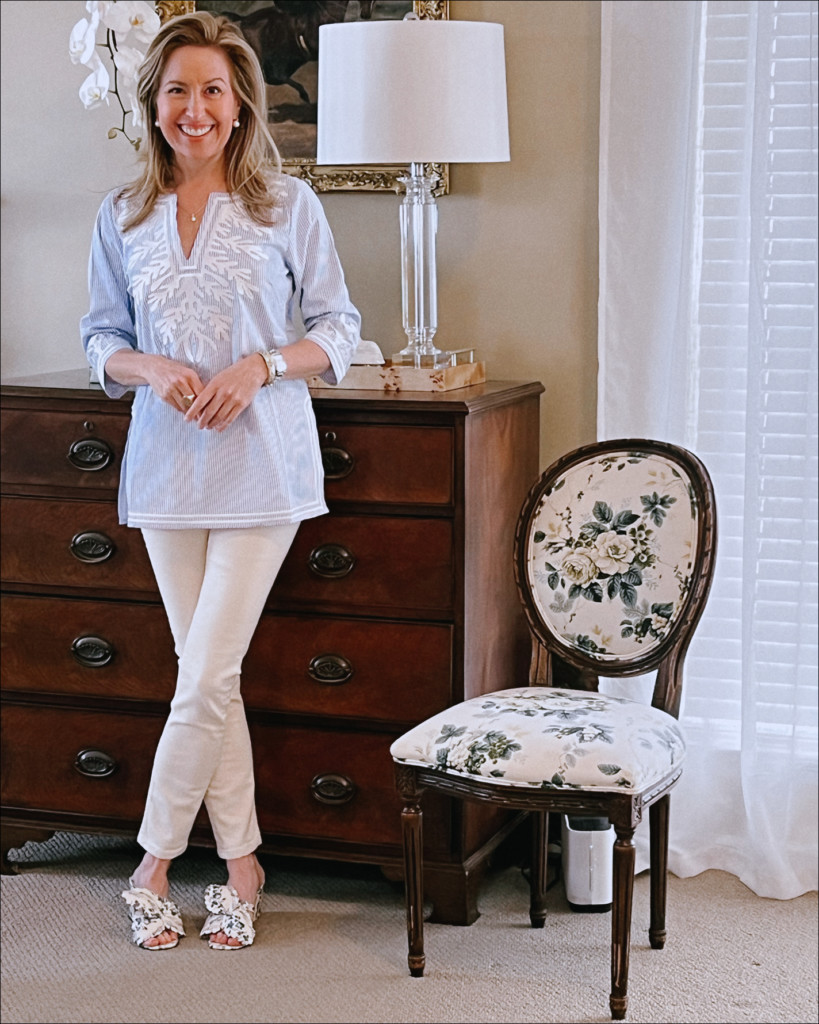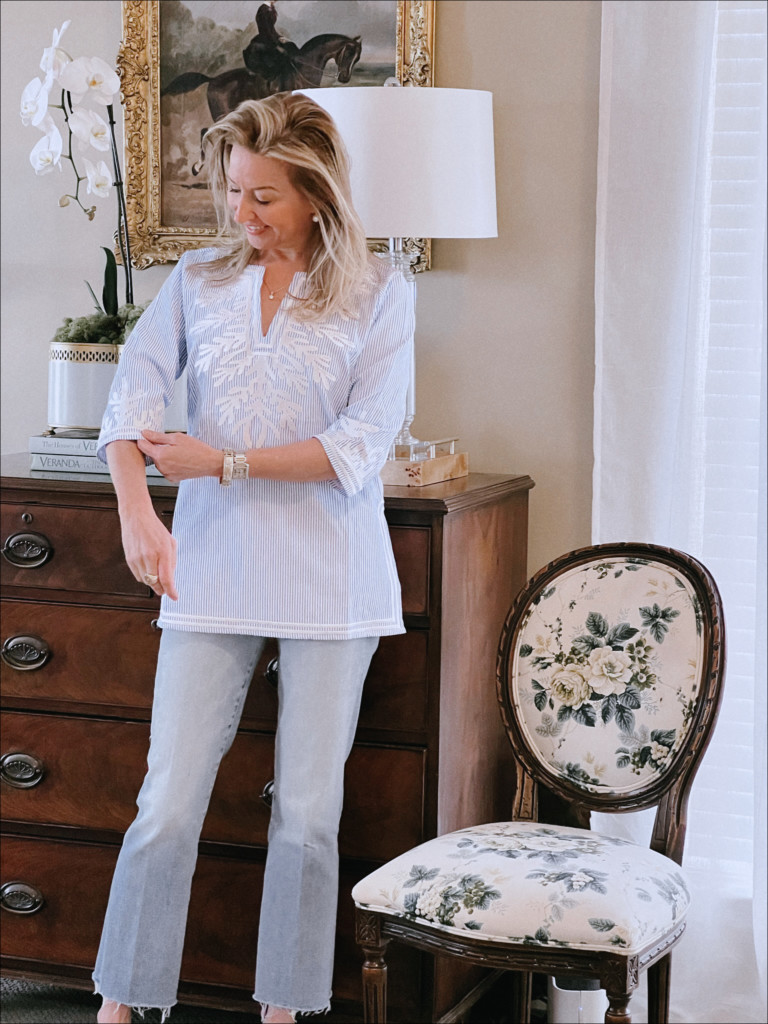 The white embroidered reef detailing on this tunic is just divine. And, for a bonus, it already has the side slits so you don't need your seamstress to do it for you (so it drapes perfectly over your bum, rather than grabbing it). A tunic is God's gift to women during hot months when you still want to be covered up but not too sweaty.
5. Mother Hustler Light Blue High Waist Ankle Jean, Regularly $238, Your price $178.50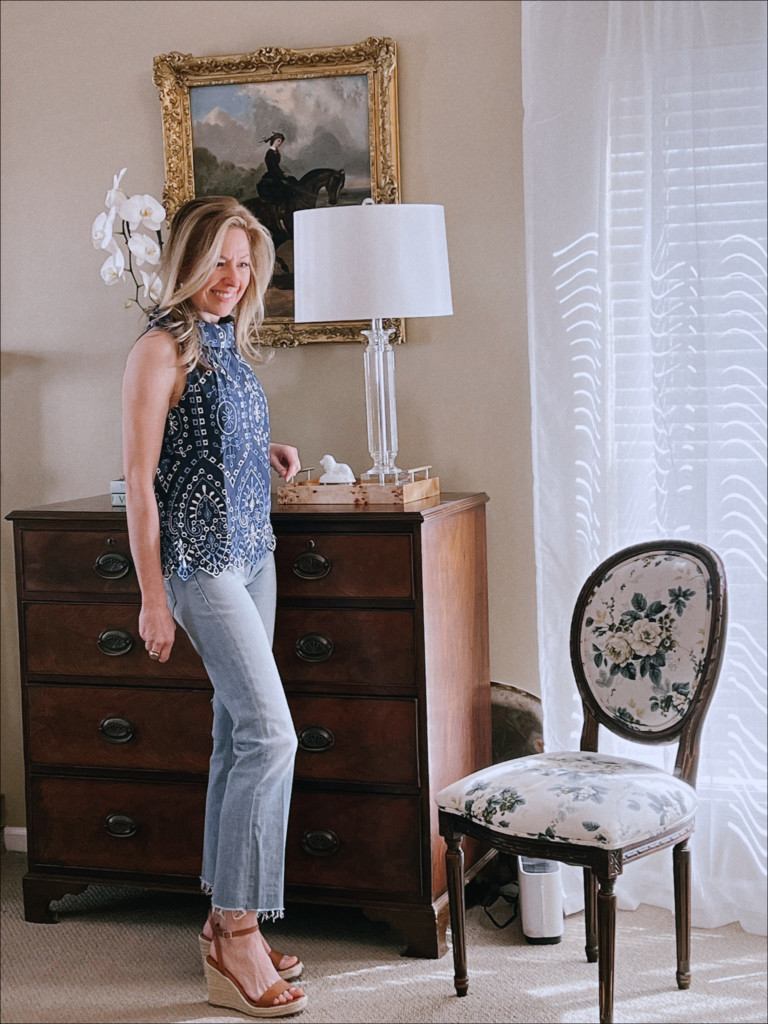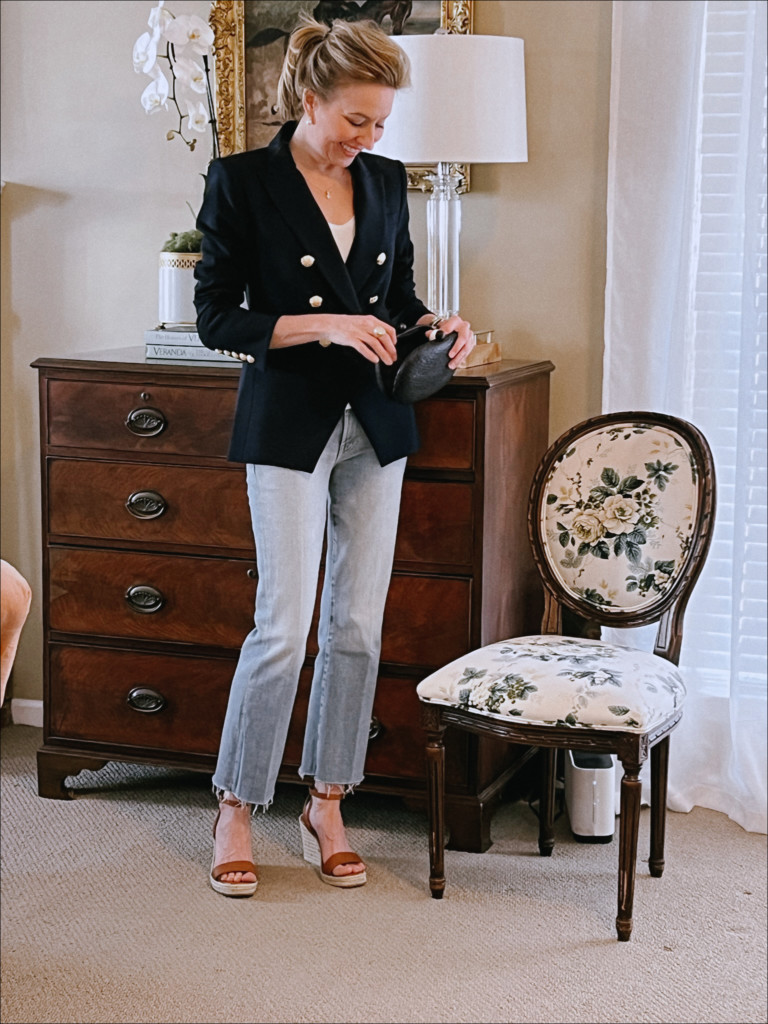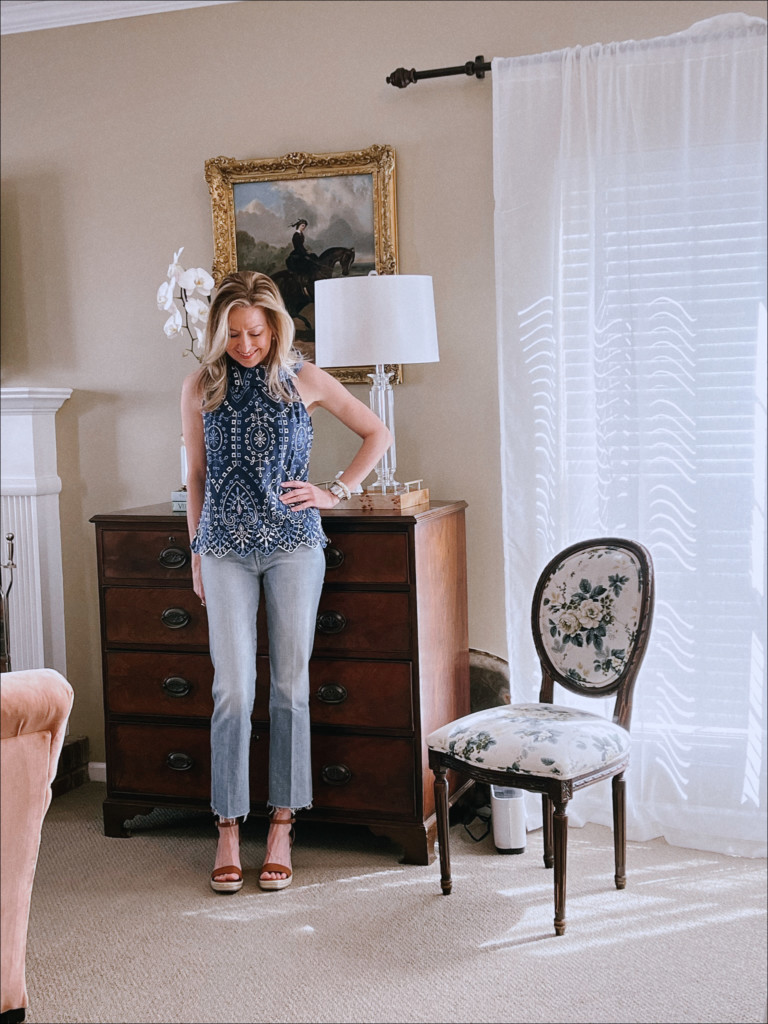 Cut from stretch denim in this most classic of faded blues, these high-waisted and ankle-skimming jeans have a frayed hem, so don't be alarmed when you wash them and you get those fuzzy strings along the edge. I love that casual, summer-campy feel. You can dress these up with the ever classic double-breasted navy blazer. Or pair them with wedges or sneakers or leather flip-flops for a more casual look.
6. Sail To Sable Navy Multi Embroidered Eyelet Top, Regularly $188, Your price $141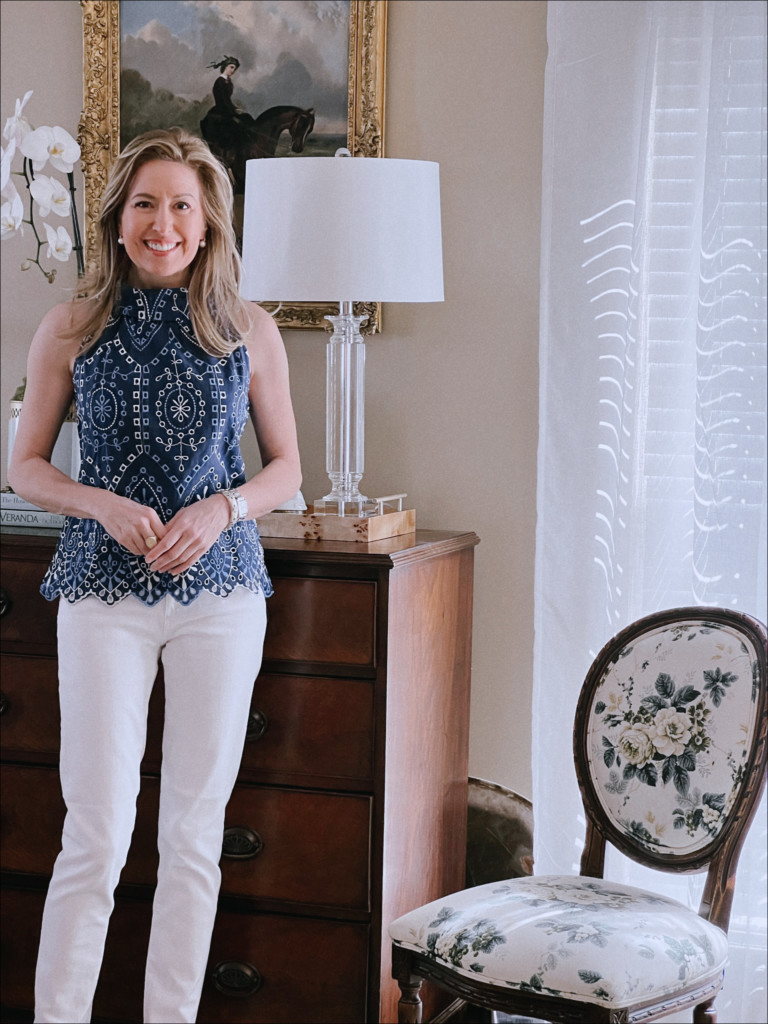 Oh this scalloped, embroidered cotton fabric, and the feminine eyelet blue and white, and a cut-away shoulder (flattering on every woman)? Perhaps the perfect Summer top. Don't miss the polished gold buttons down the back, too. Dress this top up (with white jeans and wedges for cocktails) or down (with bermuda shorts and sandals for daytime) - it's easy like that.
7. AG Jeans Prima White Slim Leg Jean, Regularly $188, Your price $141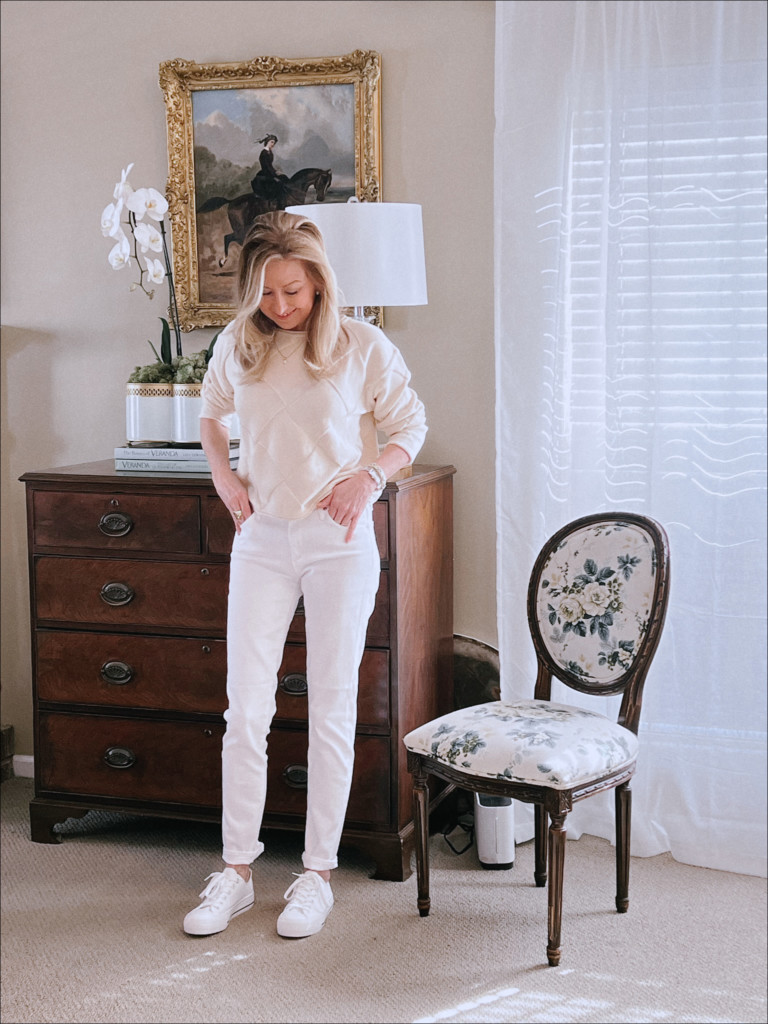 WHITE JEANS. DUH. You knew I'd find the perfect pair! Because, let's face it, white jeans are everything to a Spring/Summer wardrobe. These are made in a lightweight denim with a touch of stretch, and are mid-rise (Ha-Ley-Lou-Yah). They are, as they should be, slightly fitted through the hips and taper to the ankles. That's the key for a good-fitting pair of slim ankle jeans: fitted through the hips. You'll see what I mean when you compare these to your saggy-bottom jeans, which you will swiftly throw away. BTW, I took my regular size in these; I did not go up a size as we sometimes do for white jeans.
8. Margaret O'Leary Ivory Cotton Basketweave Sweater, Regularly $255, Your price $191.25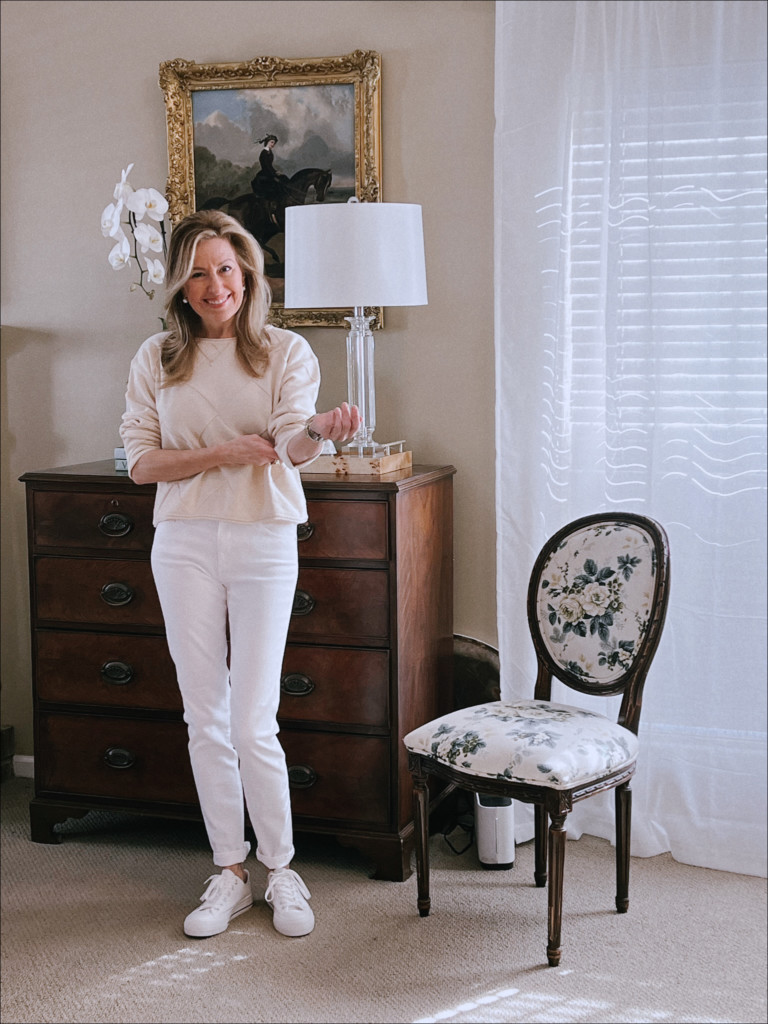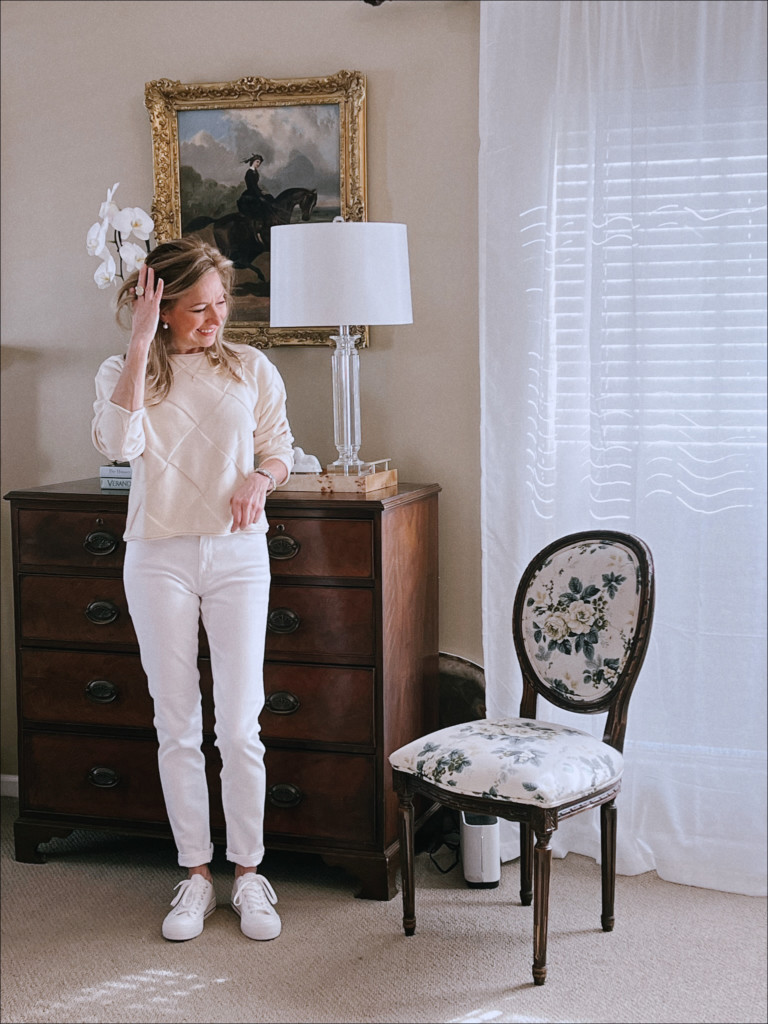 This unique sweater (already a near impossibility in the department of sweaters), with basketweave stitch detailing, has an incredibly soft handle, and is a luscious ivory, which I absolutely adore pairing with white jeans in the Spring for a soothing cool-day look.
9. Weill Madjo Cream Cropped Jacket, Regularly $565, Your price $423.75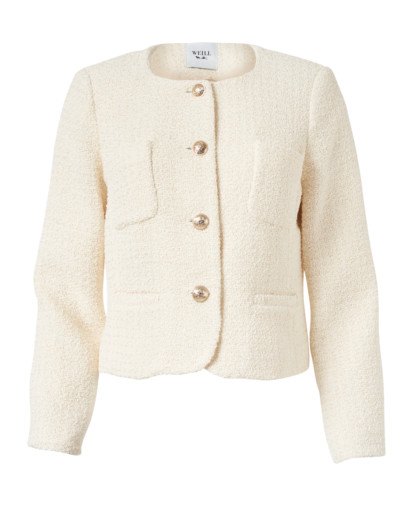 A tailoring piece-de-resistance is what this cream tweed jacket is. It is going fast - get it now or put your name on the waiting list. It's cut for a chic, cropped silhouette, and features four très subtle (the kind we don't mind) pockets at the chest and waist and a concealed hook front closure. It's a roomy fit.
10. Majestic Filatures Ivory Soft Touch Top, Regularly $132, Your price $99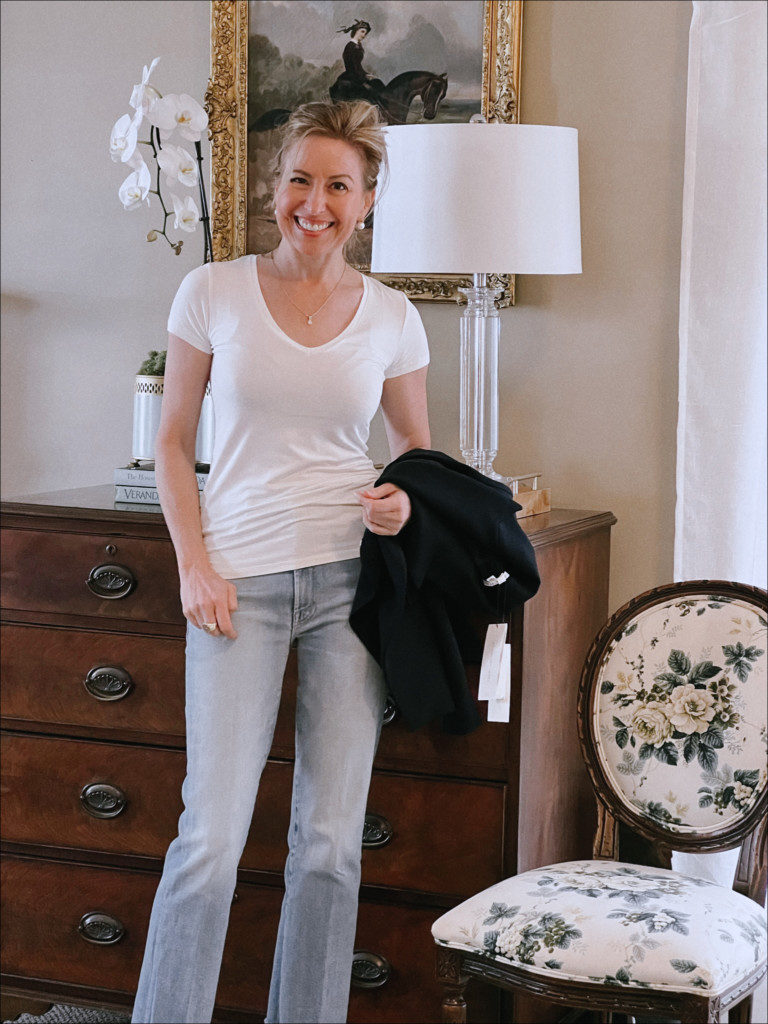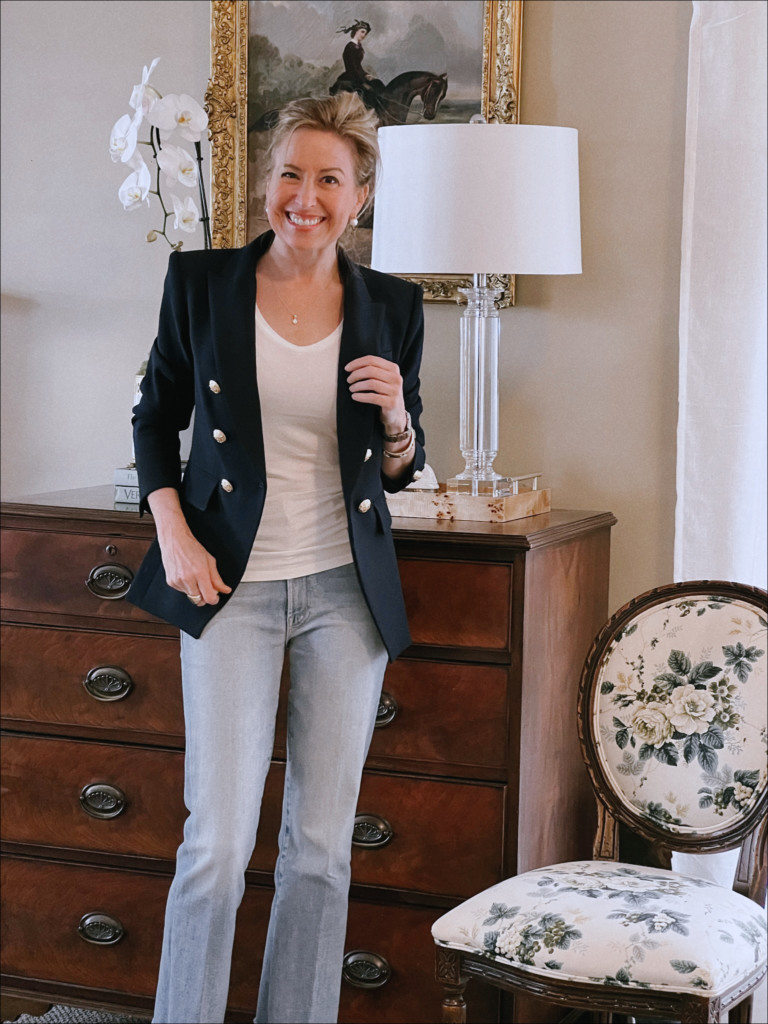 This soft-to-the-touch white/ivory (kind of could go either way) tee is crafted from a lightweight stretch fabric for a slim-fitting silhouette, and cut with a flattering v-neck. It is your go-to underpinning for every jacket and cardi you own and wear this Spring and Summer. And Fall and Winter. Truly. It elevates your look from that tar-jay t-shirt we save to wear with our skorts and joggers. This is the investment t-shirt you've been waiting for.
11. Veronica Beard Miller Navy Essential Dickey Jacket, Regularly $695, Your price $521.25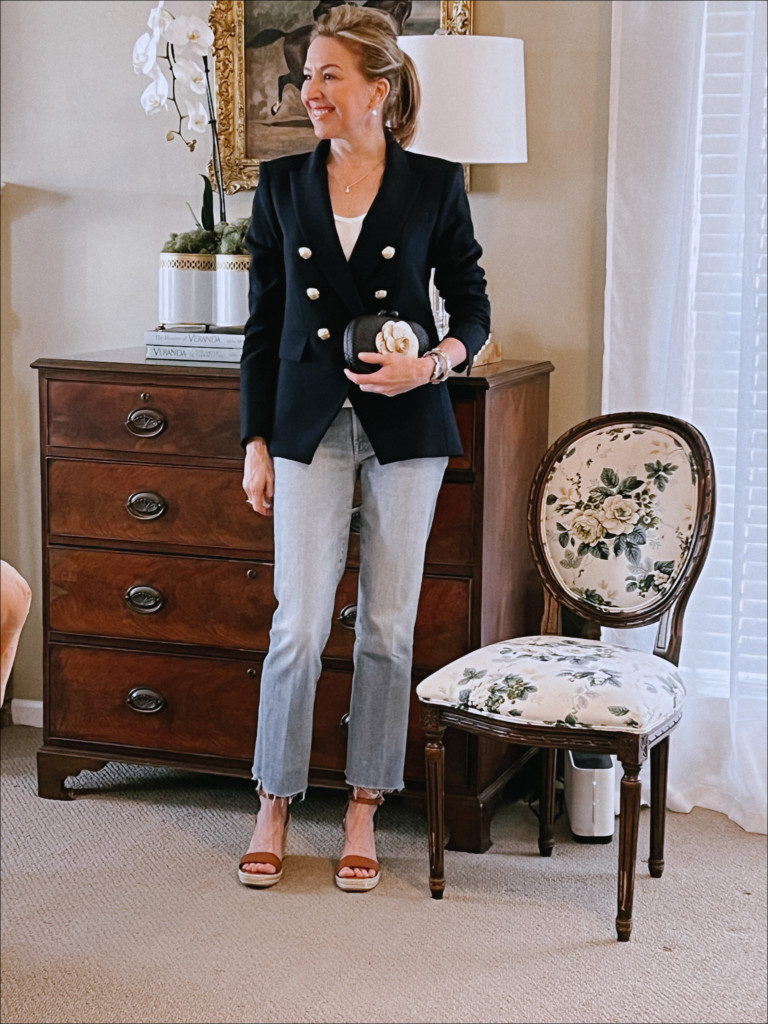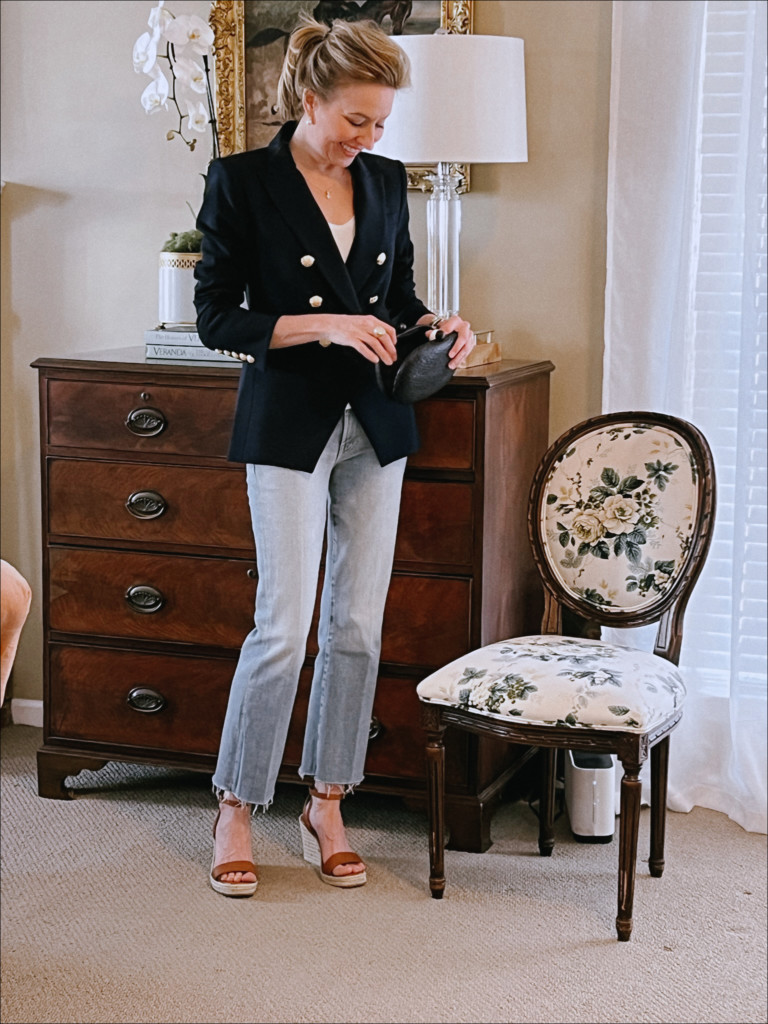 Veronica Beard's Miller Jacket is a best-seller season after season, and this version in transitional suiting with decorative crest buttons is your next timeless classic. A slight stretch allows for a comfortable and flexible fit, while the slim tailoring keeps it polished. You can always add a Veronica Beard dickey (i.e. collar), if you want to, for a layered and more casual look.
12. Paule Ka White Cotton Floral Embellished Tee, Regularly $350, Your price $262.50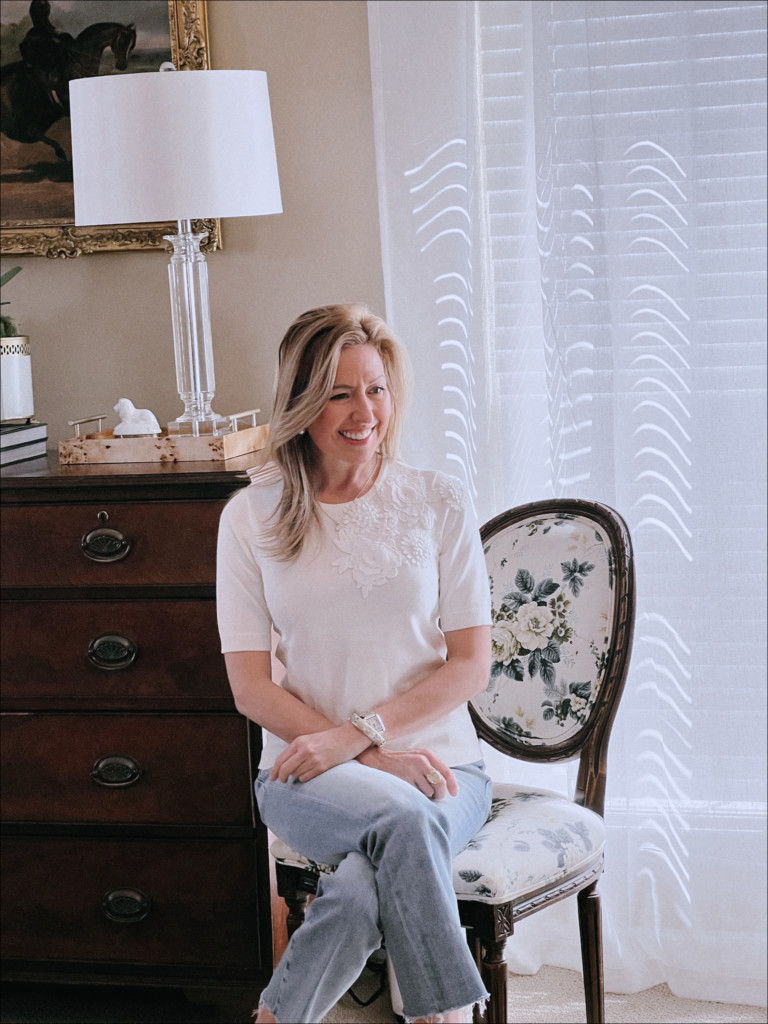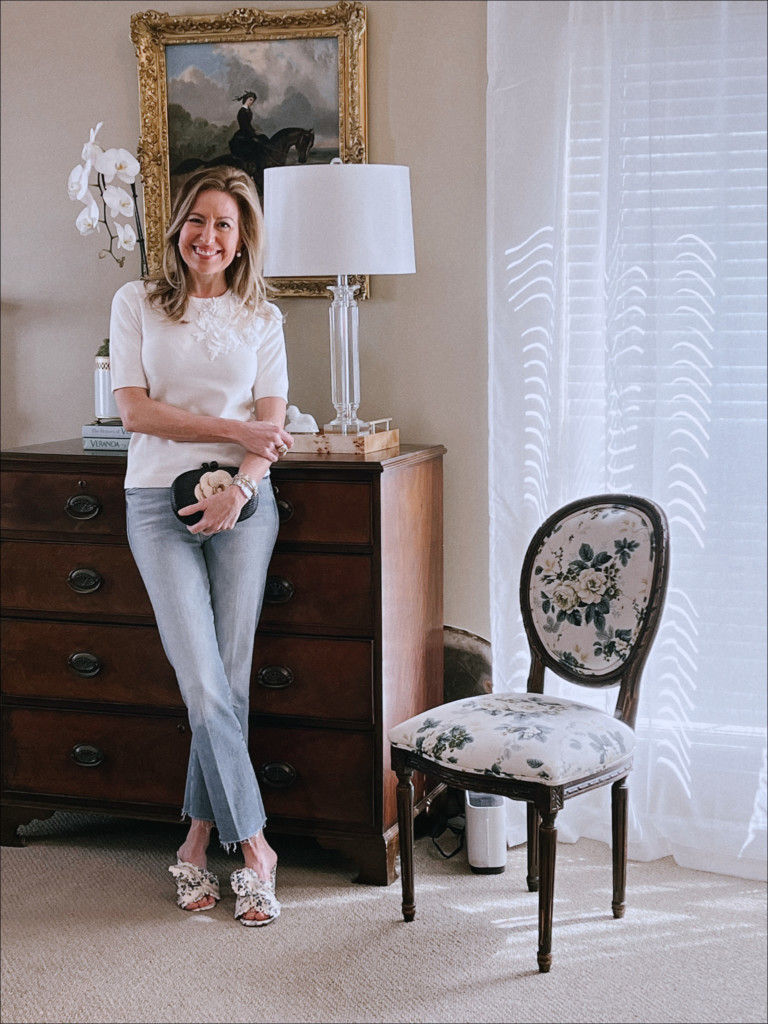 An embellished t-shirt? Say no more, I will make you mine. Notice I said embellished and not graphic (if one more shirt accosts me with the demand to live love and laugh I will barf). So feminine and subtle, and yet such a statement. QGT for the win, again (that's quiet, good taste).
Save hundreds and hundreds of dollars (seriously, at least $900 on these picks) with your exclusive code TINA25 to shop these 12 wonderful wardrobe classics from Halsbrook, plus save 25% off the entire website (excluding sale)! I'd recommend getting in there now before items sell out. Sale ends 3/28/22! Thank you Halsbrook! 
Thank you for stopping by! Happy Spring!
Tina
This post may contain affiliate links, and if you click a link or purchase something we have recommended, we may receive a thank you commission from the website. Clicking these links won't cost you any extra money, but does help us keep our site ad-free.