Tina, here.
Remember when cropped flare jeans became a thing? You can ask my friend Deidre and she'll tell you I started wearing them a couple years before that and I called them my "French sailor pants" (I'm not exactly sure why but there was definitely wasn't an official name for them other than "Pippi Longstockings"). Well, I've steered my clients away from chinos for years, and a certain kind of chinos which are still AWFUL should never be worn, so let's get that out of the way right away, they're the ones that middle school school boys and frat boys and servers at restaurants wear. You've got the visual. But, there is a style I like and have put a couple clients in them this summer...it's kind of a cropped half-flare chino, if you will. You can rarely buy them how they should be worn, meaning, you'll have to fidget with them to get them to do right and look right.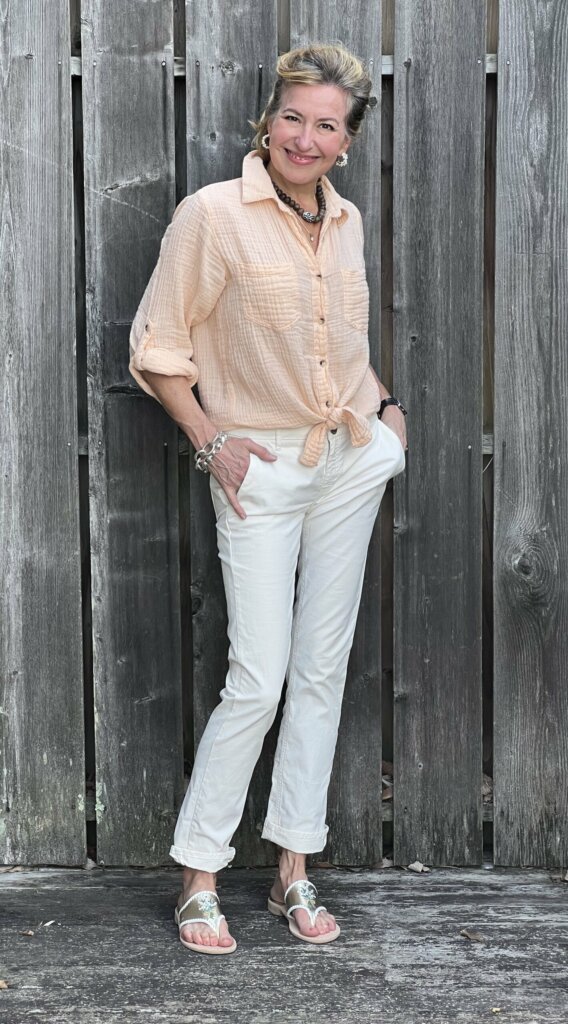 RELATED: Fall Is Coming, And With It, New Colors!
First, avoid flared chinos, unless they are a tad cropped, and not that flare-y. You can always crop them yourself, but that gets tricky. Second, avoid skinny because they just look weird. Third, a slightly, barely, tapered pant leg is what you want (they will probably be labeled "straight," but will be closer to a "slim").  Next, cuff them ever so nonchalantly so that your ankle bones are showing, and then wear cute sneakers or sandals or wedges, but never a loafer or a slide because that will make them look like man pants. If your chinos are a bit dressier, no cuffing needed. I've shown examples below. Btw, Inès de la Fressange is who taught me how to wear chinos, merci beaucoup.
How A Lady Wears Fall Chinos

Thanks for stopping by! I'm already starting to clean out closets for Fall shopping and styling! Book your package with me now, no matter where you live I can help you in person or virtually.
Thanks again for stopping by and reading,
Tina
This post may contain affiliate links, and if you click a link or purchase something I have recommended, I may receive a thank you commission from the website. Clicking these links won't cost you any extra money, but does help me keep the site ad-free. All the clothes I wear are mine.