Tina, here.
Guess what's also *almost* here - a surprise from me for you! I know, I know I keep teasing it but I promise I am close to a big reveal! 🙂 In the meantime, Fall fashion is here and it is good this season. For my first Fall preview, check out this post. If I've ever worked with you, you know my mantra: invest in the classics and buy trends on the cheap so you'll get rid of them when they're past their prime without that excuse, "but I paid so much for it!" This Fall there are some great classics that are returning "on trend" (like this belted blazer), plus some new fun styles we can all wear (like this gold bracelet). If you've followed me here for a while, you'll have a lot of these fabulous pieces in your closet already because something that's good is good forever. Like a charcoal grey blazer. Or a pair of ivory crepe wool pants.
My First Fall Fashion Crush
So what would you think my first crush of the season would be? It's Ralph Lauren, duh. I have bought gorgeous double-breasted blazers over the years, but I think this chalkstripe one is so special (and quite pricey 😮 )! I was seriously wanting to try this on myself, but had to find a store - so I drove all the way from Nashville to Atlanta. Just kidding, not that I wouldn't do that for Ralph, but I happened to be in Atlanta for a soccer game and squeezed it in. I wanted to touch the lining, the fabric, feel the tailoring. And I wanted to just be in a Ralph Lauren boutique so I could pretend I lived there.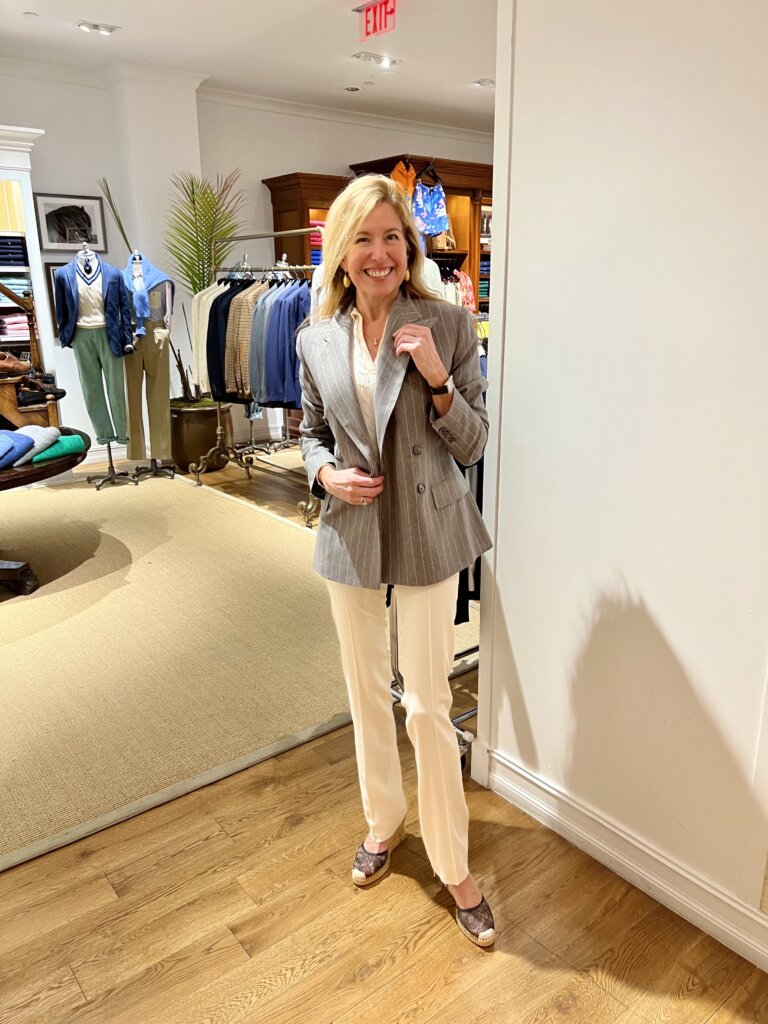 So, I didn't do my hair or makeup and the lighting is terrible but there it is anyway.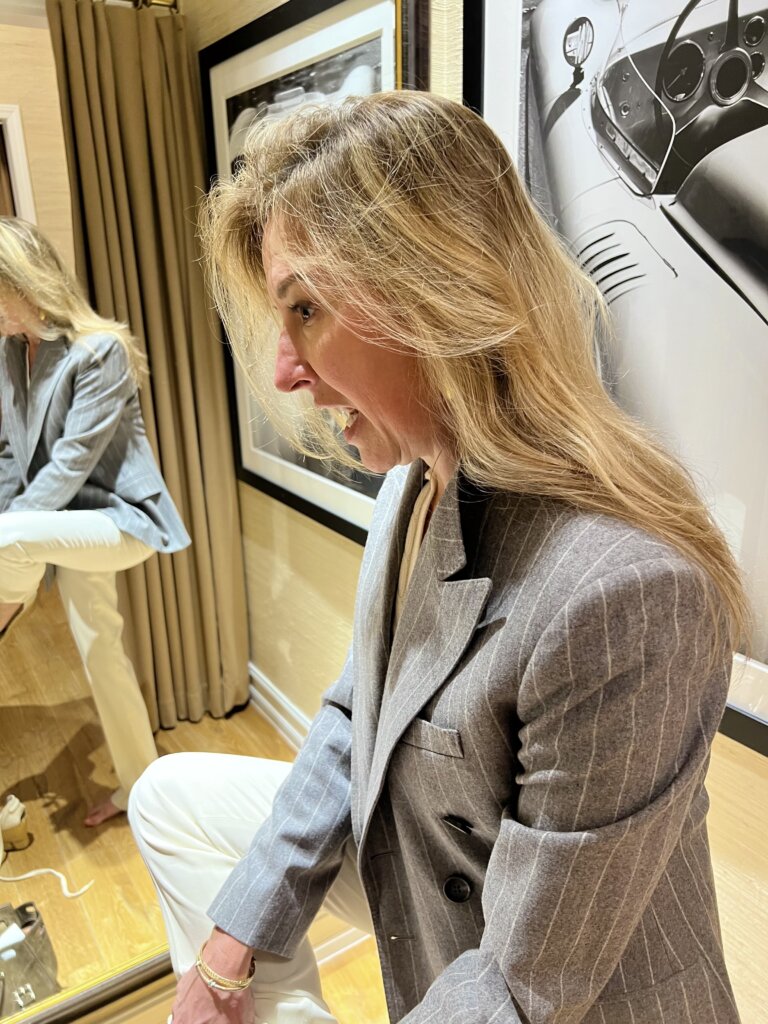 Upclose of the absolutely stunning chalkstripe double-breasted flannel wool blazer. If I went completely bats and owned it, outrageous price that it is, I would wear it most of the time with jeans, both white and faded blue. And camel suede pants. You almost always wear a double-breasted blazer open, not buttoned, unless you want to look like Thurston Howell's younger sister. Here's the outfit:
But, ahhh, I kept my senses and walked out of my home, I mean the store, empty-handed but actually quite satiated. Because now I am on the hunt for an inexpensive version of this blazer, which is my favorite thing to do, HUNT!
And, I found one! It's herringbone instead of pinstripe, which is just as chic and classic. And it's thousands of dollars less!
More Fall Fashion Crushes
Related: I'm Rethinking Some Things Like Chinos

Thanks for stopping by! I'm already starting to clean out closets for Fall shopping and styling! Book your package with me now, no matter where you live I can help you in person or virtually.
Thanks again for stopping by and reading,
Tina
This post may contain affiliate links, and if you click a link or purchase something I have recommended, I may receive a thank you commission from the website. Clicking these links won't cost you any extra money, but does help me keep the site ad-free. All the clothes I wear are mine, unless stated otherwise.